Have you ever wondered exactly how much money the Sharks have invested in businesses on Shark Tank? Or how the Sharks compare when it comes to how often they make a deal? Which states attract the most—and—least investment?
Here at Humble Rise we have all the answers to these questions and more. Our team went through all 300 episodes screened to date and documented the main details of every one of the 1274 products pitched to the Sharks so far.
The result is the most comprehensive collection of Shark Tank statistics anywhere on the web, covering aggregate stats, each individual Shark's performance, and how all US states and territories have been represented on the show.
Plus, we will continue to update this page (and Humble Rise as a whole) as each new episode is shown, so remember to check back in whenever you're curious about Shark Tank statistics and facts.
Let's get started!
Shark Tank stats: Key findings
Please note that all the figures referred to in this article relate to the deals agreed on Shark Tank as they were shown on TV. They do not take into account whether or not each deal actually closed after a period of due diligence.
So far, $231,929,000 in total has been pledged by the Sharks on screen. Of the 1274 products that were pitched, 766 managed to strike a deal, giving a success rate of 60.13%.
The average investment per deal is $302,779 and the average equity taken is 24.66%. However, this has changed significantly over the 14 seasons.
The biggest ask and investment agreed on screen was for $5 million. The highest company valuation by all the entrepreneurs to appear on the show was $50 million, and the highest post-deal valuation was $36 million.
Mark Cuban has invested the greatest amount ($61.5 million) and struck the most deals on screen so far (229). Kevin O'Leary has appeared on the most episodes (291, seeing a total of 1161 pitches).
Mark Cuban entered into the most partnerships in total (109). The most frequent partnership was between him and Lori Greiner (46 times).
When it comes to states and territories, California leads the way when it comes to both deals struck (211) and money invested ($68,601,000).
However, when we adjust for population size, DC takes the crown, with an average 1.7 deals struck and $1,249,326 invested per million residents.
The worst-performing states are South Dakota and Wyoming (0 appearances on the show). Dishonorable mentions also go to Alaska, Montana, Nebraska, New Mexico, Nevada, and West Virginia, none of whom have managed to attract a single dollar of investment yet.
General Shark Tank statistics: The story so far
So far, a grand total of 300 episodes have aired, with a whopping 1274 different pitches made to the Sharks by hopeful entrepreneurs.
This section provides an overview of those deals, including the average investment and equity taken (and how this changed over time), the biggest and smallest deals in Shark Tank history, which seasons were the most lucrative for companies, and many other intriguing dynamics worth teasing out.
Later we will cover how the Sharks performed over the years, and the impact each US state and territory had on the show.
The Sharks have agreed deals worth $231,929,000 in total
As of October 24, 2022, a total of $231,929,000 in investment capital was pledged by the Sharks across 766 deals.
Of course, it should be noted that this is simply the total money of all the deals agreed on screen. In practice, many deals fail to close for a variety of reasons, so the true total amount will be much lower.
How the total investment was split over the seasons can be seen here: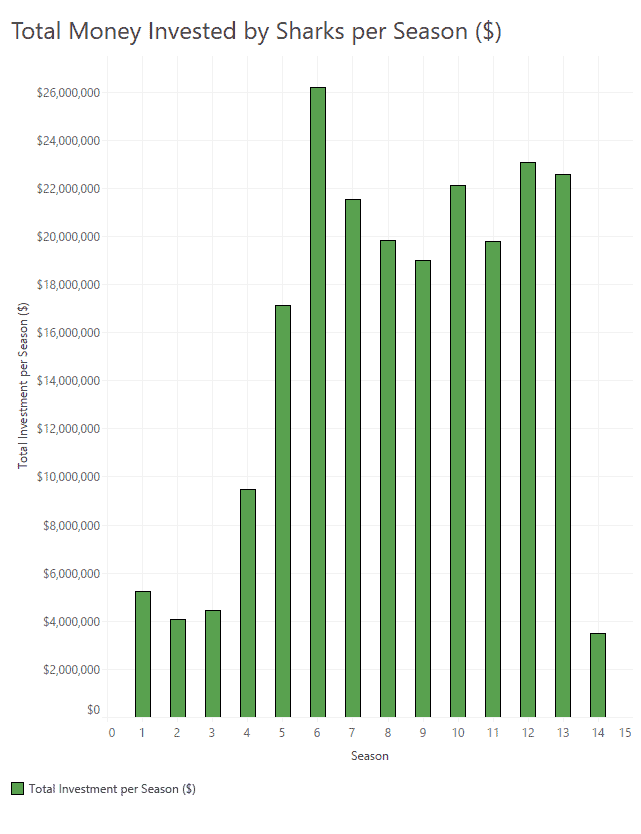 So far, Season 6 has witnessed the biggest total investment ($26,175,000) and Season 2 the lowest ($4,075,000).
But of course, the number of episodes and pitches can vary wildly across the seasons, so for a more complete picture, we need to look at averages.
The average investment has plateaued, but equity taken continues to fall
The average amount invested in a deal across all seasons is $302,779 for 24.66% equity.
What is of more interest, however, is how these elements have changed over time.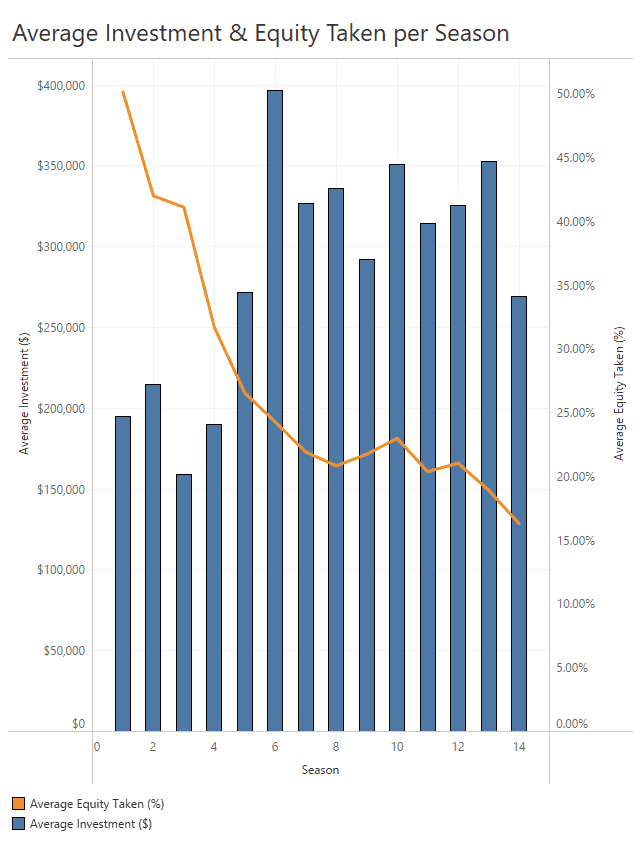 The average investment per season jumped up significantly in Season 6. In that year the Sharks pledged an average of $396,591 per deal, which was dramatically higher than the previous years where it ranged from $159,286 (Season 3) to $271,667 (Season 5).
In fact, Season 6's average was the highest on record, but since then the average investment has now stabilized at around the $310,000–$330,000 mark.
The amount of equity taken by the Sharks per deal has fallen year on year though.
In Season 1, the Sharks took a scarcely believable 50.2% equity of the companies they invested in on average, but this has clearly trended downwards ever since, falling to a low of 18.9% in Season 13.
It will be interesting to see whether this trend continues in Season 14 or starts to reverse.
The biggest ask—and investment—in Shark Tank history was for $5 million
The largest investment on the show took place during season 6 and was offered by Mark Cuban. He agreed to supply the full $5 million requested by Zero Pollution Motors (a New York-based business manufacturing cars that run on compressed air) and took an equity position in the company of 50%.
The deal was agreed on the show, but Cuban and the founders failed to finalize the deal after filming ended.
Another company also asked for $5 million: In season 4, two entrepreneurs pitched their idea for a movie called Track Days. This time, Mark Cuban was far less receptive to the proposition, declaring himself out before he even heard the pitch. The other Sharks eventually followed suit, and the company left the Tank without receiving any offers.
The smallest investment was for $10,000
If a Shark sees value in a company, they are generally quick to snap it up.
The smallest investment size was made in Season 13 by Lori Greiner. She was prepared to offer Handy Pan, a company that creates ceramic pans with a built-in strainer, $10,000 for 20% of the business.
Hold Your Haunches also secured an investment of $10,000, while HairFin and Q-Flex both managed to convince a Shark to give them $25,000.
The biggest company valuation by an entrepreneur was $50 million
Out of the 1274 products pitched on Shark Tank, two companies had the courage to value their businesses at an enormous price tag of $50 million.
The first was LARQ, a Boston-based company manufacturing self-cleaning bottles, which wanted a $500,000 investment for 1% equity. Two Sharks, Lori Greiner and Kevin O'Leary, were wooed by the pitch and decided to each put in the full amount for a total of $1 million, but wanted 4% of the company, halving its valuation. The deal was accepted during the show but failed to finalize afterwards.
The second was Project Pollo, a chain of vegan restaurants. In Season 13, founder Lucas Bradbury asked for $2.5 million in exchange for 5% of the company. Even though the Sharks were fans of the food, none of them chose to bite, and the pitch resulted in no offers.
The next highest valuation given by an entrepreneur in the Tank was $45 million for Chirp.
The smallest company valuation by an entrepreneur was $40,000
The lowest company valuation was $40,000 for Chicago-based cat drawing company I Want To Draw A Cat For You.
Founder Steve Gadlin asked for $10,000 for 25% of the business. A deal was struck with Mark Cuban, who offered $25,000 in return for 33% of the company.
Other modest valuations include The Uro Club ($49,020), and Handy Pan ($50,000).
The biggest post-deal valuation was $36 million
Of course, just because an entrepreneur places a value on their company, it doesn't mean the Sharks see it that way.
Indeed, disputes over valuations are a regular feature on the Tank. The Sharks often challenge entrepreneurs' assumptions, and their offers and deals reflect what they think the company is worth.
The company with the highest valuation after concluding a deal was $36 million for Chirp, with Lori Greiner agreeing to pay $900,000 for a mere 2.5% of the company.
LARQ and ZipWine both had the second biggest post-deal valuations, at $25 million.
At the other end of the scale, Turbobaster ($35,000 post-deal valuation), The Uro Club ($35,714), and Handy Pan ($50,000) have the lowest Shark valuations in the show's history.
Entrepreneurs successfully negotiate a deal 60.13% of the time
Of the 1274 pitches the Sharks have collectively sat through, they made deals with 766 companies. This means that, on average, companies entering the Tank strike a deal 60.13% of the time.
But entrepreneurs weren't always so successful. Until Season 8, the success rate for pitches was always under 57%, after which it rose fairly steadily until Season 13, the last completed season.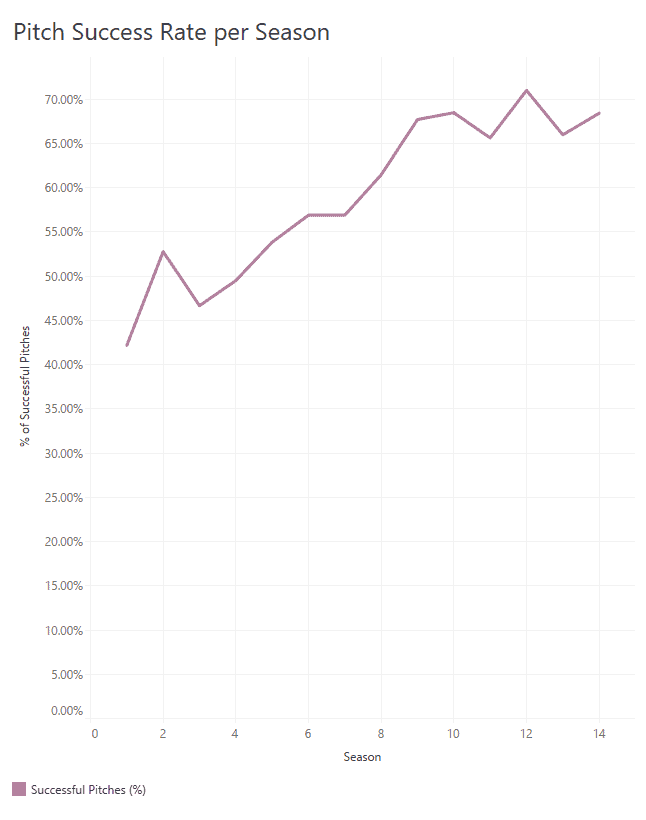 30.77% of companies leave the Tank with no offers
Of the 488 pitches that failed to secure a deal, 378 (30.77% of total pitches) failed to spark the interest of any Shark and the entrepreneurs left the Tank with no offers at all.
Another 94 received an offer from one or more Sharks, but the company decided against taking the deal.
And on 16 occasions, companies walked off the stage with no deal after a Shark proposed a deal and then later withdrew their offer, usually because the entrepreneur failed to accept the offer in a timely fashion—which on more than one occasion led to the Shark's ego being bruised.
The types of deals struck on the Tank
As the main concept of the show is for entrepreneurs to pitch their company or product in the hopes that a Shark will invest in their business, it is unsurprising that the vast majority of deals agreed on screen are solely for minority equity stakes (605 of the total 766 deals struck—78.98%).
However, the Sharks (and sometimes the entrepreneurs themselves) can sometimes get a little more creative, and offers involving royalties, debt, and licensing clauses can also come into play.
The breakdown of all deals is as follows: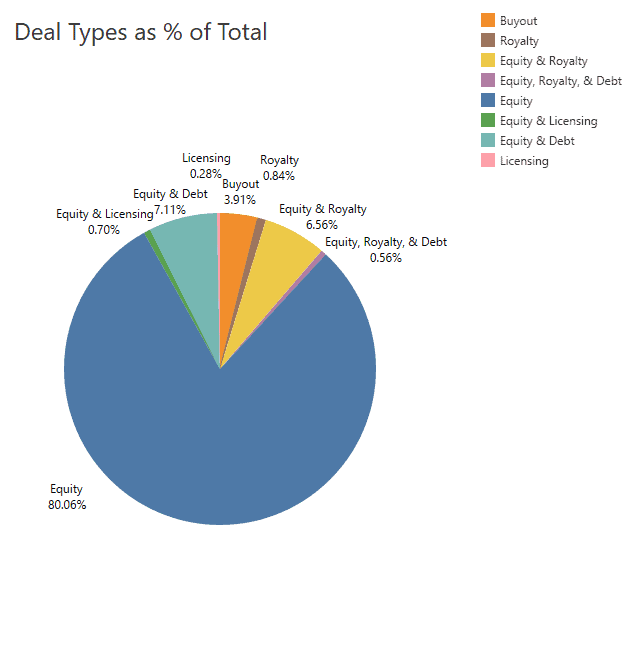 Who's the biggest Shark? How the judges have performed over the years
Of course, along with the entrepreneurs, companies, and products, the biggest stars of the show are the Sharks themselves.
The Sharks fall into two camps. First, you have the regular Sharks that are now household names: Daymond John, Kevin O'Leary, Barbara Corcoran, Robert Herjavec, Mark Cuban, and Lori Greiner.
Second, each season features a handful of "celebrity" or "guest" Sharks. This category counts 27 investors so far.
This section analyzes each Shark's appearances made, deals struck, and partnerships entered into. The section above looks at general Shark Tank statistics, and the one below focuses on US states and territories.
Comparison of Sharks
The following table breaks down how the regular Sharks have performed over the years: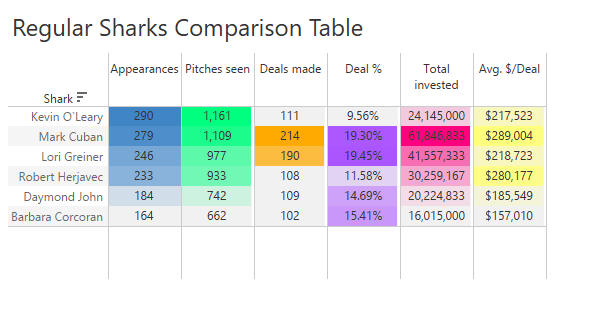 And here's how the 27 guest Sharks have gotten on: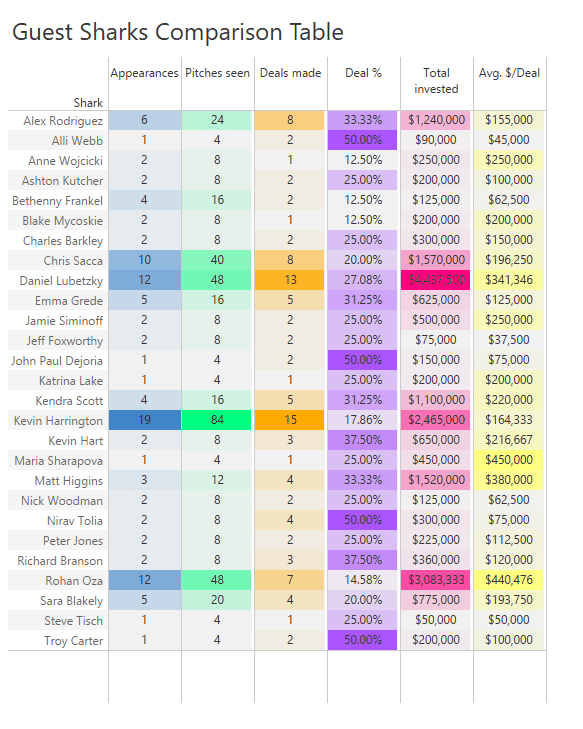 Now let's take a look at which ones rule the seas in various categories.
Kevin O'Leary has seen the most pitches
Kevin "Mr Wonderful" O'Leary has appeared the most on Shark Tank with an impressive 291 episodes under his belt, during which he sat through 1161 pitches.
The runner-up for appearances is Dallas Mavericks owner Mark Cuban with 280 episodes (1109 pitches seen). Third is Lori Greiner who has completed 247 episodes (977 pitches).
Interestingly, Mark and Lori made their show debuts later than the other four regular Sharks—in Seasons 2 and 3 respectively, and they each became regular members of the cast a season later. Yet their appearances still outnumber three of the other main Sharks.
Fourth in number of appearances is BRAK systems founder Robert Herjavec, who has appeared on 233 episodes (933 pitches). FUBU founder Daymond John has 185 appearances to his name so far (742 pitches), while Barbara Corcoran has been on the show 164 times, seeing 662 pitches.
Mark Cuban makes the most deals
Mark Cuban was the most prolific dealmaker in the Tank, with 229 deals pledged on screen. These deals were made after seeing 1109 separate pitches, meaning he makes a deal 20.65% of the time.
In second place is Lori Greiner, who has made 204 deals to date, striking a deal on screen precisely 20.88% of the time.
After that, the numbers are very close. Here's the current breakdown:
Third place: Kevin O'Leary (112 deals, 9.65%)
Fourth place: Daymond John (113 deals, 15.23% of pitches seen)
Fifth place: Robert Herjavec (114 deals, 12.22%)
Barbara Corcoran (110 deals, 16.62% of pitches seen).
Mark Cuban has pledged the most money on screen
The top investor by total dollar amount (including loans) was Mark Cuban, with an enormous $64,971,833 pledged across all deals. This represents 28.72% of the total money invested on the show across all seasons.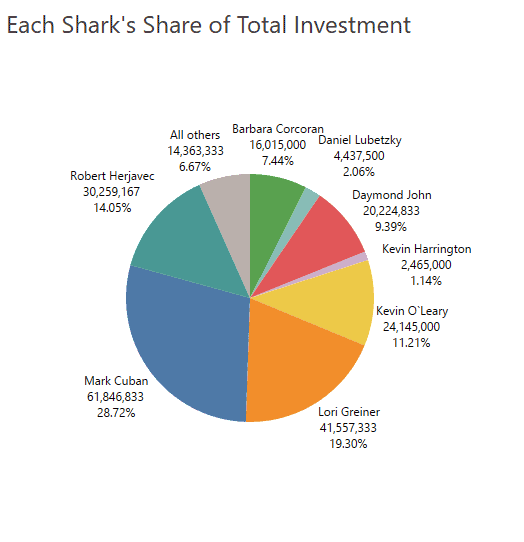 The next top investors were Lori Greiner ($44,772,333; 19.3% of all deals), Robert Herjavec ($31,459,167; 14.1%), Kevin O'Leary ($24,445,000; 11.2%), Daymond John ($20,944,833; 9.5%), and Barbara Corcoran ($17,490,000; 7.5%).
Of the guest Sharks, Daniel Lubetzky takes the crown, investing $4,437,500 across the 13 deals he made on the show (2.1% of the total money invested on Shark Tank).
…And he boasts the highest average investment
While the total investment for each Shark is impressive, some Sharks tend to look for bargain prices while others have different motivations. The average investment per deal reveals more information about what each Shark thinks a good deal might be.
When it comes to the regular Sharks, Mark Cuban also invests the most per deal on average at $283,720.
Second place in this category goes to Robert Herjavec, whose average investment is $275,958. He's followed by Lori Greiner ($219,472), Kevin O'Leary ($218,259), Daymond John ($185,353), and Barbara Corcoran ($159,000).
Of all the Sharks, the one with the highest average investment was guest Shark Maria Sharapova with $450,000, which she made on her only appearance on the show. Sharapova's investment was matched by Mark Cuban, with the pair agreeing to invest $900,000 for 30% of Bala Bangles, which sold fashionable wrist and ankle weights for working out.
Mark Cuban has entered into the most partnerships, but Lori Greiner is the most popular partner
As the Shark with the most deals pledged, Mark Cuban teamed up with another Shark on a deal 109 times (47.60% of his total deals).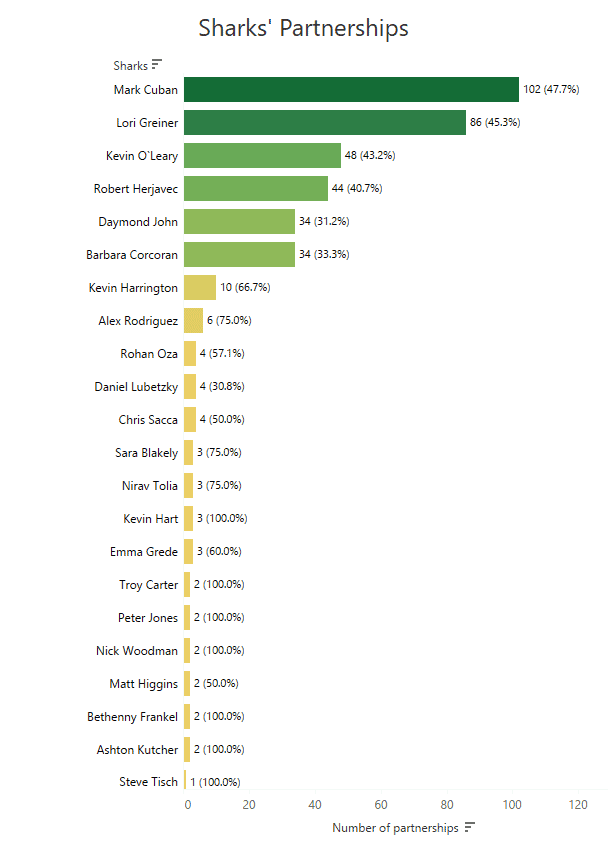 Lori Greiner took a partner in a deal 95 times (46.57% of her deals), Kevin O'Leary looked for a partner 48 times (42.86% of total deals), Robert Herjavec partnered with another Shark 45 times (39.47%), Daymond John partnered 34 times (30.09%), and Barbara Corcoran partnered 35 times (31.82%).
Perhaps more interesting, however, is who they tend to partner with. And the stats show that Mark is the Shark others partner with most often, although Lori comes a close second.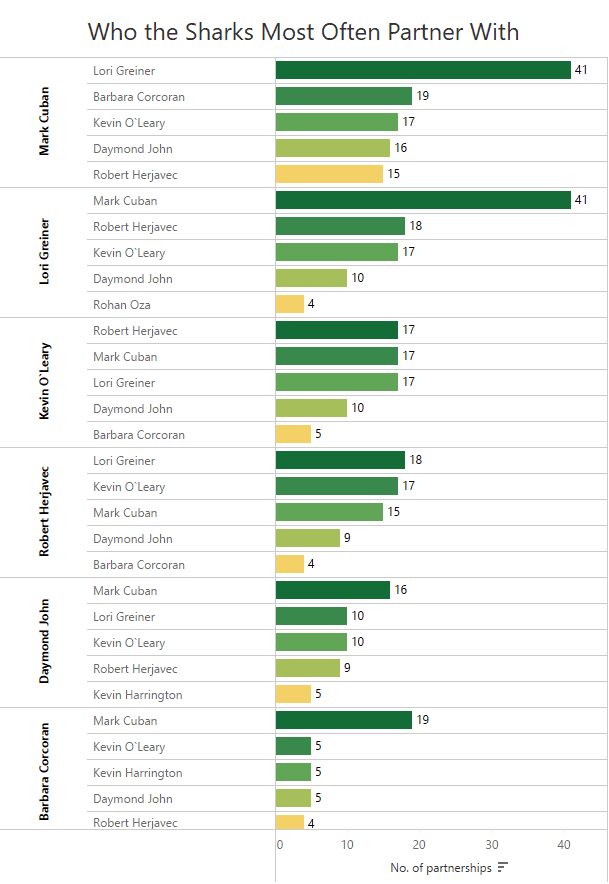 Mark Cuban's preferred partner in deals was Lori Greiner, with the pair collaborating a total of 46 times (42.20% of Cuban's total partnership deals). This is a clear indication of the high regard he has for the "Queen of QVC".
And the feeling was mutual: Greiner's collaborations with Cuban constituted 48.42% of all her partnered deals.
How well each US state and territory has performed on Shark Tank so far
We dove into how well each state and territory (specifically, D.C. and Puerto Rico) has performed on the show to date.
Our stats show that some states are highly capable of encouraging and nurturing great businesses, while others struggle to produce many startups at all.
Entrepreneurs tend to gravitate to states that support them and where business norms and taxes are most conducive to success. The varied representation of U.S. states in Shark Tank therefore provides something of a snapshot of how the wider economy works.
Remember to check out the sections above focusing on general Shark Tank statistics and the individual Sharks' performances.
State and territory comparison table
Before we get to the various interactive maps below, it is worth checking out how the states compare across a wide range of metrics.
Simply click on the state's name to highlight its performance, or sort the table by whichever category interests you the most.
California is top dog when it comes to total investment, but Puerto Rico, Idaho, and Connecticut have the highest average investment
Perhaps unsurprisingly, companies from California attracted the greatest investment total from the Sharks––the figure currently stands at $68,601,000.
This was followed by New York ($1,450,000 investment), Texas ($895,000), Florida ($575,000), and Massachusetts ($600,000).
However, California's average investment was only $194,889.
Puerto Rico (average investment of $197,258 and Connecticut ($145,000) trounce everyone as far as average investment dollars are concerned. Indeed, no other territory broke the $400,000 barrier.
(It should be noted, however, that Puerto Rico is a bit of an outlier here: It has only secured one deal so far.)
At the other end of the scale, two states, South Dakota and Wyoming, have yet to appear on the show. Let's see if that changes in Season 14.
There were also five other states that received no investment dollars from the Sharks despite appearing on Shark Tank at least once. They are Alaska, Montana, Nebraska, New Mexico, and West Virginia.
Of all the states in which a company received at least one pledge, Kansas and Maine tied when it comes to lowest investment. Each state has attracted one deal so far, both for an investment of $60,000.
Unfortunately in both cases the deals never closed, so Kansas and Maine are still waiting for their first Shark-backed company.
California leads the way in total number of deals, but 5 states/territories have a 100% record
211 Californian-based companies managed to secure on-screen deals so far, helping the Golden State live up to its name. However, these deals were off the back of 352 pitches (another record), meaning the state was "only" successful 59.9% of the time.
The top 5 states and territories that currently have the best record when it comes to agreeing deals are:
Arizona: 4 successful deals/4 appearances (100% success rate)
Kentucky: 3/3 (100%)
New Hampshire 2/2 (100%)
North Dakota 1/1 (100%)
Puerto Rico 1/1 (100%)
New York-based companies appeared 17 times on the show but had successful pitches 29.4% of the time (5 deals agreed).
Of the 11 Texan companies to make an appearance, 45.5% were successful (5 deals). Florida-based companies appeared 4 times on Shark Tank but signed deals 75.0% of the time (3 deals).
The 7 Massachusetts-based companies that pitched on the show had a 42.9% success rate (3 secured deals).
When we adjust for population size, the picture is very different
Of course, one of the main reasons why the usual suspects (California, New York, Texas, and Florida) perform so well is that they boast the biggest populations.
But what if we were to even this out?
Well, we took this into account and adjusted the key metrics of number of appearances, number of deals struck, and, most importantly, value of investments per million residents. Check it out:
As you can see, the map is very different. The District of Columbia leads the way in investment dollars ($1,249,326 per million residents), followed by Utah ($649,328), and Idaho ($100,868).
At the bottom, three states stand out from all the states that secured at least one deal: Indiana's investment value per million residents is $492,502, Maine's is $720,388, and Kansas' is a paltry $53,054.
New York is the most successful city on Shark Tank
Finally, we also broke successful deals down by city:
As you can see by the largest dots, the city with the biggest investment total was New York ($19.57 million), followed by Los Angeles ($15.75 million), Austin ($6.70 million), San Francisco ($6.83 million), and Boston ($5.3 million).
The city with the lowest investment total was Powell, Ohio, which appeared once on the show and secured backing of only $10,000.
Companies from Los Angeles appeared on Shark Tank the most (108), followed by New York (104), San Francisco (47), San Diego (32), and Chicago (30).