Nowadays we have greener alternatives for everything, including dog poop bags, which is where Pooch Paper comes in. Interested to know what Pooch Paper is all about? What happened before and after their Shark Tank appearance? Where the company is now?
Keep reading to find out!
What is Pooch Paper on Shark Tank?
Pooch Paper is an American-based company that produces eco-friendly paper alternatives to plastic doggie poop bags. Their aim is to save the environment from the harmful effects of millions of plastic dog waste bags that are discarded by dog parents every year.
How Pooch Paper wants to save the environment
After realizing that up to 500 million single-use plastic bags are thrown away by American dog owners each year, the owner of Pooch Paper stepped in with a more environmentally conscious alternative to cleaning up dog poop.
The product is environmentally safe because it is made of:
Recycled paper
Non-chlorine bleach paper
Biodegradable material
Compostable material
Grease resistant coating
Made using renewable energy
You can get these bags via a one-time purchase, monthly subscription, or in pooch paper dispensers.
How does Pooch Paper work?
Pooch Paper works like any other dog waste bag. Simply grab the dog waste using the paper, twist the corners of the paper around the waste, and toss it in the garbage. If you're still not sure how it works, check out the pictorial below: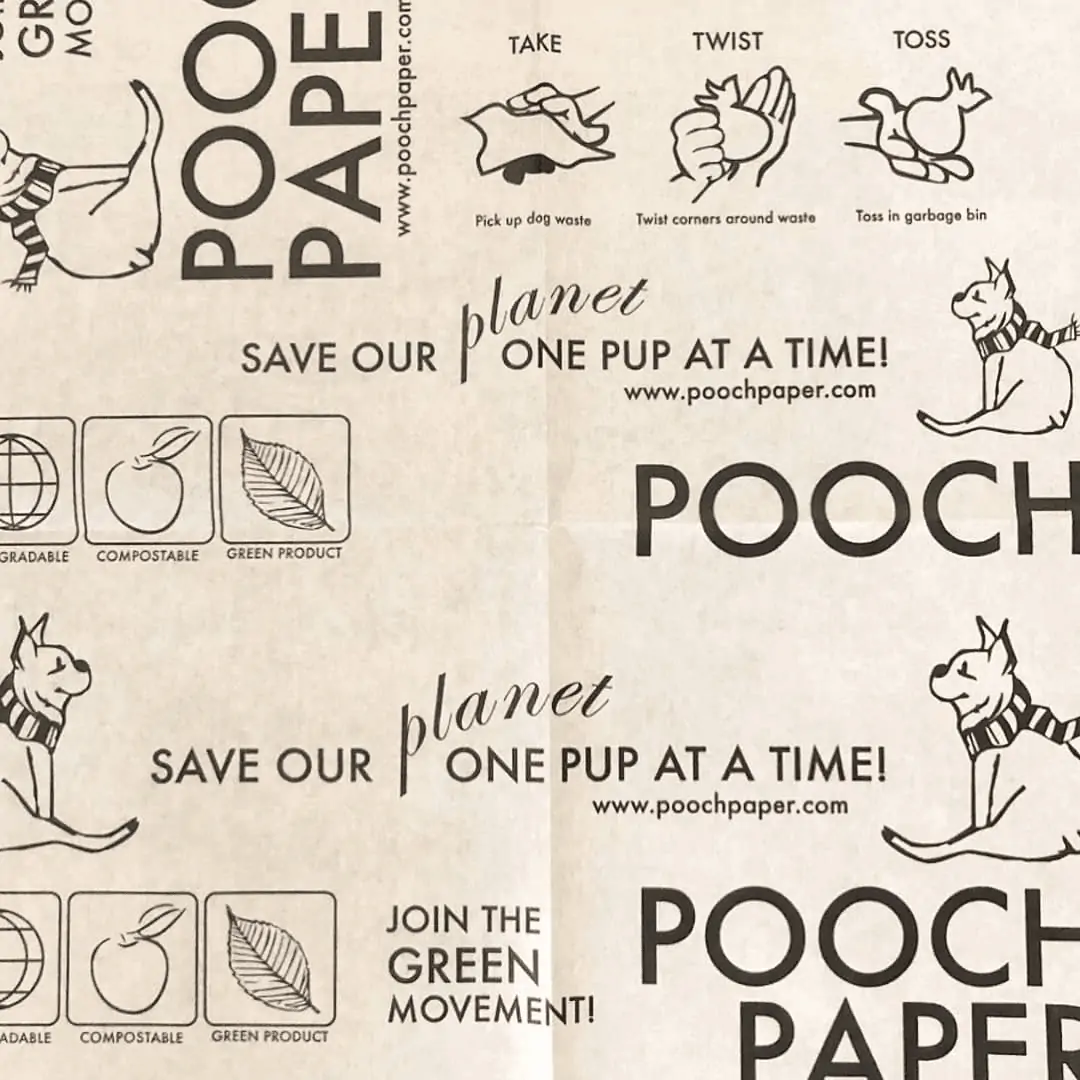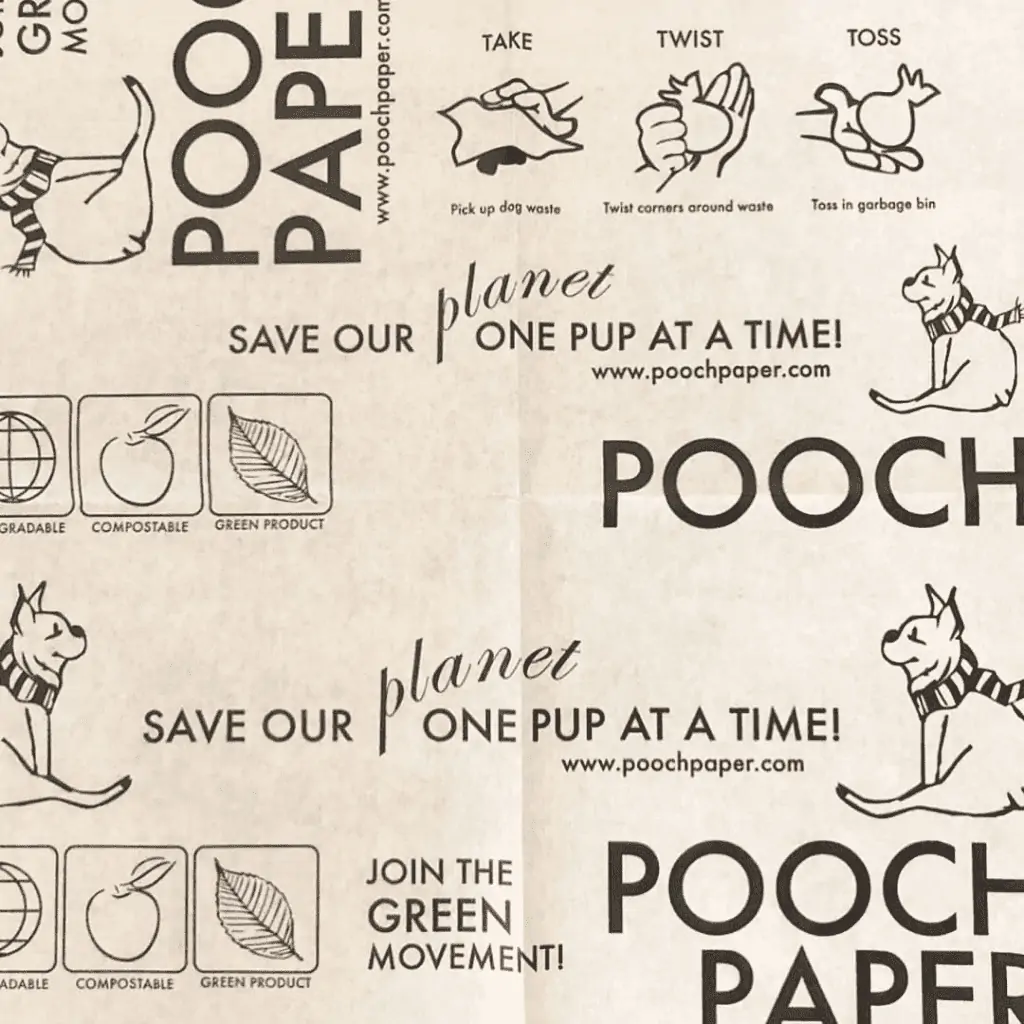 How does Pooch Paper compare to its competitors?
All the above perks, in comparison to the single-use plastic bags that can take up to 500 years to degrade, seem amazing. But is Pooch Paper really unique in the world of dog poop disposable products?
Actually, this product is not the only biodegradable alternative for disposing of dog waste out there. In fact, biodegradable plastic doggie waste bags are readily available in the market. And some critics have suggested that this plastic option is better than picking up poop with paper.
The reason? Simply because plastic's greater flexibility makes it easier to handle. That means you can wrap it around the waste without worrying whether it will leak or not.
The price point is also another aspect that the brand's competitors are doing better…by far! But they are still making bank so there definitely is a market for them.
What people are saying about Pooch Paper
A number of Shark Tank fans criticized this product, starting off with its price. For $13, many dog owners can just get 500 plastic dog waste bags off amazon or even 200 biodegradable plastic dog waste bags. By comparison, Pooch Paper will get you about 50 papers for the same price.
Others cannot fathom picking up dog poop with paper for fear of it tearing.
Here are some of the most popular sentiments:
"$13 for the pooch paper instead of a free/cheap plastic bag? Sorry but that's way too much. I'm just going to throw away the pooch paper anyway and I need to buy more?"
"As a dog owner I think I'd tear these half the time and it would be much easier to end up with dog poo all over my hands mid-walk."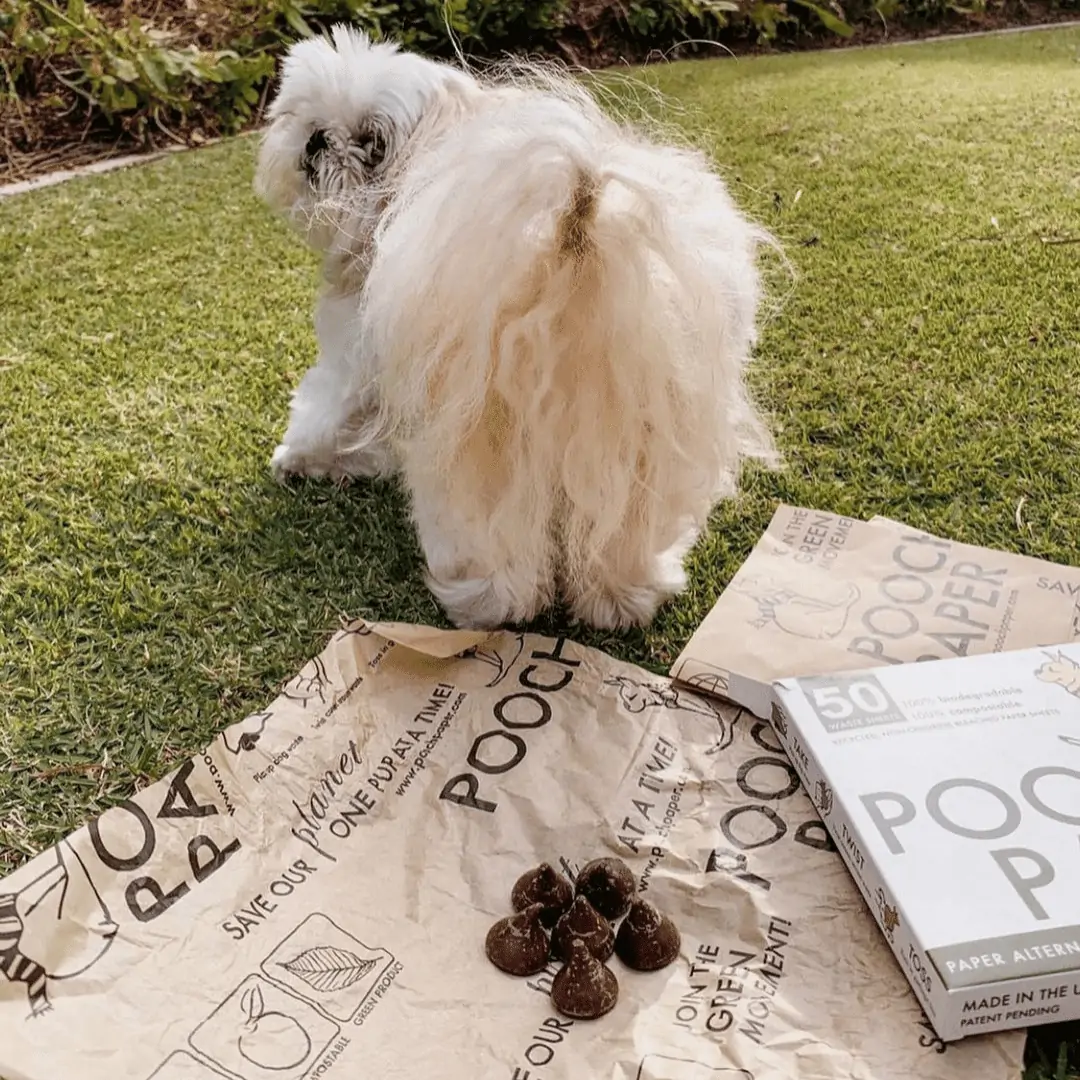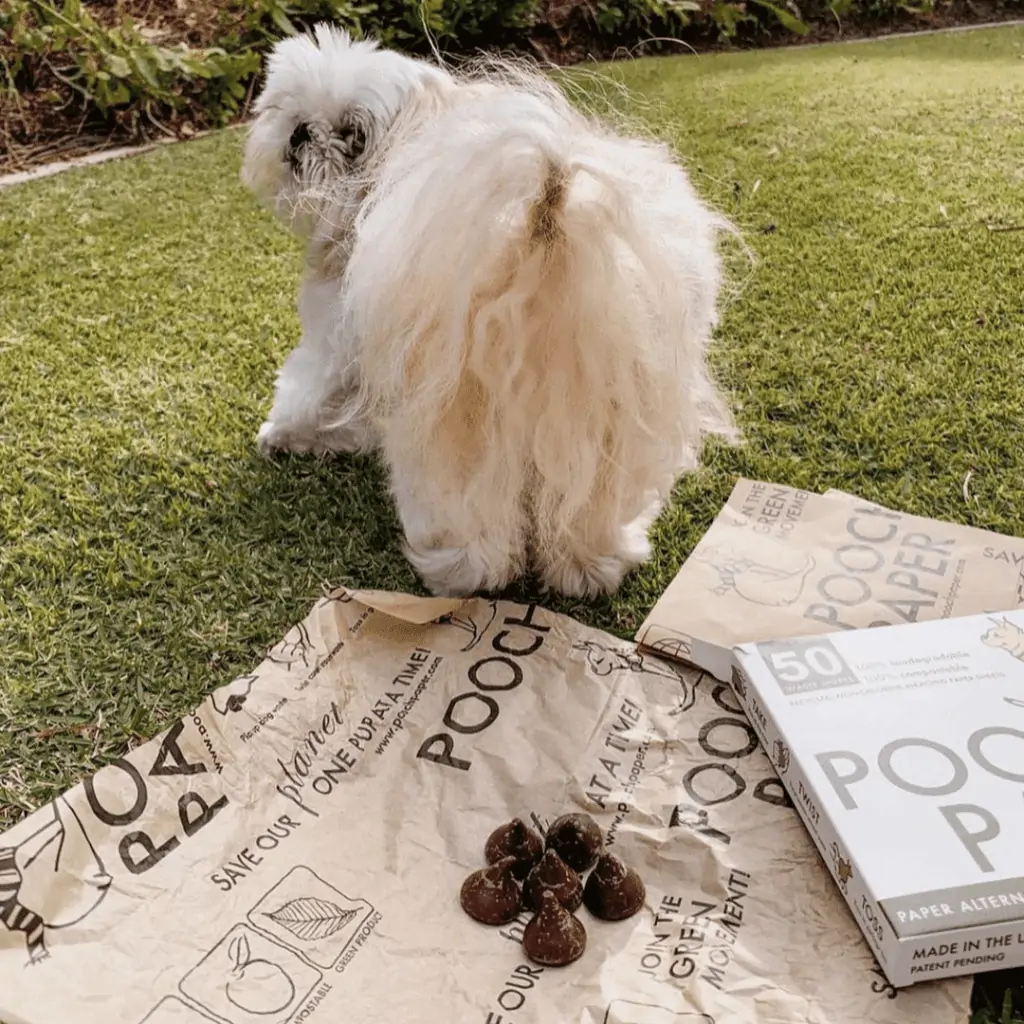 However, the product had others who were rooting for it as you can see by the comments below:
"My skepticism quickly dissolved once I took out a sheet and actually used it. It was as easy to use as any plastic baggy, so if it's better for the environment, it just makes sense."
"Those free bags at municipal dog parks and animal shelters suck. There is always a chance it splits when you are using it. I'd rather pay $13 dollars than have that occur."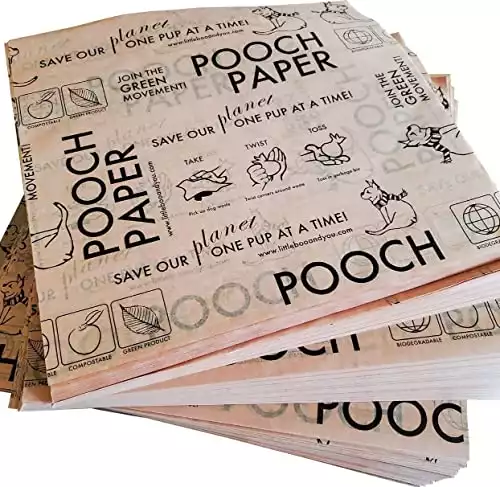 We earn a commission if you make a purchase, at no additional cost to you.
Who founded Pooch Paper?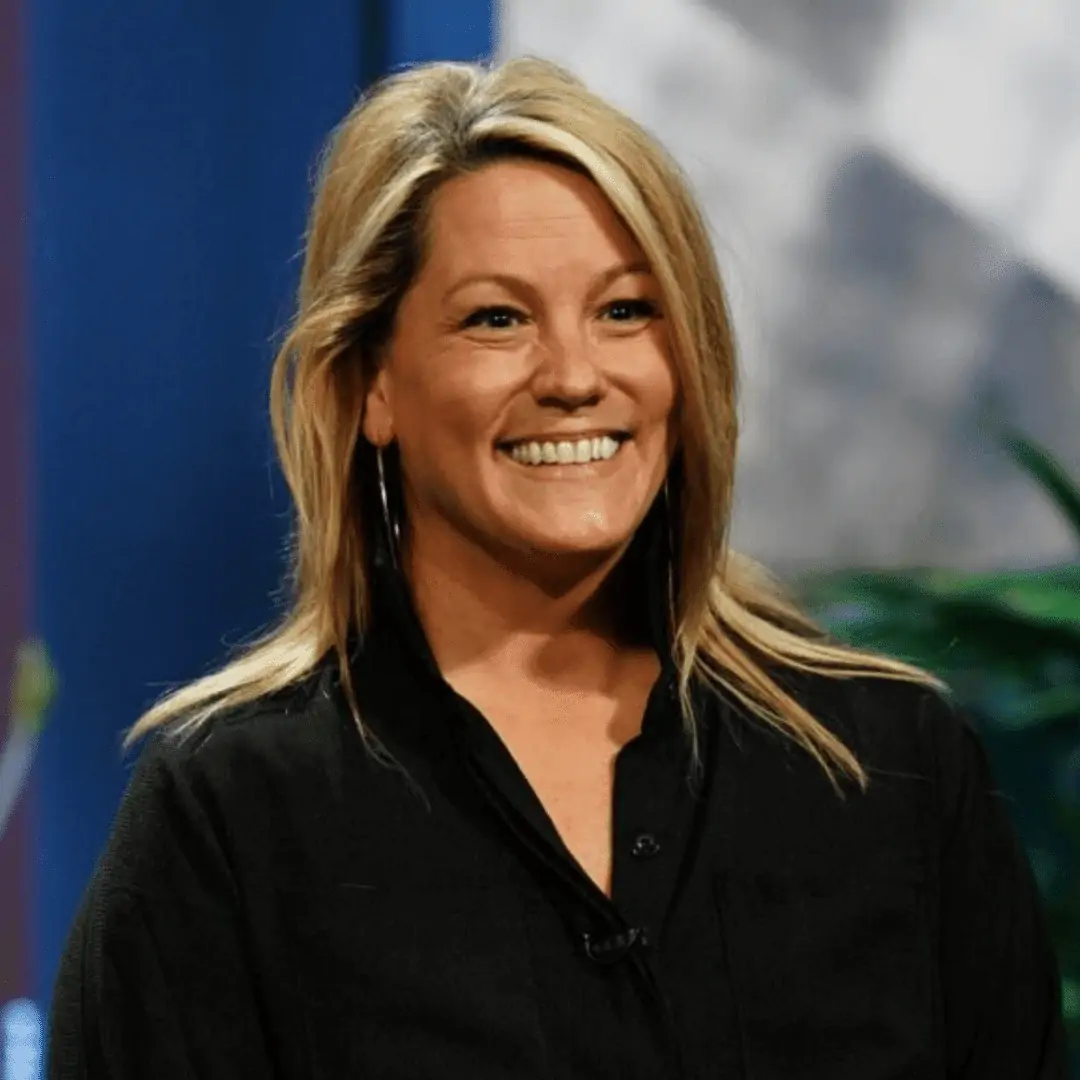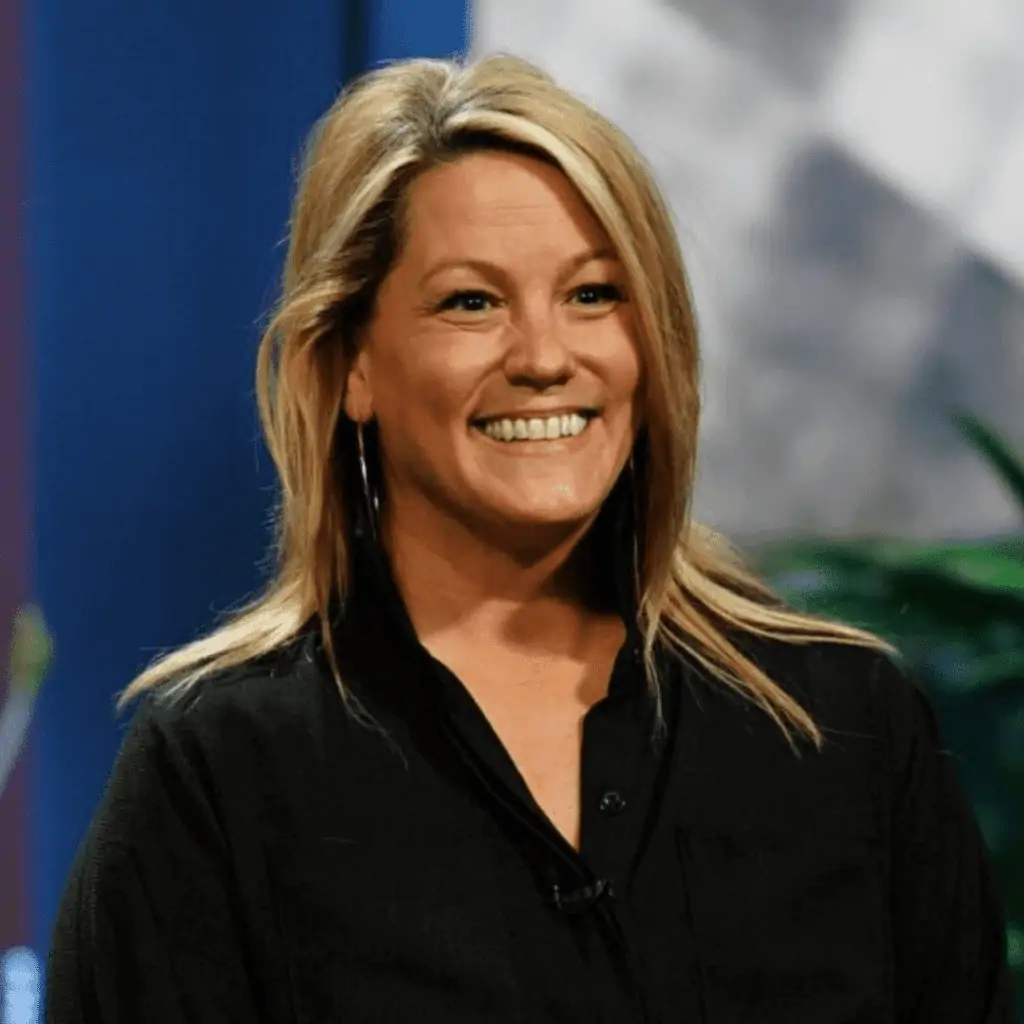 Pooch Paper was founded by Tracy Rosensteel, a successful entrepreneur in the financial world who stumbled on the idea while taking Indiana Jones (her doggie) on walks.
The environmentally conscious Tracy Rosensteel is said to have thought about the paper alternative to doggie waste bags while visiting dog parks and walking Indiana Jones. She couldn't help noticing how many plastic bags were thrown away in the bins of these facilities.
Additional research pointed to an estimated ten million pounds of plastics that were being disposed of annually. And she discovered that plastic takes up to 500 years to decompose!
Before Pooch Paper and Shark Tank, began her career in studio arts (she produced and directed a travel biography, "In Pursuit of Passion"), then moved onto Wall Street where she founded her own company, the New York-based Vega Consulting Inc—a trading technologies consulting firm.
She left in 2016 and took up a head of sales job in a financial company followed by a sales director job till 2020. Then came Pooch Paper.
Pooch paper was officially launched in 2018, and Tracy made appearances on GenBiz and the C Suite Network. The product also featured in a Whole Dog Journal article, where the writer, Nancy Kerns, stated that it was the best no-plastic alternative that she had found to work so well.
When did Pooch Paper go on Shark Tank?
Pooch Paper was featured on Episode 2 of Season 12 of Shark Tank. The show was originally aired on October 23, 2020.
Did Pooch Paper get a deal on Shark Tank?
Yes, Pooch Paper got a deal on Shark Tank from Kevin O'Leary at $250,000 for $1 royalty per unit in perpetuity. This was radically different to what founder Tracy Rosensteel initially asked for, namely $250,000 in exchange for 12% equity.
Kevin was the only Shark that made an offer to this company. In fact, Mr. Wonderful gave Tracy two offers and let "Wall Street Tracy" (his affectionate nickname for her) pick the best one: 1. $250,000 for 50% equity or 2. $250,000 for $1 royalty per unit in perpetuity with no equity.
The other Sharks, Mark Cuban, Lori Greiner, Barbara Corcoran, and guest Shark Kendra Scott, were not interested in investing because of the price point, the fact that the product didn't provide greater convenience in comparison to other options, and they didn't think the company needed the equity deal seeing how far it had already come.
What happened to Pooch Paper after Shark Tank?
After Shark Tank, Pooch Paper's products became available to other countries outside the US. Kevin O'Leary promised to push the company's sales, and it seems he was true to his word. Today the brand can now be found in Japan, Dubai, and Canada. The growth curve is expected to continue rising.
What is Pooch Paper worth today?
Pooch Paper is said to be worth approx. $820,000 as of 2022. Because of the increasing awareness of global warming, more people are becoming environmentally conscious so sales can be expected to increase as well.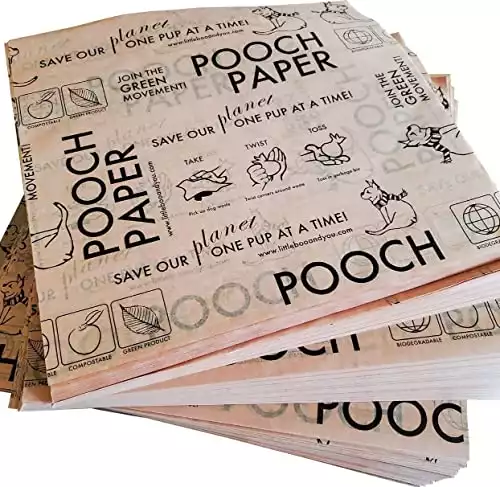 We earn a commission if you make a purchase, at no additional cost to you.