Ice Shaker is a company that produces insulated protein shaker bottles and water bottles to help keep drinks cold for up to 30 hours.
But did the Sharks like Ice Shaker's idea? Did any of them see potential in the product? And did Ice Shaker shake hands with a Shark before leaving the tank? Read our Ice Shaker Shark Tank Update for to find out the answers to these questions and more.
What is Ice Shaker?
Ice Shaker is a line of double-walled vacuum-insulated shaker bottles that hold ice for up to 30 hours in a 75-degree room. Made from kitchen-grade stainless steel, Ice Shakers don't sweat or absorb odor, and with internal measurement lines and a silicone base, you can easily measure out the perfect amount of liquid while your shaker stays in place throughout the process.
Also now available on the Ice Shaker website are flex bottles, sports bottles, gallon and half-gallon jugs, tumblers, bags, accessories, and apparel.
Who created Ice Shaker?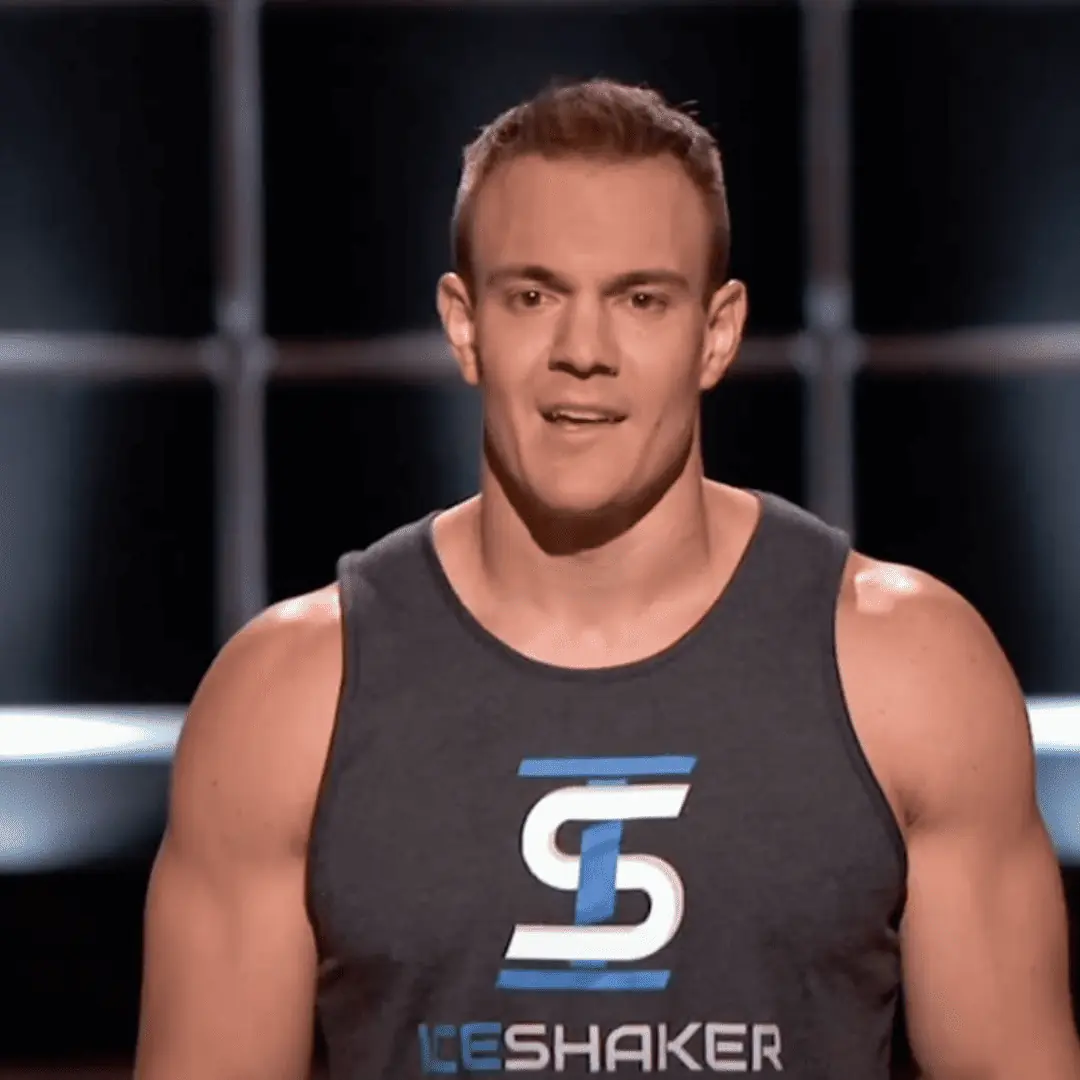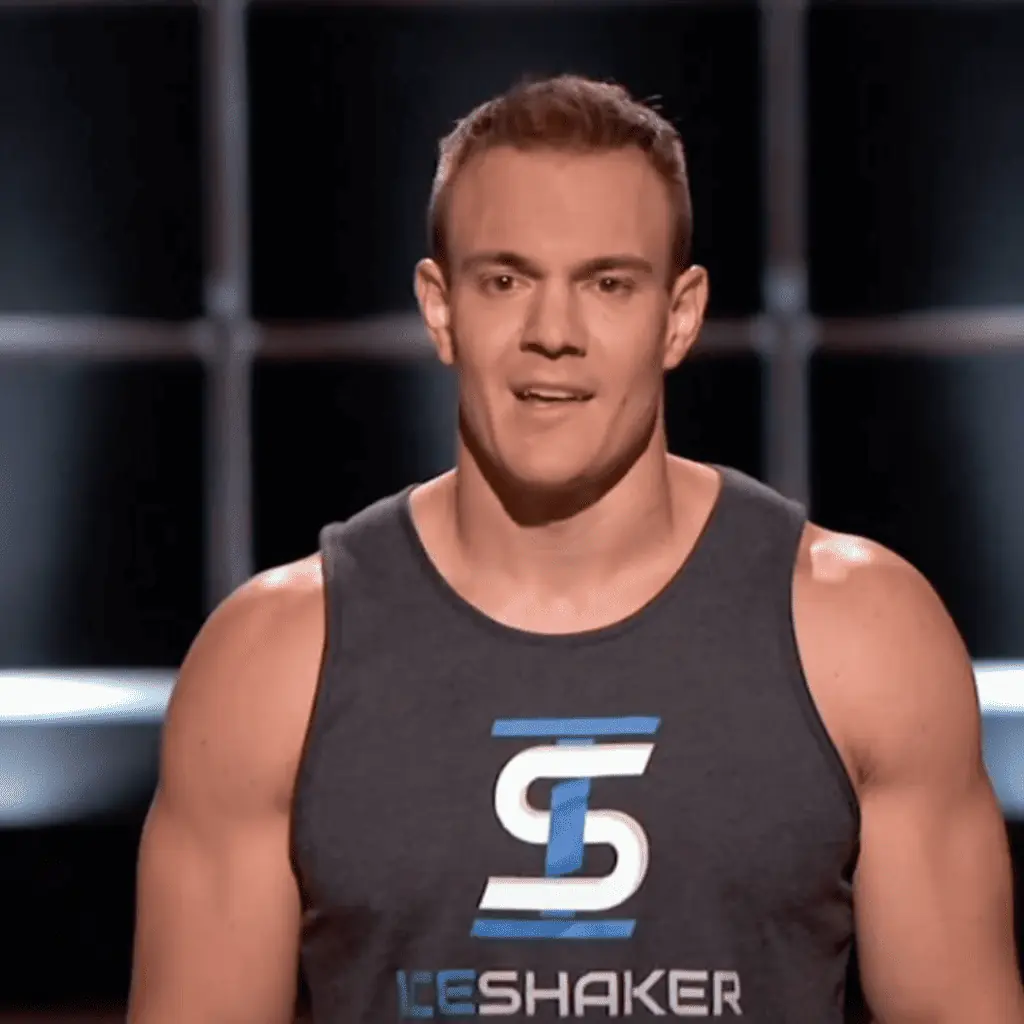 Chris Gronkowski's from Dallas, Texas, created Ice Shaker to battle his issue with poor-quality gym protein shakers. After injuring himself and subsequently ruining his NFL career, where he once played for the Dallas Cowboys, Indianapolis Colts, and Denver Broncos, Chris decided to become an entrepreneur, and with that, Ice Shaker was born.
As a kid, Chris grew up in a household of five boys, and being the shortest, he knew he needed to be the strongest. After hitting the gym and accumulating a collection of cheap plastic uninsulated bottles and protein shakers that would leak, break, or begin to smell after a couple of months, Chris decided to tackle all of his gym bottle problems and create his double-walled vacuum insulated shaker bottle that holds ice for up to 30 hours.
What happened to Ice Shaker before Shark Tank?
Before entering the Tank, Ice Shaker had made $80,000 in its first six months selling the bottles on its website, Amazon, in retail stores, and at fitness expos.
Each bottle retails for $25, with the cost to make each product coming out to $5 apiece. During his pitch, Chris prided himself on putting very little marketing money into his company, and when the Sharks began to question why his name or the Gronkowski name, in general, wasn't on the product, he stated that he wanted people to purchase an Ice Shaker because they actually wanted it, not just because his famous NFL playing brother promoted it on his socials.
What do customers think of Ice Shaker?
Although the official Ice Shaker website doesn't display any customer reviews, we can see what customers think of the insulated protein shaker products over on Amazon, where 76% of reviewers rated the product 5 stars.
One customer stated that their Ice Shaker is their go-to bottle with the review, "Crazy to say, but this shaker bottle has so many great features its become my go-to for protein shakes."
Whereas another customer said, "Purchased this for our son for protein shakes. They are correct-the drink stays cold for a long time! I like that the shaker is very durable, the lid seals really well, and the top spout has a cover that stays closed."
Despite many positive reviews, however, there have been some negative comments with customers claiming that the Ice Shaker bottles do, in fact, leak. One customer commented, "Shaker is garbage…leaks everywhere when you shake it. Also leaks in a bag or anywhere when it is not in an upright position." with another saying, "Unfortunately, it leaks!!!!! It's not as bad with smoothies, but with thin liquid, the content literally drips off like an IV drip."
When did Ice Shaker go on Shark Tank?
Ice Shaker appeared on episode 4 of Shark Tank's 9th season, which aired on October 15, 2017.
Did Ice Shaker get a deal on Shark Tank?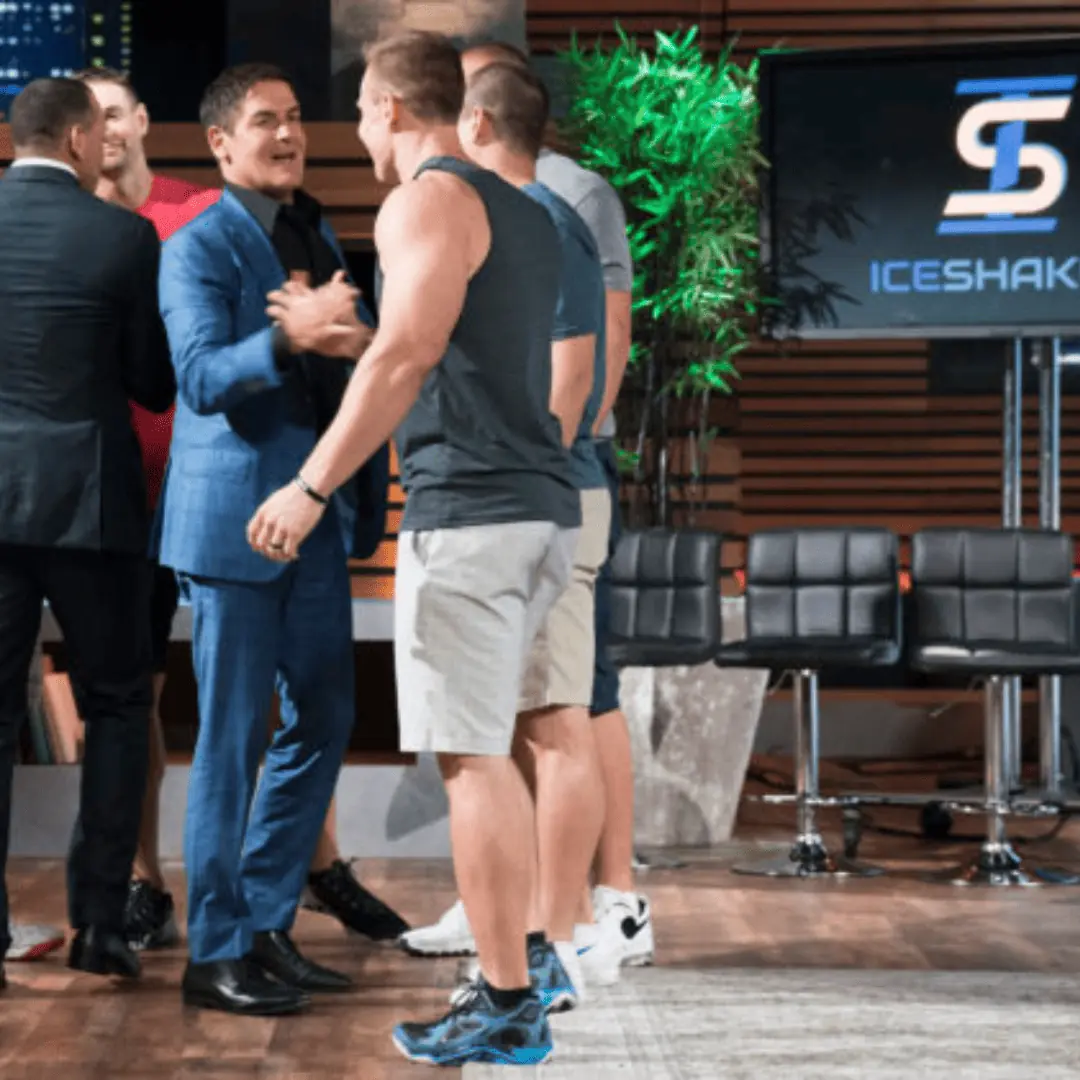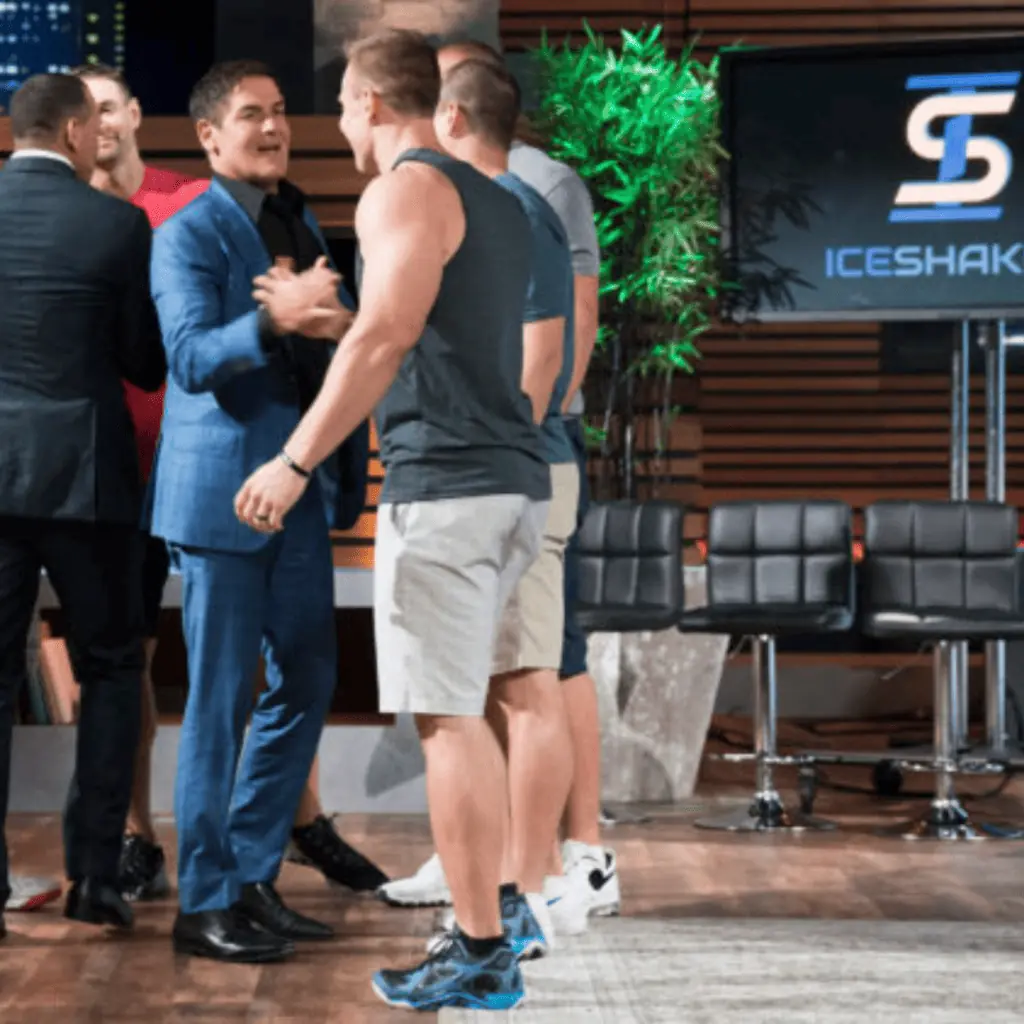 Ice Shaker did get a deal on Shark Tank as Chris shook hands with Mark Cuban and guest Shark Alex Rodriguez for $150,000 for 15% of the company.
Initially, Chris went into the Tank in search of $100,000 for 10% equity, however, after a game of flip cup between the five Sharks and the five Gronkowski brothers, as well as a bidding war between all five Sharks, Chris left the Tank with $50,000 more than what he asked for, despite entering the Tank for expertise as opposed to money.
The first Shark to make an offer was Kevin, who offered Chris $100,000 for 20% of the Ice Shaker business. Following shortly after was guest Shark Alex Rodriguez who explained to Chris how he owns part of 1,000 gyms in 20 different countries. Alex proposed a partnership with fellow Shark Mark Cuban for $150,000 for 20% of the Ice Shaker business.
Barbra Corcoran was the fourth Shark to make an offer, telling Chris that she'd frankly give $1 million for 10%, as well as the opportunity to just hang out with them. However, when it came to it, her actual offer stood at exactly what Chris was looking for, which was $100,000 for 10% of the business.
The final of the Sharks, Lori, put in her offer of $100,000 for 15%, which gave Chris four incredible offers to choose from. Chris asked Lori if she would be interested in joining Mark and Alex, to which Mark and Alex explained that it was them as a pair or nothing.
In the end, Chris managed to get Mark and Alex to agree to $150,000 for 15% of the Ice Shaker business, so he left the Tank with two athlete-fanatic Sharks in tow.
Ice Shaker Shark Tank update, what happened next?
After appearing on Shark Tank, Ice Shaker has expanded into different products, giving customers the option of sports bottles, gallon bottles, and even bottles that keep cans cold.
The year after the Shark Tank episode aired, Ice Shaker had amounted to $3 million in sales, and Chris' NFL playing brother Rob bought out Alex Rodriguez's shares and joined in with Chris' lucrative business. Nowadays, Ice Shaker has an annual revenue of $1 million, and the products are available in 3,500 GNC stores, all Lifetime Fitness locations, The Vitamin Shoppe, and on Amazon and Ice Shaker's official website.
Is Ice Shaker successful?
Ice Shaker is a successful company whose sales rocketed 500% after appearing on Shark Tank. As the initial valuation of Ice Shaker in the Tank was $1 million, it's safe to say that the company, which made $3 million in one year alone, has met up to and passed their expectations.