NightCap is a wearable, protective drink cover that helps users to stay safe when they are out on the town. With this NightCap Shark Tank Update, we discover what happened after one of the Sharks opened their checkbook to join in helping keep young men and women safe.
What is NightCap?
Nightcap is a company that manufactures drink-spiking prevention products. The company is located in West Palm Beach, Florida.
The original Nightcap is a protective drink cover, which is a flexible-fabric stretch lid that can quickly and easily be placed on top of a beverage glass. One unique characteristic of the Nightcap is that it is carried in a fashionable scrunchie that can be worn on the wrist or in your hair.
Who created NightCap?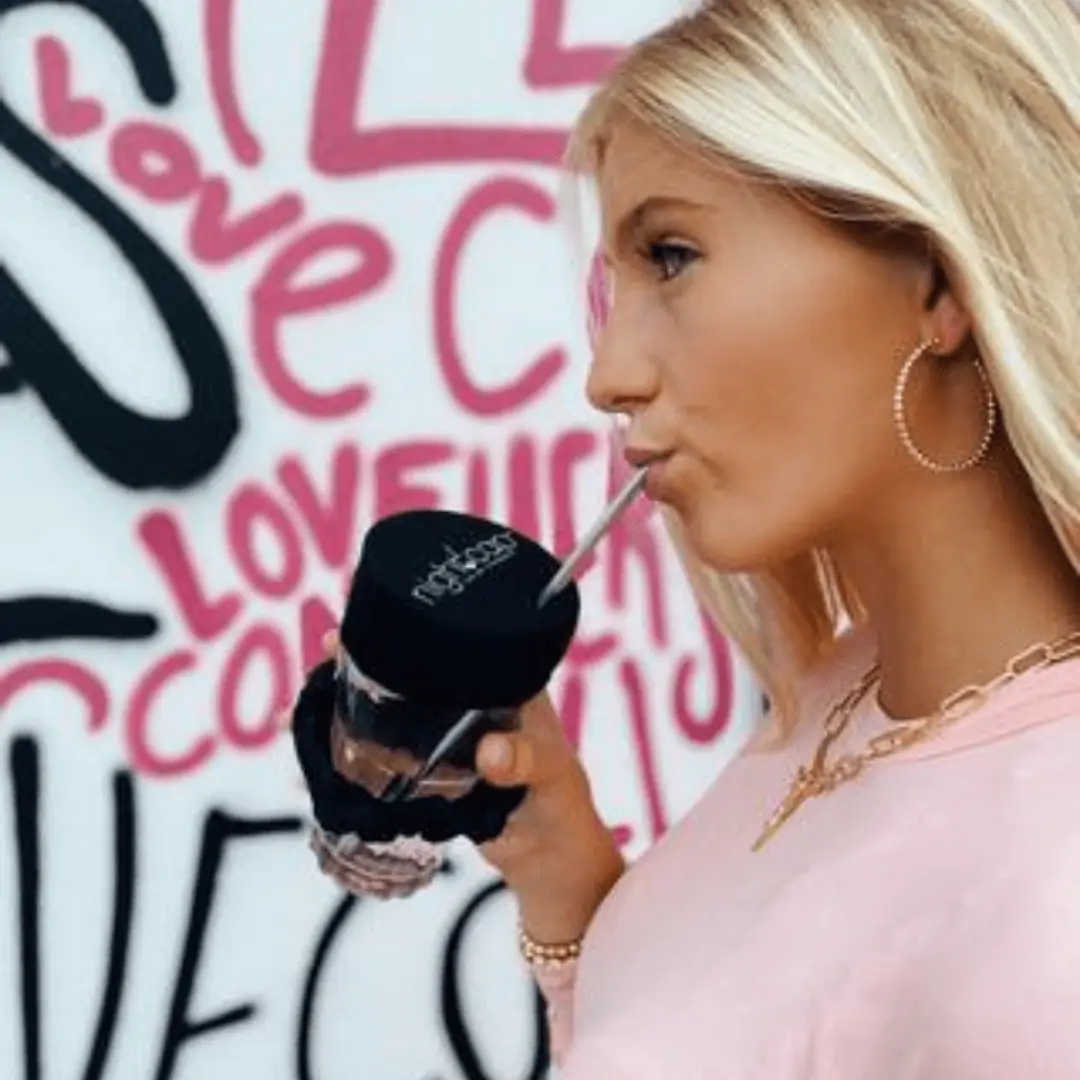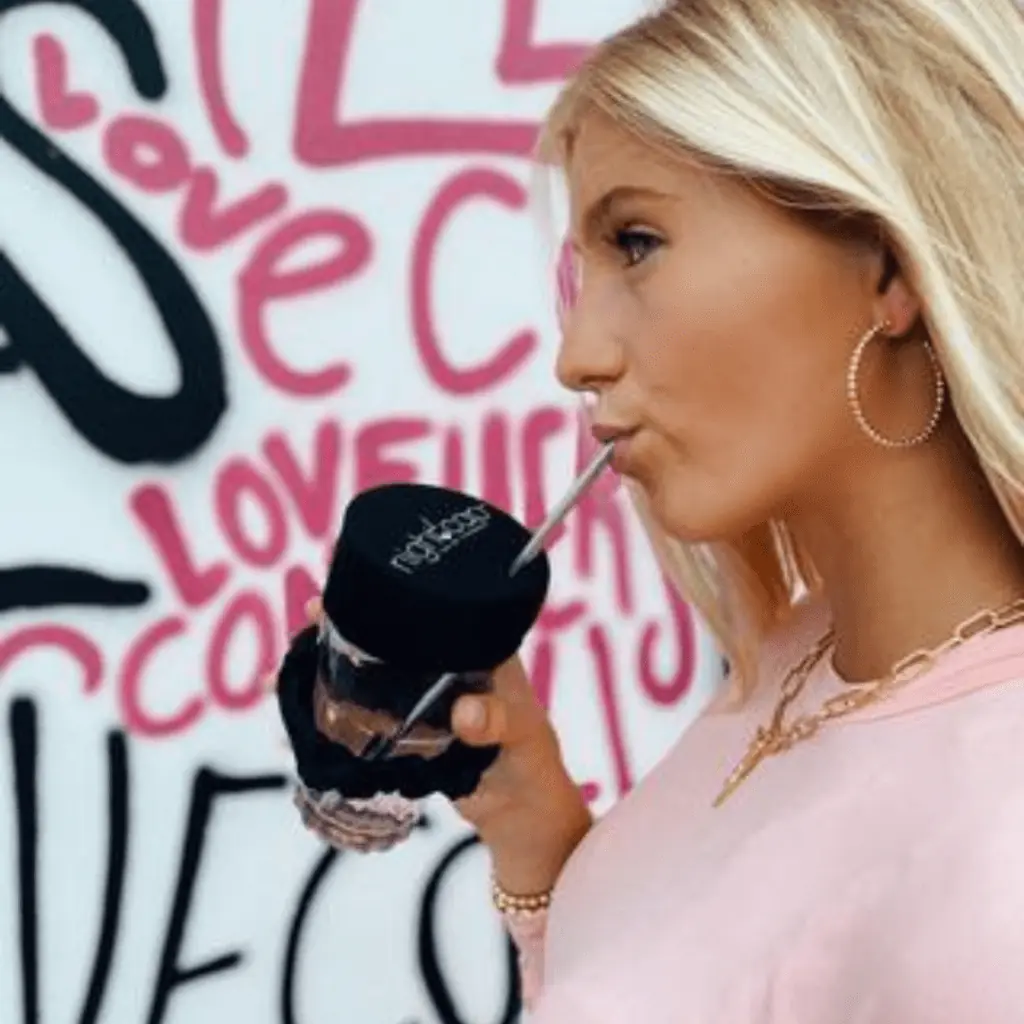 The NightCap protective drink cover was first created by Shirah Benarde, who was just sixteen years old when she created it. Shirah was then joined by her brother, Michael, to co-found the company which produces the NightCap.
Shirah Bernarde is CEO and co-founder of NightCap. Shirah created NightCap while she was still in high school, and she appeared on Shark Tank when she was just 17 years old. She started college at The University of Tampa in 2020 to study Public Relations and Advertising, but in an interview with Her Campus, Shirah stated that she had dropped out of school to focus on the business.
Michael Bernarde is co-founder and President of NightCap. As an undergraduate, he earned a BA in Political Science and Government from Florida State University; he then continued at Florida State to complete an MBA degree. Aside from NightCap, in 2022, Michael founded Michael Benarde Consulting, a company which helps startups and small businesses get off the ground and scale through strategizing, marketing, manufacturing, product development, and other creative strategies.
How did NightCap Get Started?
According to the NightCap website, NightCap was invented in early 2019 by then 16-year-old Shirah Benarde from West Palm Beach, Florida. Shirah states that the idea came to her in a dream after hearing about the horrors of drink spiking from friends who experienced it after going off to college. She recalls that the morning after having this dream, she went to her mother's closet, grabbed a pair of pantyhose, cut them up, and attached them to a scrunchie to create the first NightCap prototype.
When Shirah's brother Michael came home from college and saw the NightCap prototype sitting on the table, he saw huge potential for the product. Together, the brother and sister team worked for the next six months to move the NightCap from concept to reality.
What happened to NightCap before Shark Tank?
Before appearing on Shark Tank, the NightCap siblings launched an Indiegogo campaign in September of 2019. They were looking to raise $12k to cover production costs for the first batch of NightCap products. They reached their goal by early November 2019, and the first NightCaps were shipped around the end of the year.
Along with the Indiegogo campaign, Shirah and Michael also participated in four Pitch Competitions, several of which were held at Florida State University. Through these competitions, they won a total of $15k to assist them as they were getting the business off of the ground. Undoubtedly, participating in all of these competitions was also great preparation for their appearance on Shark Tank.
Before taping their Shark Tank episode, NightCap had been in business for around 11 months, and they had about $68k in sales, with $40k of their revenues having been produced in the six weeks prior to their Shark Tank pitch.
What do customers think of NightCap?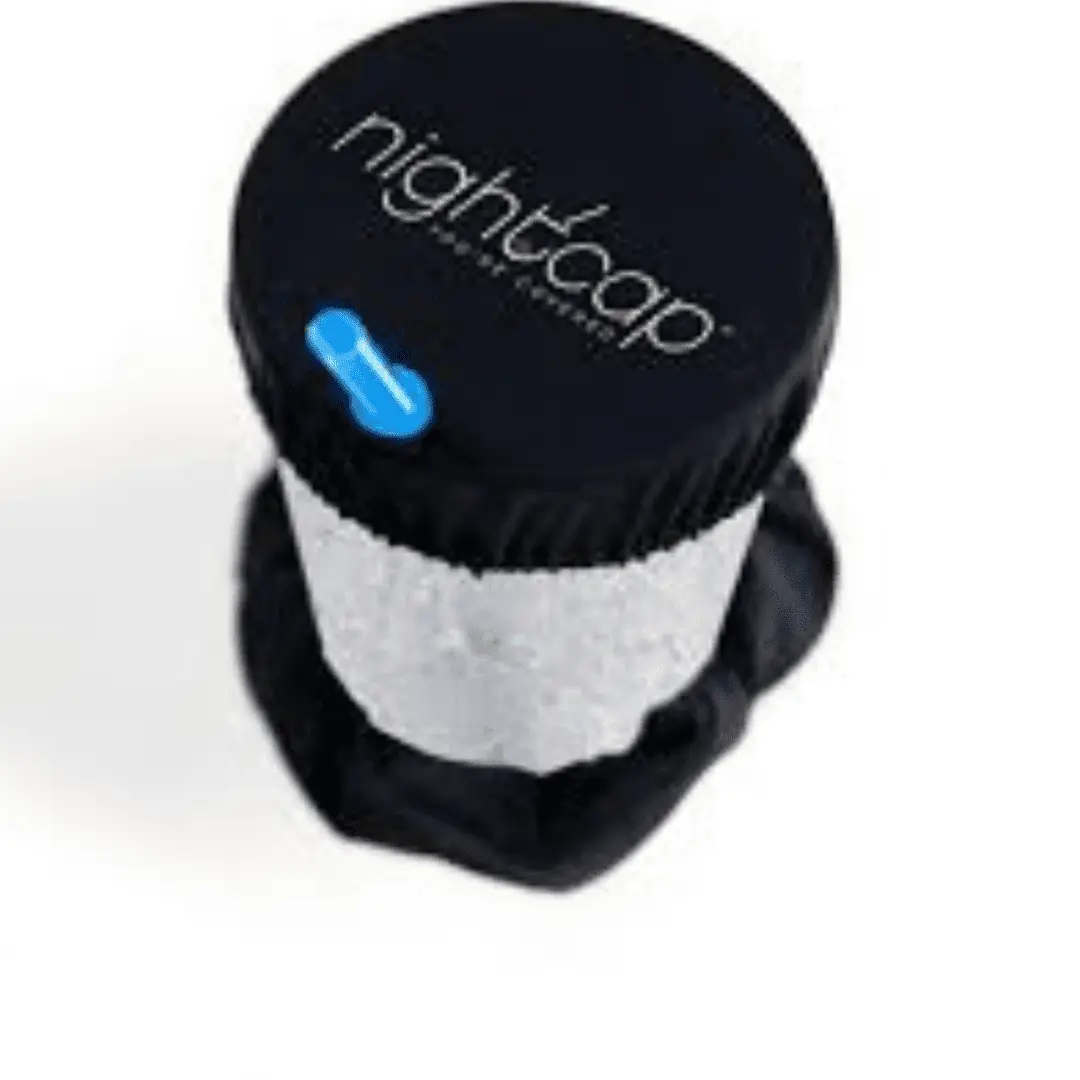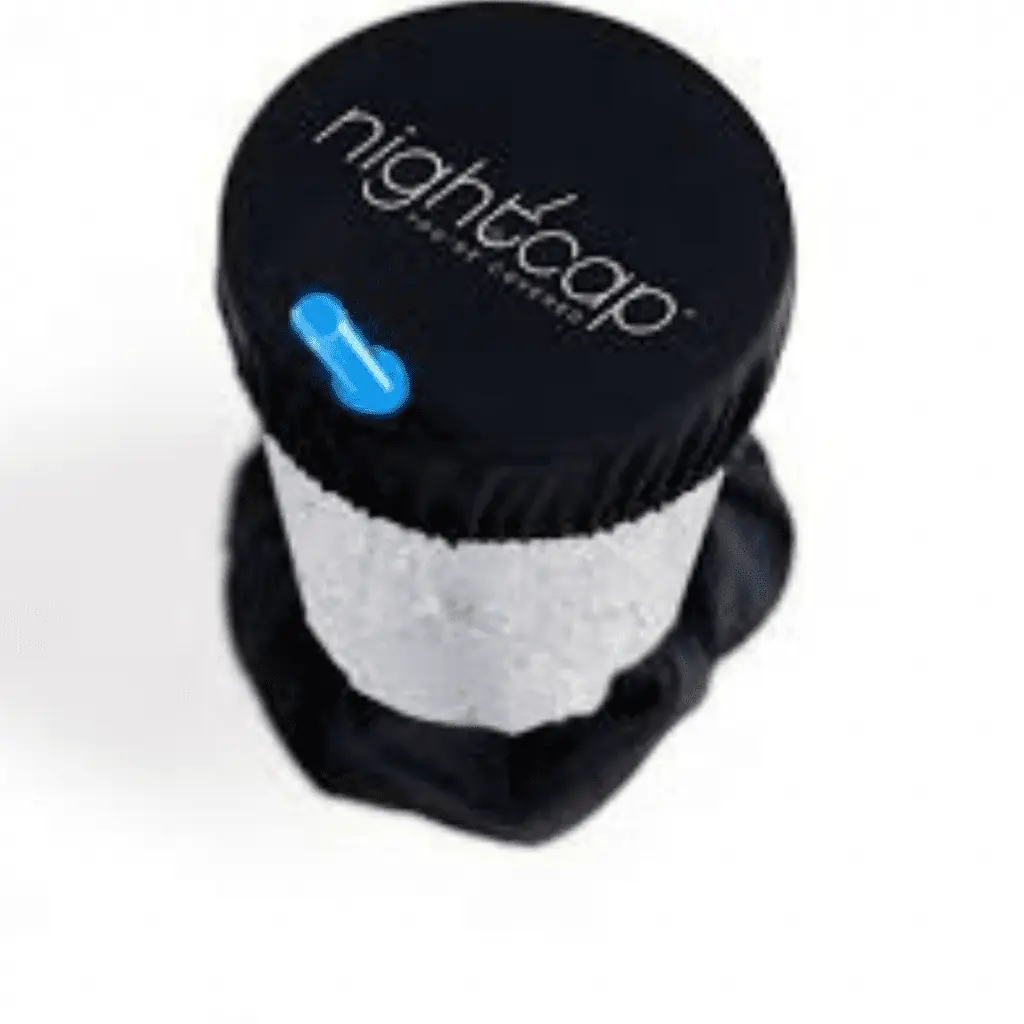 NightCap has been very successful on Amazon, amassing an impressive 5,072 ratings, with an overall score of 4.7 out of 5 stars, and 82% of reviews give the product 5 stars. NightCap has also been selected as an Amazon's Choice product.
What are customers saying about NightCap?
With 93% of all Amazon raters giving NightCap 4 or 5 stars, there are plenty of very positive reviews.
One very satisfied customer writes:
"I'm not one to write lengthy reviews, but I promise this is all you need to know: I had seen this product on social media a few times and was interested, but questioned the durability and functionality. I went drinking with friends one night, and literally watched some guy try to drug both myself AND my friend. It was such a scary experience, you never think it'll happen to you until it does. I ordered a 2 pack in black the very next day. Two weeks later, I went back to that same bar and used the NightCap. It was quick and easy to put on my cup at the bar. Put the scrunchie around the cup, not your wrist. Not only did it make me feel instantly comfortable, but it was also a great conversation starter!"
Another verified purchaser says, "My sister in law just turned 21, so I got a pack of these for her and her girlfriends! I was drugged at a bar last year and it was the worst experience of my life. Never want anyone to go through what happened to me. Must have for responsible drinking!!!"
After scrolling through hundreds of recent reviews for NightCap, the few negative comments which we were able to find focused on the price, design, or workmanship of the product.
One less-than-happy verified purchaser wrote: "I ended up returning these. The idea is to wear it as a scrunchy and then put it over your cup once you arrive to your location. The scrunchie part of this was WAY too bulky."
Another disappointed customer said, "I really wanted this product, but after opening the package this item is poorly made. They need to change the look of this having a white piece of elastic hanging out. It's a terrible look"
When did NightCap appear on Shark Tank?
NightCap appeared on Shark Tank in Season 12, Episode 12, which aired on February 6, 2021. Season 12 of Shark Tank included many popular products, including Ice Beanie.
NightCap Sibling co-founders Shirah and Michael Benarde pitched to the regular Sharks: Mark Cuban, Daymond John, Barbara Corcoran, Kevin O'Leary, and Lori Greiner.
What happened to NightCap on Shark Tank?
NightCap co-founders Shirah and Michael Benarde entered the Tank and asked the Sharks for a $60k investment in return for 20% of their company.
Shirah and Michael began their pitch by describing that while going to parties and bars may be fun for young women, particularly those attending college, these environments are not always safe.
Michael told the Sharks, "All it takes is for you to look away from your drink for just a second to end up in a terrible situation." Shirah then added that they were talking about drink spiking, and she told the Sharks, "while it's not frequently talked about, it happens more than you would think. That's why I created NightCap, a fun solution to a serious problem."
The brother and sister next explained that NightCap is a cover for your drink, but it's also a cute scrunchie that can be worn on the wrist or in your hair. As they demonstrated the product, the NightCap team told the Sharks that the product is very easy to use, and it is reusable.
Next, after the Sharks were invited to try out a NightCap for themselves, Lori Greiner quickly exclaimed, "Wow, that was fast and really easy." Barbara Corcoran next asked if drink spiking was a serious problem on college campuses, and she was told that the NightCap team had surveyed 100 women between 18-25, and 26% of them reported to have had their drink spiked.
Kevin O'Leary, wanting to quickly get down to business, then inquired about the numbers. Shirah told him, "We've been in business for 11 months, and we've done $68k in sales, but $40k of those sales have been in the last six weeks." Lori followed up asking what happened to bring the sudden spike in sales, and Michael told her that at first they were just buying Facebook ads, but they learned that this didn't work, so they worked on their website optimization and then began to focus on social media marketing.
Shirah and Michael told the Sharks that they had funded the company in three ways. First, they got $18k from their parents to get started; then they held a successful Indiegogo campaign which raised another $12k, and the one that most impressed the Sharks was the fact that the siblings had competed in four different pitch competitions and had won a total or $15k to help fund the business.
Kevin O'Leary said that he assumed that they did not have a patent for the NightCap; however, Michael informed him that they had a utility patent pending for a wearable, drink-spiking prevention device.
At this point, it appeared that Lori had heard enough and was ready to dive in and go for a swim with the NightCap Team.
Did NightCap get a deal on Shark Tank?
NightCap successfully got a deal on Shark Tank. The NightCap siblings agreed to a deal with Lori Greiner at $60k for a 25% stake in the company.
It was obvious that Lori was ready to dive in headfirst. She said to Shirah and Michael:
"I'm just gonna jump in, right here, right now. I love this. I don't think that I have ever seen a product come to the Shark Tank that resonated more deeply in a social mission way as this." She went on to tell the brother and sister team, "I think that this is genius, so I'm going to make you an offer. I'm gonna offer you $60k, and I'm going to do it for 25%, five percent more. I want to be a partner in there with you, and I want to do everything I can to actually blow this up on social media."
After Lori spoke for another minute or so about her passion for this product, Barbara immediately piped in with, "I never hear Lori that passionate. I didn't know that she had it in her blood. You better grab that offer and run."
When Shirah and Michael heard this, they first turned to face one another and whispered. Then, they turned toward Lori and said, "Lori, you've got a deal!"
This was the fastest deal ever made on Shark Tank.
NightCap Shark Tank update: what happened next?
NightCap experienced dramatic growth after its episode aired on Shark Tank. Because the business had been so successful immediately after their original episode, they were invited to appear in a Shark Tank Update, just one year after their original episode had aired on ABC.
According to the Tallahassee Democrat, "NightCap had about $68,000 in sales when the brother-sister duo appeared on the show in February 2021. A year later, sales soared to $2.1 million."
Michael told the Tallahassee newspaper, "I really never expected to get this far," and he added, "our brand is almost bigger than those numbers. If you go walk around college areas and just ask people, 'Have you heard of the spiking prevention scrunchie,' almost everyone our age knows of it."
The Shark Tank appearance added fuel to the NightCap social media fire, as the product has now amassed more than 175 million views on TikTok. The word has also spread internationally, as NightCaps are now sold in more than 40 countries.
NightCap has also expanded their product line with a key chain beverage lid which provides a more unisex option and product for those who may not want to wear a scrunchie.
According to the NightCap website, since their Shark Tank episode, the company has also become the exclusive distributor for StopTopps, a disposable UK-based drink-spiking prevention cover. StopTopps are described as innovative disposable drink lids that use a proprietary hygienic-approved glue to stick on and cover most cups and glasses. StopTopps help keep out pills, powders, liquids, bugs, and sand!
How much is NightCap worth?
While the deal that NightCap made with Lori Greiner at $60k for 25% of the company valued the company at $240k, with 2022 sales of $2.1 million, the company's valuation has no doubt increased substantially.
Because the company is privately held, we can not fix an exact valuation; however, there are several reports valuing the company at between $1.1 and $2 million, and this range of estimates seems quite reasonable.
We can undoubtedly say that NightCap experienced a very strong Shark Tank effect, and the fact that the company was asked to reappear on the show for an update is sure to have multiplied this effect.