We took a look at NuMilk, one of the biggest deals in Shark Tank History, to see how the company has changed in order to deal with the difficult challenges it has faced since their episode aired on Shark Tank in March 2021.
What is NuMilk?
NuMilk is a company that manufactures unique machines which produce popular plant-based milks such as almond milk and oat milk. NuMilk machines can also make specialty milks, including cashew, pistachio, and others. The company is currently based in New York City with engineering and manufacturing in Raleigh, North Carolina.
NuMilk also produces the pouches which their machines use to produce their plant-based milks. The ingredients in the pouches are organic, gluten free and vegan. And the NuMilk pouches are made from post-consumer materials that are recyclable or returnable. The company is also working on a compostable pouch as well.
Who created NuMilk?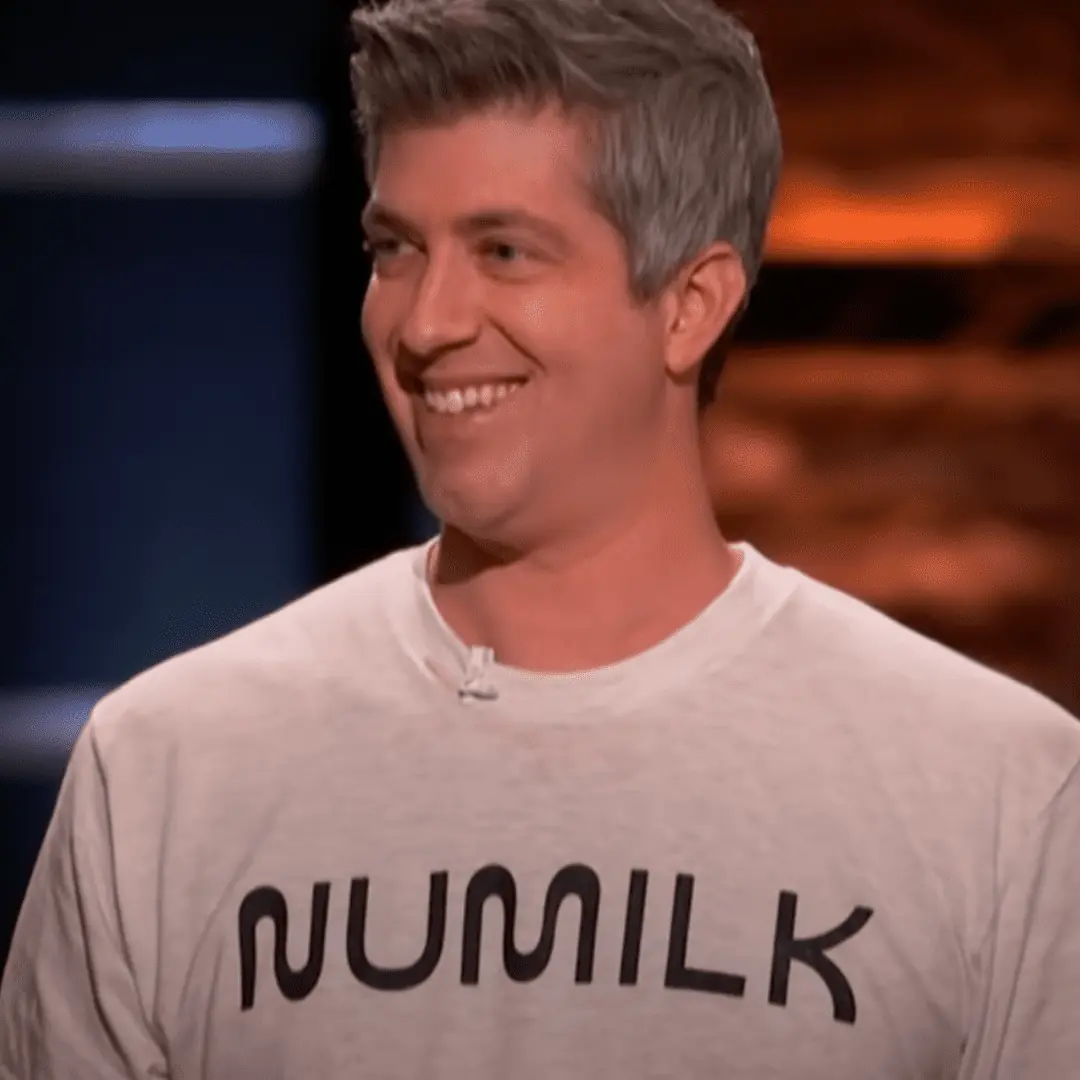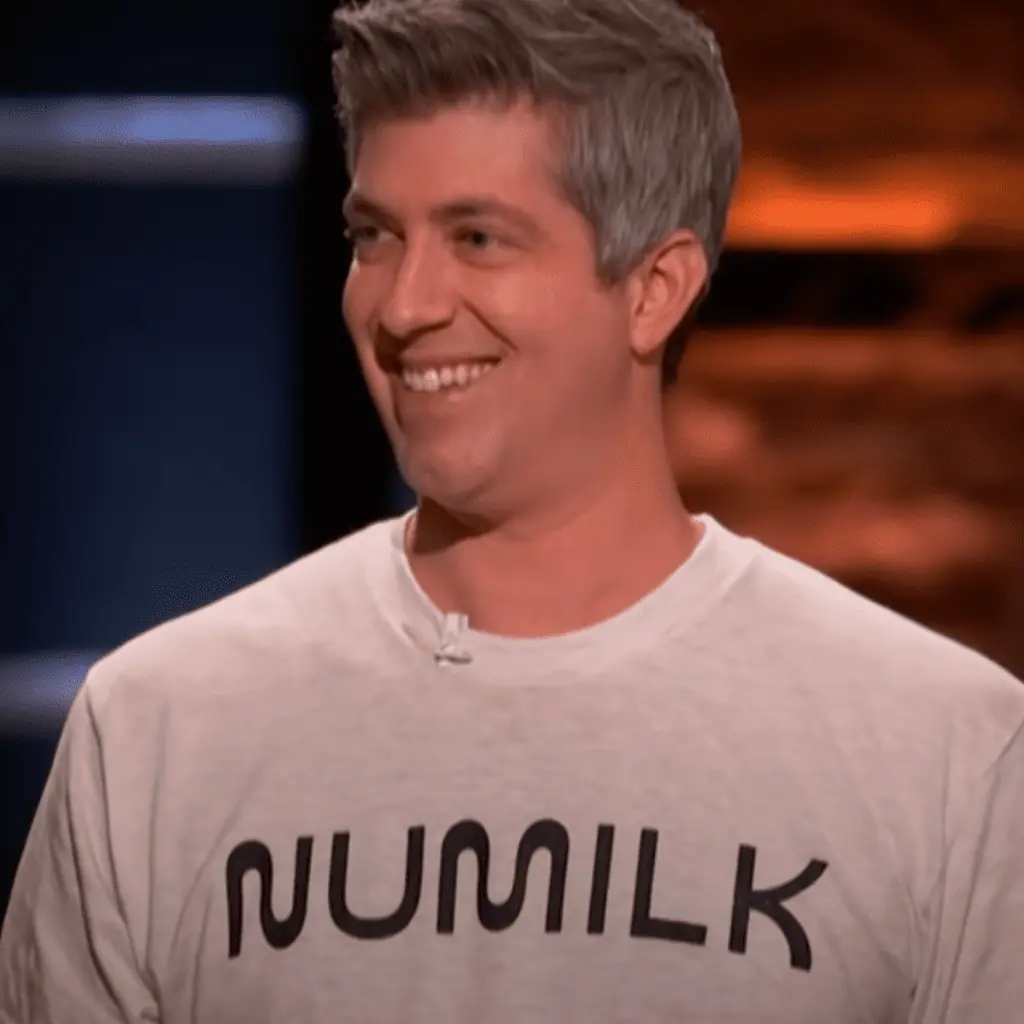 NuMilk was founded by Ari Tolwin and Jo Savino. Ari has a BA in Political Science from the University of Pennsylvania and an MBA from Duke University. Prior to founding NuMilk, Ari was co-founder and CEO of Happy Tree Maple Water, a consumer beverage business. Jo Savino attended Pace University and graduated with a BBA in Finance. Before the NuMilk venture, Jo was co-founder of Harvest Beverage Group, a consumer beverage company which produces cold-pressed juices.
How did NuMilk Get Started?
Co-founders Ari Tolwin and Jo Savino both had extensive experience in the consumer beverage industry, and they knew that plant-based milks were becoming very popular with consumers. They realized that many consumers were switching to almond milk, oat milk or even hemp milk, but they also understood that these alternative milks were hyper-processed and filled with gums, preservatives and fillers.
Ari and Jo wanted to make a healthier, fresher version of these plant-based milks, and according to the NuMilk website, they started with "an entrepreneurial spirit and some napkin sketches back in 2017." They really didn't know where to start, so they reached out to everyone they knew looking for engineering help, and fortuitously a friend knew exactly the connection they needed.
Ari and Jo then maxed out their credit cards and family loans, and they installed their first working, large-scale machine into the Paramus, NJ Whole Foods in 2018. At this point, their business model was to produce and place their large machines into as many grocery stores as possible so that consumers could make fresh, plant-based milks to order, without the additives used by the big players in the alternative milk industry.
What happened to NuMilk before Shark Tank?
NuMilk was founded in 2018, and prior to entering the Tank, NuMilk founders Ari Tolwin and Jo Savino spent a great deal of time and money overseeing the research and development required to manufacture both the plant-based milk-making machines and the ingredient pouches which the machines use to produce the various milks.
In order to fund their R&D, NuMilk had raised $12 million before they pitched to the Sharks. This research money was used for both their large grocery store milk-making machines, which, at the time of the Shark Tank taping, were their primary business focus. And they also used some of the money to work on producing smaller versions of the machines, one for in-home use and another for commercial use in coffee shops.
By the time Ari and Jo pitched in front of the Sharks, they had spent a great deal of money on developing their NuMilk machines and ingredient pouches, yet they had only placed around 10 of the larger machines in grocery stores and 5 of the smaller commercial machines in coffee shops. This did not seem to be a very good start when one considers that they had accrued losses of what appears to be at least $7 million by the time they faced the Sharks.
NuMilk has also had a difficult time successfully shipping products for a Kickstarter campaign which they started in order to help fund the development and manufacture of the home and commercial versions of their plant-based milk producing machines. They ran the Kickstarter Campaign from March 25 to May 9th 2021. While they raised over twice their $100k goal from 888 backers, according to a number of updates on Kickstarter, including one from November 2022, they are still working on delivering orders for the commercial machines, and they still have not shipped any of the home models. There are a number of negative comments from customers about the delays, and the company has offered to refund money to those who do not wish to wait any longer.
What do customers think of NuMilk?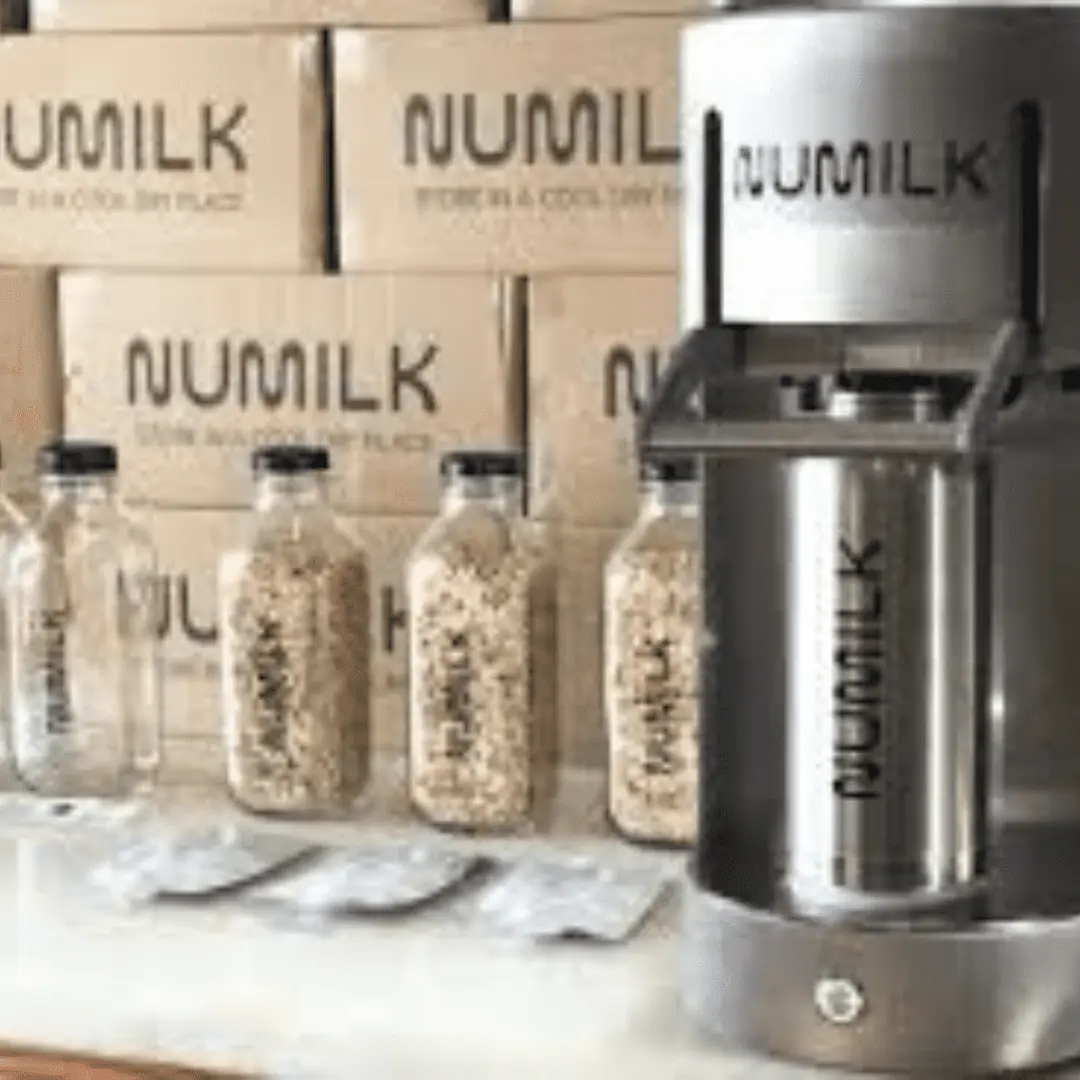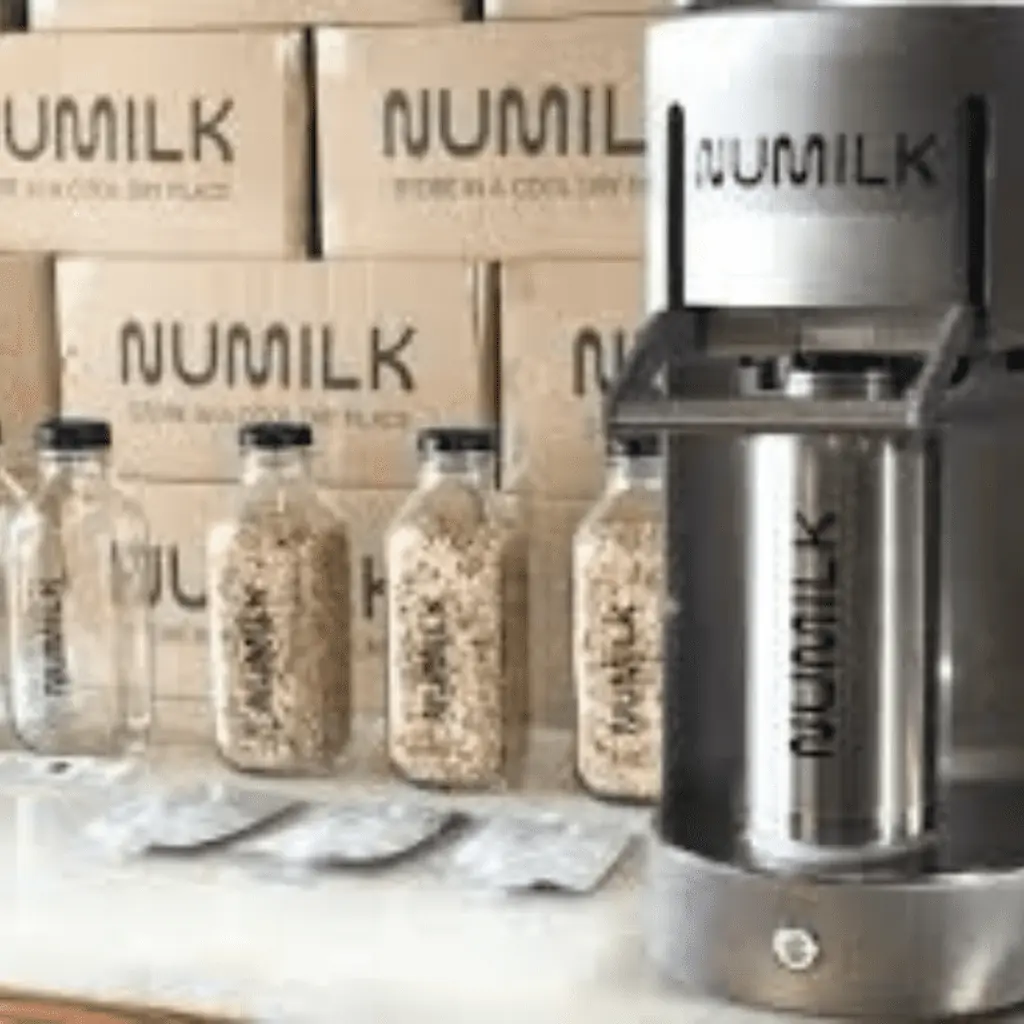 Considering that NuMilk launched in its first in grocery-store with a plant-based, milk-making machine in late 2018, one would think that there would be a good number of reviews for the product online; however, after an exhaustive search for NuMilk reviews, the only reviews which we were able to find are on Amazon, and these reviews were for 32 oz pre-made bottles of NuMilk Oat Milk.
There are 29 ratings on Amazon, and 77% of these ratings gave NuMilk Oat Milk 5 stars, and the remainder of the ratings were either 3 or 4 stars. Only one reviewer wrote about the product, and she said, "Yum, yum and yum. Love that it has no fillers and definitely superior taste compared to other oat milks I have tried in the past."
For a company which attracted one of the highest investments in Shark Tank history, it seems very odd that there are so few reviews for their products online.
We did find one accolade for NuMilk's smaller, commercial plant-based milk maker, which is designed for the coffee shop industry. The Specialty Coffee Association of America, the largest trade organization in the US for the coffee industry, announced in November 2022 that the Numilk Pro Countertop Fresh Plant-Based Milk Machine won their award for Best New Product in the Open Class.
When did NuMilk appear on Shark Tank?
NuMilk appeared on Shark Tank in Season 12, Episode 18, which aired on March 26, 2021. The NuMilk team pitched to Mark Cuban, Lori Greiner, Kevin O'Leary, Barbara Corcoran, and Damon John.
What happened to NuMilk on Shark Tank?
NuMilk founders Ari Tolwin and Jo Savino entered the Tank and asked the Sharks for a steep $1 million investment in return for 5% equity in their company.
Ari began their pitch by telling the Sharks that many consumers were turning away from traditional cow's milk, and instead, they were using alternative, plant-based milks. He also informed the Sharks that many of these milks are hyper-processed, and filled with gums, preservatives and other fillers. NuMilk intended to displace many of these alternative milks in the market with their unique, grocery-store based machines which allow shoppers to make pure dairy-free milk at the push of a button.
At this point in the pitch, the Sharks were offered to sample the milks, and Mark Cuban, a noted proponent of a vegan lifestyle, was invited to go up and use their machine to make a fresh, plant-based milk. Mark chose to make an Almond Milk, and he was quite impressed at how quickly the machine produced the 32 oz bottle of milk. All of the Sharks also commented on how tasty and fresh their samples were. Mark Cuban said, "The milk I just made, incredible, you can tell it's fresh almonds."
At this point, one of the longest question and answer sessions we've seen on any Shark Tank episode took place. The Sharks were very interested in both the business model for NuMilk and how the machine worked.
There was a good deal of discussion about the intricacies and costs involved of building the large grocery-store machines at $30k each, and the fact that there are always difficulties getting floor space in the traditional grocery chains.
After looking at some of these issues, the Sharks got down to some of the business basics. Barbara Corcoran wanted to know how much Mark would've paid for the 32 oz bottle of Almond Milk which he made, and Ari told her that there is a one-time $2 charge for the glass bottle and $3.99 for the milk. Mark Cuban then followed up to ask about how much goes to the grocery store, and Ari told him that the stores get about 30%.
Kevin O'Leary spoke up next and asked the NuMilk guys how much they had raised, and Ari told him that they had raised $12 million, and their last valuation was $40 million pre-money. The Sharks looked pretty astounded by the amount of capital which had already been raised for the business.
And Damon John then wanted to know if there was more to picture beyond the grocery store machines. At this point, Jo reached under the display up front and took out a home model of the milk-making machine, which the NuMilk team said was the next phase for the company. They also told the Sharks that the home-based machine was still a 3D prototype, so they could not do a demo of it.
Finally, the Sharks got around to asking about sales revenues for NuMilk, and this is where things looked like they were going to deteriorate quickly in the Tank. Ari revealed that in 2018, the company had $40k in revenues, with just one machine for part of the year, but it had spent $2 million on Research and Development. In 2019, they had $320k in sales but spent another $3 million on R&D, and in 2020, they had projected $6 million in revenue, but with COVID, they would do just $400k, yet they were on track to spend yet another $2 million in R&D.
Did NuMilk get a deal on Shark Tank?
Yes, NuMilk successfully negotiated a deal with Mark Cuban. The deal has two components. First, the company gets $1 million for a 7% equity stake in the business, and the second part of the deal includes a loan of $1 million at 3% interest, and if NuMilk uses the loan money, Cuban receives an additional 3% equity. In total, the deal is worth $2 million for 10% equity.
After hearing that NuMilk lost over $7 million on total revenues of around $790k in its first three years, the Sharks were ready to make their thoughts on the investment known.
Barbara spoke first, and she said, "I've been sitting here listening to every word, and I still don't get it. I'm sure you've got something there, but I don't know what the heck it is." Damond John followed this with a simple, "I'm confused, too. I'm out." Lori Greiner also believed that in the time the NuMilk team was allotted in the Tank, they were unable to explain all of the moving parts of the business, so she bowed out as well.
At this point, Jo spoke up to tell the remaining Sharks that they had placed 5 working models of the smaller, stainless steel, commercial milk-making machines into coffee shops.
After this piece of new information, Mr. Wonderful said that he did not agree with his fellow Sharks, and he thought that Ari and Jo had done a good job of presenting the opportunity, so O'Leary offered a $1 million loan at 9% interest for three years, and in return for the loan, he would receive the 5% equity which the NuMilk team had offered.
Mark Cuban was the last Shark circling, and he told Ari and Jo that he really liked the stainless steel version of the smaller machine that they were making for coffee shops, and he believed that they could sell a million of those units for home use priced at $899. Cuban also believed that NuMilk was going to need more money to market the smaller devices, so he offered to give them $2 million, $1 million in return for 7% equity in the business, and the second $1 million as a loan at 3% interest. If the company used the loan money, Mark would receive an additional 3% equity for a total of 10%, but if they did not use the loan, the $1 million for 7% would remain in place. Ari tried to ask Mark if he had a little bit of flexibility in this offer, but Cuban replied, "that was my flexibility." Jo spoke next and told Mark, "You've got a deal."
What happened to NuMilk after Shark Tank?
The development of NuMilk after Shark Tank is an interesting, and somewhat perplexing story. The company is listed on the MCC, Mark Cuban Companies, website, so obviously, the deal did close, but in the short term, it does not look like all was smooth sailing for NuMilk after their episode aired on Shark Tank.
What problems did NuMilk have with Kickstarter after Shark Tank?
NuMilk raised over $222k on Kickstarter from March to May, 2021. The money was raised as pre-sales for both their stainless steel, commercial, plant-based milk-making machines which were designed for use in coffee shops, and also for their smaller home use machines. However, NuMilk still has not delivered all of the stainless steel models which were ordered through the Kickstarter campaign, and they have not delivered any of the home model machines. A number of customers have complained on the Kickstarter Campaign Page, and others have asked for a refund. As late as November 2022, NuMilk posted a message on Kickstarter apologizing for the delay, and offering refunds for those who can not wait any longer.
What Happened to NuMilk machines in the grocery stores?
Remember, the primary product the NuMilk team offered the Sharks when they appeared in the Tank was an investment in their large, plant-based, milk-making machines for use by customers in grocery stores. Apparently, the company has completely shifted its focus to the smaller models of their devices, as on November 9, 2022, NuMilk announced via Instagram that they were removing their grocery kiosks from all locations.
Is NuMilk still making plant-based milk machines?
With what may be an indication of Mark Cuban assisting the Numilk team, in September 2022, the company announced that Hamilton Beach, the largest manufacturer of small kitchen appliances in the US, will take over production of both the stainless steel commercial model and the home model of the NuMilk plant-based milk machines.
How much is NuMilk worth?
When NuMilk raised $12 million prior to their appearance in the Tank, they had a pre-cash valuation of $40 million. However, they allowed Mark Cuban to come in at a valuation of around $20 million.
There are a number of sites which report a current valuation of the company at $55 million, but we were unable to find any details to substantiate this valuation. Given the fact that the company is transitioning from the grocery-store distribution model, to the sales of smaller machines to cafes and consumers, we believe that a bit more time is needed to figure out an accurate valuation for NuMilk. With Mark Cuban on board, and Hamilton Beach soon to take over production, there is every reason to believe that the company will be able to build value for its investors.