Aaron Krause took his smiley-faced scrubbing sponge into the Tank to try and win over the Sharks. Not only did he do that, he also won over much of America at the same time. But how did it all begin? Did Lori and Daymond really fall out during the negotiations? And what has Scrub Daddy been up to in the years after its Shark Tank appearance? Here's a full 2022 Scrub Daddy Shark Tank update!
What is Scrub Daddy?
Scrub Daddy is the company that created the versatile, smiley-faced sponge now known as the Original Scrub Daddy. It went on Shark Tank on Season 7 and became an overnight sensation, quickly becoming the most successful product to appear on the show.
Your typical kitchen sponges are made from polyester, polyurethane, or cellulose, but Scrub Daddys have their own unique formula. The founder of Scrub Daddy engineered a polymer foam called FlexTexture, which is Scrub Daddy's own creation and exclusive to them only.
FlexTexture gives the Scrub Daddy sponge some interesting qualities, with the most impressive being its ability to change texture depending on the temperature of the water you use it in: When washing with cold water, the sponge turns hard for tough stains, but when you use it in warm water, it becomes soft for standard dishwashing.
Along with its ability to change texture, the Scrub Daddy sponge also resists odors for up to eight weeks, cleans without the use of any washing-up liquid, and you can even clean utensils by running them through the mouth of the smiley face.
Scrub Daddy is safe to use on over 20 different surfaces and to sanitize your sponge, you can simply pop it on the top rack of your dishwasher or place it in water in the microwave for one minute.
Is Scrub Daddy as good as it claims to be?
It's safe to say that buyers have been impressed with the versatile Scrub Daddy sponges:
"I purchased my original Scrub Daddy at Bed Bath and Beyond along with the sink caddy. That Scrub Daddy held up well through multiple uses and multiple trips on the top rack of the dishwasher."
"Cleans so effectively and doesn't cause scratches. It doesn't need a lot of elbow grease either. I found this to be an amazing product."
"I have debilitating OCD, and for whatever reason, THIS scrubby is the only one that makes me feel like everything is clean."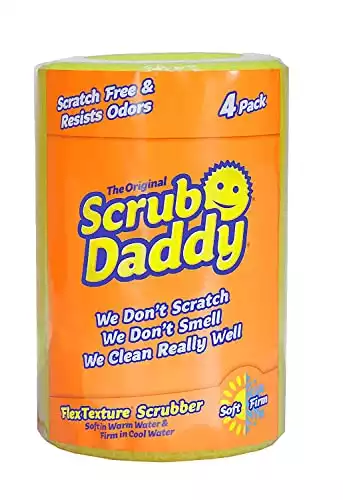 We earn a commission if you make a purchase, at no additional cost to you.
Who is the founder of Scrub Daddy?
Aaron Krause invented the Scrub Daddy sponge in his hometown of Philadelphia. He originally studied psychology at Syracuse University, earning himself a bachelor's degree in 1992. After graduating from university, Aaron then went on to launch his very first company, spending the next 16 years of his life working there.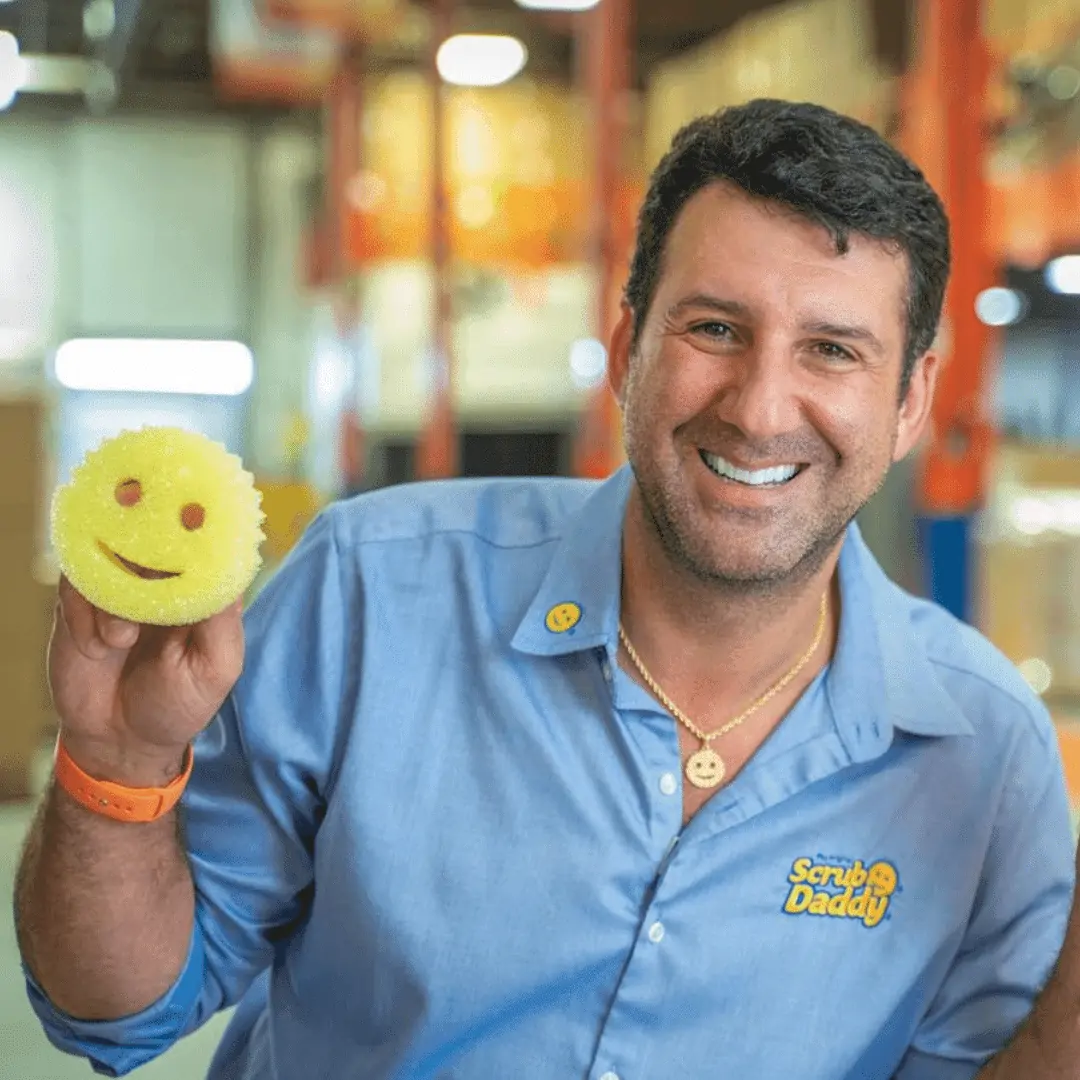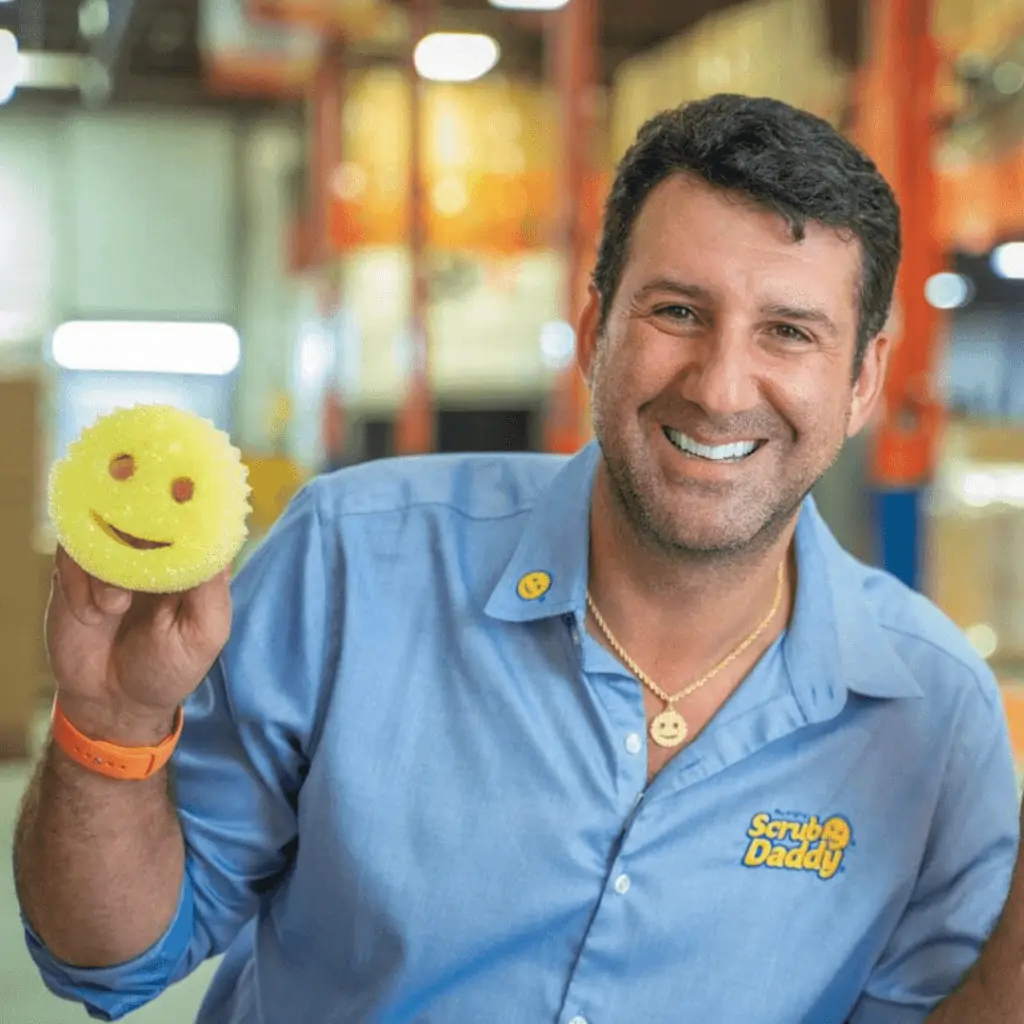 But Aaron Krause's story really began when he launched a second company and spent his days tending to paperwork and repairing machinery.
As I'm sure you can imagine, repairing machines is dirty work, and he found his hands were hard to clean afterward. So, Aaron put his experience making urethane foam polishing pads to good use and set off on a journey to create a more comfortable way to clean.
He engineered a polymer foam scrubber and patented the design before marketing them to body shops. Sadly, others didn't take to the design and found it nonessential, so Aaron all but gave up on the idea.
When fall of 2011 came around, Aaron's lawn furniture needed cleaning, but he found traditional dual-sided sponges scratched his lawn furniture paint. So instead he got out one of his original patented scrubbing foam sponges that he had stored away for years.
It worked exceptionally well, it didn't scratch off any paint and along with its incredible cleaning abilities, he also found that the cool fall air temperature caused the foam in the sponge to become firmer. With this discovery, he took the sponge to the kitchen sink and ran it under warm water which then caused it to become softer.
Although Aaron originally created his sponges to clean his hands, he found they worked even better on dishes. So, he took his patented sponge which was round in shape with grooves on one side and two holes in the center and additionally patented a smiling mouth. And just like that, Scrub Daddy was born.
Scrub Daddy before Shark Tank
Before Scrub Daddy's appearance on Shark Tank, Aaron was selling his patented sponges in five supermarkets throughout Philadelphia and also on his website. He stated that he had been invited onto QVC three times over three months, with QVC ordering 30% more products each time.
These appearances on QVC were all thanks to Aaron's marketing, since his product was published in the Philadelphia Inquirer which then caught the attention of QVC. This led to him appearing on the show, and within four months, Aaron Krause sold $100,000 worth of product.
What episode was Scrub Daddy on Shark Tank?
Scrub Daddy was featured on Shark Tank Episode 7 of Season 4. Filming took place in July of 2012, and the episode aired three months later on October 25th.
Who bought Scrub Daddy on Shark Tank?
After an intense and shocking bidding war, Aaron made a deal with Lori Greiner for $200,000 for a 20% stake in the Scrub Daddy business. He had originally entered the Tank looking for $100,000 for a 10% stake in his business. But, Aaron got way more than he asked for, which definitely helped him and Scrub Daddy become one of the most successful companies to ever enter the Tank.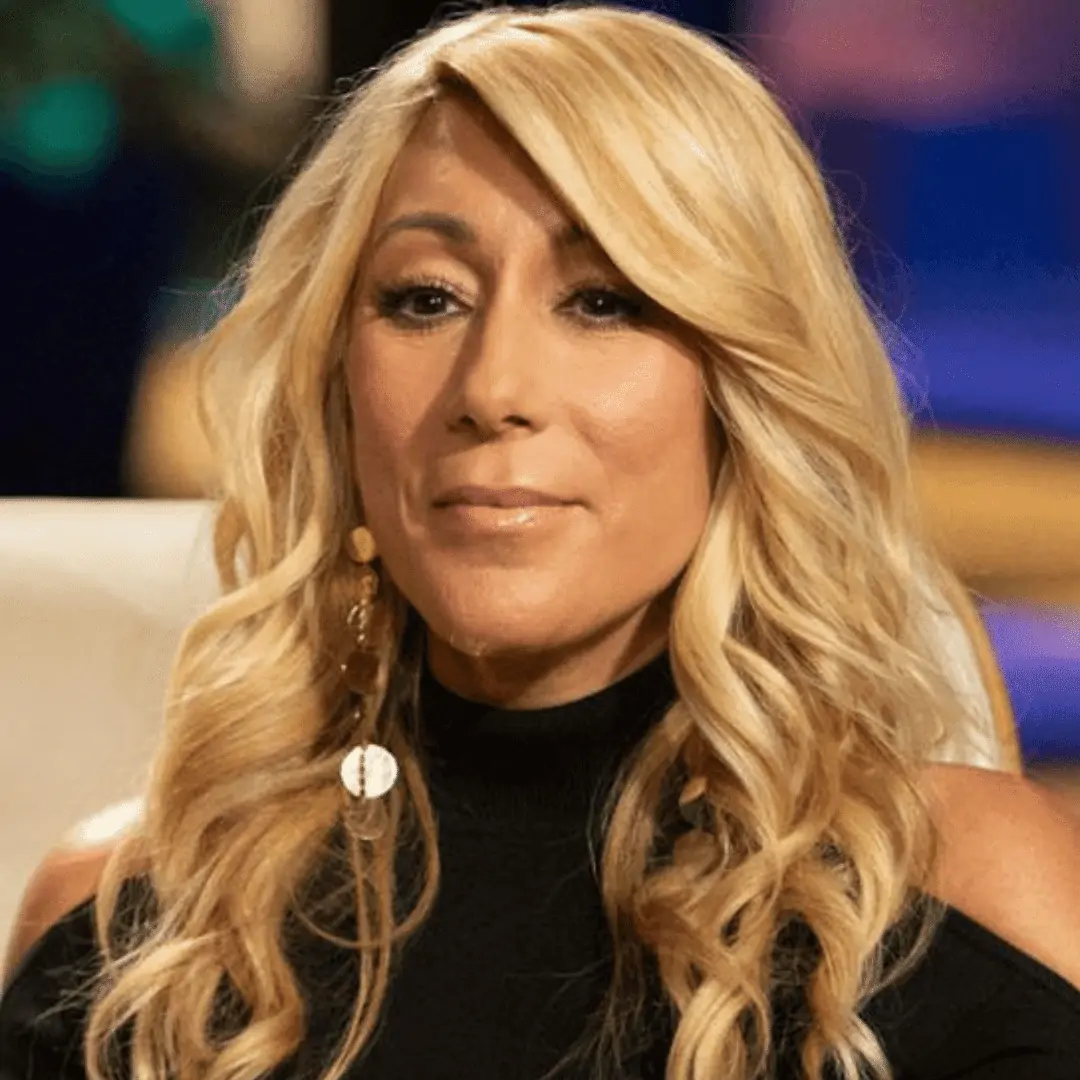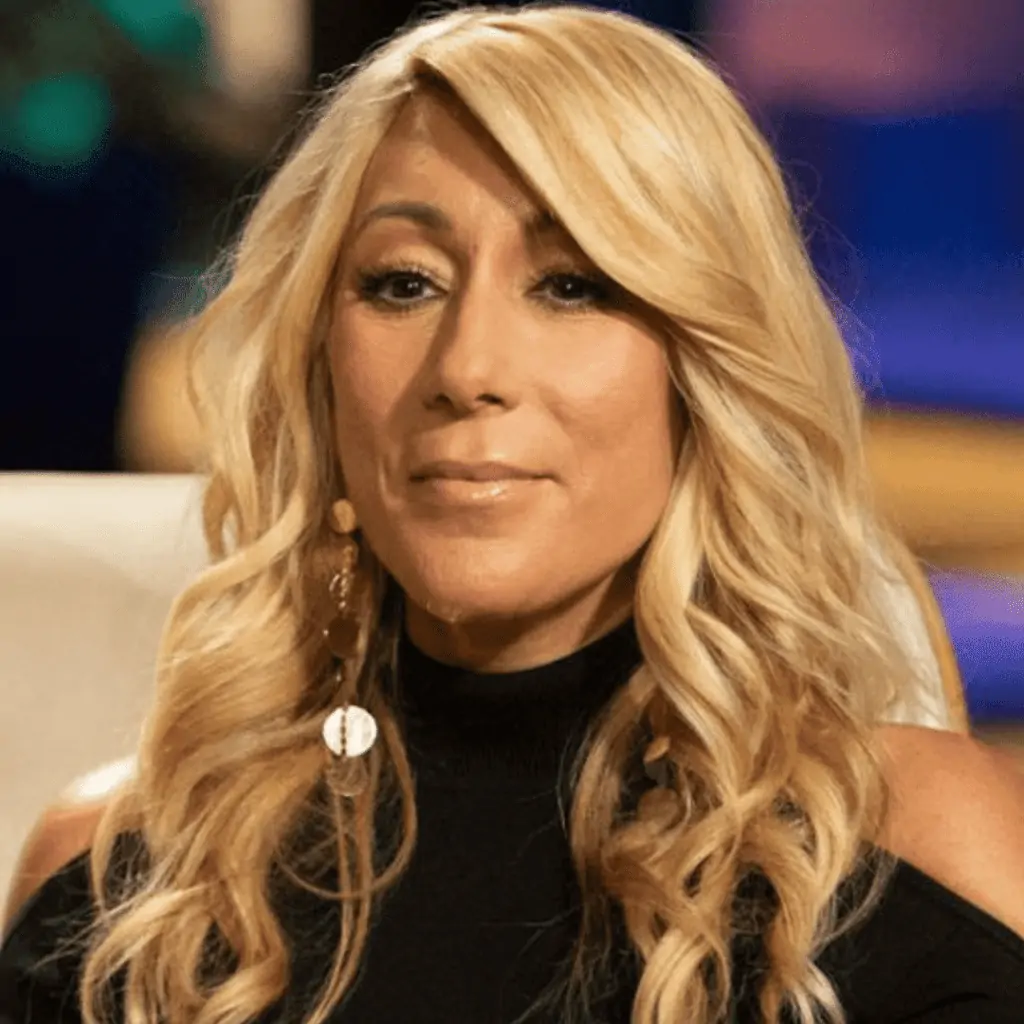 During his pitch, Aaron explained how he wanted to expand and open his own manufacturing plant to boost the production of his product. The Sharks were so impressed with the product, they began to compete for a stake in what would become one of the most successful businesses in Shark Tank history.
However, not all of the Sharks were smitten with the product—both Robert Herjavec and Mark Cuban quickly declared themselves out.
"I'm not doubting the scrub market, I'm not doubting you're the Scrub Daddy, but I'm not a scrub pimp, so I'm out."

Mark Cuban
The negotiations begin…
Kevin O'Leary was the first Shark to offer a deal, and boy was it a steep one with Kevin offering Aaron $100,000 for a 50% stake in his business. After this initial offer, Daymond also got involved and suggested $50,000 for a 15% stake in the Scrub Daddy company if Aaron could raise the remaining $50,000 from Lori. But, Lori had other ideas.
Lori Greiner – "Well, here's the thing. You've heard me say before I can tell instantly if it's a hero or a zero. And I think what you've got here… is a hero."
Lori offered Aaron $100,000 for 30% and claimed she would get Scrub Daddy into infomercials and major retail stores across the country within weeks. This offer forced Kevin O'Leary to make a second offer, saying he would give Aaron $100,000, for 0% of the company, but he wants to be the company's financier receiving 50 cents on every unit sold until he makes his $100,000 back, and then it'll drop to 10 cents in perpetuity.
…and get a bit tetchy
And luckily for Aaron, the bidding war didn't stop there. Daymond made a second offer for $150,000 for 25% of Scrub Daddy before Lori changed her offer to $150,000 for 25%. After hearing Lori's offer Daymond changed his mind and raised his offer by $25,000.
Now, here's where this bidding war gets interesting. We all know the Sharks have their spats, and rivalries, especially when it comes to extremely successful businesses like Scrub Daddy. But, when Lori raised her offer to $200,000, Daymond made the shocking comment of "The good news is, I just made you an extra $100,000, I'm out. I want to stick it to her."
So, with Daymond gone, Kevin O'Leary decided to lower his royalty offer of 50 cents per unit to 25 cents per unit, which would then lower to 7.5 cents when he made his $100,000 back.
And finally, after all this back and forth, Aaron got Lori to drop her stake in the business to 20% for $200,000 and he officially made a deal.
Scrub Daddy Shark Tank Update
Scrub Daddy famously became a household name (literally) across America and beyond. But how well did it actually do, and how did it affect Lori and Daymond's relationship? Read on to get all the details.
What happened to Scrub Daddy after Shark Tank?
Shark Tank helped Scrub Daddy thrive throughout America and as the company was such a success they even launched their products in the UK. Not long after their UK launch, they partnered with cleaning guru Mrs. Hinch, who still to this day promotes Scrub Daddy products to her 4.5 million followers.
Scrub Daddy has also branched out into new products like Scrub Mommy, sponge caddies, screen cleaners, soap dispensers, scouring pads, and so much more. Additionally, in May of 2022, Scrub Daddy opened its very first headquarters, showing no signs of slowing down anytime soon.
Did Lori and Daymond fall out over the deal? Does Daymond still hold a grudge?
Years later, Daymond admitted that he got "ticked off" when Lori belittled his deal with Walmart, which he mentioned to Aaron as an example of how he can be successful in retail. It is also possible that her rejection of his proposal to work together on Scrub Daddy also played a part in his decision to raise the price of Lori's investment.
But it's clear that he absolutely doesn't hold a grudge against Lori, and is indeed proud of her success.
"Everything Lori said she was going to do, she did. So kudos to her!"

Daymond John
In his opinion, Lori went above and beyond in her assistance to Aaron, whom Daymond also praised as an "absolutely amazing founder who has done remarkable things with the product."
And in the grand scheme of things, the extra $100,000 Lori invested in the Scrub Daddy was merely change considering this company is the second most victorious business to ever present itself on Shark Tank.
It has only ever been overtaken by Bombas, which coincidently, Daymond John invested in two years after Lori's biggest Shark Tank win with Scrub Daddy. With that being said, however, the fact these two Sharks are the proud owners of the show's most profitable businesses surely adds to the ever-going Shark Tank (friendly!) rivalry.
How much money did Lori make on Scrub Daddy?
It's hard to determine how much Lori Greiner made from the Scrub Daddy deal, but as the company made $200 million sales in 2013 alone, then she easily got back her investment and more just within 12 months. As Scrub Daddy became one of the most successful businesses to ever enter the Tank, it's very safe to say that Lori has made several million dollars from her investment in the smiley faced sponge business.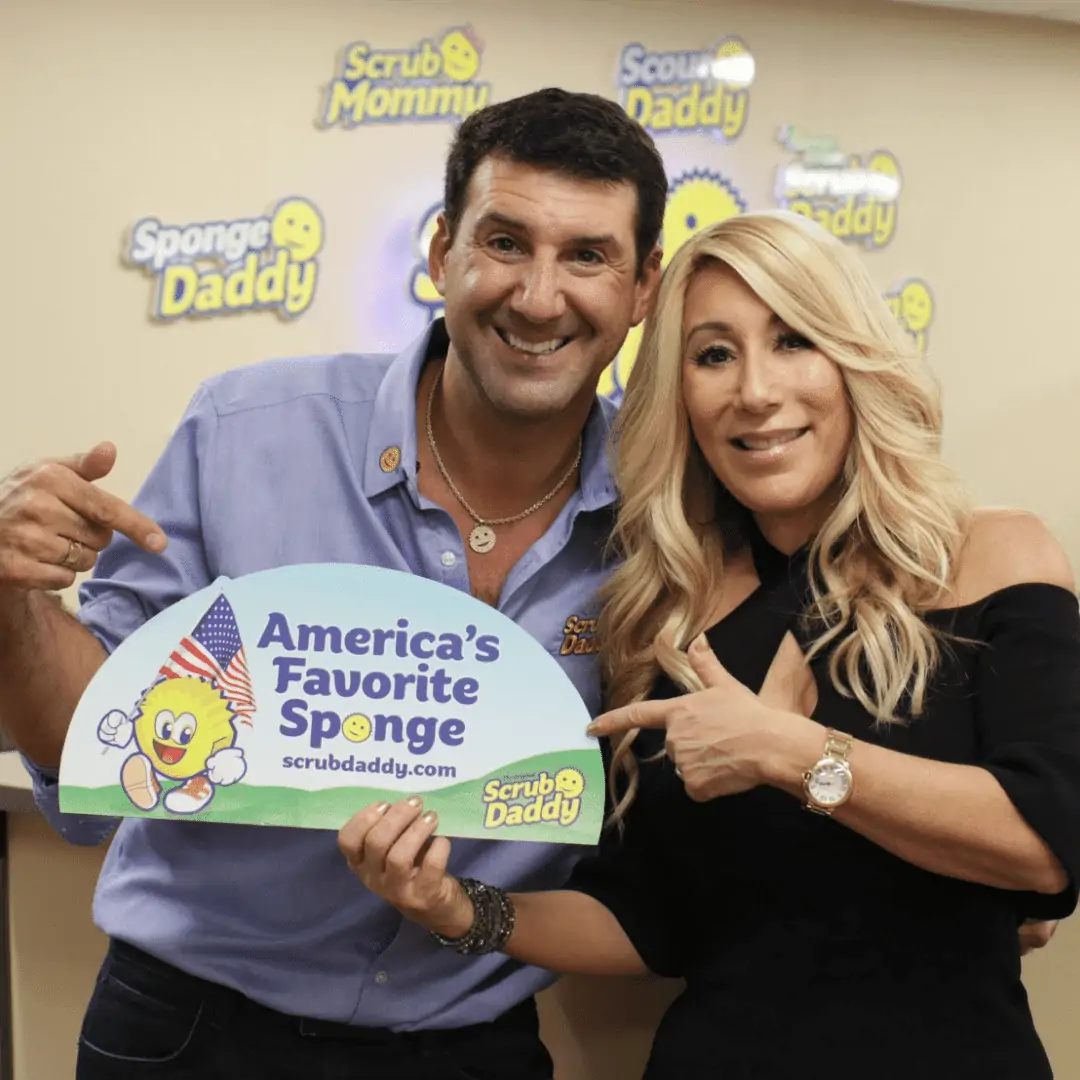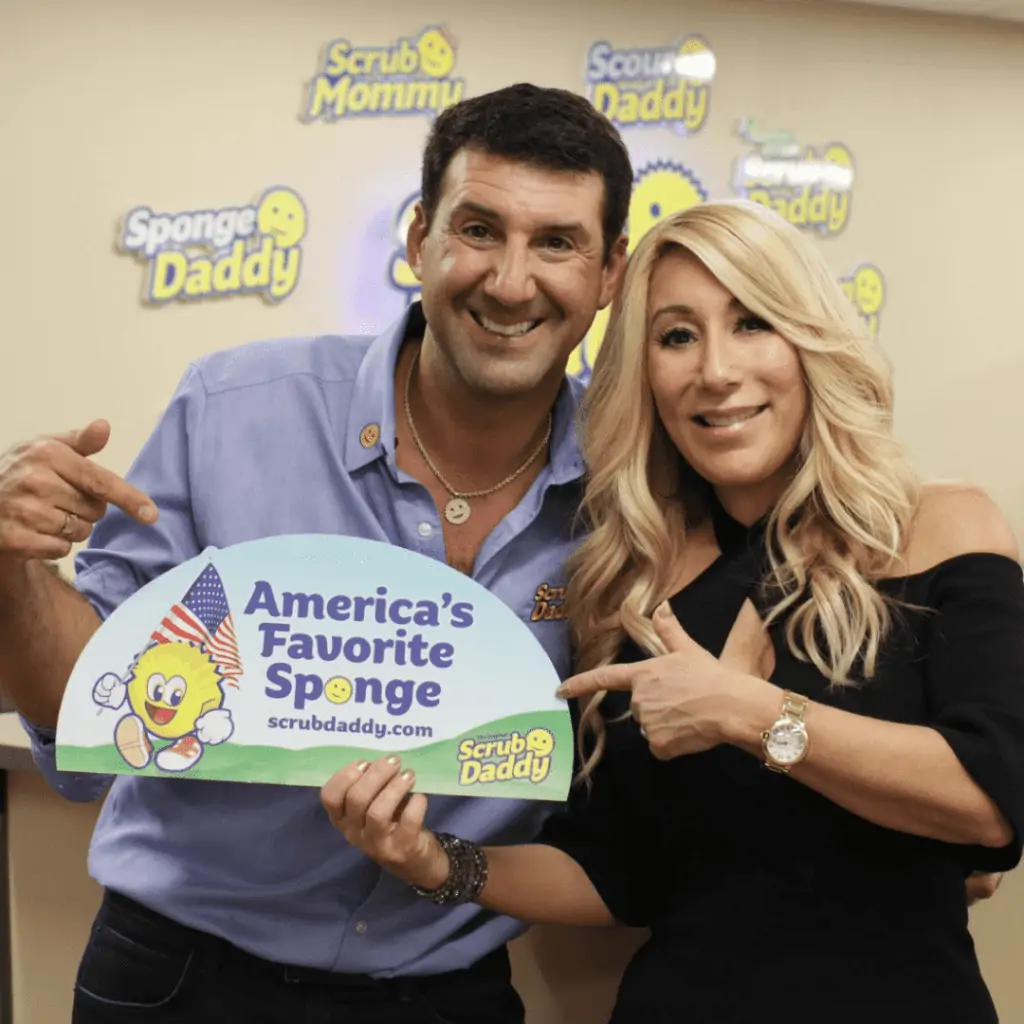 As Daymond later said during a review of the contentious Scrub Daddy Shark Tank pitch: "So, I won the battle, but she's doing so well with the product, that Lori clearly won the war."
	
Tweets by scrubdaddy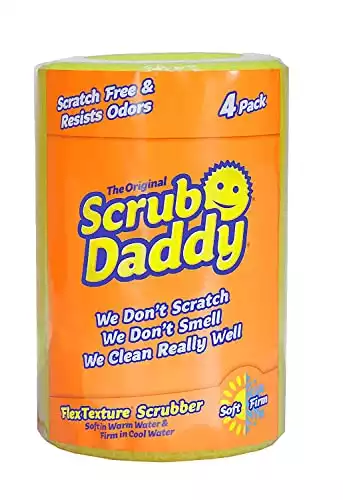 We earn a commission if you make a purchase, at no additional cost to you.