Cat Amazing wowed some of the Sharks with its innovative cat puzzle toys. And clearly, the company wowed the public and their feline friends too, as it sold out of its products before the show even aired.
If you're wondering what happened to Cat Amazing after its appearance on Shark Tank, you've come to the right place. This article is going to dive into the Cat Amazing company, its eccentric founder Andrey, and how the products are paving the way to help shelter cats all over America. Read on for the most comprehensive Cat Amazing Shark Tank update on the web.
The creation of Cat Amazing
Andrey Grigoryev, the founder of Cat Amazing, developed his line of cat toys and puzzles in collaboration with his pet cat, Mooky. Like many house cats, boredom was a constant part of Mooky's life, and Andrey wanted to do something about it.
In 2011, he decided to create a cat toy from scrap pieces of cardboard and paper that he had lying around the house. Upon completion, he looked over at his beloved Mooky, looked back again at his cardboard creation, and, as the Cat Amazing website states, he "stammered out the first words that came into his head – 'Cat…! Amazing…!' Mooky sighed, but decided to humor the dunce. So the name stuck."
With a few alterations, Andrey developed the Cat Amazing toys we see on the market today, and after consulting with his co-founder Natalie, the Cat Amazing company was born.
Cat Amazing toys: interactive boxes to stimulate cats
Cat Amazing's products are essentially cardboard boxes with cutouts. But these cutouts serve an important purpose: they allow you to place treats or cat food inside the box, which helps stimulate the cat's natural instincts to hunt.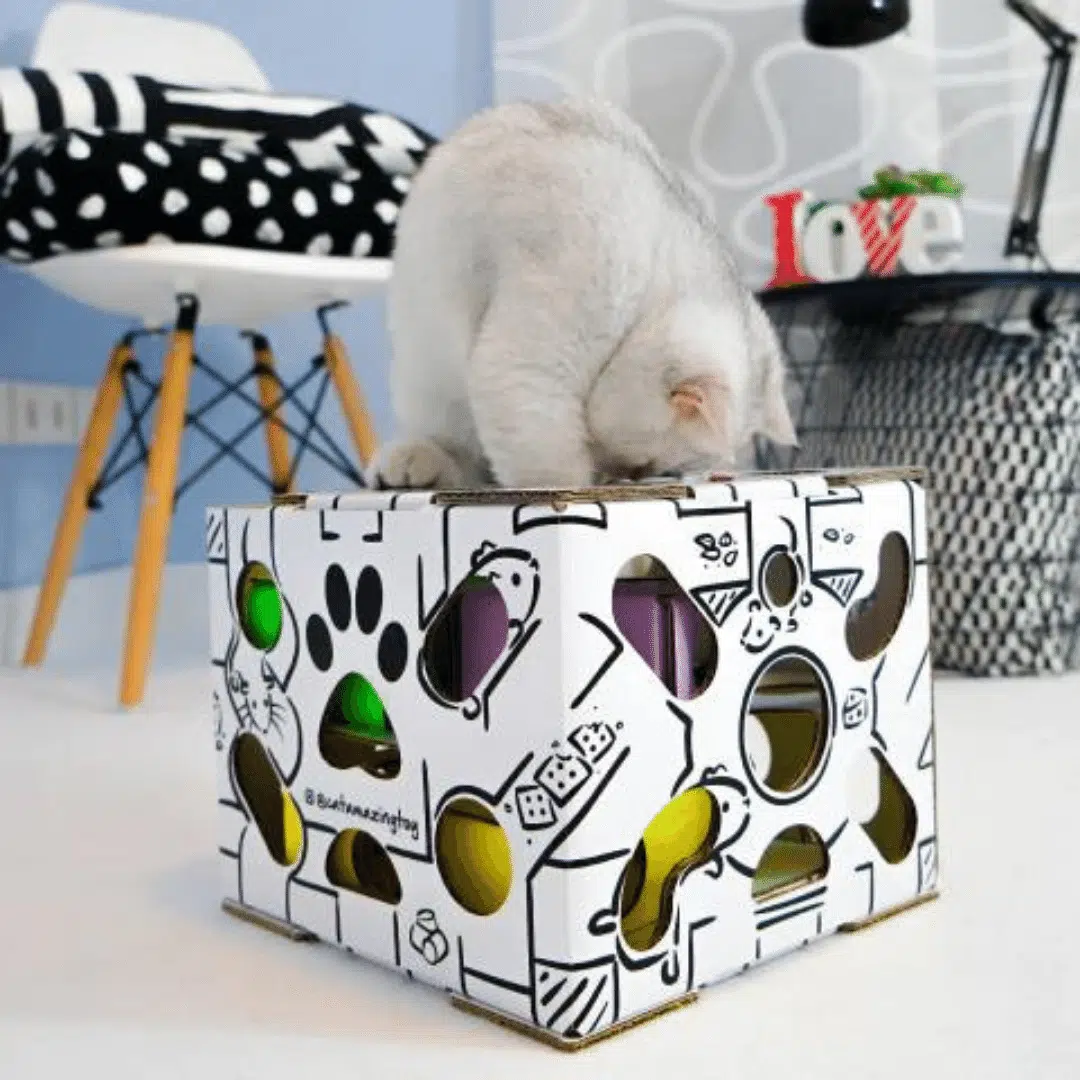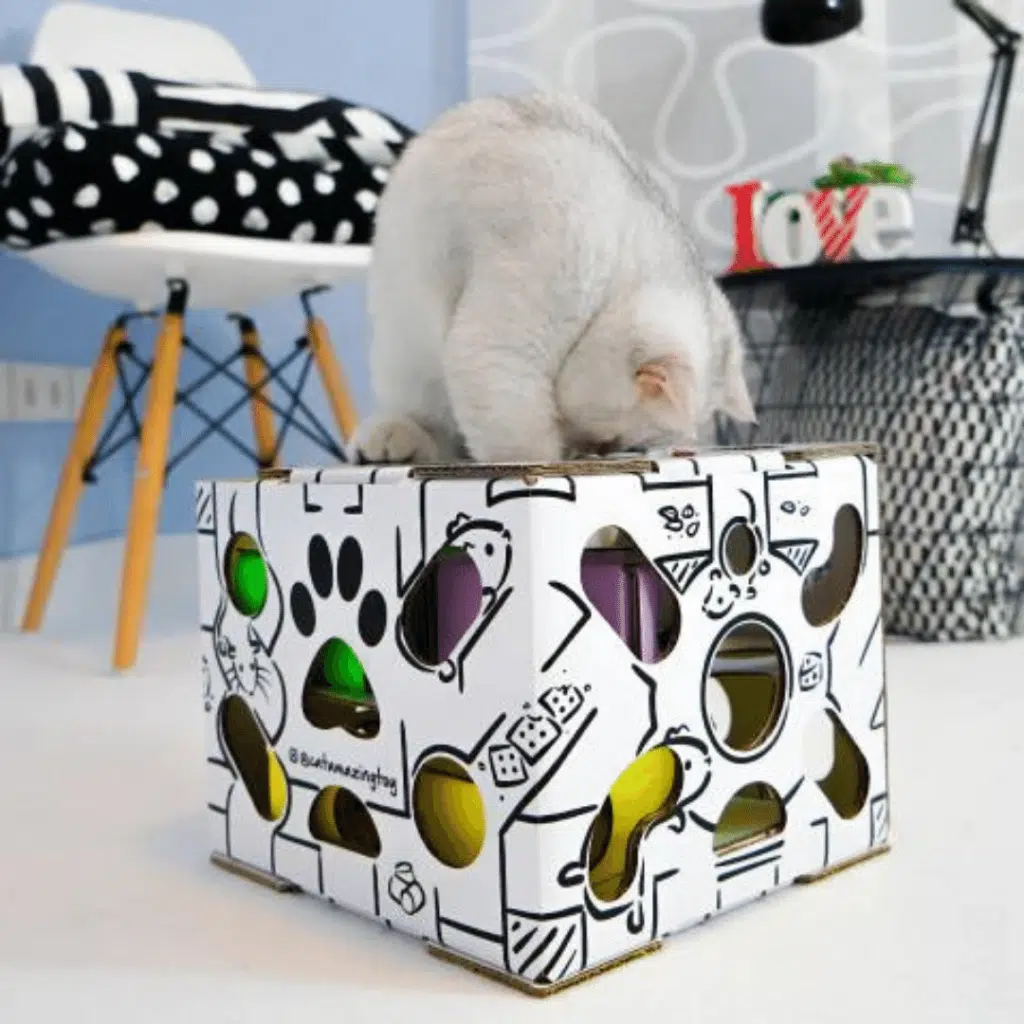 Until Cat Amazing, toys like these were only made for dogs. But Andrey saw an opportunity to branch out and develop a product solely for cats.
And the puzzle toys do more than just entertain cats. They are designed to replicate hunting movements as, according to the Cat Amazing blog, "The best toys mimic cats' most natural instinctive activity – hunting!"
Cat Amazing currently has three different puzzle box models: the Classic, the Slider, and the Mega. They range in size, with the Classic being the smallest, and they're all constructed from durable corrugated cardboard.
Following on from their cardboard cutout toys, Cat Amazing went one step further and developed a range of Stacks that you can put together to create modular cat condos.
09/25/2023 11:44 pm GMT
How Cat Amazing gives back to shelter cats
Saying Andrey loves cats is an understatement. And along with making the lives of pet cats that little bit better, Andrey set out to improve the lives of shelter cats who are waiting for their forever homes.
Cat Amazing not only donates its products to cat shelters all over America, but it also donates free Cat Amazing products to owners of rescued cats. Andrey's aim is to reduce the shelter return rate by stimulating cats' brains and keeping them out of mischief.
Plus, the toys help cats develop their social skills both while inside the shelter and when they get to their adopted home, making them more developed and mature, and therefore more easily able to adapt to living with humans.
Of course, humans also have to adapt to living with cats too if the relationship is going to be a strong one. To this end, the Cat Amazing blog covers a range of topics to help cat owners better understand their cats, their behavior, and their health.
Cat Amazing's story before its appearance on Shark Tank
A year prior to appearing on Shark Tank, Cat Amazing had made $550,000 in sales and was projected to make a further $720,000 before the year's end. But, unexpected to Andrey, the company actually ended up selling out of its products before the Shark Tank season even aired.
Part of that success was from launching yet another product, the Epic. The company launched this toy after a successful Kickstarter campaign that raised over $18,000 in November 2019.
Before Shark Tank, Cat Amazing was also appearing on cat blogs such as the Conscious Cat, who claimed the original Cat Amazing puzzle has been a perennial favorite for her cats for years and on Youtube channels like Floppycats who also gave positive independent reviews.
The company also managed to get its products into some impressive stores, such as Chewy and Walmart.
Is Cat Amazing really as amazing as they make out to be?
Cat Amazing has "amazing" in its name, but is it really the best cat toy ever? Well, on Amazon alone, the original Classic design has around 6,000 reviews that combined give the product 4 out of 5 stars.
One Amazon buyer who purchased their Classic Cat Amazing cat toy in 2017 updated their review in 2021 with the following comment "Update: 2021 – it's still kicking. Yeah, $15 for a cardboard box… But one that your cats will use for YEARS."
Another who had their box for a year said, "My cat is now 1-year-old, and this puzzle box continues to be one of her favorites."
I think it's safe to say that although the Cat Amazing toy may just look like a cardboard box, it does wonders for keeping cats entertained and challenged.
However, as every pet lover knows, cats are unique and fiercely independent creatures, and they don't always behave as you might expect! This is reflected in the number of 1 star reviews across the internet, with owners claiming that their cat simply didn't take to the toy at all.
Indeed, a Chewy review from way back in 2017 sums it up best: "2 out of 3 cats love it!"
Cat Amazing Shark Tank Update: What happened after the show?
Andrey walked into the Tank asking for $200,000 for 10% equity in his cat puzzle toy company. After a slight battle between the Sharks, Andrey struck a deal with Lori Greiner, which we have more details about in the FAQs down below.
After its Shark Tank success, Cat Amazing is doing, well… amazing! In fact, the company sold out of all products before the show had even aired!
This proves the Shark Tank Effect is alive and kicking, where simply the announcement that a company will be on the show can lead to skyrocketing sales.
And the huge increase in attention didn't stop there. Despite ramping up production, the company continued to struggle to meet demand in the months following their Shark Tank appearance. "Sold out" and "Not currently in stock" notices were regularly displayed on the stores that feature their products.
Of course, in many ways this is a good problem to have—every company would love to enjoy huge demand for their products. But it also reflects a degree of poor planning since the business did not anticipate or take steps to cope with the extra demand.
And what about Andrey? Well, he's largely stayed out of the public eye, with a lack of interviews and updates across his social media platforms. This is pretty surprising, as most Shark Tank companies try to exploit the attention and extra publicity as much as they can.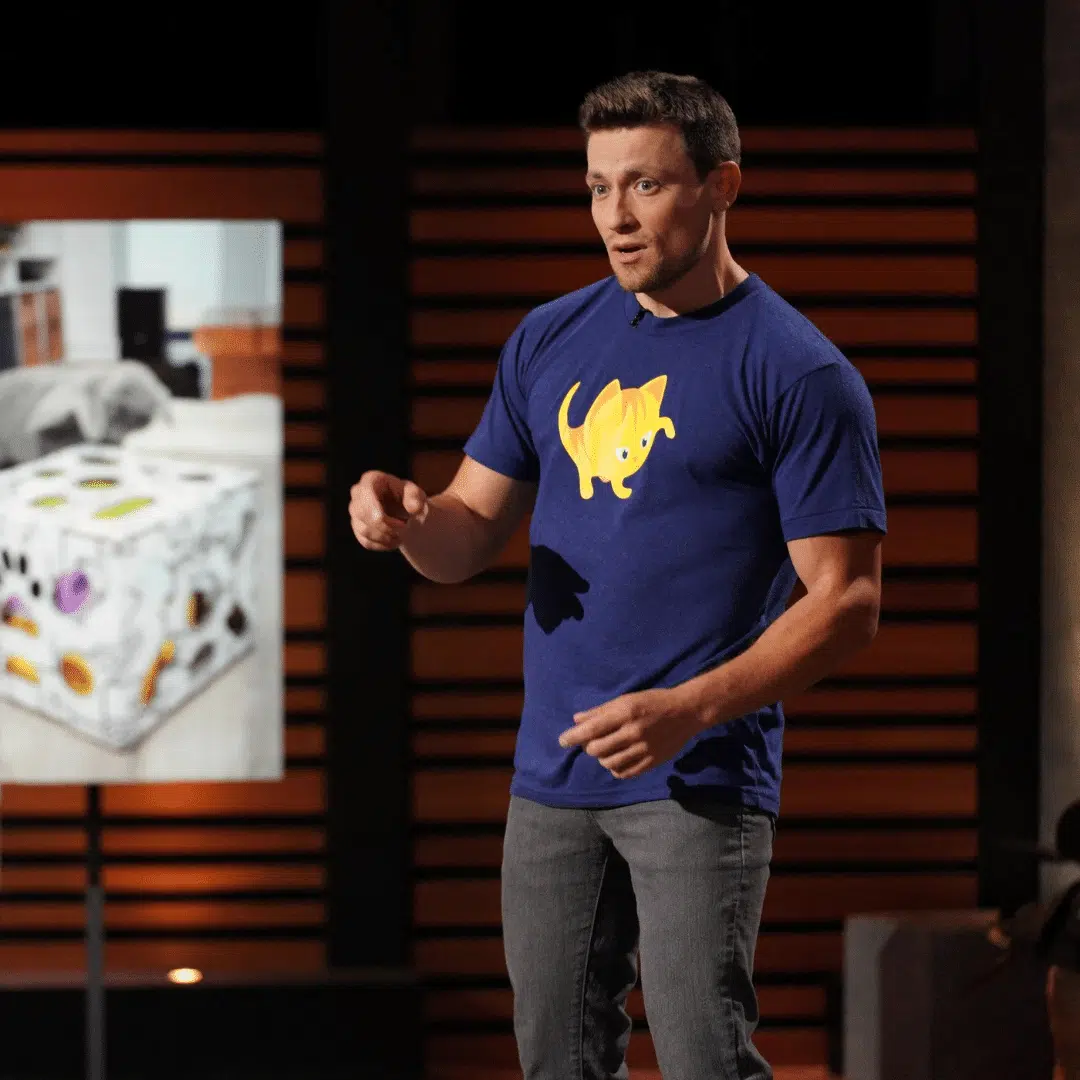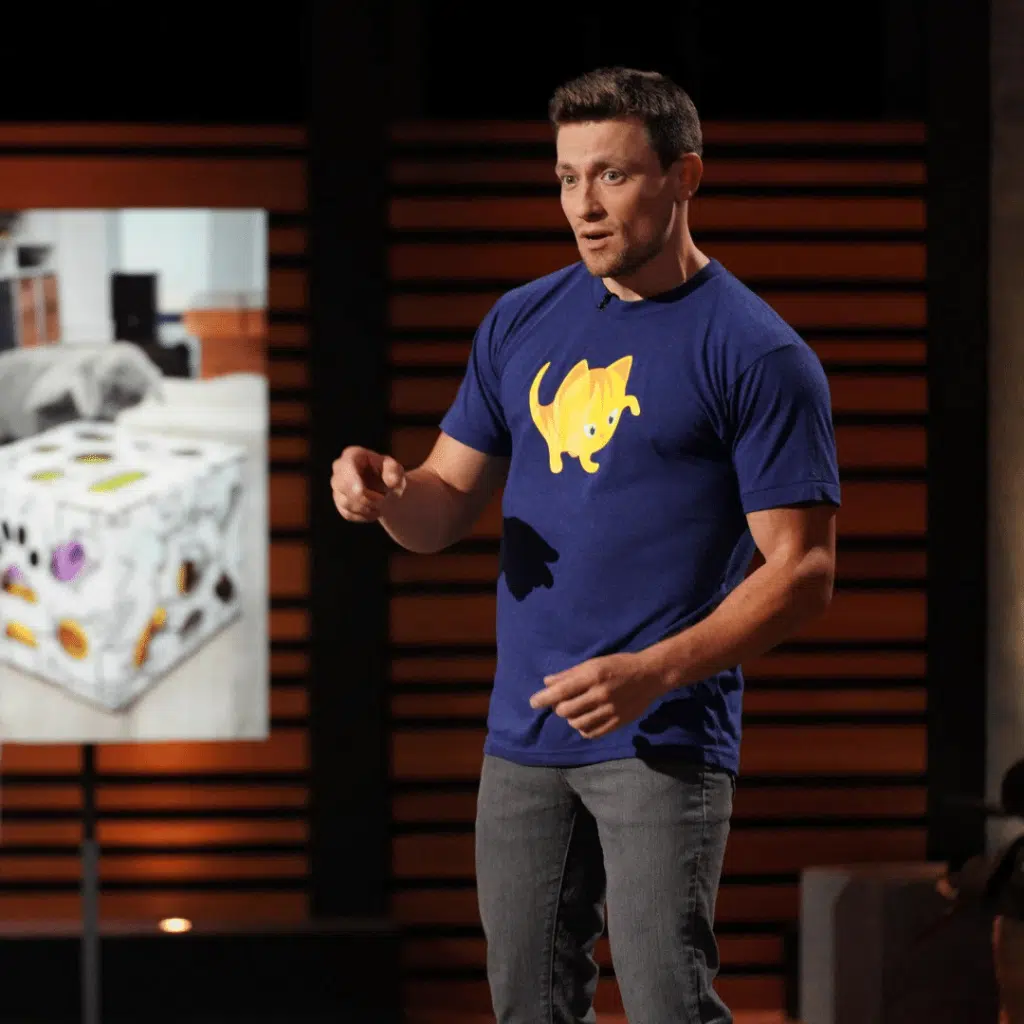 Perhaps he is simply a little shy, but he certainly didn't come across that way in his appearance in the Tank, which led some Reddit users to call him the "Crazy cat guy!"
But the most likely explanation is that Andrey is just overwhelmed with the amount of orders his company received. We have contacted Andrey and his team for an update on the company's progress since the show, but so far we haven't heard back—we'll be sure to update as soon as we do.
Cat Amazing latest news
July 2022
The company continues to have supply issues following its Shark Tank appearance. All Cat Amazing products for sale in both Walmart and Chewy are out of stock, while Amazon is out of Stacks and Epic. Even the company's own website is sold out of all products except the Mega.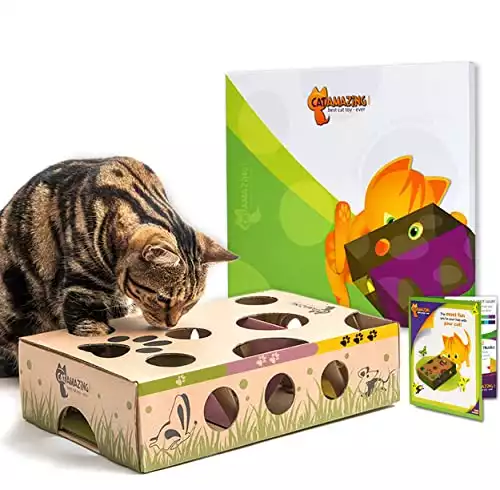 We earn a commission if you make a purchase, at no additional cost to you.
Tweets by CatAmazingToy
FAQs
What is Cat Amazing on Shark Tank?
Cat Amazing creates interactive toys, puzzles, and feeders for cats. The company went on Shark Tank asking for an investment of $200,000 for 10% equity, valuing the business at $2 million.
Who founded Cat Amazing?
Cat Amazing was founded by Andrey Grigoryev from Fort Lee, New Jersey.
When did Cat Amazing go on Shark Tank?
Cat Amazing went on Season 13, Episode 20 of Shark Tank. It originally aired on April 15, 2022.
Did Cat Amazing get a deal on Shark Tank?
Yes, Cat Amazing sold 22% of the business to Lori Greiner for $200,000. This was 12% more than the founders originally proposed and valued the company at $909,000—less than half of the owner's original valuation of $2 million. Both partners also agreed to donate 5% each to a cat shelter charity.
Who invested in Cat Amazing on Shark Tank?
Lori Greiner invested $200,000 for 22% equity. She negotiated an increase in equity of 12% from Andrey Grigoryev's original ask. On top of that, each partner agreed to donate a 5% stake to a cat shelter charity.
What is Cat Amazing's net worth today?
Sales boomed after the Shark Tank episode aired, so it is fair to say that Cat Amazing is living up to its new valuation of $909,000. If the company keeps its current trajectory, it is likely to exceed this soon.