A US Army helicopter pilot deployed his military training to win a war against one of the world's greatest foes: plastic pollution.
This article tells the remarkable story of how a soldier was inspired to take up arms to rid the world of plastic, as well as the company's early successes, the difficult Shark Tank negotiation, and the impressive progress following guest Shark Daniel Lubetzky's investment. Stand by for the most comprehensive Sheets Laundry Club Shark Tank Update on the internet!
Sheets Laundry Club out to save the world
Although its innocent-sounding name may not suggest it, Sheets Laundry Club is actually an innovative, eco-minded company whose primary goal is to eliminate plastic waste that impacts the environment.
The motivation for the brand came from the CEO and co-founder, Chris Videau, and his wife, Laurin, both hard-working members of the U.S. military.
And it was during these years of service working as a Blackhawk helicopter pilot that Videau realized two things:
The vast accumulation of plastics is polluting the world's oceans and landscapes, not to mention causing serious health problems.
His experience living and working in the military gave him the exact tools he needed to fix this problem.
And with this one-two punch, Chris was able to recruit two more warriors in the fight against plastic: his co-founder, Chris Campbell, and Shark Tank's Daniel Lubetzky.
From humble beginnings to world-weary veteran
Once a small-town boy from California, Chris Videau left home to embark on a military journey that would change both his life and, with a bit of luck, the entire world as we know it.
Chris and Laurin strive to achieve excellence and protect the rights and livelihood of others. Between them they have acquired more than 27 years of service and set foot in more than 20 countries.
However, it was Chris' tour in Iraq as a helicopter pilot that was the turning point.
Locked in a devastating battle, the country did not have the infrastructure or ability to safely dispose of trash. As a result, the accumulated trash was often burned in areas known as "burn pits," and toxic smoke was allowed to billow into the air above.
Therefore, flying above the cities and deserts gave Chris a unique birds-eye view of the global plastic crisis and later set the wheels of change into motion.
Unfortunately, from his position high in the sky, Videau was directly in harm's way. He had no choice but to breathe in the toxic smoke that engulfed his helicopter, which led to serious health concerns.
So Videau knew first-hand just how devastating the world's addiction to plastic could be. But how did he come up with a solution?
The revelation: eco-friendly laundry sheets
After military service ended, the couple settled down in North Carolina. But Videau found himself plagued by health issues from the pollution he encountered in the air space above Iraq.
Tormented by his condition, Chris thought a great deal about what could be done to help free the world from its addiction to plastic. And it turned out that not only did being in the military expose him to the problem, it also inspired the solution.
Recalling the laundry sheets he had used while on tour with the army, Videau understood that this product had great potential for eliminating plastic waste. Although the laundry sheets Videau had used all those years ago didn't work effectively, he felt that the basic foundation and idea were solid.
Determined to make a difference, even if only at home, Videau and his wife set out to formulate a product that worked well. They hoped this product could help eliminate one of the most significant contributors to plastic waste globally: detergent bottles.
A powerful partnership
Chris Videau met Chris Campbell at a Tee-Ball game. Campbell was working at the time for Capital Management Investments, an investment firm based in Charlotte, North Carolina.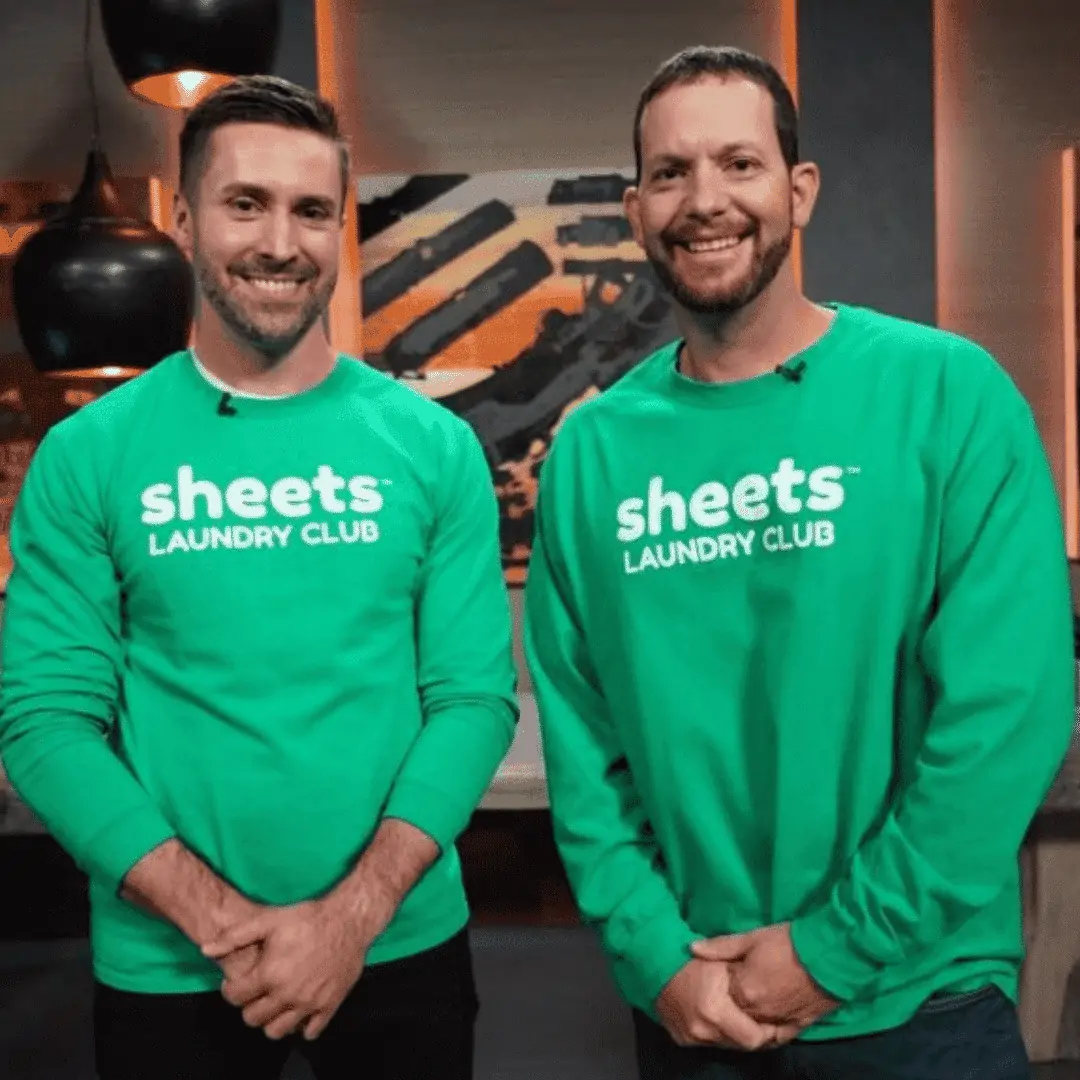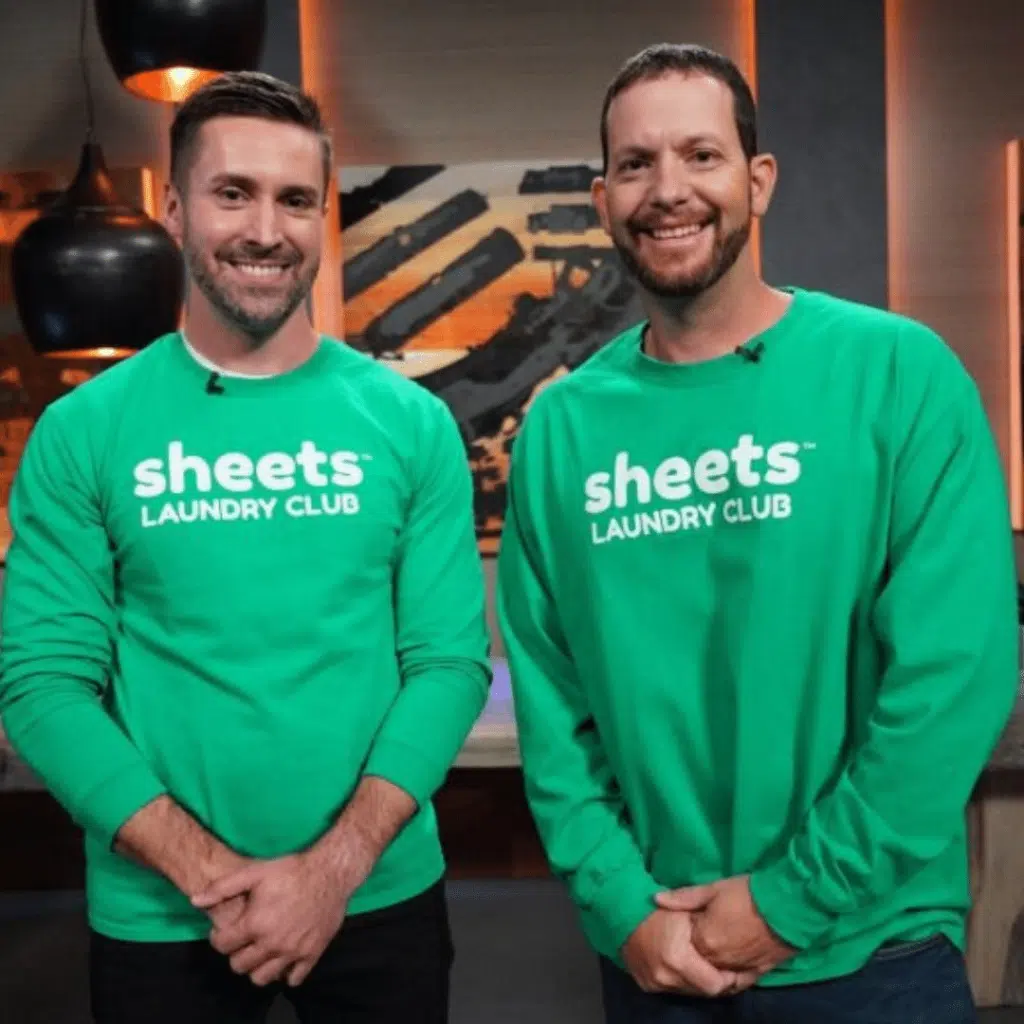 Videau shared his dream of ridding the world of plastic, and despite their differences, the two became fast friends. Together, the pair agreed to partner up to end the global crisis, one load at a time.
It took two years, but Videau and Campbell were able to create a product that worked well and involved no plastic in its production, shipping, or development, and in 2019, the company was born.
Sheets Laundry Club (SLC) has a simple, straightforward goal: to limit plastic waste and plastic jugs from detergents and cleaning supplies by providing safer, more eco-friendly alternatives that work.
All its products are septic-safe, perfect for sensitive skin, and pre-measured, therefore eliminating the need for messy liquids and plastic jugs, and they only use all-natural ingredients.
The company's innovative detergent sheets are therefore an eco-friendlier, environmentally-safer alternative to conventional laundry detergent that help customers reduce their carbon footprint without sacrificing quality.
Videau, his wife Laurin, and their new partner Campbell hit the ground running by purchasing a patent for the newly redesigned laundry sheets.
Sheets Laundry Club…or revolution?
Today, the company is about much more than dissolvable laundry sheets. Indeed, by the time the company went on Shark Tank, it already had around 45 SKUs.
The laundry sheets are their top seller, but the company also has eco-friendly solutions for floors, dishwasher products, various self-care products, and more.
SLC takes an innovative, environmental approach to household chores by providing customers with easy, effective, affordable, (and most importantly) plastic-free options for all the major household products they consume daily.
SLC products are condensed into a single, easy-to-use sheet of concentrated formula. Whether it is their popular laundry detergent sheets, dryer sheets, handcrafted dish soap, individual floor cleaning sheets, scent boosters, or any of their other amazing products, their approach, like their product, is clean and simple.
To use SLC products, you simply drop the sheet into hot or cold water and watch it instantly dissolve. All you need to do is give the product a shake or stir.
That means no measuring, no harsh chemicals, and most importantly, no plastic waste.
The simple design of Sheet's products eliminates the plastic usually present in most commercial cleaning products. They even ship in a recyclable box, saving the customer time, money, and space while saving the planet.
SLC products also come in a variety of scents from fresh linen to lemon, which uses lemon essential oils to create a fresh, crisp scent. The company's scent boosters come in four different scents, and the color-coding system they use on their products makes it easy to ensure you are matching your scents across your purchases.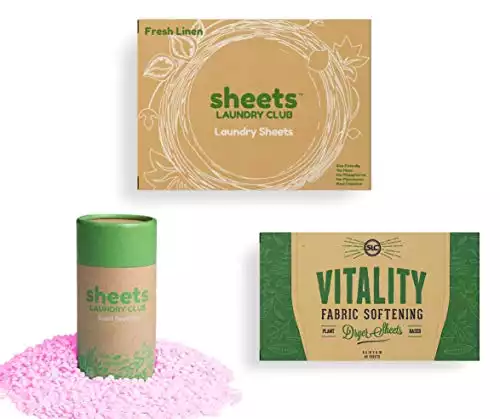 We earn a commission if you make a purchase, at no additional cost to you.
Sheets Laundry Club enters the Shark Tank
Videau's vision and Campbell's input landed them in front of the Sharks in the fall of 2021. The company already had impressive sales, and its idea was well received.
And so the co-founders of SLC appeared before the panel, asking for $500,000 for 5% of the company.
On the show, Videau revealed the lung damage he acquired from his work in Iraq and explained that upon leaving the army and settling in North Carolina, he knew he needed to do something to make a difference, even if it was on a small scale.
Every action, big or small, makes an impact. And it was this energy that pushed the company forward.
But while many of the Sharks were initially excited about the product and impressed by the company's first year of sales, that excitement quickly faded with thoughts of expiring patents, too many products, and fierce competition.
But then it got worse.
During the episode, Barbara Corcoran accuesd the pair of lacking crucial sales skills, telling them: "You're not persuasive […] I don't think either of you sell." She went on to say that the team lacks the aggressive attitude needed to succeed in business, and she backed out.
In characteristic fighting stlye, the team responded quickly to Barbara's concerns by stating they were "on track to do almost 7 million in sales this year," which awakened interest again.
Curious, Laurie asked, "Why do you think you hit that? Because Barb says you can't sell." The team responded by explaining that they are a digitally focused company.
Campbell then pointed out to the judges where his expertise lay, telling them "I'm not a pound-the-pavement sales guy." Instead, he stressed his experience in the digital realm and how it has benefited the company thus far.
But unfortunately for the partners, many other Sharks followed Barbara's lead and shut down any chance of an offer.
Kevin was the second Shark to back out as he has a stake in a similar company, explaining, "Quite frankly, I'm competing with you."
With Lori and Mark also declaring themselves out soon after, it seemed that their chances were fading, and a sense of failure quickly filled the room.
Videau and Campbell appeared defeated, but thankfully, despite numerous concerns, one Shark remained interested. Daniel Lubetzky, founder and CEO of Peaceworks and KIND Healthy Snacks, stepped up and made the team an offer.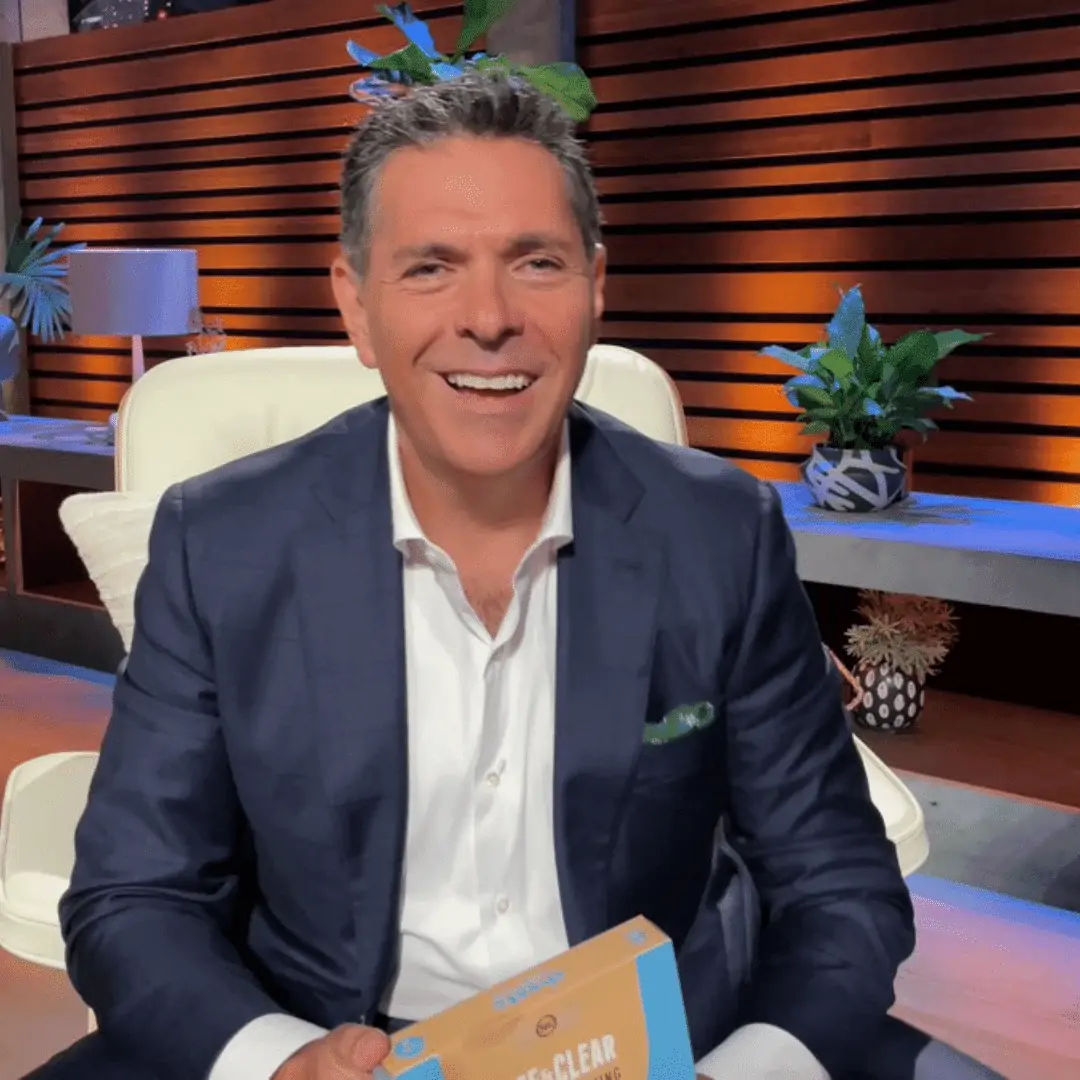 Lubetzky's offer? $500,000 for a 10% stake. The co-founders countered the initial offer, saying, "We came in with our ceiling at 8%." After some back and forth, the group made a deal for $500,000 at 8% equity and 2% advisory shares.
Watch how the episode played out with extra commentary here:
Sheets Laundry Club Shark Tank Update
After SLC appeared on Shark Tank, the company saw an instant increase in sales revenue. The company, which takes pride in its digital approach to business, was quick to capitalize on the sudden extra attention with an online coupon code that further drove sales.
The company's rapid growth after the show gained increased media attention, and they have given several interviews. Sheets Laundry Club has been featured in Fortune, WCNC, and other prominent publications since the show and appears to be going strong today.
Since Shark Tank, Sheets Laundry Club has added a new partner to the team. They also added new products to their roster, including an in-wash scent booster, dryer sheets, and dishwasher detergent.
Overall, SLC appears to have found success after Shark Tank, and moving forward it seems the sky's the limit. Not bad for a small-town boy with dreams to see the world!
Sheets Laundry Club: latest news
July 2022
At the end of June 2022, Sheets Laundry Club announced that its products will now be featured in all Harris Tetter stores across the US. Being now available in 261 physical locations is a big step forward for the company. Indeed, co-founder Chris Videau described the move as "huge" on his LinkedIn page.
However, much like Cat Amazing following its Shark Tank appearance, it seems that Sheets Laundry Club is struggling to meet demand, with many of its products on Amazon currently sold out.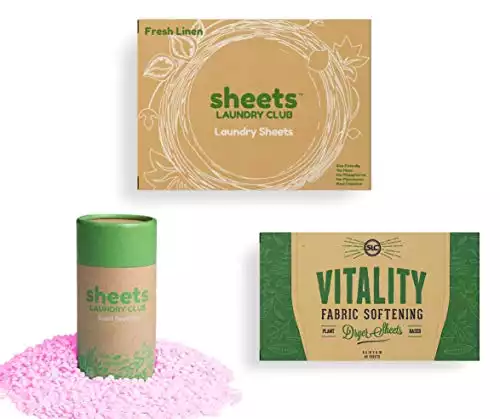 We earn a commission if you make a purchase, at no additional cost to you.
Tweets by sheetslaundry
FAQs
What is Sheets Laundry Club on Shark Tank?
Sheets Laundry Club is a business that creates eco-friendly laundry detergent sheets. The founders went on Shark Tank asking for an investment of $500,000 for 5% equity, valuing the business at $10 million.
Who founded Sheets Laundry Club?
Sheets Laundry Club was founded by Chris Videau and Chris Campbell. The company is based in Morrisville, North Carolina.
When did Sheets Laundry Club go on Shark Tank?
Sheets Laundry Club featured on Season 13, Episode 7 of Shark Tank. The show originally aired on November 19th, 2021.
Did Sheets Laundry Club get a deal on Shark Tank?
Yes, Sheets Laundry Club made a deal with Daniel Lubetzky for $500,000 for 8% equity, plus an extra 2% in advisory shares. The final valuation of $6.25 million was therefore $3.75 lower than the founder's original valuation of $10 million.
Who invested in Sheets Laundry Club on Shark Tank?
Daniel Lubetzky invested $500,000 for 8% equity of Sheets Laundry Club. He also negotiated an extra 2% in advisory shares with founders Chris Videau and Chris Campbell's original ask.
What is Sheets Laundry Club's net worth today?
It is fair to say that Sheets Laundry Club is living up to Daniel Lubetzky's valuation of $6.25 million. The company saw an increase in customers since the Shark Tank episode aired, and it may not be long until the company is worth much more.