We take a look back at Squatty Potty, one of the simplest, yet useful, inventions ever to appear in the Tank. This Squatty Potty Shark Tank update tells the story of what happened after the founders struck a deal with Lori Greiner.
What is Squatty Potty?
Squatty Potty is a company which manufactures toilet stools which help users eliminate more completely, reduce the strain, and get off of the toilet faster. The company was originally founded in St. George, Utah, and in 2021 it was acquired by Aterian, Inc. which has headquarters in New York City.
Squatty Potty toilet stools are uniquely designed to give users the best bathroom experience, the way nature intended. The Squatty Potty assures that the user's legs are properly positioned; it helps to reduce strain, and it tucks underneath the toilet when not in use, and it is very easy to clean.
Who created Squatty Potty?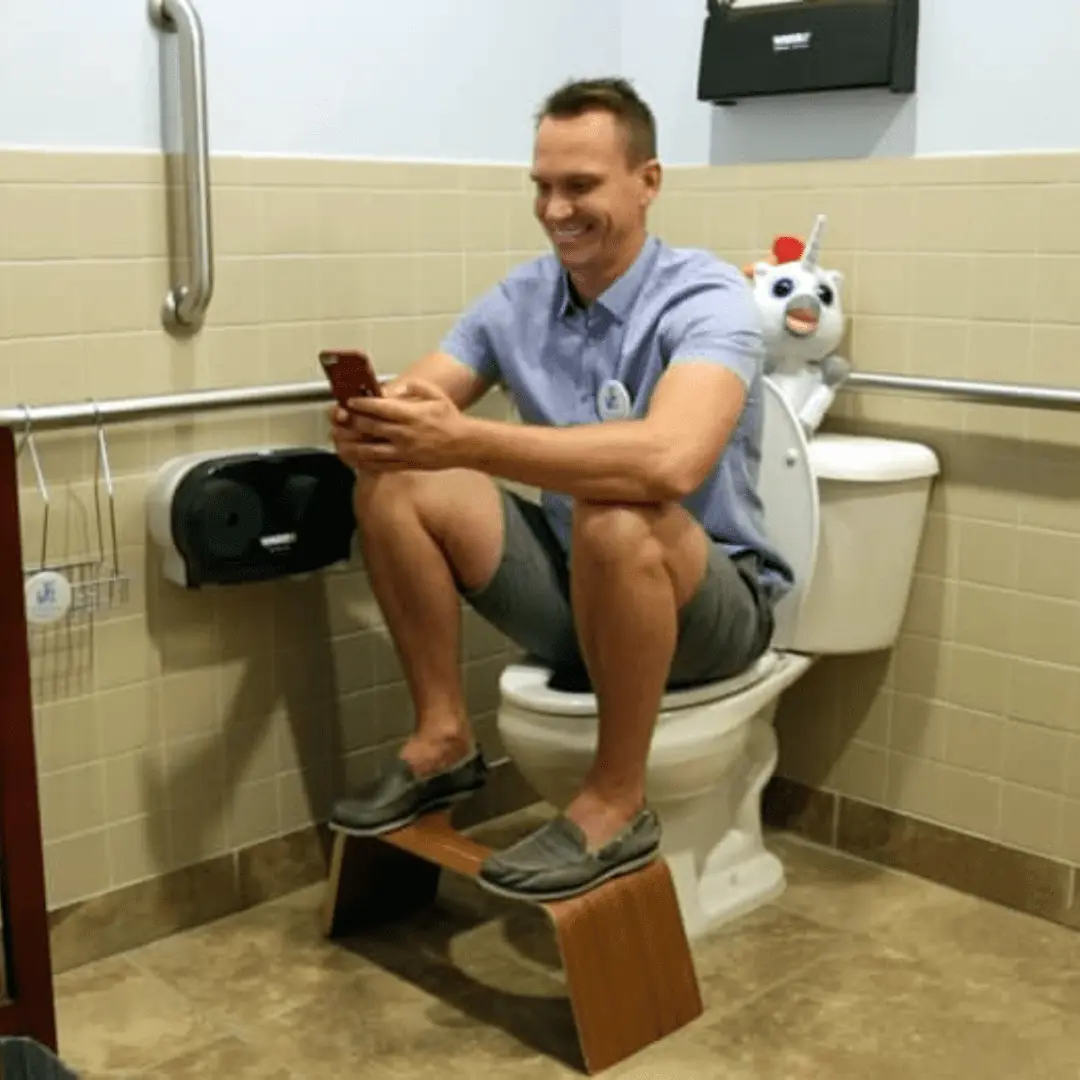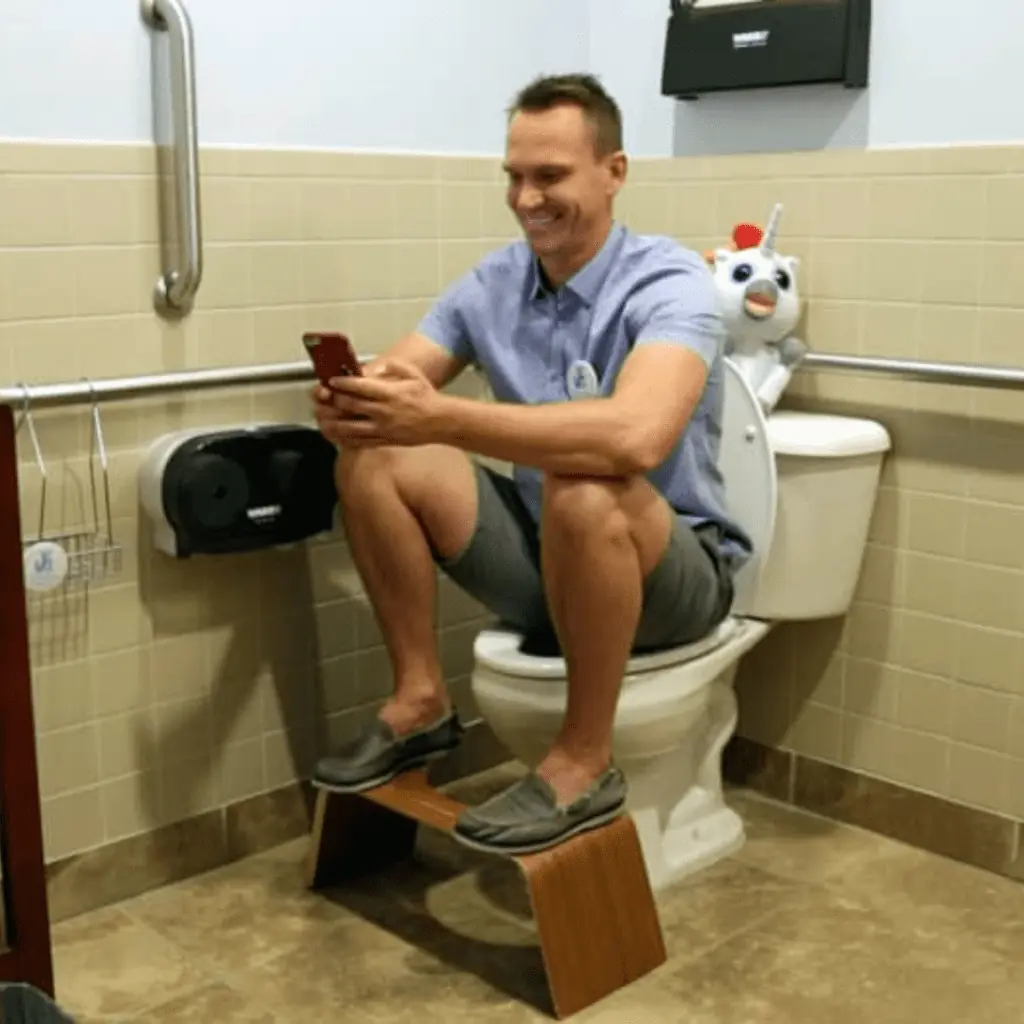 A married couple, Bill and Judy Edwards, along with their son, Bobby Edwards, co-founded Squatty Potty. On the Squatty Potty website, prior to starting the business, Judy Edwards says that she was "a work-at-home mom" who raised seven children, but also "managed the books for her husband's businesses and found ways to earn extra income out of her home-via online auctions, websites, and so on."
By the time they launched Squatty Potty, Bill and Judy Edwards were already both in their 60s and had retired prior to starting the new business. Their son and co-founder, Bobby Edwards, was a trained contractor and designer, who had worked as a web producer for Fox Broadcasting Company in LA for three years, and he had also owned and operated Rose Concrete Coatings in St. George, Utah for six years before the launch of Squatty Potty.
How did Squatty Potty Get Started?
Squatty Potty was started as a means to help co-founder Judy Edwards with trouble that she had in the bathroom, namely a lifelong battle with constipation, which seemed to only get worse as she got older.
Judy told CNBC: "I was constipated my whole life," she continued to say that age had only made the problem worse, so when a medical professional recommended Judy use a footstool to raise her knees while on the toilet, she tried it, and it worked. "It's just a world of difference," she said. Her husband, Bill, was amazed. "We both thought, 'Wow, we're in our 60s, why are we just now hearing about this?'"
Bill Edwards made the first potty stool for Judy, and when their son, Bobby, a trained designer, saw it, he realized that this could be a business opportunity. They did some research and couldn't find a product on the market which was designed to help with this problem, so they made it themselves.
In the CNBC interview, Bobby said, "squatting is the way humans are supposed to, well, poop. We all have a kink in our colon. It's there to maintain continence. Otherwise we'd be crapping our pants wherever we go. Sitting on a toilet relaxes the kink to a point, but squatting opens everything up for better evacuation."
The family's first toilet stools were made of wood, and they considered The Health Step, The S— Shelf, and The Stool Stool before finally settling on Squatty Potty as the name for their new product.
The family saw the stools as a bit of a gag, and they started out by giving some to family and friends, but when they heard all of the positive feedback from the recipients of the new toilet stools, Bobby decided that they really had a good, viable product, so Bobby, his parents and one other brother invested $35k to set up a website and begin manufacturing.
Judy decided that they needed to switch from using wood to plastic when making the stools in order to bring the price down. For their first large order, they decided to source them from China, and they ordered 2000 Squatty Potties. When Bobby first saw the large container full of their opening order, he thought, "What? We are never going to sell these, right?"
What happened to Squatty Potty before Shark Tank?
In order to market their new product, Bobby sent Squatty Potties to a number of health bloggers, doctors and others who might help promote their new toilet stool, and the buzz was almost immediate. As influencers jumped on board, word of mouth spread and sales grew. Bobby was incredibly surprised when he received a call from the Doctor Oz show. After its appearance on the show, Squatty Potty quickly gained a national audience.
In its very first full year, the company grossed over $1 million, and after just its second year in business, Squatty Potty had revenues of over $2.7 million. However, in their third year, with the glow of the Dr. Oz promotion perhaps fading a bit, sales began to flatten. But, just as sales were getting a bit stagnant, another media celebrity jumped on board, as Howard Stern began to talk about the product. Eventually, Squatty Potty began to advertise on the Howard Stern show, and this led to another big boost in sales.
By the time Squatty Potty taped their episode for Shark Tank in 2014, Bobby Edwards was projecting sales of $7 million for the year.
What do customers think of Squatty Potty?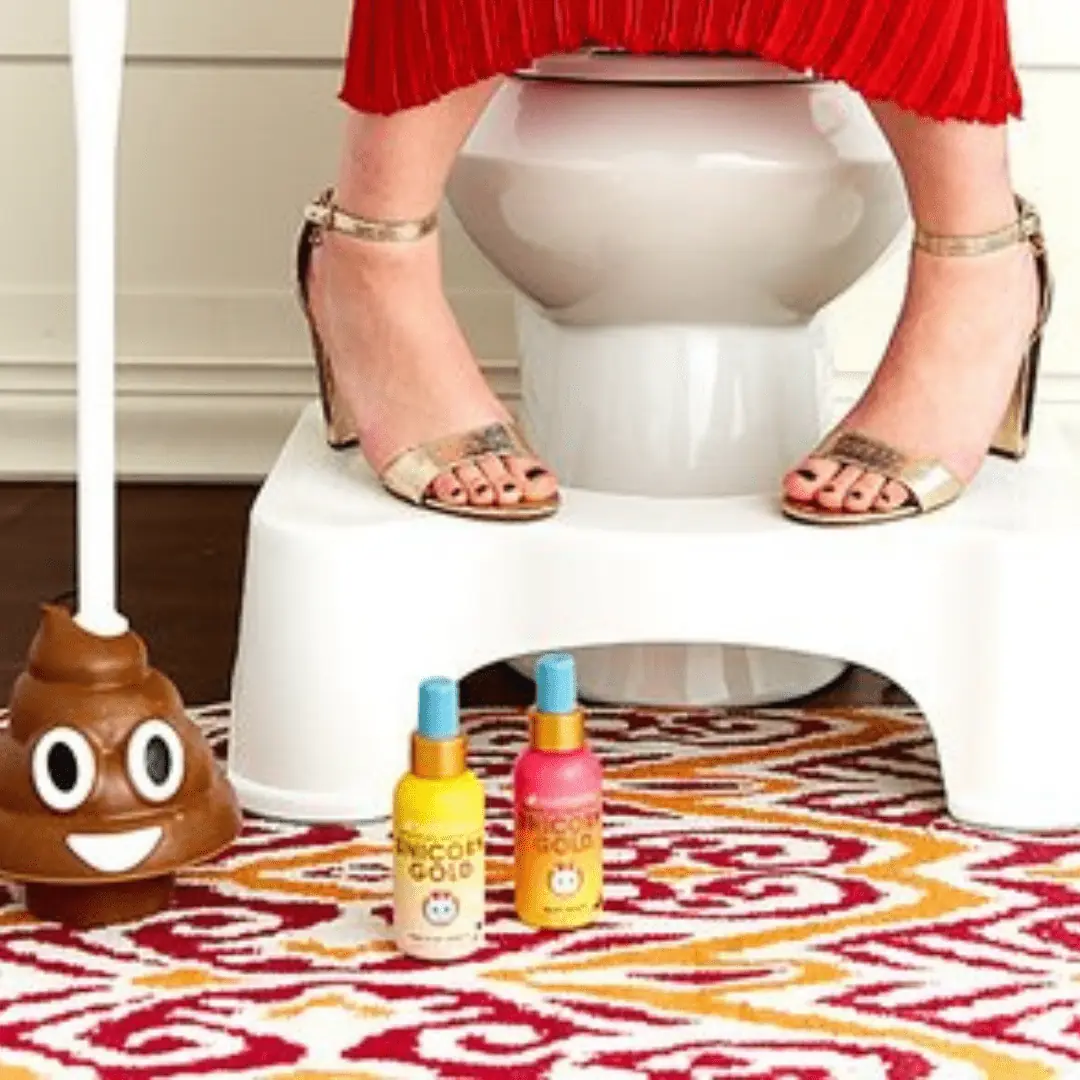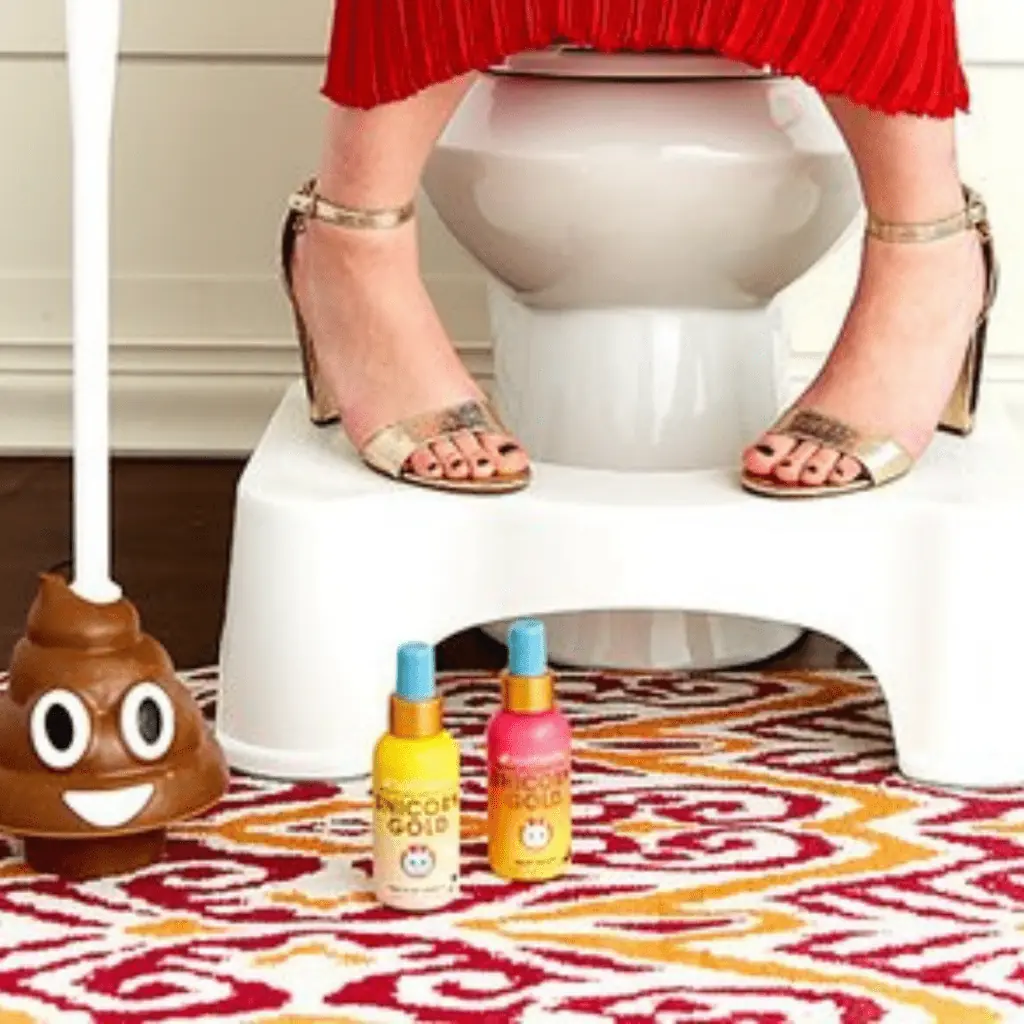 If Amazon reviews are any indication, most Squatty Potty customers love the product. The original model of the Squatty Potty has over 13,000 reviews on Amazon, and an overall rating of 4.5 out of 5 stars.
77% of global customers rate the Squatty Potty at a full 5 stars. This is one of the highest percentages of 5 star ratings we've seen for any Shark Tank product. Customers rate the product very highly for durability, sturdiness and stability.
We had no trouble finding thousands of positive reviews for Squatty Potty.
One verified purchaser writes: "What is there to say? These things work, they really do. In fact, I was stumped that I could have gone through life for a quarter of a century, not doing this one, very essential biological function of ours properly. But that is really the case!"
Another very relieved Squatty Potty user describes their experience:
"Due to a finicky digestive system and medication that tends to make me constipated at times, I am NOT one of the lucky individuals whose bowel movements are regular. Far from it. At times, I have gone 5+ days without a BM. Anyone who has experienced anything similar knows the hell that not pooping for that long is. Bloating, stomach pain, just plain discomfort. I honestly assumed I'd just have to live with it. I would take stool softeners on a regular basis, and even laxatives sometimes – and even those did nothing the majority of the time. Honestly, it was awful. I decided to buy the Squatty Potty after seeing an ad in a magazine and reading some great reviews online. I was skeptical. I mean, how can slightly elevating my feet help me poo? Well, I don't know HOW it works, but it just DOES. I've been using the squatty potty for about two weeks now, and I have had a BM EVERY SINGLE DAY. This may not sound like a great deal to all those lucky ducks out there who are 'regular', but to me, it's honestly nothing short of a miracle."
We found hundreds of customer reviews, just like this one, claiming that this simple little toilet stool had changed their lives. The few negative reviews we found were almost all concerned with two problems: either the Squatty Potty arrived missing one of its rubber feet; thus, making it a bit unstable, or the stool was too large for the purchaser's toilet/bathroom.
One of these slightly negative reviews states: "After watching the AMAZING commercials, and ordering one. Couldn't wait for it to arrive and replace the milk crate currently in the WC. However…..it arrived missing one of the rubber feet, so it rocks, bummer. And the sticker took an act of God to remove, not to mention a lot of GooGone…still excited for it, but would have been much better review with a few small tweaks."
Another unhappy customer simply wrote: "Too tall, Amazon didn't let me return even though I didn't use it."
Overall, Squatty Potty has amazingly good customer ratings and reviews, and if sales are any indication of whether or not customers are satisfied with a product, Squatty Potty passes with flying colors.
When did Squatty Potty appear on Shark Tank?
Squatty Potty appeared on Shark Tank in Season 6, Episode 9, which aired on November 14, 2014. Squatty Potty's mother and son team pitched to the regular Sharks: Mark Cuban, Barbara Corcoran, Kevin O'Leary, Lori Greiner, and Robert Herjavec.
What happened to Squatty Potty on Shark Tank?
Squatty Potty co-founders Judy and Bobby Edwards, a mother and son team, entered the Tank and asked the Sharks for $350k for a 5% share in their specialty toilet stool business.
Judy Edwards kicked off the pitch by telling the Sharks, "Simply put, we're in the business to help you do your business." Her son Bobby followed this by warning the Sharks that "there's something each and every one of you is doing wrong each and every day of your lives, and it's adversely affecting your health."
At this point in the pitch, Bobby pulls the cover off a standard American toilet, with a Squatty Potty in place at its base. Judy then explains that the standard American toilet puts one in a sitting position that plays a big part in colon problems people have, including constipation. She then started a video presentation which showed the Sharks how the puborectalis muscle wraps around the base of the colon, and how the sitting position on a modern toilet doesn't allow the muscle to completely relax in order to allow a complete and full elimination of waste.
Bobby ended the prepared pitch by asking the Sharks, "Now who wants to climb aboard and help us get America moving?" After hearing this, Kevin O'Leary apparently wanted to get moving as he got right down to business and asked the Squatty Potty team, "Well, I wanna hear about sales because you've valued this business at $7 million. That's a whole lotta poo-poo."
Bobby was ready for this inquiry, and he shot back that they had been in business for three years, and in their first year of business, they had sales of $1 million. In the second year, sales had increased to $2.7 million, and in the current year-to-date, they had already sold $2 million worth of Squatty Potties.
The Sharks were all audibly impressed by these figures, and Robert Herjavec next wanted to know how they were selling the product. Bobby indicated that all of their sales were online, and this brought disbelief from Kevin O'Leary. He asked, "There's no retail?" Bobby Edwards confirmed that all of their sales were direct-to-consumer.
Lori Greiner entered the discussion when she offered, "I think I know why. Weren't you just on Dr. Oz? I think I just saw this. Bobby confirmed that in their first year in business that they had appeared on Dr. Oz, and that this was the push to bring in the $1 million in sales in their first year.
Kevin O'Leary appeared as if he liked what he had heard thus far when he asked, "Is there anything to stop someone else from doing exactly the same thing?" Bobby was ready for this question as well, as he pointed to a display wall listing several patents, including a design patent for their primary product.
Mark Cuban joined the conversation by asking for both the sales price and the cost to manufacture. And Bobby indicated that Squatty Potties sold for $25, and they cost $4.50 to make. Bobby also shared that their products were now made in the US. The Sharks all looked to be impressed with the margins, and Mark Cuban next wanted to know, "Guys look, with those margins, you gotta be poopin' cash, right? What do you need $350k for?"
Bobby answered Mark by telling him that they had more opportunities than they could fund. And they were also seeking FDA compliance to have the Squatty Potty listed as a medical device. Several Sharks next asked in unison, "why aren't you in retail?" And Bobby replied that "people don't know how to put this in retail."
Bobby volunteered that he expected the company to have $7 million in sales for the current year, and this immediately had Mr. Wonderful respond by asking what they would make off of the $7 million. Bobby told Kevin that they expected income of $1-1.5 million on sales of $7 million, which prompted Mark Cuban to ask why they wouldn't make more profit off of $7 million in sales with their great margins, and Bobby responded that it was due to customer acquisition cost.
Squatty Potty had recently started advertising on the Howard Stern Show, and they were getting between $4.00 to $5.00 in sales for every dollar that they were spending.
By now, several Sharks were beginning to circle, as they could smell money in the water with Squatty Potty's rapidly increasing sales and healthy margins. Let's see who struck first.
Did Squatty Potty get a deal on Shark Tank?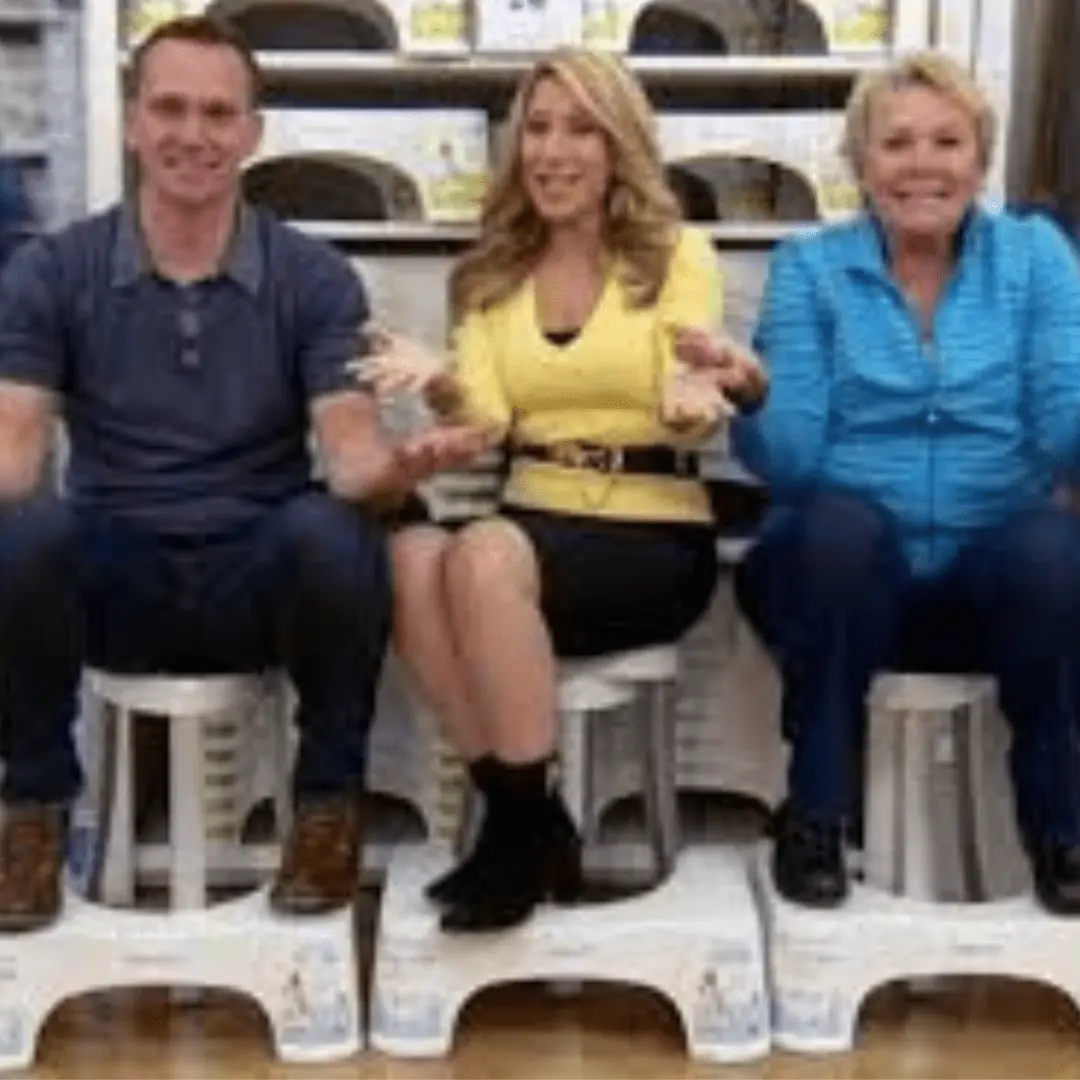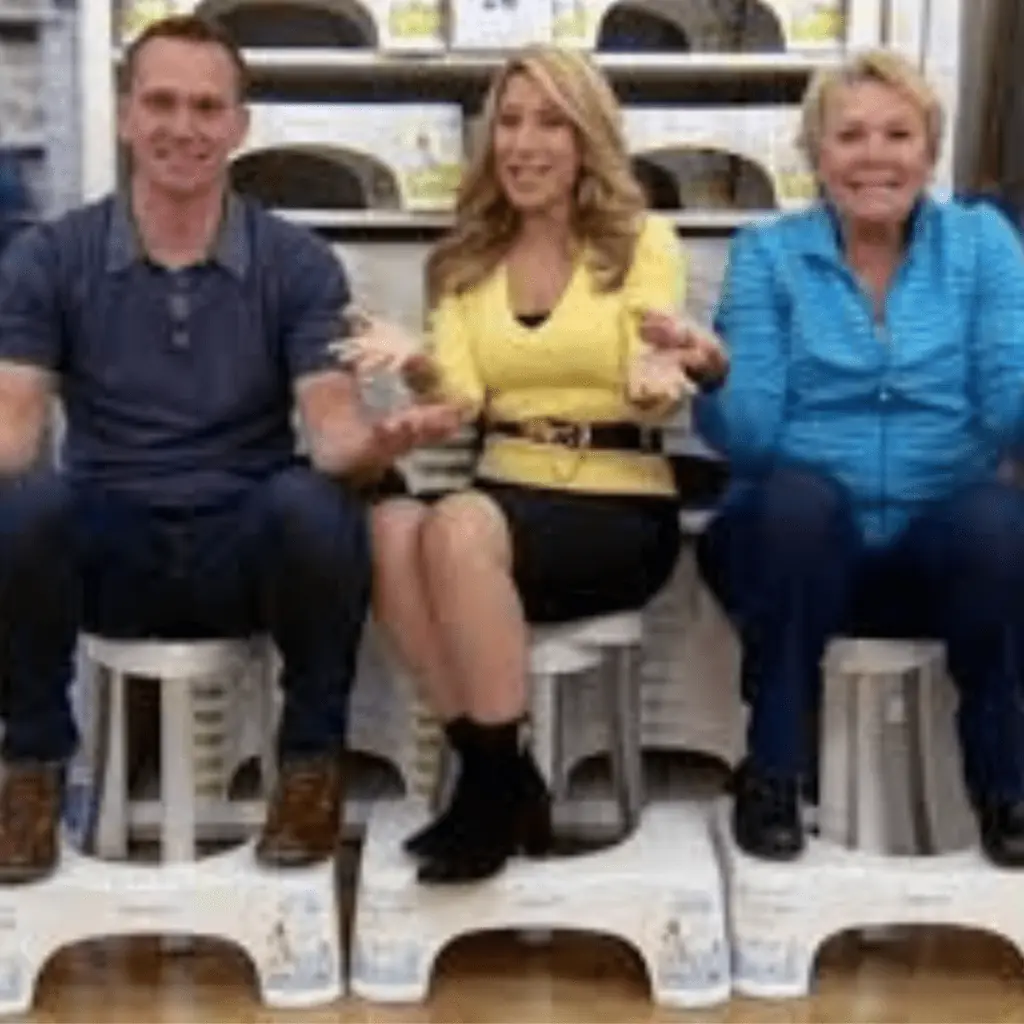 Squatty Potty successfully got a deal on Shark Tank. Lori Greiner agreed to invest $350k for a 10% equity stake in the company. This deal gave Lori twice the equity that the Squatty Potty team had originally offered.
Kevin O'Leary was first to state his intentions when he told the Squatty Potty team: "The only problem with your deal is how insignificant 5% is, at least for me looking at it. I like the deal. I'll give you $350k for 10%." Bobby did not look very impressed with this offer, and he replied, "the problem is, on the back end, it's gonna be worth so much more."
Robert spoke next and warned Bobby that he was "about to get some verbal diarrhea from Kevin," so he said he wanted to clear the throne by congratulating Bobby on their sales, but saying that his gut instinct just didn't see this deal working.
O'Leary jumped back in and said, "I've made you an offer. Do you have a counter for it?" And Bobby quickly responded, "Yeah, $700k for 10%." Mr. Wonderful took little time to decline this counter.
Lori Greiner piped up saying, "I really like it, but to Kevin's point, too, 5% is a nothing burger." She also told Bobby and Judy that the product could do well on QVC and in retail, but that for her to invest, she would need at least 10% to make it worth her time, and she thought that Kevin's offer was fair, $350k for 10%. Bobby asked Lori for $500k for 10%, and Lori quickly declined the counter.
Mark Cuban bowed out quickly, but he gave Bobby some great advice that may have saved a deal for him: "You're talking out of both sides of your mouth. You're talking about wanting to value where you see the company going, and that's why you think it's $7 million. Then you talk about, boy, if you only had a Shark who could get all of your calls taken, who could get you into retail, which could perhaps take the business to $14 million or $21 million, you're obviously not valuing that."
Finally, Mr Wonderful jumped back in and said, "a Shark can't get interested in 5%. I'm not doing it for less than 10%. Bobby heard this, looked at his mother, then he turned to Lori and said, "actually, we're gonna take Lori's offer."
What happened to Squatty Potty after Shark Tank?
Squatty Potty may have seen one of the greatest immediate Shark Tank effects in the history of the show. On the night their episode aired, Squatty Potty sold $1 million worth of Squatty Potties and $3 million in the two weeks after. According to Squatty Potty's website, the sales after the show aired were the highest of any product in Shark Tank.
The deal with Lori Greiner did close, and this led to Squatty Potty being placed in Bed, Bath and Beyond retail stores nationwide. At around the time things were really taking off at Bed, Bath and Beyond, according to an interview with Entrepreneur's Handbook, "in 2015, the company pulled off a stroke of marketing genius which cemented its place in the market. One of the lingering issues with the Squatty Potty has been that it's a difficult product to position, as it falls somewhere between humor and health. That was until the advertising agency Harmon Brothers hit the jackpot with a video advert that has now been viewed over 100 million times on Youtube alone."
Bobby's father Bill Edwards said of the defining Youtube video ad: "It's not OK to talk about poop, but it's OK to talk about ice cream." Entrepreneur's Notebook further notes that: "Though it was an expensive risk, costing the business $250,000, and one that the company almost walked away from, it really made a splash. The company ended 2015 with sales of over $15 million. That number rose to over $16 million in 2016 and has continued to grow since."
Is Squatty Potty successful today?
In what has been one of the most fairytale endings of Shark Tank deals, Squatty Potty sold half of the company in a deal worth over $10 million in 2018/19, allowing Judy Edwards to retire, and for her son, Bobby, to appoint a new CEO and take a step back from the company, ending his day-to-day involvement in the business.
Then in May 2021, publicly traded Aterian Inc. acquired all of the assets of Squatty Potty for approximately $24.1 million. Both for Lori Greiner who invested $350k for 10% of the business, and for the Edwards family, who started Squatty Potty with an investment of $35k, this has been a Cinderella story of complete success.
As of November 2022, it is reported that Squatty Potty had lifetime sales of $222 million.