THEMAGIC5 turned an agreement with one Shark into a two Shark deal, but what happened next? This THEMAGIC5 Shark Tank update has the answer.
What is THEMAGIC5?
THEMAGIC5 is a company which uses a proprietary facial scanning app to produce custom-made swim goggles. The company is located in Charlotte, North Carolina.
THEMAGIC5 states that their mission is "to create swimming goggles that eliminate the distractions that prevent anyone from being at one with the water."
Who created THEMAGIC5?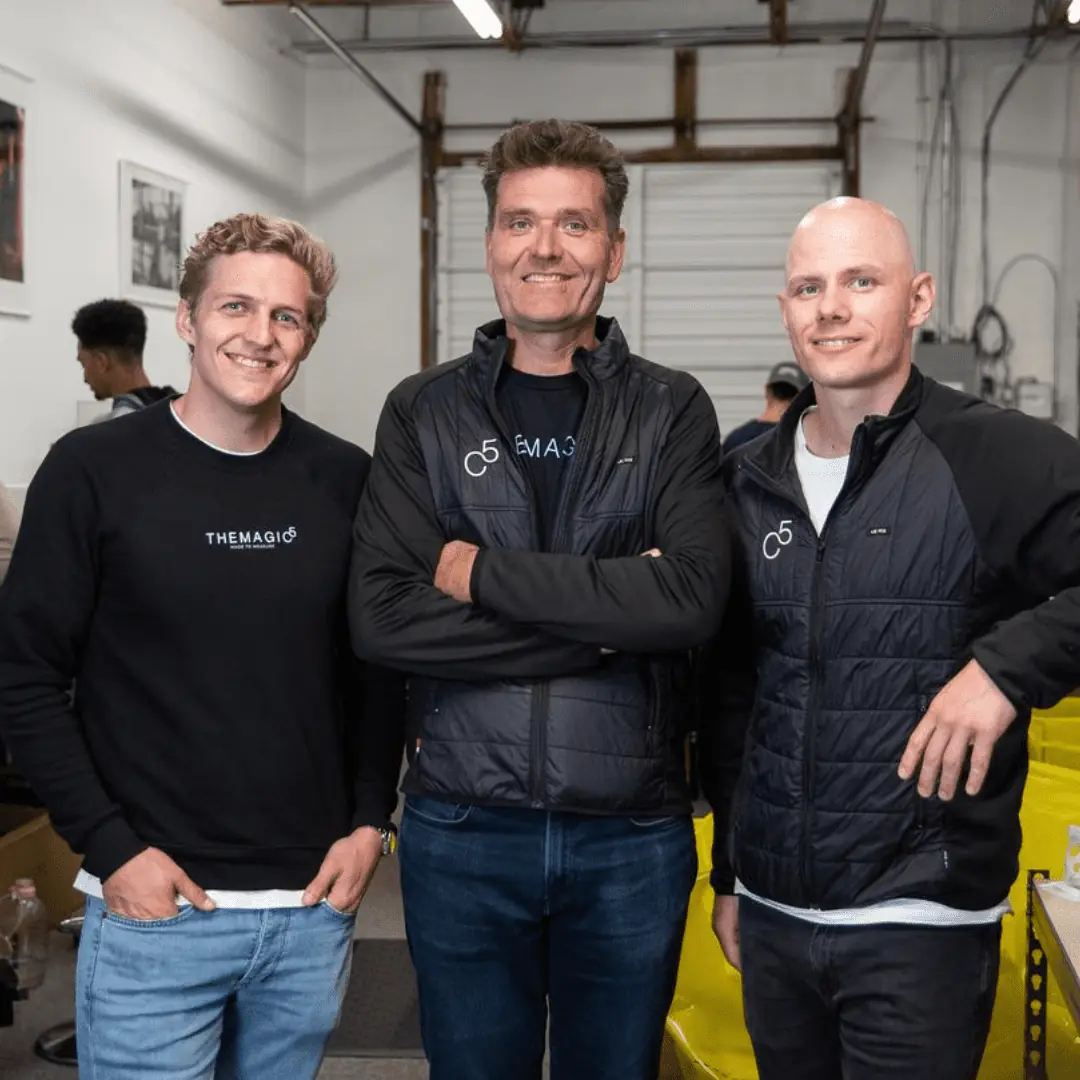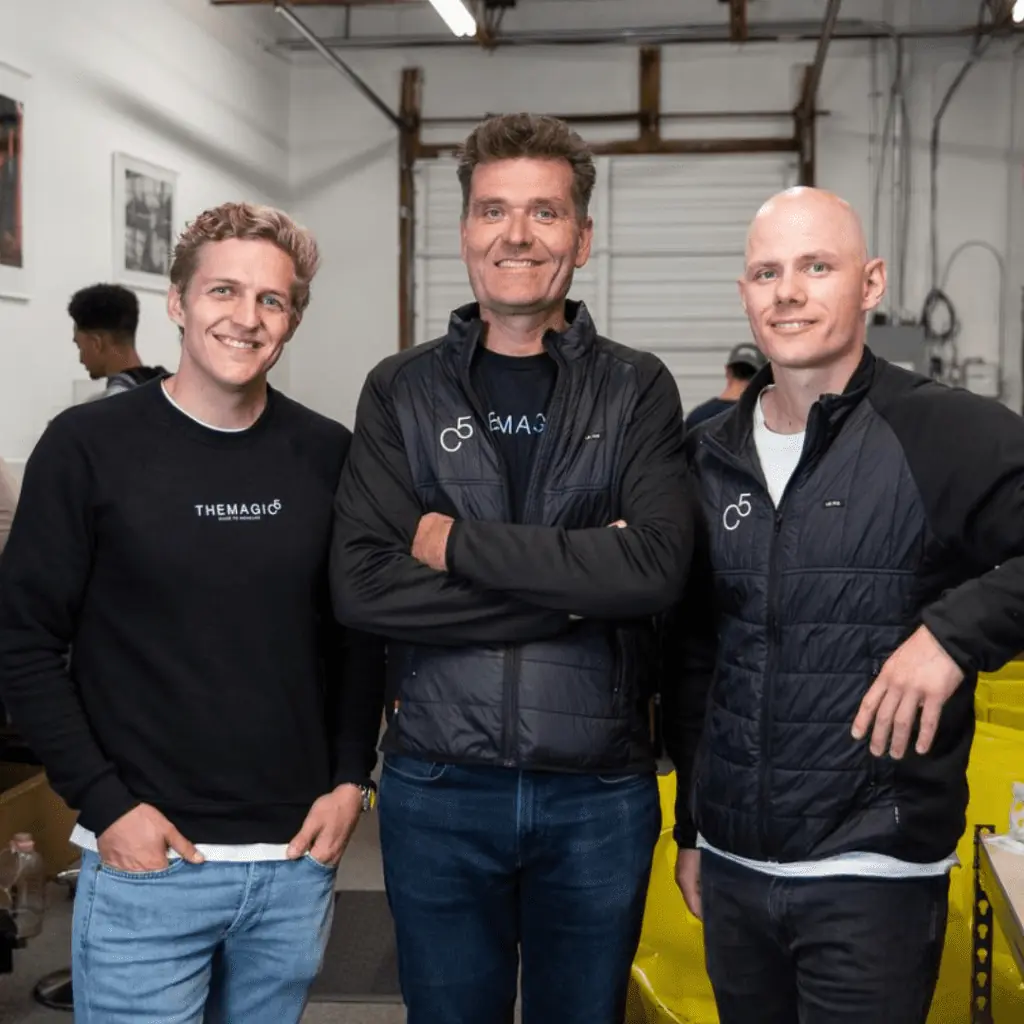 THEMAGIC5 was co-founded by Bo Haaber, Rasmus Barfred, and Niklas Hedegard, three Danish guys with an overall passion for athletics, and swimming in particular. Bo Haaber received a degree in Engineering from the Technical University of Denmark, and then he went on to Henley Business School where he earned an MBA in Economics. Bo started his career at IBM, where he worked in Denmark and the four Nordic countries for 15 years. After working at IBM, Bo helped create two new companies, TouchDiva Europe A/S, which was an internet stereo with on-demand access to music from all over the world, and nrgX, a portal for handling energy saving certificates.
Niklas Hedegaard attended the Copenhagen Business School and earned a BSc degree in International Business and Politics, and he continued his education at the Business School, where he was also awarded an MS degree in International Business and Politics. In addition to his business school background, Niklas was a professional swimmer for the Danish National team. Prior to co-founding THEMAGIC5, he was a coastal lifeguard on the northern coast of Denmark.
Rasmus Barfred also attended Copenhagen Business School, and he earned both a BSc and an MS degree in International Business and Politics. He worked for several years at Haldor Topsoe, a Danish company specializing in financial planning and mergers and acquisitions. And prior to founding THEMAGIC5, Rasmus also worked for seven years at nrgX, an online BTB trading platform.
How did THEMAGIC5 get started?
On their Shark Tank episode, Bo Haaber explained that both he and his nephew, Rasmus, were triathletes. Bo told the Sharks that he once went on vacation and forgot his swim goggles, but being in training, he had to swim, so he purchased all of the goggles he could find, but not a single pair fit him properly. After this occurred, he called his nephew Rasmus to see if they couldn't come up with a better way to make swim goggles that actually fit.
Bo and his nephew then brought in Niklas Hedegaard who was a professional swimmer for the Danish National team. The trio leveraged Bo's experience in software development, Rasmus' background with startups and branding alongside Niklas' experience as a professional athlete to found their specialty swim goggle company.
What happened to THEMAGIC5 before Shark Tank?
The founding trio of THEMAGIC5 first met in 2016 to begin work on their custom swim goggles, and by March of 2016, they started tech development. In February 2017, less than a year later, they had finalized their design, and in April 2017, they had a working prototype. Just a few months after this, in July 2017, their prototype was worn in the World Swim Championships.
In September 2017, the year after THEMAGIC5 founders first met to discuss the idea of building a better-fitting swim goggle, they launched a KickStarter Campaign. THEMAGIC5 set a goal of $50k for their Kickstarter campaign, and they surpassed this goal by raising over $100k from 1,183 backers in 45 days.
Co-founders Bo and Rasmus convinced their wives to take a big risk and move from Denmark to the US for the launch of THEMAGIC5, and with the help of the capital they raised with the Kickstarter campaign, they built their production plant in Charlotte, NC.
Prior to their Shark Tank taping, the company had revenues in its first full year, 2018, of $180k; in its second year, they had sales of $370k, and in the year preceding their appearance in the Tank, THEMAGIC5 had sold $1.2 million worth of custom swim goggles.
What do customers think of THEMAGIC5?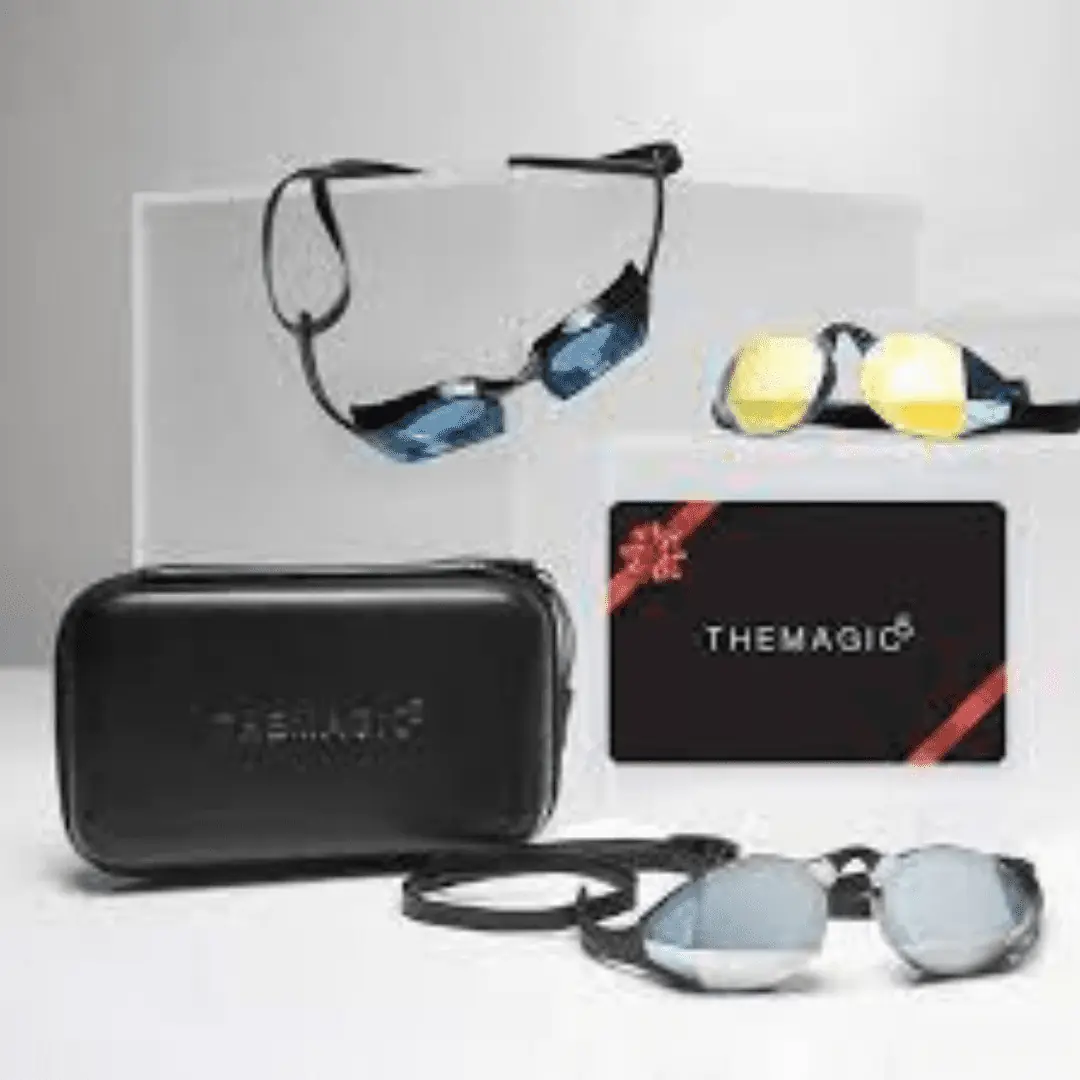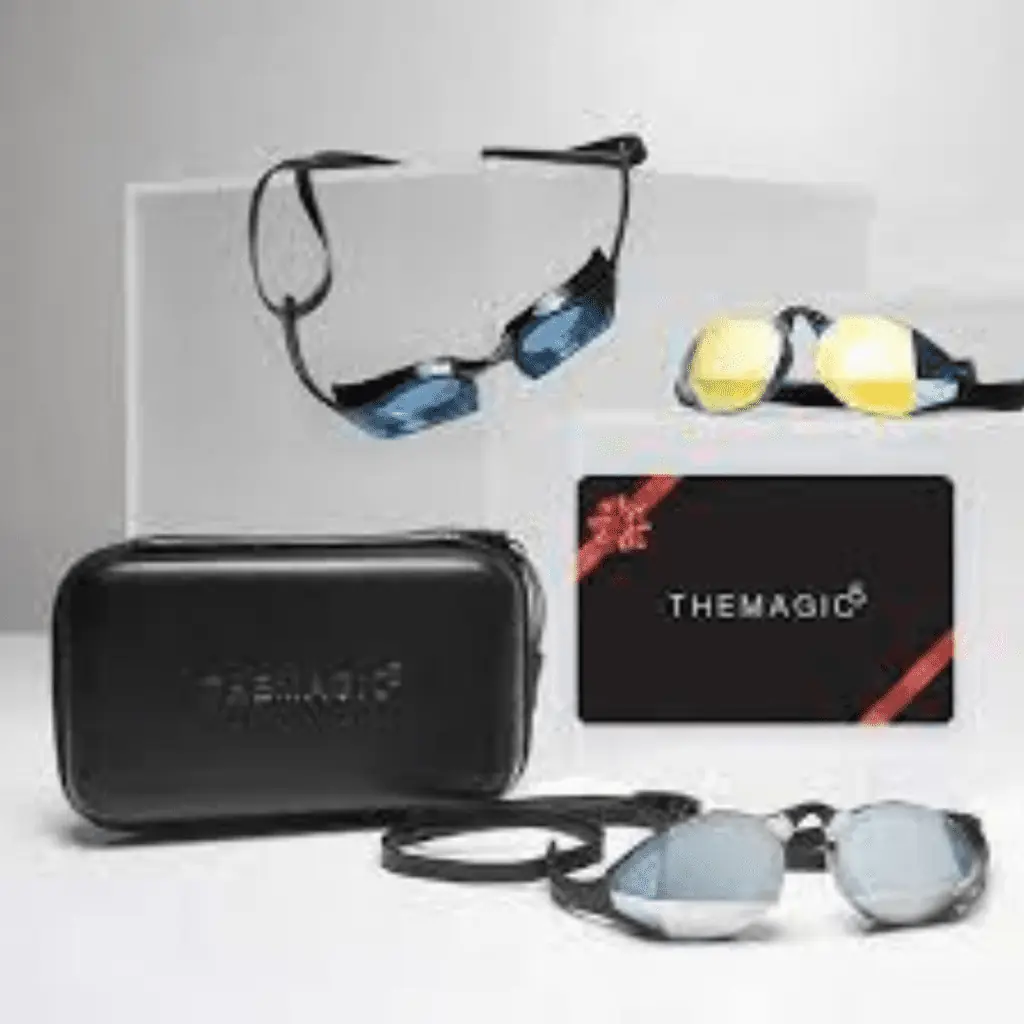 Unlike for most Shark Tank products we have covered, the bulk of customer reviews for THEMAGIC5's custom-made swim goggles were not found on Amazon. Because of the custom-made nature of their product, the company obviously sells the majority of their products via their own website; thus, most of their online reviews appear on Reviews.io and Trustpilot.
On Trustpilot, THEMAGIC5 has a rating of 4.2 out of 5 stars, but the rating system works slightly differently on Trustpilot than for other review sites, as according to the site: "The TrustScore isn't just a simple average of all reviews. It's based on multiple factors like the age and number of reviews.
Whether or not a business actively asks customers to write reviews also impacts the TrustScore."
With 34 reviews on Trustpilot, 70% rate THEMAGIC5 swim goggles at 5 stars, while 18% give the product only 1 star. There were not many customers who were lukewarm about these goggles on Trustpilot; rather, they seemed to either love them or hate them.
One recent, very satisfied purchaser told Trustpilot: "I am not a person who normally writes reviews, but these goggles are amazing, both my daughter and myself use them. They are the most comfortable goggles I have ever worn. The fit is perfect. What is truly exceptional is the customer service. I have had two occasions when I have needed to contact them and in both instances they were quick, polite and fixed the issue well beyond my expectations. I am a loyal customer for life."
On the other hand, a quite disappointed customer writes that THEMAGIC5 has "a bad app and bad comms." This user continues by saying, "this was really disappointing as these were a gift for my girlfriend. The app seems a couple of years old and really doesn't work in my experience. Have spent good money on these and can't 1) get them or 2) get a refund? Really disappointing for a company that promises so much."
On Reviews.io, we found that THEMAGIC5 has 6,246 ratings, with an overall company rating of 4.9 out of 5 stars. However, Reviews.io assigns the company a Customer Happiness Grade of B-, as this grade weighs certain aspects of their review answers differently. THEMAGIC5 rates very highly for Price, Delivery, and Customer Service, but the company is rated quite poorly on Refunds.
On Reviews.io, one satisfied customer writes, "I have tried over a dozen different goggles in different price ranges and sizes with no success until these."
Another happy reviewer states, "Seamless ordering process; swift delivery; great fit & feel!"
And as noted above, a number of negative reviews focus on difficulties with refunds. One disappointed user says, "I've emailed them extensively as my googles were paid for and not received, but they don't respond to emails on time, and I've requested a refund. Very poor customer service, stay away from this company."
Overall, on both Trustpilot and Reviews.io, most customers believe that THEMAGIC5 swim goggles provide a good custom-made product at a fair price.
When did THEMAGIC5 appear on Shark Tank?
THEMAGIC5 appeared on Shark Tank in Season 13, Episode 4, which aired on October 29, 2021. This episode featured guest Shark, Nirav Tolia, CEO of Nextdoor, former COO of Shopping.com, and one of the earliest employees of Yahoo.
What happened to THEMAGIC5 on Shark Tank?
THEMAGIC5 co-founders Bo Habber and his nephew, Rasmus Barfred, entered the Tank and pitched to the Sharks, asking $500k for just a 2.5% equity stake in their company.
Rasmus entered the Tank and told the Sharks that "We all know that Sharks have excellent vision underwater, but it's not easy for everyone else, and that is why we wear swimming goggles." Bo then continued, and he let the Sharks know that most swimming goggles today either leak, or they are uncomfortable, and he said that this makes total sense because all of our faces are different, but swim goggles are one-size-fits-all.
Next, Rasmus and Bo told the Sharks that they had created the world's first custom-fitted swim goggles, and after just a 13 second facial scan on their app, they can make the custom goggles and deliver them directly to the customer's doorstep. They stated that THEMAGIC5's app-based scanning technology ensures a perfectly fitting goggle,mwith no leakage, and no marks after use. Finally, the uncle and nephew team indicated that "some of the world's best swimmers and triathletes already use our goggles, but we want all swimmers to get a pair of them."
After the Sharks took a moment to inspect a few pairs of THEMAGIC 5 goggles, they all appeared interested, and Mark Cuban opened the questioning by asking the retail price of the goggles. Rasmus told him that they sold for $55. Next, Kevin O'Leary wanted to know the size of the swim google market, and Rasmus stated that it was a $2.2 billion market in the US and Europe.
Guest Shark, Nirav Tolia, stated that he wasn't surprised at the size of the market, as he said his three children and their friends all use swim goggles. However, Nirav also said, "But for a $20 million valuation, I'm guessing you've sold a lot of these." Bo let the guest Shark know that they had 40k customers with lifetime sales of $3 million. He also told Nirav that the company started in 2018.
Robert Herjavec indicated that he thought the idea was logical since his glasses were custom made, why not swim goggles as well? Bo then told him the story of being on vacation and having forgotten his swim goggles, but still needing to swim as he was in training as a triathlete; however, even though he bought every pair of goggles he could find, not a single pair fit him properly.
Kevin jumped right back into the business basics by asking why they were charging only $59 rather than $99, and THEMAGIC5 team told him that they wanted to charge in the middle of the other high-end goggles, and they didn't want price to be an issue for their customers. O'Leary followed up asking about the cost to make the goggles, and he learned that they cost $14 to manufacture. Mr. Wonderful next inquired about customer acquisition cost, and Bo told him they spent $24 to acquire a new customer.
Thinking about the numbers, Mark Cuban said, "Guys, nobody comes in here asking for $500k for 2.5%. That's always to protect your previous investors, so tell us how much money you've raised?" And Bo responded that they had raised $1.5 million, with the last valuation at $9 million.
Lori wanted to know about patent protection, and THEMAGIC5 team told her that they had a utility patent on the fitting algorithm. The Sharks also learned that the company manufactures their googles using robotics and that they developed the software used to control the robotics.
At this point, there was obvious interest in the Tank from a number of Sharks, and the feeding frenzy was ready to start.
Did THEMAGIC5 get a deal on Shark Tank?
THEMAGIC5 successfully negotiated a deal on Shark Tank. Robert Herjavec agreed to invest $1 million in the company in return for a 6.5% equity stake; this was double the original amount of investment requested.
When the feeding frenzy began, it was one of the biggest Sharks to strike first. Mark Cuban stated simply, "I'll offer you the $500k, but I want 7.5%." And perhaps because Cuban could sense the interest from his fellow Sharks, he added, "And I don't want you to negotiate with everybody." This didn't sit well with Lori Greiner as she piped up, "He's putting a block on you because he doesn't want you to hear from anyone else."
Kevin O'Leary next indicated that he and guest Shark Nirav Tolia also had an offer, but before he could finish, Cuban interrupted to tell THEMAGIC5 team that he already had a robotics company, AI companies, machine learning and AR companies, along with his connections to professional sports.
O'Leary plowed ahead as soon as Cuban finished, and he tendered a typical Mr. Wonderful offer of $500k, split between himself and Nariv, with a royalty of $3 per unit until they recouped $1.5 million, but they would retain just a 5% equity stake.
Robert jumped in next by telling Bo and Rasmus that when his daughter was 12 years old, she was ranked as one of the top ten butterfly swimmers in the world, so he had spent years at swimming pools and really understood both the product and the market. He topped all current offers by saying, "I'll do $500k for 5% with no royalty."
Lori joined the frenzy by stating that she is really a product person who could help "blow this up," and she offered to join either Mark or Robert in their deals. After O'Leary offered to trim his equity ask from 5 to 4%, Robert and Lori can back with $500k for 6% with two Sharks.
With all of this activity, Kevin O'Leary and guest Shark Nirav Tolia gave it one last shot by agreeing to drop their equity ask by another point to just 3%, along with the royalty deal. Finally, Robert could not take it any more, and he said, "Guys, I gotta get this deal. I'm gonna change my offer; I'll give you $1 million for 6.5%. It's a crazy offer for me. Right now."
Bo looked at Robert and stated simply, "We'll take it."
The bidding war for equity in THEMAGIC5 was one of the most intense rounds of negotiations we have seen in the Tank.
What happened to THEMAGIC5 after Shark Tank?
According to THEMAGIC5website, something unusual occurred just after the cameras stopped rolling at the taping of their episode. Apparently, Mark Cuban approached Robert Herjavec and asked him if he could join the deal, and Robert agreed, meaning that THEMAGICFIVE had two Sharks in on the deal for $1million in exchange for 6.5% equity.
After appearing on Shark Tank, THEMAGIC5 also received positive press in various publications, including Men's Health, Triathlete Magazine, The New York Times, Today, and Women's Health. THEMAGIC5's goggles have now been FINA approved for competitive swimming, and they have been used by athletes during both the Olympics and the World Swim Championships.
In a Yahoo Finance article, published a year after THEMAGIC5's Shark Tank episode, we learn that THEMAGIC5 saw an incredible Shark Tank effect from their appearance on the show: "The custom swim goggle company saw its daily website traffic jump from 30 to 30,000 visitors after airing on the show. The company has sold more than 85,000 goggles and made more than $4.1 million in sales since the initial appearance."
We have confirmed that the deal between Sharks Robert Herjavec and Mark Cuban and THEMAGIC5 did close, and there is little doubt that with these two Sharks on board, the company will continue to ride the wave of success which they generated during their time in the Tank.