You want your wedding day to be perfect, but what happens when you cannot find clothing for your diverse bridal party?
Bridal Babes is diving into the Shark Tank in Season 14, Episode 5, along with Plufl, Pretty Rugged, and Big Bee, Little Bee. The founders are, of course, hoping to impress the judges with their brand, which is as unique as the women of the world.
This Bridal Babes Shark Tank update looks at how the company began and analyzes the success it enjoyed on the show.
Turning a little girl's dream into reality
When Charles and Ashley Young were planning their wedding, Ashley found it challenging to find bridesmaid dresses that would work with her diverse bridal party.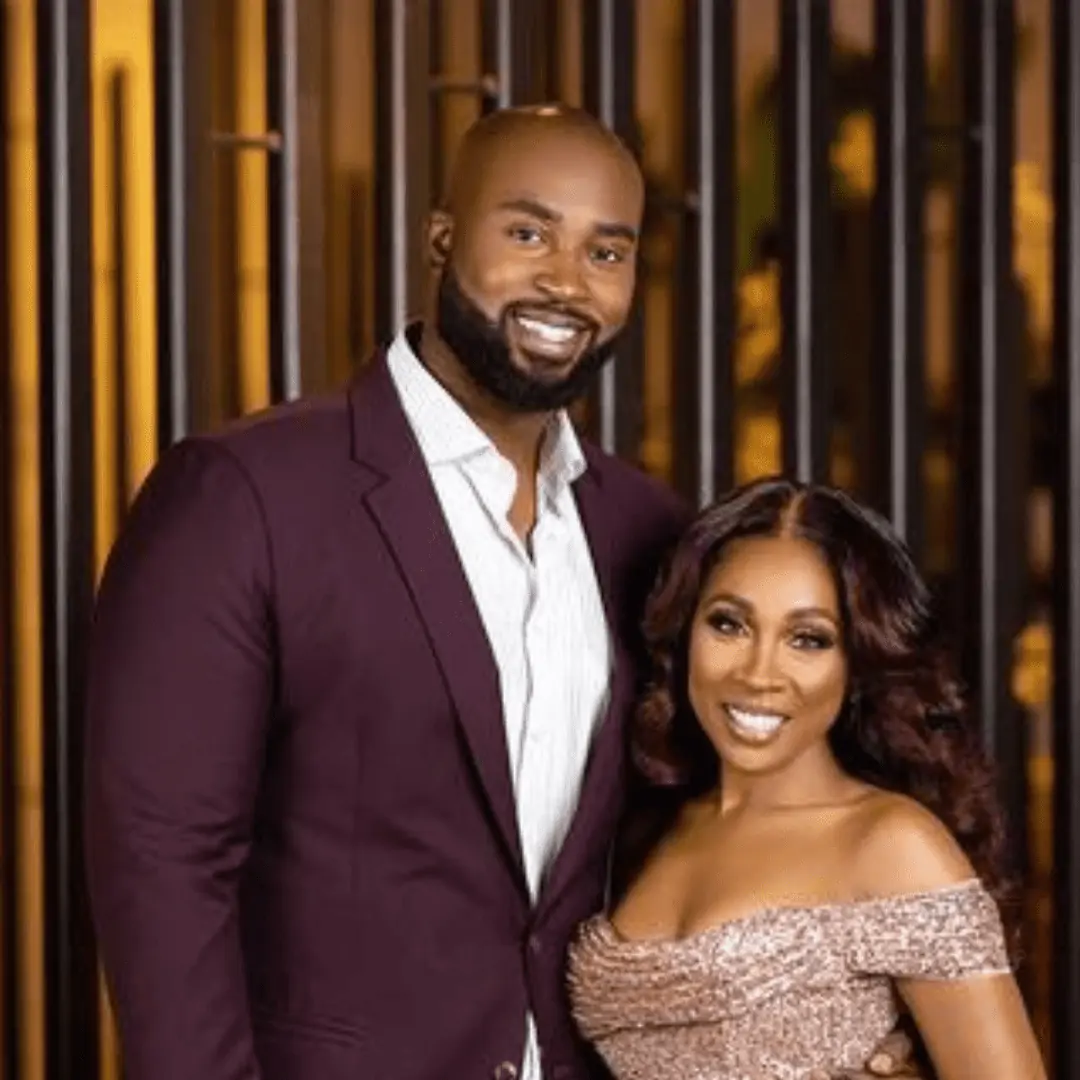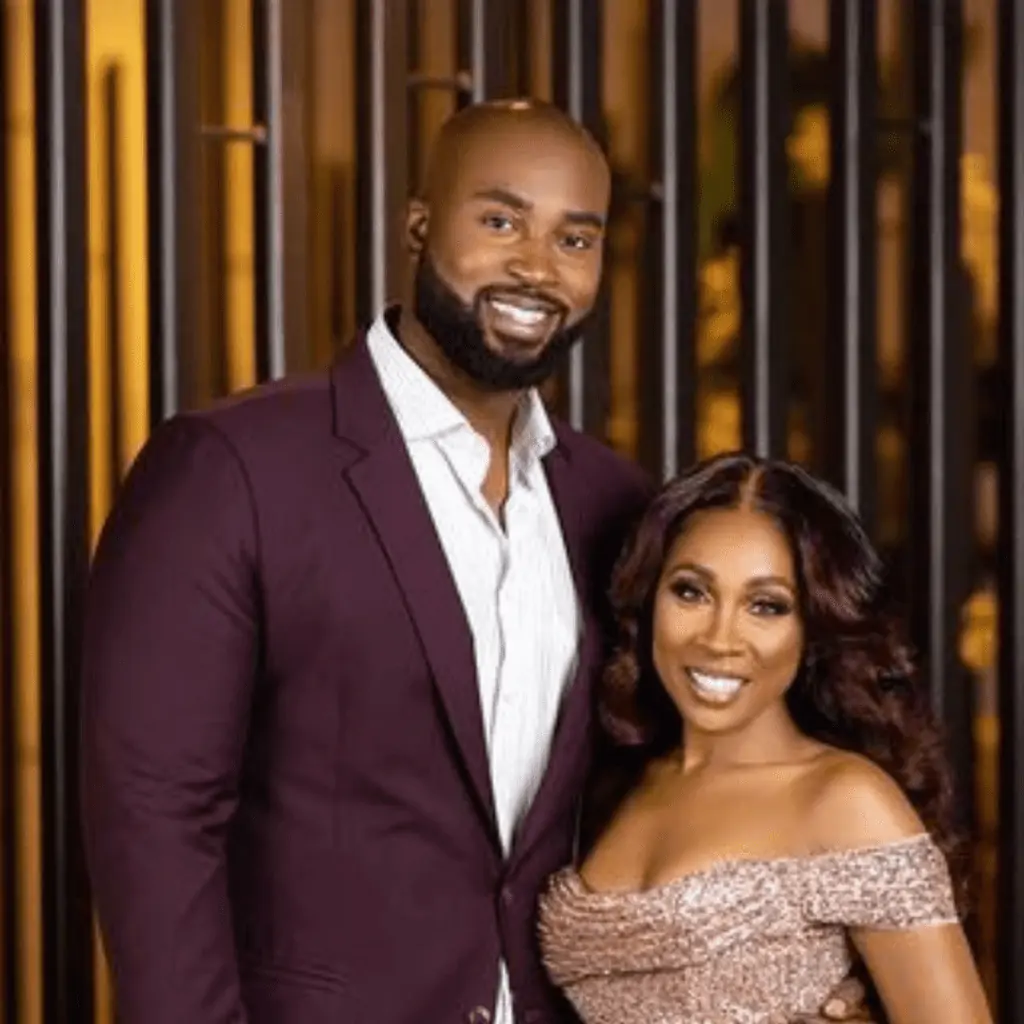 Every little girl dreams of her perfect wedding day, regardless of their shades, shapes, and sizes. It is a universal right of passage. Unfortunately, the multimillion-dollar wedding industry often caters to a specific standard of women, and like many areas, these standards can sometimes be unrealistic.
To her dismay, Ashley discovered that most bridal companies do not accommodate women of color and rarely work for those gifted with curves that don't quit.
After searching high and low for suitable bridesmaid dresses that made her friends feel fabulous, Ashely realized she would have to tackle this project head-on and create a style that worked for her diverse group of girls.
Ashely managed to create custom dresses from her bridal party after finding a style the women loved in a small boutique. The photos taken at her wedding went viral, and many people commented that they had never seen a bridesmaid dress that was so flattering.
So Bridal Babes was born through Ashley's quest to create her own perfect wedding.
What's more, Ashley Young's education and career path meant she was ideally placed to set up an e-commerce business. She holds a Bachelor of Commerce degree in Marketing from the University of Virginia. After graduating, she started working as an Assistant Media Planner, and quickly got promoted to Digital Media Planner.
Ashley left this position in 2011 after being hired by Porter Novelli as their Senior Digital Media Planner. She later worked with the FDA as a Campaign Manager and held various roles within the company before launching the Bridal Babes brand in 2019.
Bridal Babes: Unique, diverse, beautiful, and affordable
Looking for a solution to a common problem, co-founder Ashley Young created the Bridal Babes brand.
Bridal Babes is a self-proclaimed 'bridal tech' company that aims to create wedding attire for diverse women. Their unique, customizable, curve-hugging designs are changing the face of the bridal market.
Bridal Babes aims to provide wedding attire that is as unique and diverse as the women who wear it. More than that, Bridal Babes clothing is more affordable. Dresses for a wedding event are often pricey. However, a bridesmaid dress from Bridal Babes usually costs less than $300.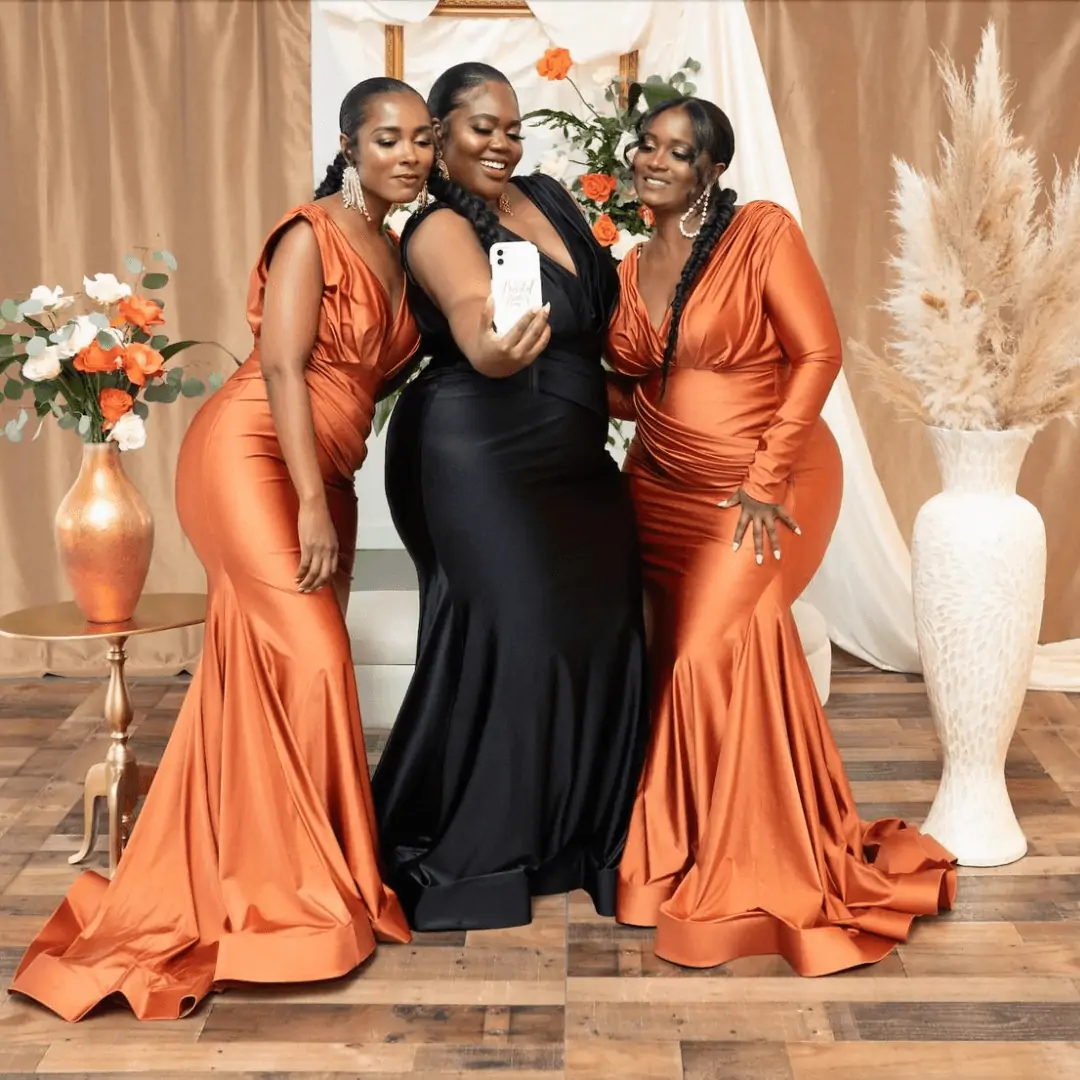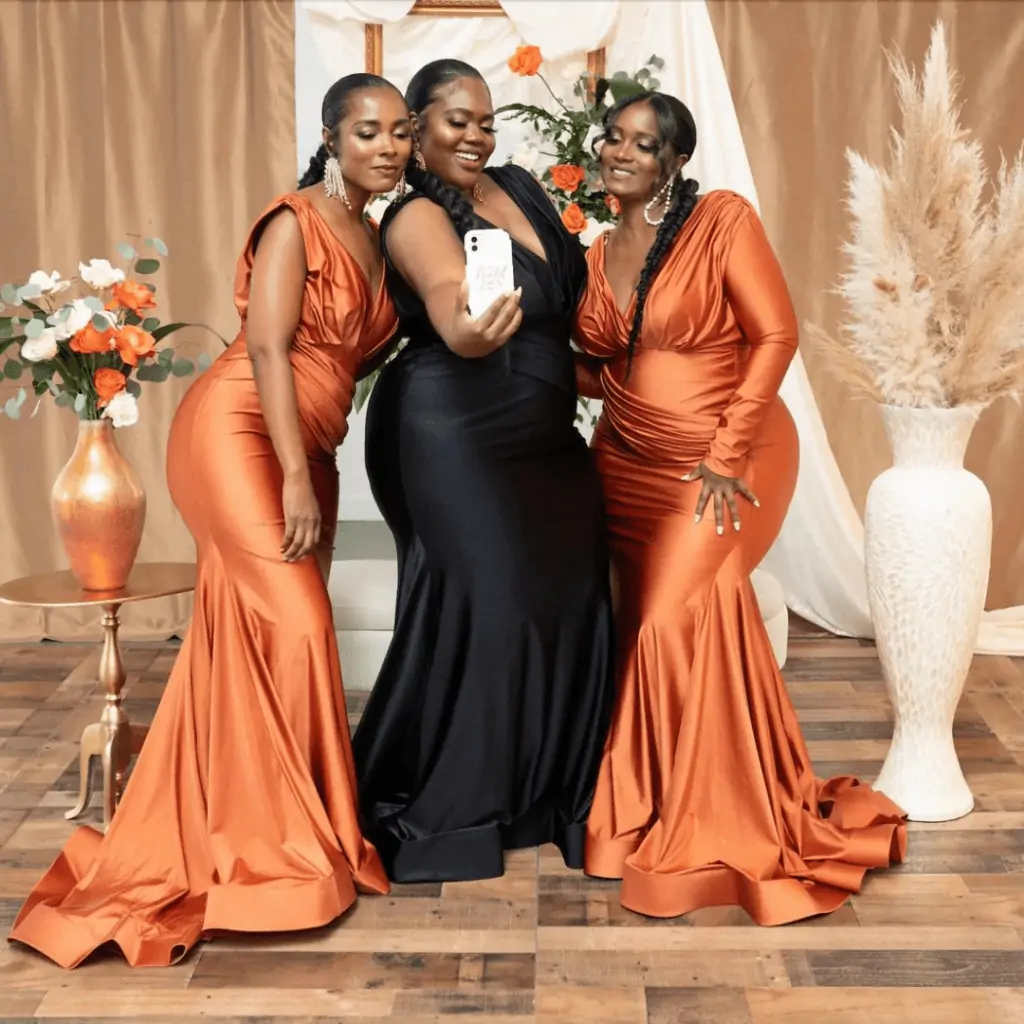 The Bridal Babes brand helps customers plan their perfect day and create their ideal garments with various designs and many options for materials and colors.
Working with customers via virtual consultation, Bridal Babes will send swatch samples to clients for approval, allowing them to be involved in the process no matter where they live. For those who can visit the Baltimore location, Bridal Babes offers in-person consultations.
The bold colors and unique curve-hugging designs of Bridal Babes dresses are meant to make the bridal party feel as beautiful as the bride herself.
Bridal Babes' mission to add diversity to the market is even more impressive. Not only are the dresses created for women of all shades, shapes, and sizes, but all the models used by Bridal Babes are also diverse.
Despite declining sales during the pandemic, Bridal Babes managed to bounce back and was awarded a $15,000 grant from Capital One after coming in second during their Black Girl Magic Pitch Competition.
Bridal Babes enters the Shark Tank
Bridal Babes was all dolled up and ready to dive into the Shark Tank on episode 1405. The company's founders entered the Tank seeking $250,000 for 10% of their business.
Charles and Ashley Young, the founders of Bridal Babes, entered the Shark Tank and put their best foot forward. The company, which sells bridal attire that is inclusive and diverse, markets to minority groups, with women of color being their primary target audience.
In their pitch, the young couple explained how they struggled to find appropriate gowns when planning their wedding and found that the bridal market often overlooks women of color.
Ashley explained to the panel that women of color often have more curves than average, and few bridal party gowns accommodate them.
Her struggle to find unique dresses for her wedding party inspired Ashley and Charles to build a better, more inclusive brand.
Inclusive sizing and diverse appeal
Above all, Bridal Babes aims to be inclusive to women of all shades, shapes, and sizes. This aim at inclusivity immediately catches the attention of Emma Grede, a guest Shark with a passion for fashion.
Ashley explains that Bridal Babes offers gowns ranging in sizes from 2–26 that are ready to ship. She also tells them the company has a special order collection in sizes 26–32.
More impressive than the range of available sizes is the cost of a Bridal Babes gown.
The couple, currently the company's sole workers, explained to the panel that they have two lines to choose from, Classic and Luxe.
The Classic line costs $13.31 to produce and sells for $44.50. The Luxe collection costs $67 to make and sells for $225 or more.
Ashely explains the company's angle effortlessly and tells the panel that even the high-end dresses sold at Bridal Babes are affordable.
She shares that the company aims to cater to all market members and create true diversity.
Sharing the love
The couple also reveals to the Shark Tank panel that Bridal Babes is their way of sharing examples of black love and black families with the world. They believe that the black community does not get to see the success of entrepreneurs, especially in the wedding industry, and they want to shake things up.
The secret sauce: Figure-hugging material
In the Shark Tank, the entrepreneurs explain that their main avenue of customer acquisition is social media—no surprise, given Ashley's work history. However, she shares that the secret to their success is not the number of followers they have on Instagram and TikTok, which is impressive in its own right. Instead, the secret is the fabric they use to create their products.
All Bridal Babes gowns are made from super stretchy, curve-hugging material, which allows women of any shape or size to show off their beautiful bodies and to look and feel amazing.
Let's talk numbers
Although it is not sexy, the numbers matter enormously when it comes to business and investments.
Bridal Babe boasts lifetime sales of $2 million. However, it is the growth that is truly impressive. Charles, who oversees the financial aspect of operations, explains that in its first year, the company achieved $30,000. In year two, this number jumped to $200,000. However, in year three, Charles explains that the company reached five times that, achieving $950,000. He goes on to excitedly explain that they are currently positioned to earn $1.2 million this year.
While admirable in their own right, the fact that these figures were achieved during the pandemic makes them even more impressive.
Once the conversation shifts to profits, the vibe quickly changes from upbeat and excited to serious. Charles and Ashley explain that they each receive a $60,000 salary. They also share that around 30% of their income is spent on advertising for customer acquisition, a relatively steep number.
Emma Grede, experienced in the industry, asks the couple questions about their margins and is provided with honest and impressive answers.
Ashley tells the panel advertising is essential to the company's growth because if they land a bride, that does not mean one customer, but usually eight.
Bridal Babes strikes a deal with Emma Grede
The Sharks are impressed with Bridal Babes. After asking about the founders' background, with Ashley having experience in digital marketing and Charles in sports, psychology, and law, they ask about their goals for the company.
Ashley explains that Charles has vast dreams and hopes to become a $5 million company someday.
Not surprisingly, Emma is the first Shark to take the bait, and she is hungry to make a deal. However, despite her excitement, Emma chooses to offer $250,000 for 25% of Bridal Babes. This offer crushes the company's valuation, as Kevin quickly points out.
The Bridal Babes team, confident in their growth, tries negotiating with Emma by asking for $250,000 for 17.5%.
After a brief explanation, Emma decides to settle if the couple will agree to $250,000 for 20% of the company. Ashley and Charles find the offer too difficult to resist, and ultimately strike a deal in the Shark Tank.
Bridal Babes Shark Tank update
Following Bridal Babes' appearance on the show, the company experienced a surge in orders as it benefitted from the Shark Tank Effect.
Plus, to celebrate its Shark Tank deal, the company offered a limited-time, Shark Tank-themed discount of 20% on all orders.
And it wasn't just the founders who were excited. Guest Shark Emma Grede also joined in the celebrations, replying to the company's Instagram post with a message of love and support:
I'm SOOOOOOO Proud to be in business with you both 🙌🏽🙌🏽🙌🏽🙌🏽 Congratulations you deserve EVERYTHING!!

Emma Grede on Instagram
Let's see if Bridal Babes can achieve its ambitious goals in the coming months and years.
FAQs
What is Bridal Babes on Shark Tank?
Bridal Babes produces beautiful, diverse, and affordable bridal wear, aimed primarily at women of color. The company went on Shark Tank asking for an investment of $250,000 for 10% equity, valuing the business at $2.5 million.
Who founded Bridal Babes?
Bridal Babes was founded by Ashley and Charles Young. The company is based in Washington, DC.
When did Bridal Babes go on Shark Tank?
Bridal Babes appeared on Season 14, Episode 5 of Shark Tank. It originally aired on October 21st, 2022.
Did Bridal Babes get a deal on Shark Tank?
Yes, Bridal Babes made a deal with Emma Grede for $250,000 for 20% equity, giving the company a valuation of $1.25 million.
Who invested in Bridal Babes on Shark Tank?
Guest Shark Emma Grede invested $250,000 in Bridal Babes. The 20% equity that founders Ashley and Charles Young gave up was double the 10% they had originally proposed.
What is Bridal Babes' net worth today?
The Bridal Babes Shark Tank deal with Emma Grede valued the company at $1.25 million.