As busy college students, attending classes, working part time, and participating in extracurricular activities, Plufl co-founders Noah Silverman and Yuki Kinoshita learned the value of napping whenever they had the chance.
Inspired by a Great Dane, they developed Plufl, the world's first dog bed for humans. Now they are about to enter the big stage as they appear on Season 14, Episode 5 of Shark Tank alongside Bridal Babes, Pretty Rugged, and Big Bee, Little Bee.
This Plufl Shark Tank update reveals how the company fared after winning a Shark Tank deal.
What is a Plufl?
Plufl is the world's first original dog bed for humans. It measures 70" long by 38" wide, and it weighs about 20 pounds. The Plufl has built-in handles and a foldable design, so it is portable and can cozy up any space including a bedroom, living room, or workspace.
And according to their Kickstarter page, "The Plufl is more than just a human-sized dog bed. Its features include a thick pillow border for users to tuck their hands and feet into, an orthopedic memory foam that provides ample support, and a soft, luxurious faux fur that is calming to the touch. Its oval shape cradles you into a natural fetal sleeping position that will have you sleeping like a baby in no time."
The Pflufl also has a pet-friendly, machine washable cover, so you don't have to worry about spills or accidents.
Again, on their Kickstarter page, Plufl is described as having "a super soft pillow border that lets you tuck your hands and feet inside, mimicking the feeling of pressure therapy, a proven way to reduce stress and anxiety." Pressure, or compression therapy, was also key to Hug Sleep, one of Season 12's most successful products.
The Plufl is also ethically sourced, the memory foam is produced with CertiPUR-US certified foam which does not contain ozone depleters, mercury, lead, formaldehyde, phthalates and meets high standards for indoor air pollution emissions.
The Plufl fabric is OEKO-TEX Standard 100 certified, the gold standard for textile products.
On the Plufl website, the bed is currently priced at $499.00. For Shark Tank week, the website indicates that they are offering a "Buy One Get One 50% Off" special.
Plufl's sleepy founders
Plufl founders Noah Silverman and Yuki Kinoshita are both from the U.S., but they met in 2018 while attending college at the University of British Columbia in Vancouver, Canada.
Noah and Yuki became fast friends as they shared interests in entrepreneurship, dogs, and, of course, napping.
In an interview with Vancouver is Awesome, Noah commented that: "Being full-time students, working on the side, with extracurriculars, napping is how we cope with a busy lifestyle."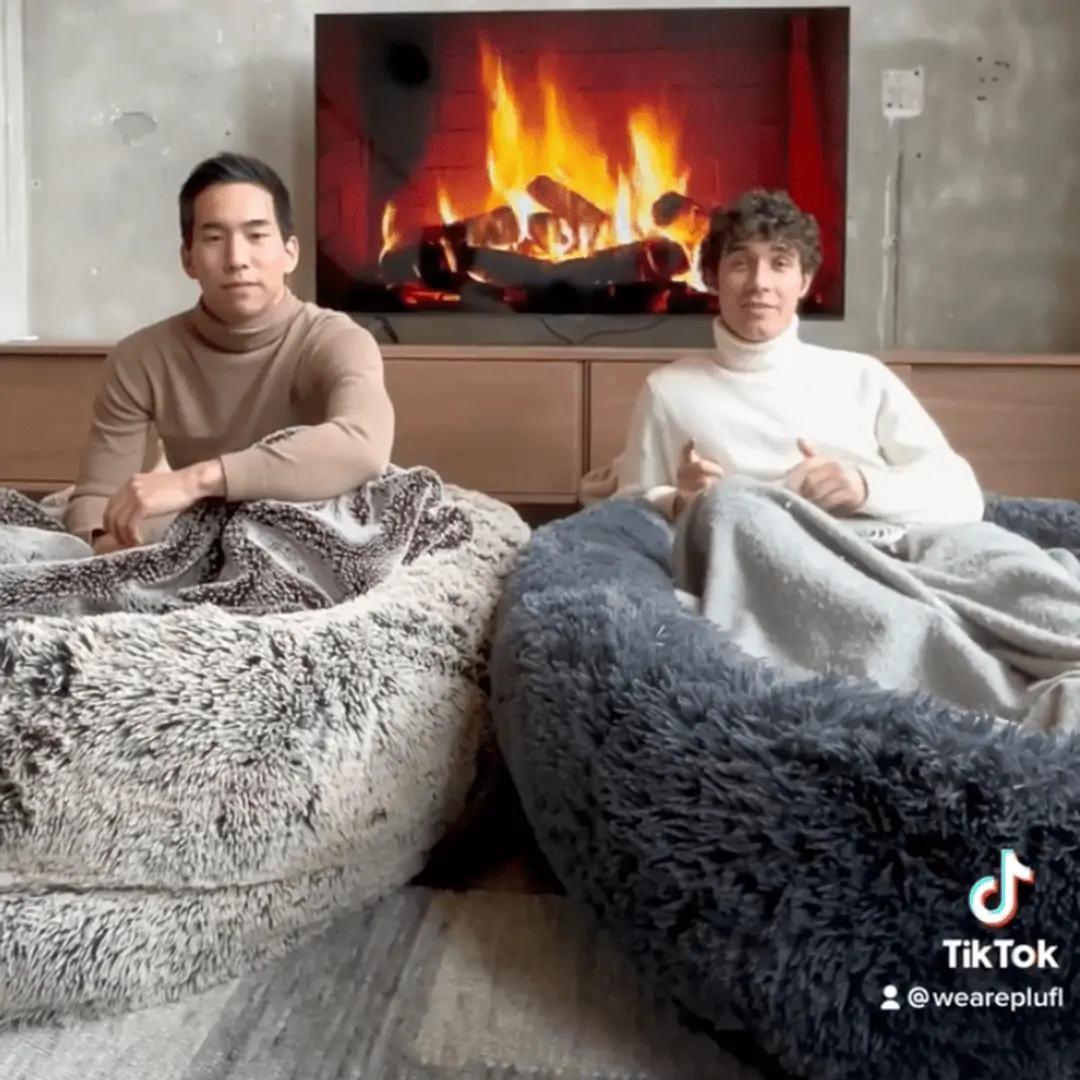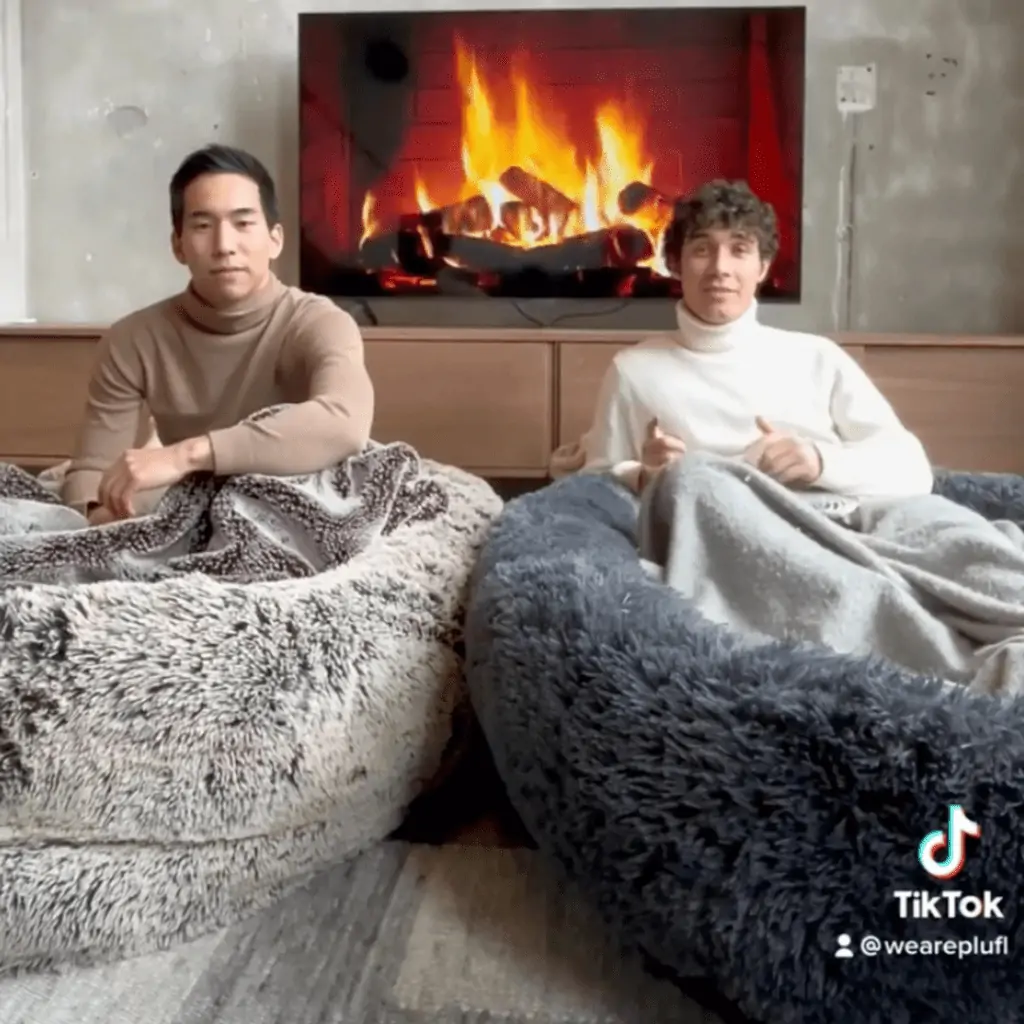 Noah was working part time at a popular university area coffee shop, and this is where he and Yuki first met Lady, the Great Dane. Apparently, the owners of the cafe had built an oversized dog bed for Lady, and one day, Yuki came in and saw Noah napping with the dog, and they then discussed adapting the dog bed for human use.
Since Noah and Yuki were studying entrepreneurship at the University of British Columbia, they took their idea to one of their entrepreneurship classes, and they grew the Plufl business plan there.
The co-founders of Plufl both graduated from UBC in May of this year.
Plufl: We want to be a long-term nap company
Founders Noah Silverman and Yuki Kanoshita see napping as more than a mid-day luxury. They see it as a serious activity which promotes a number of health benefits.
Noah became so interested in napping that he wrote his graduation thesis for his Economics degree on the correlation between napping and productivity.
In an interview with Canadian Broadcasting, Noah remarked that: "We see huge potential for workspaces."
Noah also discovered some unexpected benefits of napping from their prototype testing. He says, "Plufl has had a great response from the neurodivergent community."
Their specialty adult dog bed seems to be ideal to help cope with sensory overload, as well as being helpful for individuals who suffer from migraines, arthritis, and sleep-related issues such as sleep apnea and narcolepsy.
Noah and Yuki, in an interview with the New York Post, describe some of the other health benefits which can come from napping: They say "it's proven that ample sleep, sometimes achieved with supplemental daytime Zs, helps regulate cortisol—the stress hormone—levels and boost productivity and alertness, compared to those deprived of rest."
The Post goes on to state that: "And they're right to assume there's a big market waiting for the perfect excuse to hit the nap sack—as an estimated 65% of Americans have claimed that restorative sleep eludes them. That's why, Pflufl's inventors said, their nap sack is 'an investment in your productivity and well-being.'"
Plufl's founders have identified their niche in the sleep world, and they want to own it. "We want to be a long-term nap company," Noah told Vancouver is Awesome. He went on to say, "The sleep industry is big, but napping is not addressed; it's not the same as sleeping. We want to be the center of the napping community."
Plufl before Shark Tank
Unlike many of the products which have entered the Tank over the years, Plufl is still in the very early stages of startup, as they are currently waiting to fulfill Kickstarter orders for their premium adult dog beds.
Plufl is also taking preorders on their company website, where it states that orders will ship in January.
According to their Kickstarter timeline, Plufl started with concept and product design in August of 2021, and by September, they had their first prototype.
By January of 2022, they were doing beta testing and incorporating feedback into their revised design work, and in April, they launched their Kickstarter campaign.
In June and July of this year, they were working on mass production, and they plan to begin fulfillment in November.
The Plufl Kickstarter campaign started out with a bang, as one Tik-Tok ad for the Plufl had more than 9.5 million views, and less than a month after their Kickstarter launch, they had raised over $290k from supporters. 
Now it was turn to take Plufl onto the big stage.
Plufl enters the Shark Tank
Founders Noah Silverman and Yuki Kanoshita enter the Tank and ask the Sharks for $200k for 10% of their dog bed for humans company, Plufl.
Upon entering the Tank, Noah Silverman tells that Sharks that Plufl is the first dog bed specifically designed for humans, and he then asks the Sharks, "If you work like a dog, why not sleep like one?"
The Sharks are then invited up to try out the Plufl, and both Mark Cuban and Robert Herjavec jump up to give it a try.
Robert speaks up right away and says, "Actually, it's really comfortable."
During the demonstration, several Sharks ask in unison, "How much is it?"
And Noah answers, "$399"
After hearing the price point, there are several gasps among the Sharks, and guest Shark, Emma Grede, exclaims, "three hundred and ninety-nine dollars?" 
Robert then wants to know, "How much does it cost you to make it?"
Yuki tells Robert that their cost is $140.
Robert comes back in to ask, "And you must have sales?"
Yuki responds, "Yes, we do, three months ago, we launched a kickstarter. Our goal was $25k. We blew it out of the water. We hit $280k in 30 days, and we've done over $130k in sales since."
Guest Shark Emma, still looking skeptical, then asks, "And how much of that have you delivered?"
The dog bed duo then explain to the Sharks that they have just started the manufacturing process, but they add:
"Throughout our prototyping process, we've tested our different versions with about 50 different beta testers. They all absolutely loved it!"
Lori Greiner now asks her first question, "I'm curious, did you use to lay in like a big oversized dog bed?"
Noah tells Laurie that there was a large Great Dane at the college coffee shop where he worked while in college. He tells her, "One day during a long shift, I was looking at this dog napping comfortably in its bed, and I found myself kind of jealous. Why can't that be me right now?"
Noah decided to do some research to see if there was a dog bed for humans on the market, and he could not find anything. He then told Yuki about the idea, and soon after this, they partnered up with a local designer in Vancouver to build their first prototype.
Guest Shark Emma Grede tells the dog bed guys that: "I just don't get it. Why are people buying this? Who are your customers?"
Mark Cuban looks at Emma and says, "Oh come on, your kids?"
Robert also says to Emma, "Why not?"
To counter some of Emma's objections, Noah now tells the Sharks that they started out to create a fun product, just to bring joy and comfort into people's lives, but they soon realized that they were building something bigger than that.
After a Tik Tok post went viral, Noah and Yuki were getting messages from people sharing just how excited they were for the product. They spoke with mothers of children with sensory issues, veterans with physical trauma, and people who suffer from a range of sleep issues.
Emma, still unconvinced, worries that since Plufl does not yet have any real customers or reviews, this is a real problem.
Yuki then tells the Sharks that they expect to start delivery in late November to early December.
Emma thinks that seven months is a very long preorder period, and Mark Cuban asks, "Why has it taken you so long to get them delivered? That's a long time for just 1200 units."
Yuki replies, "The 1200 units take about two months to make and two to ship. We're looking at ways to reduce our lead time, but this is our first time."
Kevin O'Leary breaks his silence, "Ok guys, look, I think it's a crazy idea, that's why I like it. However, you're unproven, untested. $200K for 10% imputes $2 million. It's not worth $2 million right now, so I'll do it for $220k casharoni for 30%."
Several Sharks indicate this a better offer than they would have expected from Mr. Wonderful.
In a previous deal, Mark Cuban and Lori Greiner partnered to invest in a company called Hug Sleep, which makes the Sleep Pod, an original cocoon-like sleeping "bag" which covers your entire body, applying a gentle, calming pressure, just like a hug. 
Mark Cuban speaks up next and says, "I use Hug Sleep every night."
And Lori adds, "We know, we're at $15 million with Hug Sleep."
Noah then tells Mark and Lori that "Hug Sleep is a huge inspiration for us."
At this point, while Emma and Robert are going out, Lori Greiner and Mark Cuban hold a whisper conference.
With only O'Leary's offer of $200k for 30% on the table, Mark Cuban tells the Plufl team:
"Lori and I want to make an offer. We think it will complement Hug Sleep, so there's all kinds of ways that we can sell it. We'd like to make you an offer for the $200k you asked for for 20%, the two of us together."
Noah and Yuki try a counter at $200k for 15%, but Mark quickly turns it down.
Finally, the human dog bed guys turn to Mark and Lori to tell them, "You have a deal."
Plufl Shark Tank update
Shortly after their Shark Tank episode aired, the Plufl team put out a new Tik Tok video showing their watch party, and of course, their many friends were watching Shark Tank from the comfort of a Plufl. 
At the start of the video, even before the episode airs, we see a quick shot of the Plufl website's traffic, and it is lit up as the Shark Tank boost already seemed to be taking effect. 
On the Plufl website, the company is taking advantage of the increased interest in their human dog beds by holding a Shark Tank Giveaway, in which one lucky person who registers an email address will win a free Plufl.
They also are announcing that Plufl is preparing to launch in both the UK and Australia.
It looks like their Shark Tank appearance is helping Plufl founders Noah and Yuki to build their napping empire.
FAQs
What is Plufl on Shark Tank?
Plufl produces the world's first dog bed for humans. The company went on Shark Tank asking for an investment of $200,000 for 10% equity, valuing the business at $2 million.
Who founded Plufl?
Plufl was founded by Yuki Kinoshita and Noah Silverman. The company is based in Seattle, Washington.
When did Plufl go on Shark Tank?
Plufl appeared on Season 14, Episode 5 of Shark Tank. It originally aired on October 21st, 2022.
Did Plufl get a deal on Shark Tank?
Yes, Plufl made a deal with Mark Cuban and Lori Greiner for $200,000 for 20% equity, giving the company a valuation of $1 million.
Who invested in Plufl on Shark Tank?
Sharks Lori Greiner and Mark Cuban invested $200,000 for 20% in Plufl, double the equity the founders had asked for.
What is Plufl's net worth today?
The Plufl Shark Tank deal valued the company at $1 million.