Shahira Marei, the founder of The Dirty Cookie, backed herself to succeed quickly by accepting Shark Robert Herjavec's creative investment deal.
In this article we discuss the implications of the deal for Shahira's business, her extraordinary strength of character, and what has happened since she left the Tank. Read on for the most comprehensive Dirty Cookie Shark Tank update out there.
The Dirty Cookie vs. the clever Shark
All entrepreneurs going on Shark Tank back themselves to succeed, but how many would be prepared to risk an extra 10% of their business if their projections are a little off?
Shahira Marei, for one.
She found herself in the enviable position of receiving offers from both Robert Herjavec and Lori Greiner for her company The Dirty Cookie, which sells edible cookie shot glasses made out of cookie dough. But on Shark Tank, sometimes offers come with strings attached.
Both Sharks offered her the full $500,000 she asked for—in Robert's case, as a straightforward investment, but Lori was offering a three-year loan at 8%. So far, so normal, but things rarely go to plan in the tank.
Here's the twist. Instead of the 5% equity she had proposed, Robert wanted a whopping 25%—which would drop down to 15% in a year if she met her projected target of $5+ million in revenue.
The deal was Robert's brainwave, and it instantly met with approval from both the other Sharks and viewers alike. After all, it was Shahira who claimed that her company was worth investing in, largely on the basis that revenues would soar with more investment and the help of a Shark.
As Robert said, "I'm putting my money where your mouth is!"
But regardless, it was still a big gamble on Shahira's part. After all, the difference between hitting that target or not is worth 10 percent of her company to her. It was a huge gamble for Shahira who put a large portion of her own money and time into the business. She even sold her house to fuel her dream.
Undoubtedly, you would have to have relentless drive, incredible determination, and supreme confidence in your own abilities to accept a deal like that.
Luckily, that's exactly what Shahira has. So it's clear that Robert is backing someone with the character to succeed, one of the key elements in any investment decision. But they also look at the product and company performance. Let's look at each in turn.
Shahira Marei's road to success
Many entrepreneurs enter the Tank trying to pitch food and drink products. Sometimes they succeed in snagging a Shark, as was the case for Proper Good in Season 13, and sometimes they fail, as Ghia discovered in Season 14.
But regardless of what happens when the cameras start rolling, each and every contestant can be proud of their journey to the Tank, and Shahira Marei is no exception.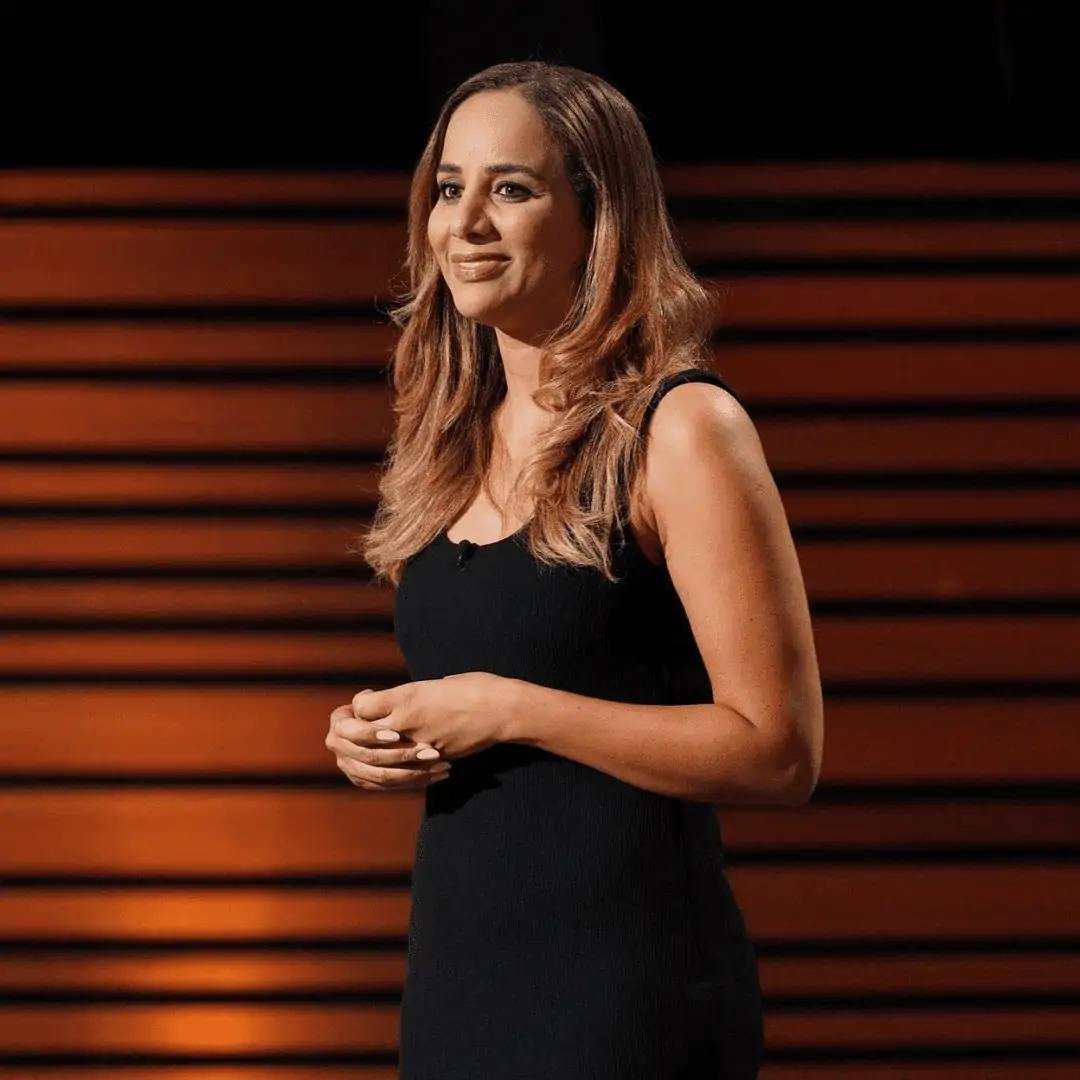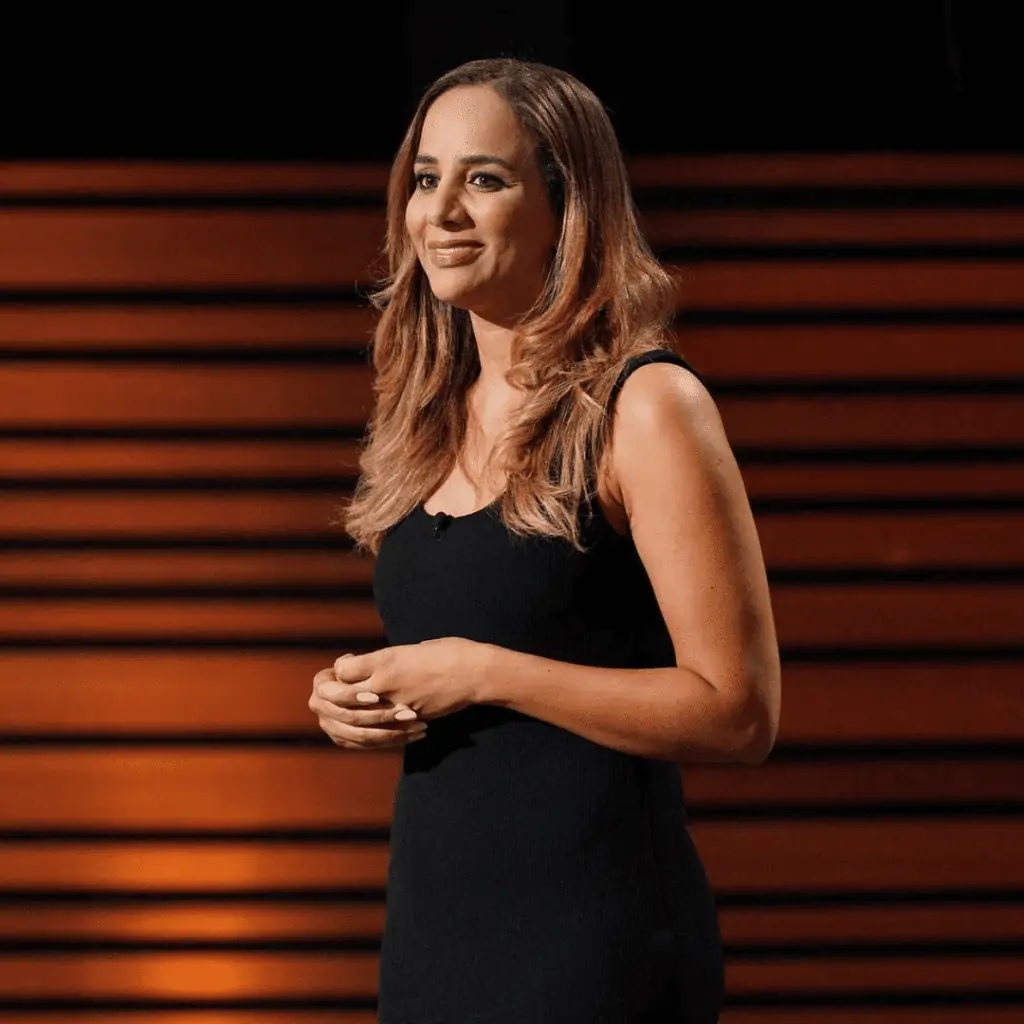 The Dirty Cookie founder moved to the U.S. from Egypt at the age of 5. She grew up in Orange County, California, where she still resides to this day. She had always wanted her own company and so in 2018, she bootstrapped her business from her personal savings. Before getting there, she had been a startup consultant at S&S Enterprises LLC and a project manager at Boeing in charge of $20 million worth of projects.
Though she isn't a typical foodie, Shahira Marei realized she wanted more from her life. After having a daughter, she felt unfulfilled by her corporate career and remembered a dream she had when she was 10 years old. As a child, she saw much suffering and poverty in Egypt and realized she wanted to make a difference.
"I want to build a brand that would change lives and turn something small into something meaningful," she said on her website. So it's clear that Shahira Marei displays all the drive, hard work ethic, and talent of a true entrepreneur. But equally important, she has the motivation to succeed.
Growing up, Marei constantly feared disappointing her father, who had wanted a boy instead of her. She vowed that one day she would make him proud.
Ironically, it was this feeling of rejection that made her connect with the Sharks, as both Lori Greiner and Robert Herjavec saw a bit of themselves in her. Lori, of course, has faced the challenges of navigating the business world as a woman. Meanwhile, Robert faced ridicule early in his life with people telling him he wouldn't amount to anything. It's a common challenge that many entrepreneurs face.
Marei was determined to overcome these negative feelings and create a business that would give more meaning to her life. And thus, The Dirty Cookie was born.
The Dirty Cookie: A unique take on a classic
The Dirty Cookie is an edible gifts company from California that manufactures and sells cookies designed into innovative functional shot glasses.
The unconventional quality cookie shot glass is manufactured using a patented mold Shahira designed with help from an engineer friend from Boeing. You can decorate the stuffed cookies based on the event or holiday––from Easter to birthday, to graduation, baby shower, Christmas… you name it!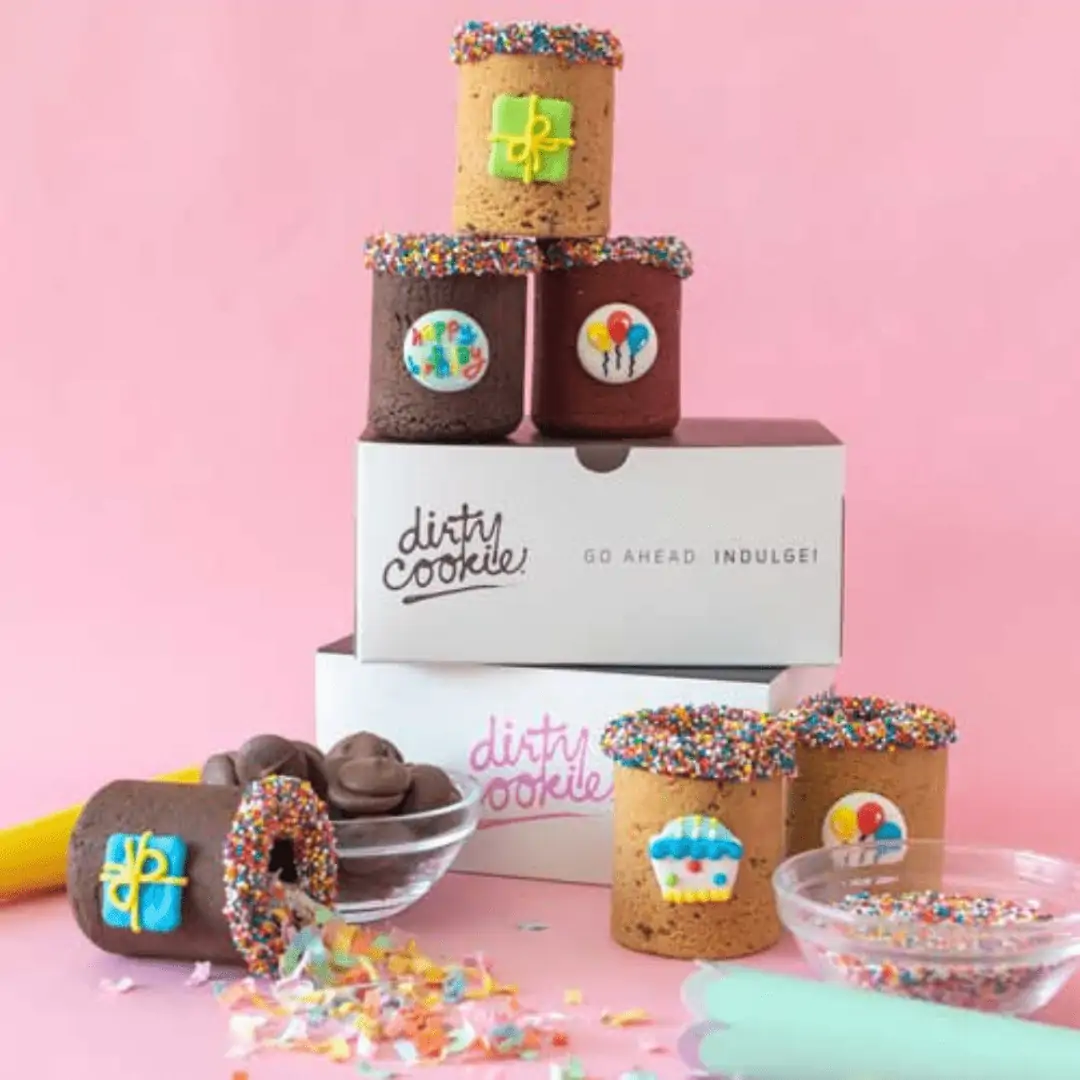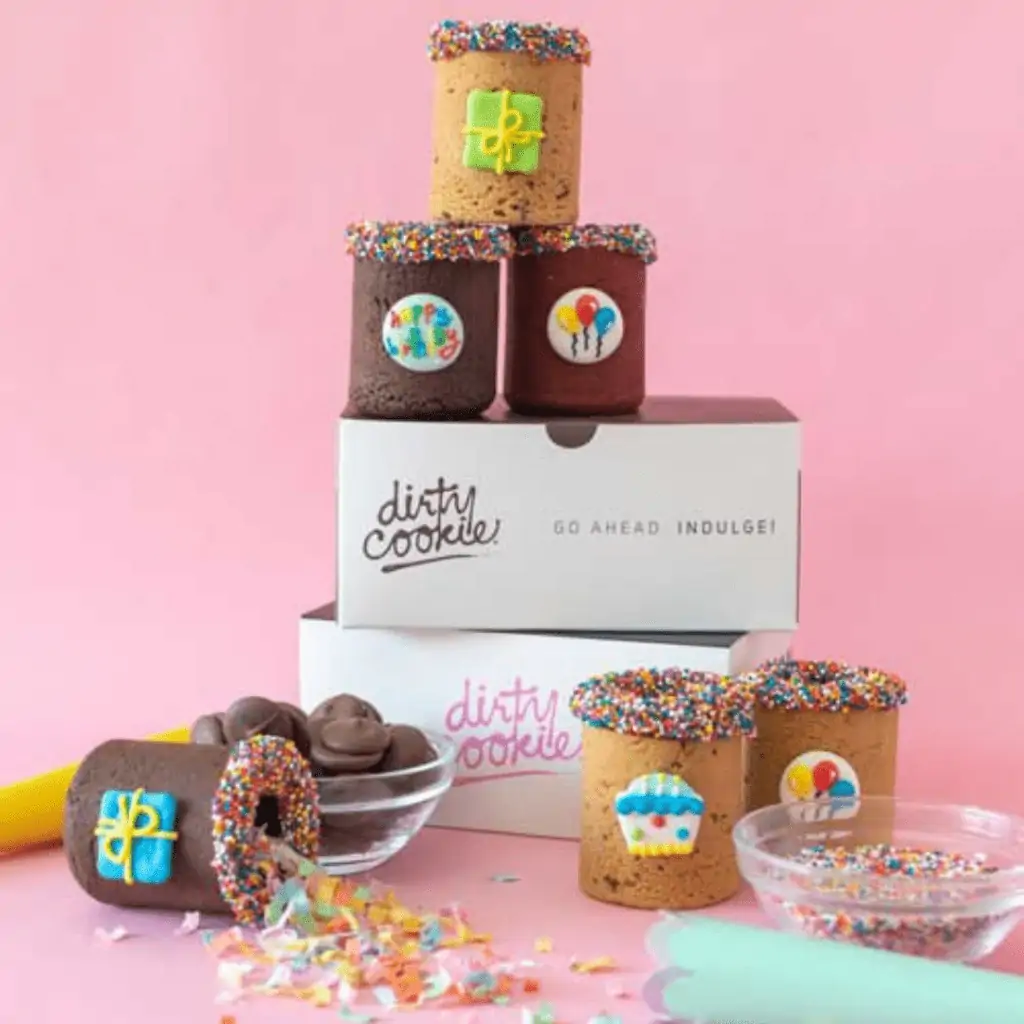 The product's uniqueness lies in the fact that instead of dipping your cookie in a glass of milk, you pour the milk into the cookie. Of course, you don't have to stick to just milk: the cookie shot concept works with any beverage – coffee, liquor, and even ice-cream.
Currently, A box of six cookies typically costs $44.99, and it is $5 extra for a DIY kit for you to decorate the cookies yourself.
How are the Dirty Cookie shot glasses made?
These unconventional cookie shots are manufactured using a patented mold designed by baking engineers. As soon as Shamire Marei mentioned this during the pitch, some of the Sharks became more interested.
Patents, of course, can be very valuable as they give the inventor the right to stop competitor companies from copying the invention without permission. In theory, this gives the patent holder a great head start over potential competitors at the very least.
The Dirty Cookie before Shark Tank
The company was founded in 2015. Initially, the business operated solely as a brick-and-mortar store, which turned out to be a mistake according to the founder.
Marei therefore decided to close shop three years later and operate entirely online. It was at this point that sales picked up. In 2018, the company made $300,000, in 2019 it made $345,000, and in 2020 it entered the million-dollar space with an outstanding revenue of $1.27 million.
If you're wondering how the company managed such sales during a pandemic, the answer lies in the launch of DIY kits during that year. Considering everyone was stuck at home with more time to bake treats, it made perfect sense. At the time of entering Shark Tank, she projected sales of $2.6 million for the year.
Why The Dirty Cookie needed a Shark
Despite impressive sales, however, the company was not a runaway success. The Dirty Cookie operated on high production costs and low production capacity. As a result, it was not able to meet market demand. They once had to cut down on advertising just to reduce orders streaming in. It costs $12.92 to make per dozen. At the time, she sold for $49.99, giving her a margin of 38.6%.
This means that the projected sales of $2.6 million would only leave a profit of $250,000. The low yield is attributed to the high production costs. The company didn't have the right machinery to produce faster and more affordably. In fact, each cookie shot glass was hand-made and the production rate for ten employees was 15,000 units per week.
Shahira Marei explained that the money she was asking for would be used to purchase machinery from Italy that would increase production to 4,000 units per hour and lower production rates significantly. The machine would cost $400,000 though, prompting Mark Cuban to jokingly ask "Oh, is that all?!"
After the pitch was delivered, questions asked, and answers given, it was now time for the Sharks to reveal their positions.
Two Sharks wanted to take a bite
Mark Cuban was the first to bail out, believing that The Dirty Cookie would face fierce competition with every other company in the edible gifting industry. He said the company "competes with all gifts and all things fun and tasty" on a gerbil wheel and is not very capital efficient.
Kevin O'Leary, Daymond John, and Robert Herjavec were next in line to pull the plug. According to O'Leary, the COGS (cost of goods sold) is too high – currently $12 but it needed to be $4. Even with improved efficiency will be too high. He said, "I hate your business model."
Even Robert ended up going out as well initially. Lori Greiner came in to save the day with a rather unexpected offer of $250,000 loan with an 8% interest rate and $250,000 in equity for 25% stake. As was mentioned above, Greiner connected with Shahira Marei's story of wanting to impress her father and struggles as a businessperson.
But just before Shahira Marei could make up her mind, Robert came back in with an offer of $500,000 equity for a 30% stake, but, if the revenue estimate of 2022 was a success, the stake would be converted to 15%. Likewise, Herjavec felt touched by her story and realized he could offer value to the company. The stakes went higher when Lori matched the offer. Robert counter-offered with $500,000 for a 25% stake and the deal was done.
What do people think of The Dirty Cookie?
So far, reception online has been a bit mixed.
Redditors questioned the price, with some finding the $50 for 12 cookies a hard thing to swallow.
But one positive review pointed out that it's a specialty item: "I think people don't understand how important gifting is to businesses and relationships. A lot of people are tough to buy for. Food is popular because everyone likes it … As a gift item, it has more legs than just a gift basket. It's more fun and personal."
The Dirty Cookie Shark Tank update
Did all good things crumble to an end, or did it actually work out? After the show, the company hit 4x its sales. The founder's touching story about why she started the company to prove to her father that she could do it, touched the hearts of many and promoted her brand for free. She personally has a current estimated net worth of $100,000 – $200,000.
The company is currently making significant profits from the cookie shot glasses, a part of which is donated to nonprofit organizations. It's hard to know right now if its a result of the "Shark Tank" effect or if the deal even went through. As of October 2022, there's been no update on the deal, but Dirty Cookie did partner with Robert Herjavec's and Mark Cuban's company Nuts 'n More. Both Sharks previously invested $125,000 in the company. If Dirty Cookie gets the machinery it needs, the COGS will drop dramatically.
FAQs
What is The Dirty Cookie on Shark Tank?
The Dirty Cookie produces customizable and unusual treats in the form of cookie shot glasses. The company went on Shark Tank asking for an investment of $500,000 for 5% equity, valuing the business at $10 million.
Who founded The Dirty Cookie?
The Dirty Cookie was founded by Shahira Marei. The company is based in Huntington Beach, California.
When did The Dirty Cookie go on Shark Tank?
The Dirty Cookie appeared on Season 13, Episode 19 of Shark Tank. It originally aired on April 8th, 2022.
Did The Dirty Cookie get a deal on Shark Tank?
Yes, The Dirty Cookie agreed a deal with Robert Herjavec for $500,000 for 25% equity, 20% more than the founder's original ask. However, the equity will drop to 15% if revenue hits $5 million in 2022. 
Who invested in The Dirty Cookie on Shark Tank?
Robert Herjavec invested $500,000 for 25% equity, although he agreed to drop his holding to 15% if revenue hits $5 million by the end of the year. Regardless, he negotiated a significantly higher stake than Shahira Marei's original ask of 5%.
What is The Dirty Cookie's net worth today?
Given the increase in attention and sales following its Shark Tank appearance, it is fair to say that The Dirty Cookie is living up to Robert Herjavec's new valuation of $2 million, and if certain targets are met and Robert reduces his stake to 15%, the company will be valued at $3.33 million by the end of 2022.