Melanie Masarin, founder and CEO of Ghia, seeks to transport us to a space that's about simple pleasures: Being together. Letting loose. Laughing.
Ghia is a non-alcoholic specialty drink which has been created to take us to this place without numbing the night, a drink which we will remember in the morning.
This Ghia Shark Tank update looks at how and why the drink was formulated, and the journey it has been on before and after the Tank.
How it began: Ghia's Mediterranean roots
Ghia is scheduled to appear on Shark Tank Season 14, Episode 4. But the journey to that point was not exactly linear. Here's how it all began.
On the company website, Ghia founder Melanie Masarin relates her experience of growing up in the south of France:
"I spent my childhood summers near the Mediterranean, where Aperitivo is a way of life. I remember my mother and grandmother making giant jugs of limoncello, using freshly-picked lemons, that we'd pour into the night (and sometimes mornings) until Fall came around."
And in an interview with Vogue, Melanie related that she misses the type of closeness she felt with family and friends during their long, apértif-laced summer nights in the Mediterranean.
Melanie went on to tell Vogue that a few years ago, she decided that drinking just wasn't for her. But she didn't want to miss out on the activities alcohol is often associated with. As she puts it, she still wanted to "engage in deep conversations with her friends over dinner, feel a culinary connection with good food, and, well, have fun."
After Melanie had decided to stop drinking alcohol, even when she returned to Europe on consulting business, she often felt like an outsider when everyone was eating and drinking together.
This was the genesis of Ghia. Tired of feeling that she always needed an explanation to opt out of drinking alcohol when she was out with friends, Melanie became passionate about creating a beverage that "people could lean into and chase to drink, simply because it tastes delicious."
What is Ghia?
Ghia is a non-alcoholic apéritif, and on its website, Ghia describes an apértif as a beverage that was "born on the coasts of France and Italy, a bold combination of botanicals that kickstart the appetite and the conversation. Light and dry, an aperitif is perfect for slow-sipping and fast-talking, a drink that takes friends from sunset to sunrise."
While the traditional apéritif is, of course, an alcoholic beverage, Ghia has created a non-alcoholic apéritif packed with only pure, natural extracts.
Unlike many non-alcoholic beverages, Ghia's signature aperitif contains no artificial flavors, no added sugar, and no caffeine.
According to the Ghia website, their signature apértif is a collection of social tonics inspired by aperitivo culture. It contains potent extracts of natural nervines, heady herbals, and blithe botanicals.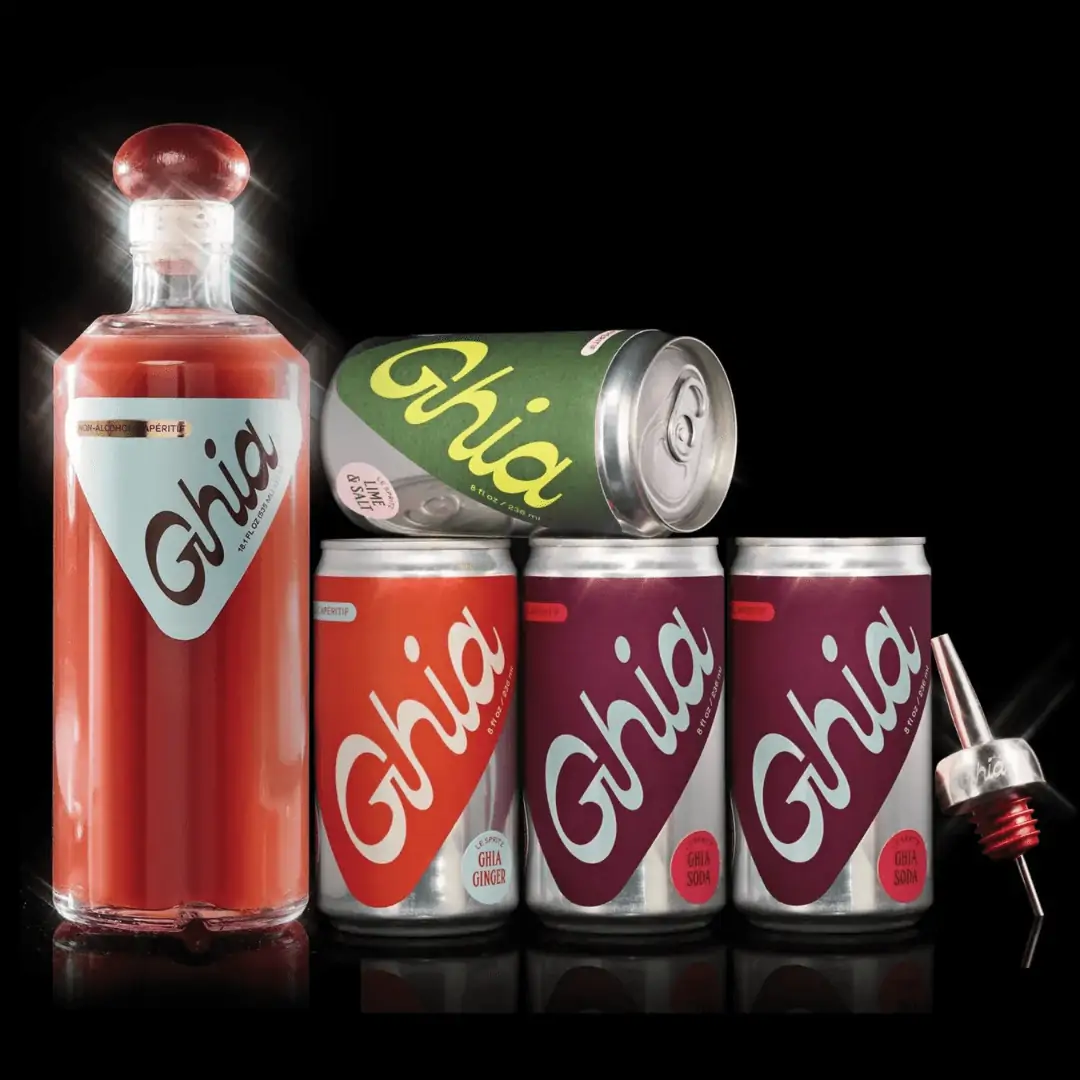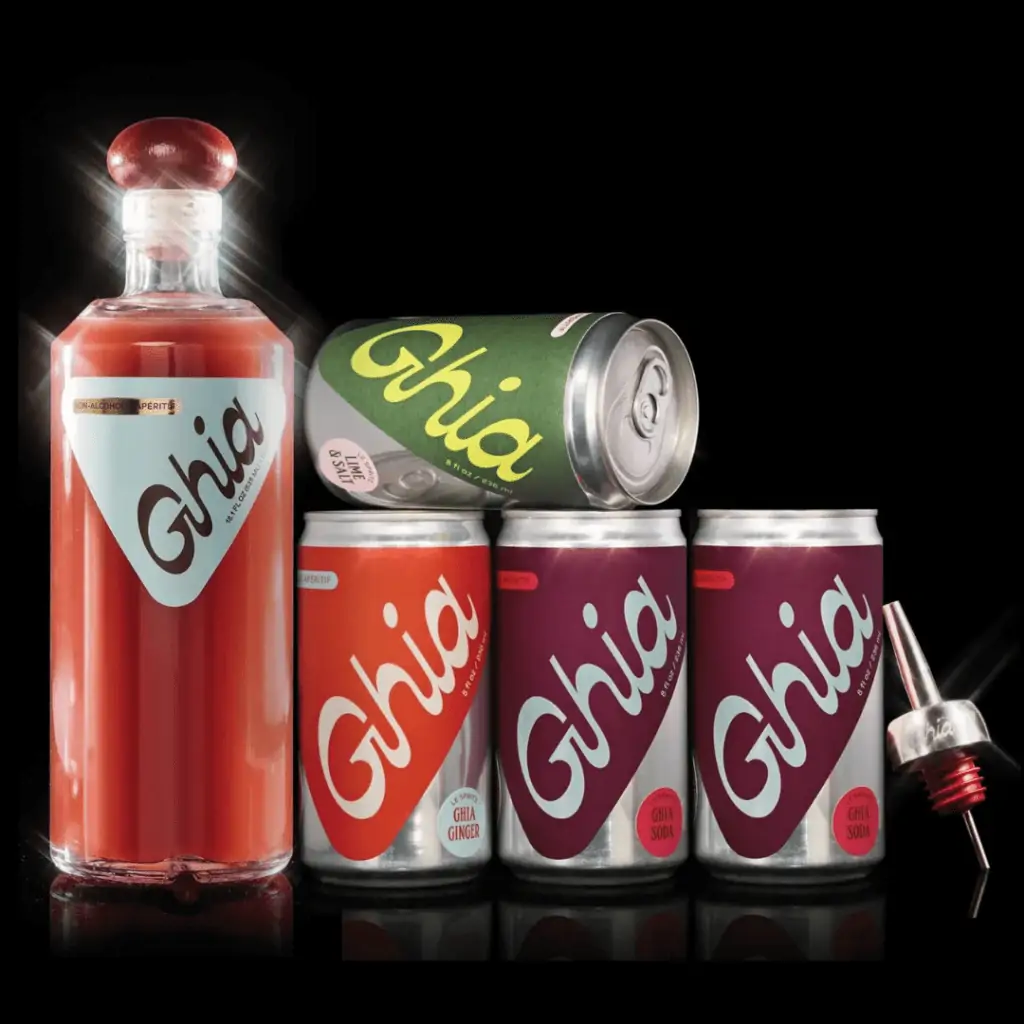 Ghia is a sophisticated beverage; it is dry, minerally, not too sweet, and earthy. Only pure extracts and 100% juices are used in Ghia, and nothing is distilled.
Founder Melanie Masarin brought Ghia to life as a non-alcoholic bitter apéritif to satisfy the tasting notes sought after by people who were not drinking alcohol.
During a video interview with Design Driven, Masarin also described that "a big part of Ghia is in the experience and emotional elements that are all woven together in that gorgeous bottle and unboxing." Masarin knew that the bottle's design was of utmost importance; she wanted to create a label and packaging that served as homage to old-school resort towns.
With the combination of its high-quality ingredients and sophisticated packaging, Ghia states that they have created, "a grown-up indulgence that tastes like summer on the rocks. Our goal is to change the way we think about drinking and socializing one night at a time."
Founder Melanie Masarin's journey from the south of France to the top of the US business world
While Ghia founder Melanie Masarin fondly remembers her childhood summers spent languidly sipping limoncello on the Mediterranean, there has been nothing languid about her rapid rise in the US business world.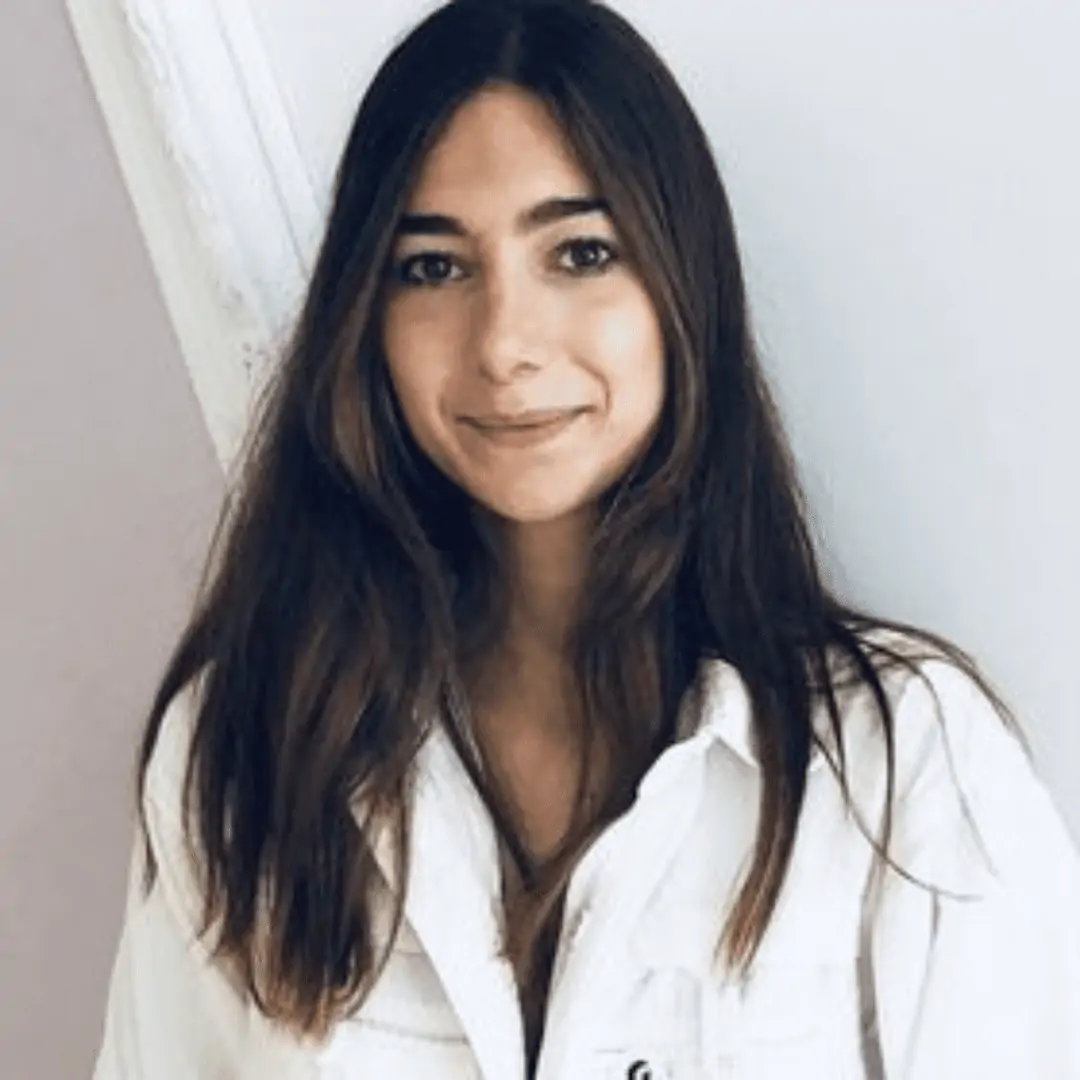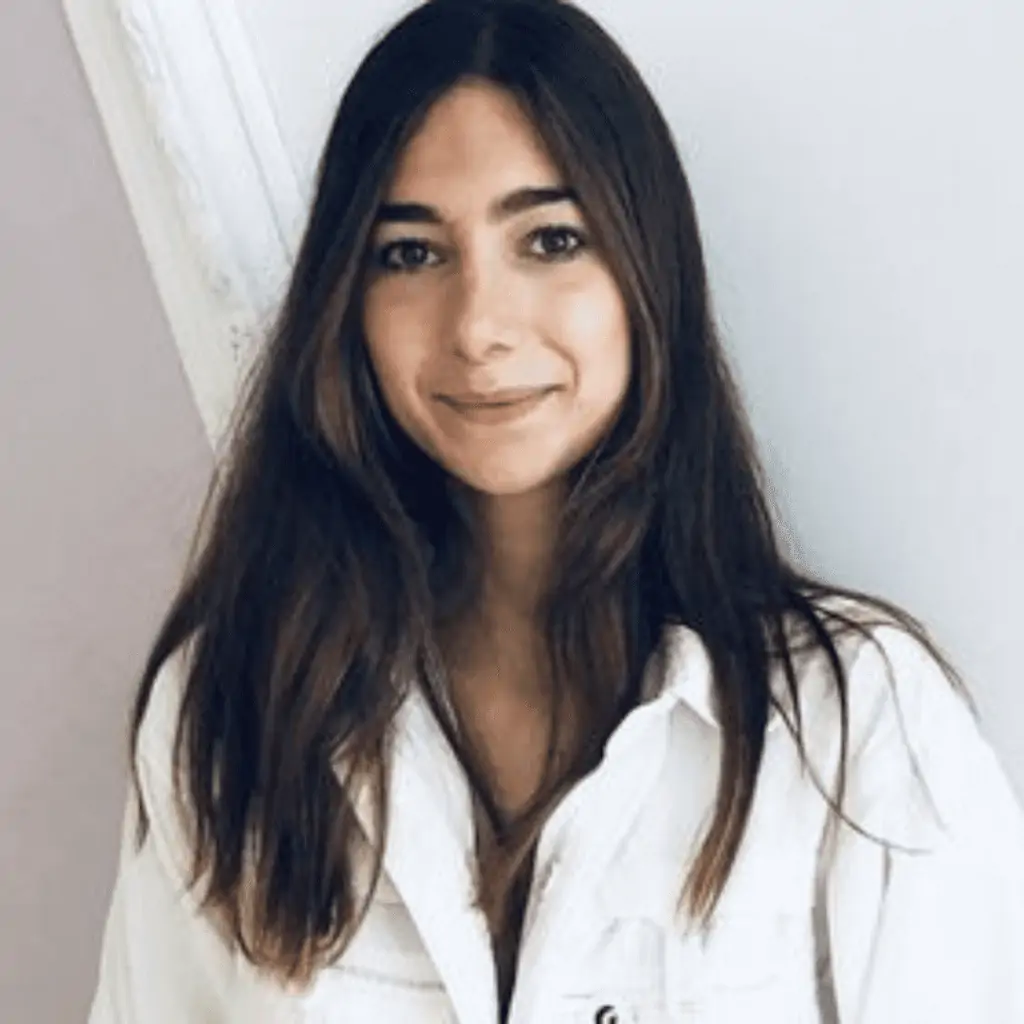 After graduating from Brown University with a degree in Economics, Melanie joined Goldman
Sachs as a financial analyst in the Energy sector. And she worked in this position for two years.
Next, after Goldman, Melanie then went to work for one of the firm's clients, American Eagle Outfitters, where she worked for 11 months as a Corporate Strategy Associate. She says that her experience at American Eagle was a good one but that: "It was too big of a company for me." She noted that she really wanted to do things.
Around this time, Melanie also realized how much interest she had in food, and how the US food industry affected her. At this point in her life, Melanie said that she was feeling "kind of sick" a lot of the time.
In her video interview with Design Driven, Melanie describes doing something that was out of the ordinary for her: She sent a customer service email to the rapidly growing farm-to-table restaurant chain Dig In to tell them about a bad meal she had there. Her email was answered by the Dig In founder, and about two months later, she was working there.
At Dig In, where she worked for nearly three years, Melanie was the Head of Brand and Marketing and Creative Director. This was her introduction to the world of rapidly growing startups.
From Dig In, Melanie moved to Glossier, a new, quickly expanding New York-based beauty brand. At Glossier, she served as Head of Retail and Offline Experiences. She says of her time at Glossier, "We felt ownership of the projects at Glossier. I felt like we were all little founders."
By this time, the business world began to take note of Melanie, and in 2018, she was named by Forbes in their "30 under 30" feature for the Retail and Ecommerce category.
After two years, Melanie left Glossier to work as a consultant. It was while she was working on a consulting job in Italy that she, once again, keenly felt like an outsider while everyone else was eating and drinking. It was here that the idea for Ghia came to her.
Ghia before Shark Tank
With founder Melanie Masarin's rock star status in the New York world of startups, one would have expected a smooth launch for her high-end, non-alcoholic apéritif. However, this was not to be the case, as Ghia was scheduled to launch on April 1st, 2020.
The Ghia team's strategy was to launch their product in the food and hospitality industry by placing products in restaurants only, but because of the Covid pandemic, this was not possible.
Some argued that Ghia should delay their launch, but as they had already manufactured enough product for the April 1st start date, Melanie decided to launch online.
She explains that they launched in a very discreet way, through Instagram only. "Launching during the pandemic", says Melanie, "forced us to be a digital native." As the Ghia team was navigating this online-only launch, they decided that they would hand write personal messages to every single customer; the team wrote over 1200 notes.
A year after launch, Ghia had expanded to over 350 retailers, and the company saw a 40% increase in customers in Dry January alone, and they have sustained a 35% customer return rate since.
According to Forbes, "In April 2021, Ghia expanded their product offerings by adding Spritz, a ready-to-drink, single serve can that features Ghia's signature formula with a splash of sparkling water and additional twist of yuzu and rosemary."
Currently, Ghia is also expanding their product line with specialty food products. On their website, one can now find Ghianduja, a hazelnut spread made with "no dairy, no palm oil, and no nasties."
In the Tank: Sharks smell money in the water with 1st year revenues
Ghia founder Melanie Masarin entered the Tank and asked the Sharks for $250k for 5% equity in her specialty non-alcoholic beverage company.
After the Sharks enjoyed a tipple of Ghia, Mark Cuban was first to question the entrepreneur: "How much does it cost and what does it cost to make?"
Melanie answered, "Actually, we've just raised prices, and our sales have gone up. The bottle sells for $38, and it costs $6.50 to make, and the spritz cans now cost $1.25, but this will go down to .70 in six months, and they sell for $5.00."
Kevin O'Leary jumps in next: "Let's talk about the business. Hopefully, we're gonna hear some great sales numbers."
Melanie replies that "Last year was our first calendar year, and we were 75% online because we were still on the tail end of covid, and we made $2.5 million."
As you can imagine, the Sharks were loudly whooping with joy at these sales revenues for Ghia's first year in business.
Robert Herjavec now jumped in to ask: "How did you sell that $2.5 million."
Melanie tells the Sharks that "we just launched with an Instagram post, and it took off!"
The Sharks were quite impressed with this news, and again the air was filled with loud Sharky enthusiasm.
Sharks: You've raised how much?
However, the Shark's enthusiasm was soon dampered by the next round of questions.
Kevin O'Leary wanted to know: "Did you make any money on that $2.5 million?"
And Melanie responded, "Not yet, but we are invested very heavily into this year."
O'Leary presses her again as he wants to find out: "How much did you lose last year?"
After Melanie tells the Sharks that Ghia lost a little under a million dollars, several grunts and cries of "ouch" could be heard in the Tank.
Melanie then volunteered that "We had raised $3.5 million, and we're currently raising $6.5 million."
The Sharks did not hold back their shock at this revelation, once again groaning loudly.
Robert then wanted to know how much of the business that Melanie still owned, and she revealed that she would still hold 57% of the business after the current $6.5 million round of investment.
Kevin needed to know what the sales would be for this year, and Melanie responded that they would be "four and a half million, doubling next year."
By this point, Mr.Wonderful was so flabbergasted that he loudly exclaimed: "Wait! I need an alcoholic drink."
Robert commented that these previous rounds valued the company at $40 million, and he wants to know why Melanie would offer the Sharks a deal at a $5 million valuation?
Melanie tells Robert that this equity was coming directly out of her shares and that she wants someone to come in and to help her build this into a huge business.
After this exchange, both Lori Greiner and Daymond John stated how impressed that they were with Melanie, but they then quickly bowed out, stating that they were unable to drink bitter, citrus beverages, so they couldn't invest.
Mark Cuban then tells Melanie that "The category you chose is one of the hardest ever. It's expensive to ship them; it's expensive to get shelf space and keep it. Getting to $50 million to really have an impact is going to cost you $50-100 million. For those reasons, I'm out."
Finally, Robert does something that is fairly rare on Shark Tank. First, he says, "you somehow picked the hardest category to get into, and you're killing it." He then offers Melanie exactly what she asked, $250k for 5%.
O'Leary pipes up with "Wait, you might want an offer from someone who is in the business."
Robert replies to this by telling Melanie that he has offered her exactly what she asked, so she needs to either take the deal, or he will step out so that she can negotiate with Kevin O'Leary.
Melaine looks a bit conflicted for a moment, and then she says to Robert, "I feel it's not fair to hear everyone else."
Robert comes back and immediately tells her, "Melanie, I'm out."
Kevin O'Leary is now the last shark swimming, and he tells Melanie, "My offer is not going to change because of what happened here. I know what I'm worth, and I know that I'm in this business. And I also know this category. Everybody's talking about how difficult it is, and they're right. But I'm not doing it for 5%. I want 10%."
All of the rest of the Sharks begin to groan loudly and criticize Mr. Wonderful, and he shakes them off by saying "You can moan and groan all you want."
Melanie turns down Kevin O'Leary's offer, and leaves the tank without a deal.
For Ghia, this truly is the story of the one that got away.
Ghia Shark Tank update
In the days following Ghia's appearance on Shark Tank, the company's website carried a message saying that "We are fulfilling your orders as fast as we can! Thank you thank you thank you!" It is reasonable to speculate, then, that Ghia benefitted from some kind of immediate Shark Tank Effect after the episode was aired.
At Humble Rise we will continue to check on the progress of Ghia and communicate any significant updates.
FAQs
What is Ghia on Shark Tank?
Ghia manufactures and sells a range of non-alcoholic aperitifs. The founder went on Shark Tank asking for an investment of $250,000 for 5% equity, valuing the business at $5 million.
Who founded Ghia?
Ghia was founded by Melanie Masarin. The company is based in Los Angeles, California.
When did Ghia go on Shark Tank?
Ghia featured on Season 14, Episode 4 of Shark Tank. The show originally aired on October 14th, 2022.
Did Ghia get a deal on Shark Tank?
No, despite receiving offers from Robert Herjavec and Kevin O'Leary, founder Melanie Masarin was unable to agree a Shark Tank deal for Ghia. 
Who invested in Ghia on Shark Tank?
In the end none of the Sharks invested in Ghia. Robert Herjavec offered the founder the exact terms she had asked for ($250,000 for 5% equity) but withdrew the offer when she wanted to hear out Kevin O'Leary's offer. Mr. Wonderful wanted 10% of the company, but Melanie Masarin found that unacceptable.