Season 14, Episode 4 of Shark Tank featured Ghia, Expedition Subsahara, and Storage Scholars alongside Winston Mok and his impressive creation, Woosh.
This Woosh Shark Tank update dives into the founder's backstory, why he created Woosh, and what happened after he secured a Shark Tank deal.
The origins of Woosh
Woosh is a "smart filter" you insert into your HVAC system, essentially turning it into an air quality monitoring system and whole house air filter.
Established in 2018 after California forest fires ravaged the area where he lived, Winston Mok, a Senior Product Manager working for Google at the time, realized the market was short of filters capable of monitoring and purifying the air to create a cleaner, safer home.
Typical cardboard filters lack intelligence, and after seeing first-hand the effects of the forest fires on air quality, Mok felt they could be made smarter and more sustainably.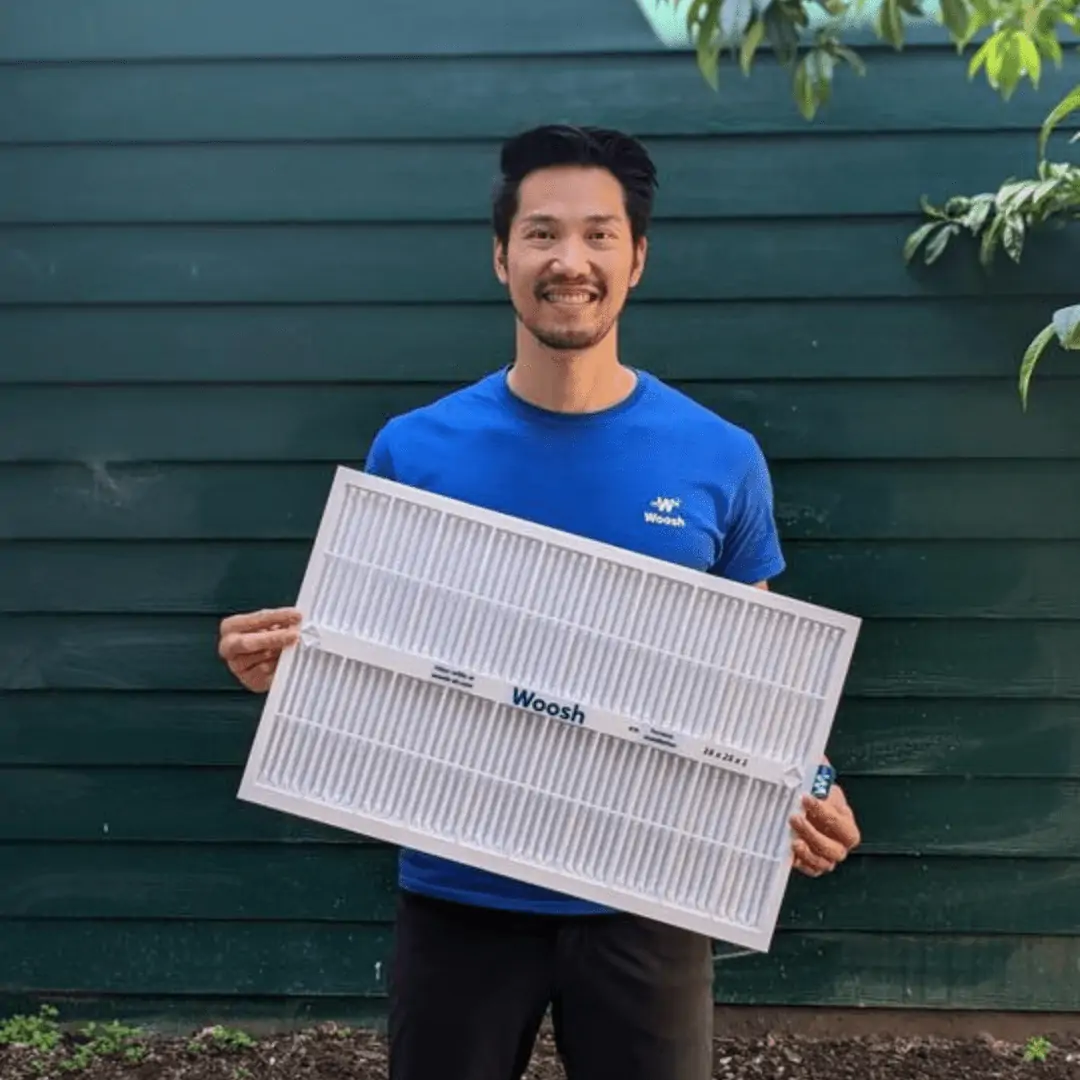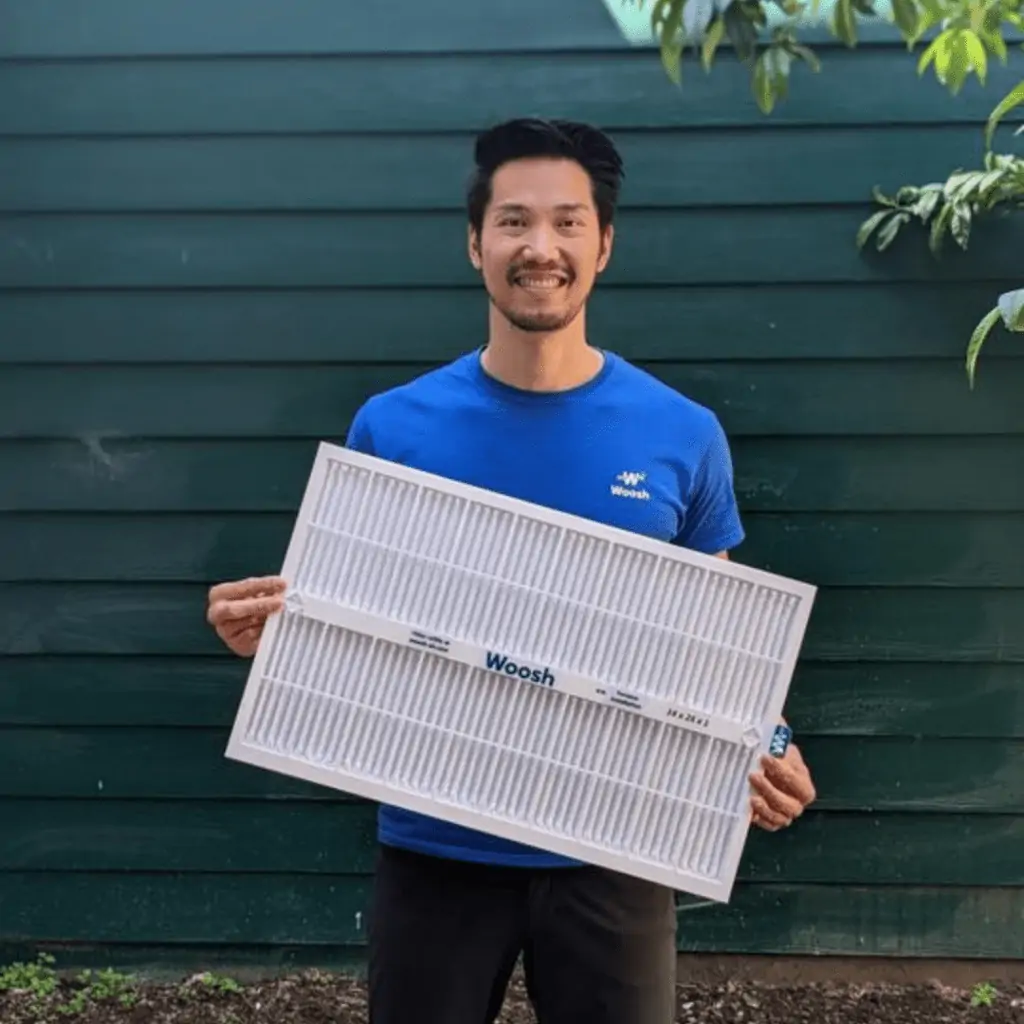 Living in San Francisco, Mok is no stranger to poor air quality. Following the forest fires, the area's Air Quality Index (AQI) rating surpassed 150. According to Healthline, an AQI rating of 150–200 is classified as "The air is unhealthy for people with conditions and sensitive groups; some people in the general public may experience health effects, too."
Determined to find a solution that could clean the air in an entire home rather than just a room, Mok left Google to pursue his dream of clean air.
Mok began his mission with little more than a 3D printer, air filters, computer sensors, and technical know-how. As an entrepreneur, Mok had already created two other companies—Techstars and Simply Good Technologies—both of which have since closed.
Mok studied Engineering, Computer & Mechatronics at the University of Waterloo in Ontario. His experience and education allowed him to create a product capable of monitoring and purifying household air using a regular HVAC system.
How Woosh cleans the air in your home
Woosh filters, which are easily installed like any other HVAC filter, connect to your Nest or Echobee smart thermostat to monitor air quality in your home.
Should the monitoring system detect poor air quality, the thermostat will initiate and filter the air until it returns to acceptable levels.
Winston Mok had three goals in mind when creating Woosh filters:
Provide consumers with visibility of the air quality in their home
Provide reminders when it is time to change their air filter
Create a product that captures harmful bacteria and viruses.
Mok was able to use the experience he gained at Google and his background in mechatronics engineering to create a product fitted with the smart intelligence we have all come to rely on and the ability to function with existing systems.
The impressive technology incorporated into Woosh means homeowners no longer need to worry about air quality in their homes, despite declining quality outside of it.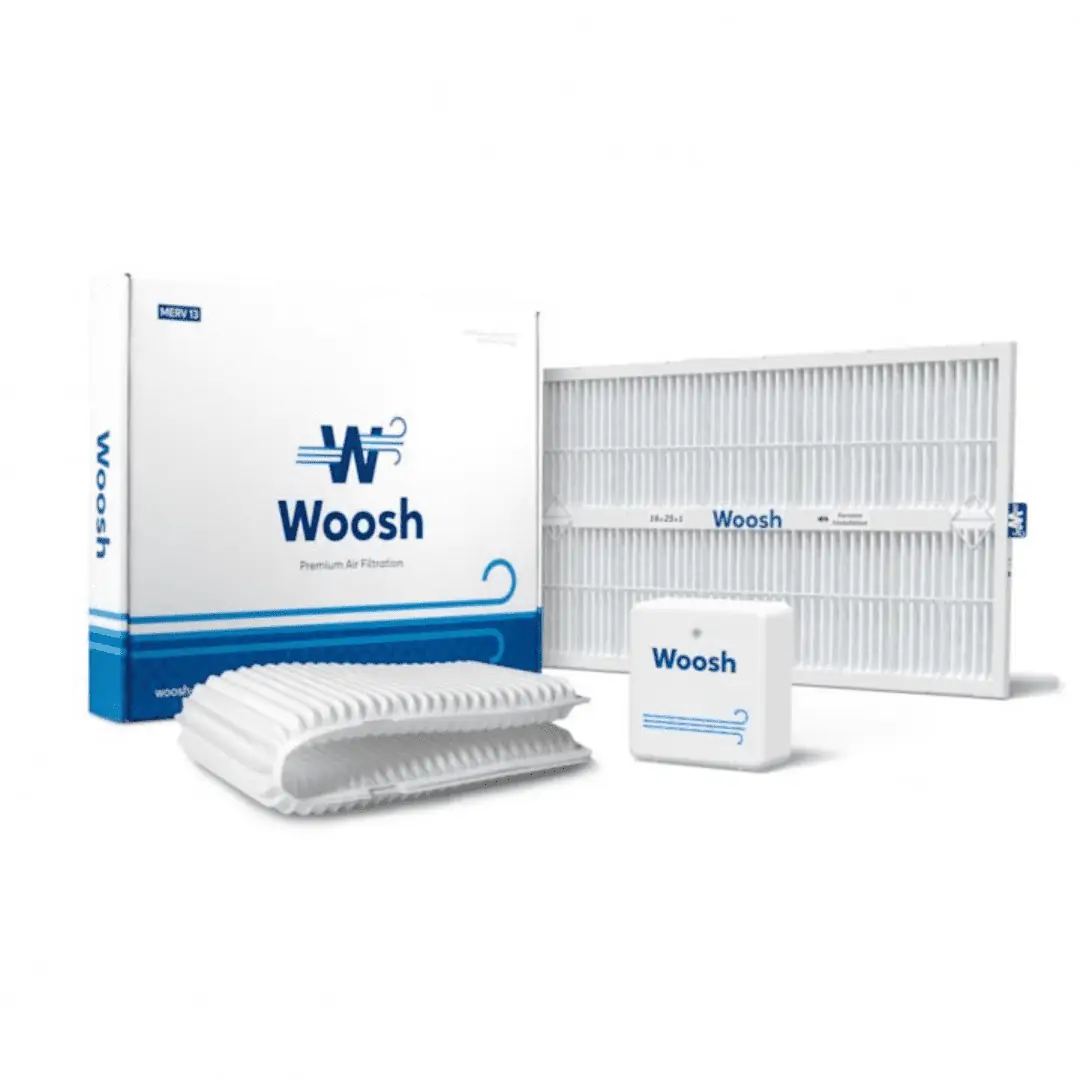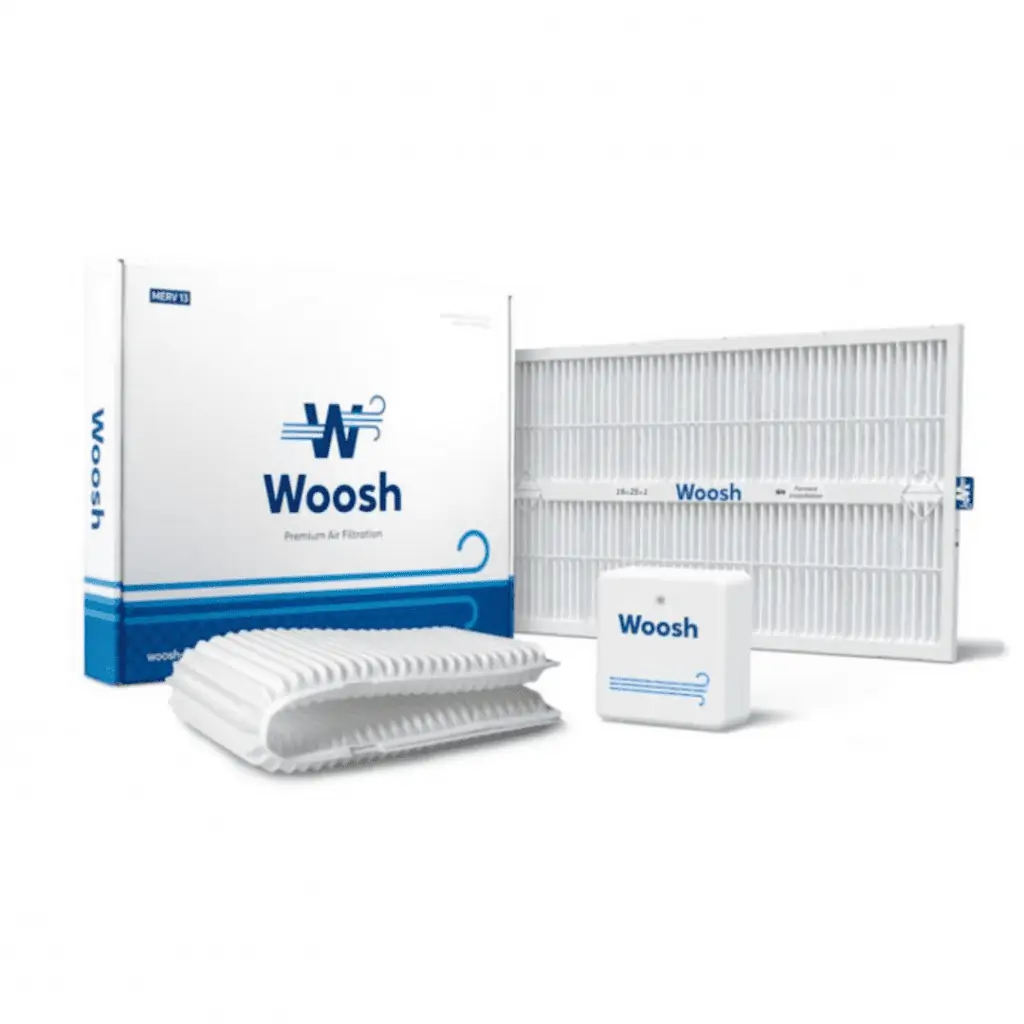 While the monitoring capabilities of Woosh filters are handy for dry California regions, they are also a powerful tool for those who suffer from allergies and asthma.
The importance of air quality
Asthma affects more than 24 million people in the U.S., including more than 6 million children.
Allergies are thought to impact more than 50 million Americans and are sixth on the list of leading causes of chronic illnesses.
The annual cost of treating allergies alone is more than $18 billion in the United States, and increasing air pollution only worsens things.
Unfortunately, few products allow homeowners to monitor indoor air quality.
Using 3D printers and a dedicated team of innovators, Mok created a smart filter for HVAC systems that could monitor and purify the air inside your house.
After months of interviews with homeowners, valuable advice, tweaks to prototypes, and extensive beta testing, Woosh stepped into the Shark Tank looking for an investment from the panel.
Woosh Shark Tank update
Winston Mok appeared on Season 14, Episode 4 of Shark Tank with his innovative product Woosh, smart air filters that turn your HVAC system into an air purifier.
Winston was seeking $500k from the Shark Tank panel for 10% equity in his company. This valued the company at $5 million.
Mok explained his business model in a simple, straightforward way, making it easy to understand.
In his pitch, Mok explained how he had raised over $62,000 with a Kickstarter campaign, which allowed him to quit his job at Google and focus on perfecting the Whoosh filter.
Each Woosh filter and frame cost $99, with replacement filters priced at $20 each, and the average margin for the company is 33% on every unit.
Kevin O'Leary strikes a deal with Woosh
After his pitch, Winston and his pollution-solving company were mainly met with indifference from the Sharks, who were not looking to bite.
A few judges, such as Lori and Robert, immediately dropped out, and others followed close behind. Perhaps it was the simplicity in his pitch, but Whoosh was not appealing to many of the judges. Still, in the end, Whoosh was presented with one offer.
Kevin O'Leary, known to be the most vicious of the group, offered Mok his $500,000 for 10% with an indefinite royalty of $0.50 for every unit sold.
After some consideration, Mok accepted Kevin's deal despite the steep royalty, and is confident Woosh will sell itself.
Overall, the hype created by the appearance of Woosh on Shark Tank and Kevin's deal makes this a successful episode for everyone.
Mok has a solid, well-formed idea backed by beta testing that helped him improve his prototype, and it appears to have paid off in the end. With Woosh looking to solve a real-world problem that impacts the daily lives of many, the company is positioned for success.
FAQs
What is Woosh on Shark Tank?
Woosh manufactures and sells smart air filtration systems for homes. The founder went on Shark Tank asking for an investment of $50,000 for 10% equity, valuing the business at $5 million.
Who founded Woosh?
Woosh was founded by Winston Mok. The company is based in San Francisco, California.
When did Woosh go on Shark Tank?
Woosh featured on Season 14, Episode 4 of Shark Tank. The show originally aired on October 14th, 2022.
Did Woosh get a deal on Shark Tank?
Yes, Kevin O'Leary, agreed a deal of $500,000 for 10% equity for Woosh, plus a royalty of $0.50 for every unit sold in perpetuity. 
Who invested in Woosh on Shark Tank?
Kevin "Mr. Wonderful" O'Leary invested $500,000 in Woosh in return for 10% of the company and a royalty of $0.50 per unit sold.