Storage Scholars founders Sam Chanson and Matthew Gronberg believe that their valet moving and storage service for college students is certainly moving in the right direction.
In Season 14, Episode 4, the company went on Shark Tank along with Woosh, Expedition Subsahara, and Ghia.
This Storage Scholars Shark Tank update covers how the company got started and how they managed to convince Mark Cuban to invest in their specialty service business.
Storage Scholars: What is it and how does it work?
Many college students who live in campus dormitories are often studying far from their homes, and some of them are even foreign students attending college in the U.S. While they live on campus when school is in session, most students are usually required to completely move out of their dorm rooms during the summer break.
The question then becomes, how do I ship all this stuff home for just a few months? Or perhaps, can I find a place to put my things until school starts again in the fall?
Storage Scholars has a unique solution for this problem. They offer a valet moving and storage service, especially for college students.
The Storage Scholars' team provides their student clients everything needed to make their move as smooth as possible. According to the company's "Why Use Storage Scholars?" video, a client receives free boxes on campus the week before move-out. Then, Storage Scholars provides both pick up and delivery right to their dorm room door, with insurance also included on every box.
Storage Scholars sends phone, email, and text updates from room to truck, truck to storage, and from storage back to the client, so every step of the pick up, storage, and delivery process is easily trackable. A photo inventory is also taken to document the condition of items, both at pick up and delivery.
For students at selected universities with which Storage Scholars has a special agreement, clients simply need to pack their boxes, leave them locked in their dorm rooms when they depart for the summer, and the company will access their rooms and move their things to storage. Then, when it's time to go back to school in the fall, the company will have their items back in their dorm rooms before they arrive—that is true valet service!
A tenacious founder: "How do I graduate debt-free?"
Storage Scholars was co-founded by Sam Chanson and Matthew Gronberg, and it was Sam's burning desire to graduate from Wake Forest University debt-free that led him to start the business.
In a 2020 interview with Wake Forest News, Storage Scholars founder Sam Chanson told the college paper that: "The first thing I did when I came to Winston-Salem was figure out how much money I would have to earn over four years to graduate debt-free."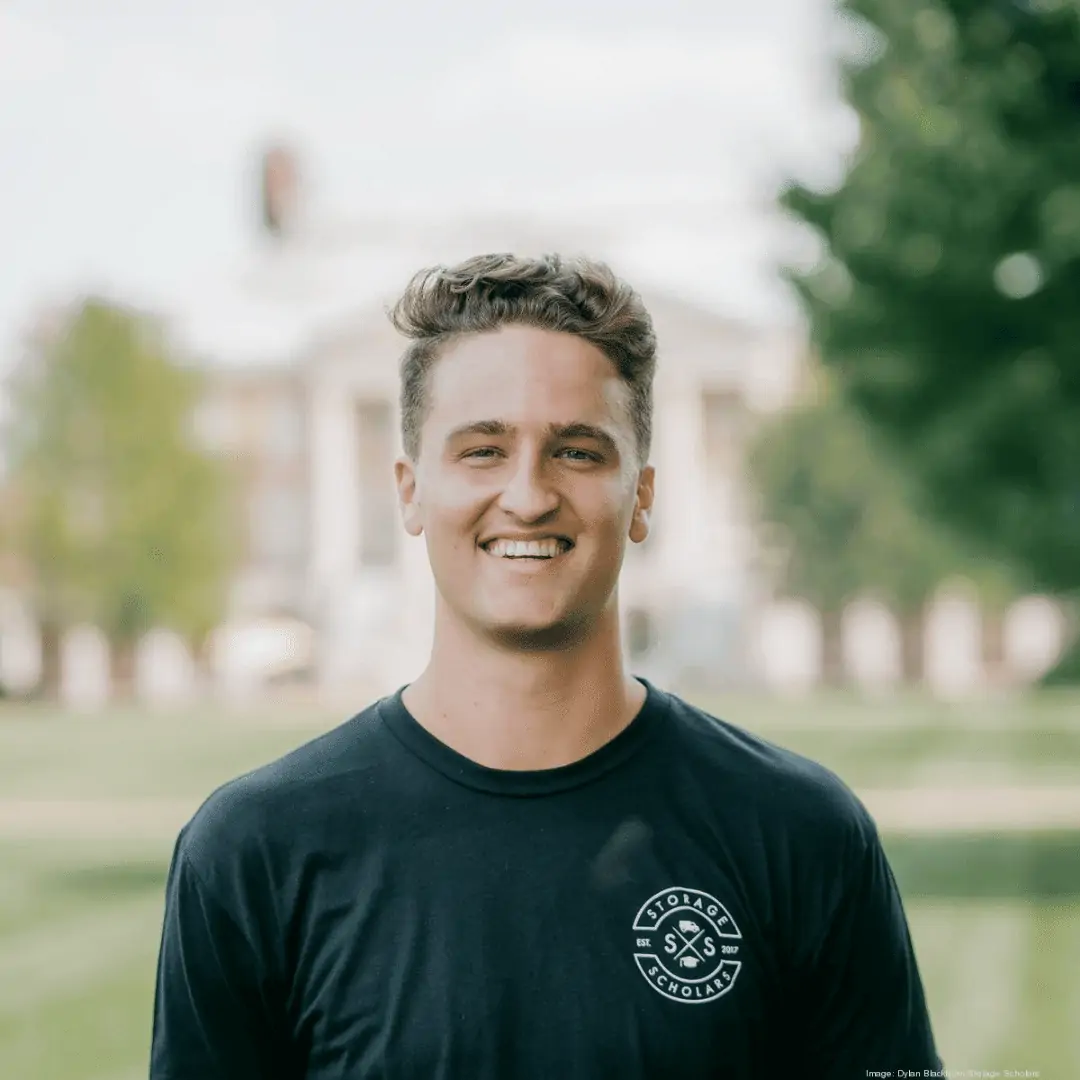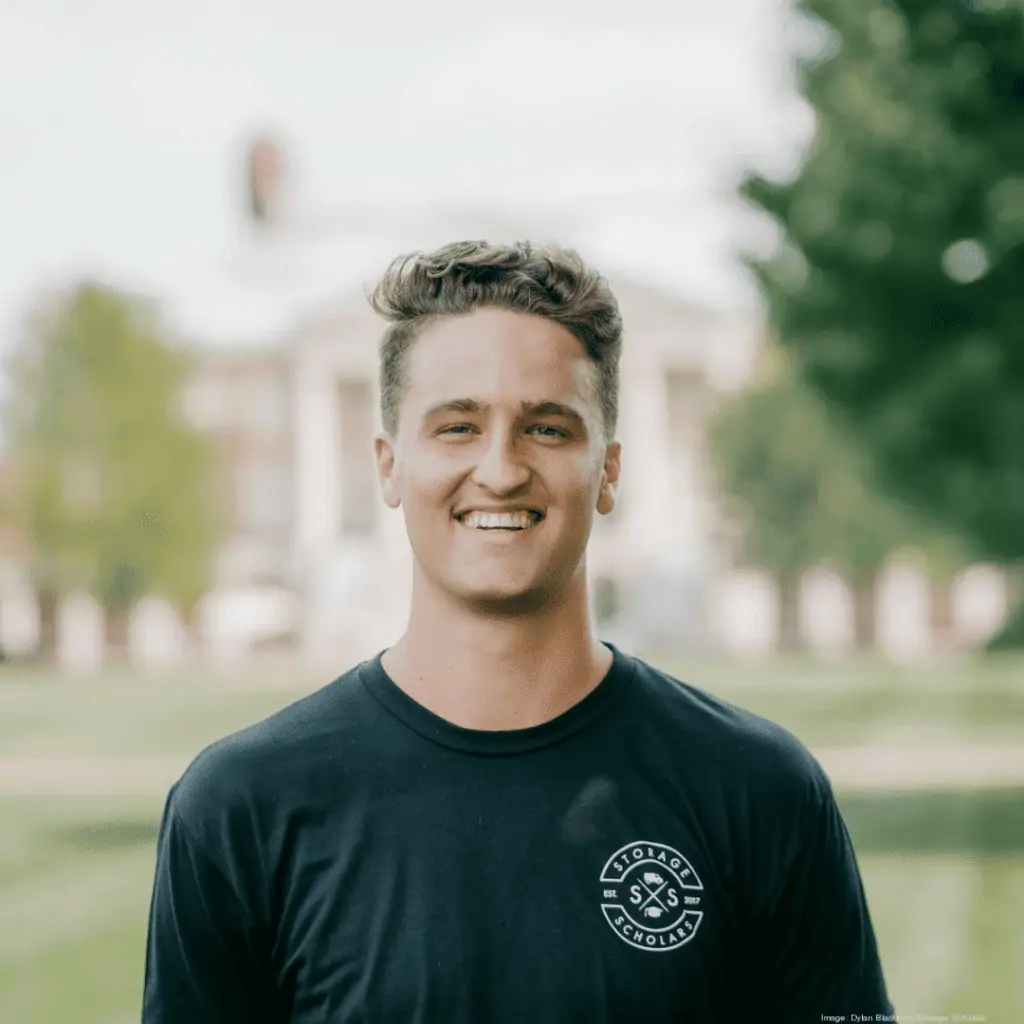 Sam's parents were both school teachers in New York, and they made an agreement with Sam that although they would not pay the full price of a private school tuition, they agreed to pay the equivalent cost of a state school education if Sam would cover the remaining fee.
On the Storage Scholars website, Sam says, "At merely age 18, the burden of a quarter million dollars of debt was not an onus I took on lightly, so I got to work right away looking for any means to pay off my looming loans."
Initially, because Sam was living in a dorm with a number of international students, he saw the need for an optimized campus storage solution. Sam knew that there had to be an easier way for students to move in and out of school without sacrificing time to study for finals or enjoy the end-of-year festivities.
With this simple idea, Storage Scholars was born.
Sam, who recently graduated from Wake Forest Business School, met co-founder Matthew Gronberg when Matt began working for Storage Solutions to try to ease some of the impending loans that he would also soon face.
Matt had entered Wake Forest with plans to go to medical school, studying Spanish and Biochemistry. However, working with Sam at Storage Scholars inspired him to change his career path. Thanks to Storage Scholars, Matt, like his friend Sam, graduated debt-free, and he hopes to inspire other students to do the same.
Storage Scholars before Shark Tank
In 2017, as a freshman, Sam Chanson was living in the South Residence Hall of Wake Forest University. While looking for a way to earn enough money to offset his college expenses, Sam discovered that many international students living in the dorm faced difficulties finding a way to move and store their belongings during the summer break.
In his first moving season, Sam served 64 customers, receiving very positive feedback with no complaints.
In 2018, the second year for Storage Scholars, Sam managed to partner with the Wake Forest Residence Life and Housing team, and he met his future partner, Matt Greenburg. He also reached out to some friends at schools in New York and Florida to launch Storage Scholars branches at two more campuses.
The next year, 2019, because of the difficulties brought about by trying to service campuses from three states away, Storage Scholars decided to focus on schools in North Carolina so that they could have one centrally located storage facility to increase quality control. The company also hired its first Customer Success Specialist.
The company faced the challenges of the Covid pandemic in 2020, and Sam indicates that this brought many lessons in patience. The Storage Scholars team spent 75 straight days working with students on FaceTime trying to organize packing and shipping out belongings to students who could not return to campus.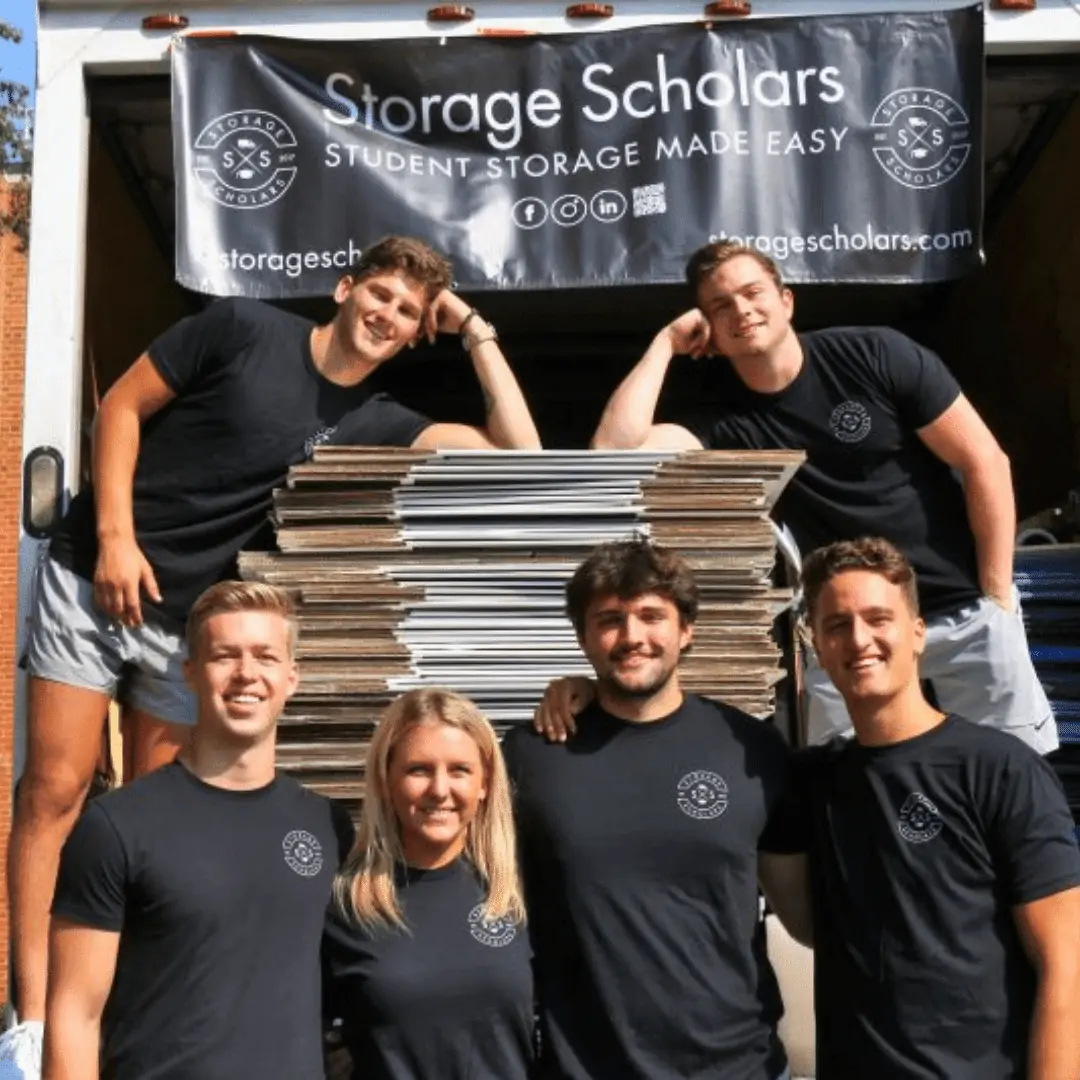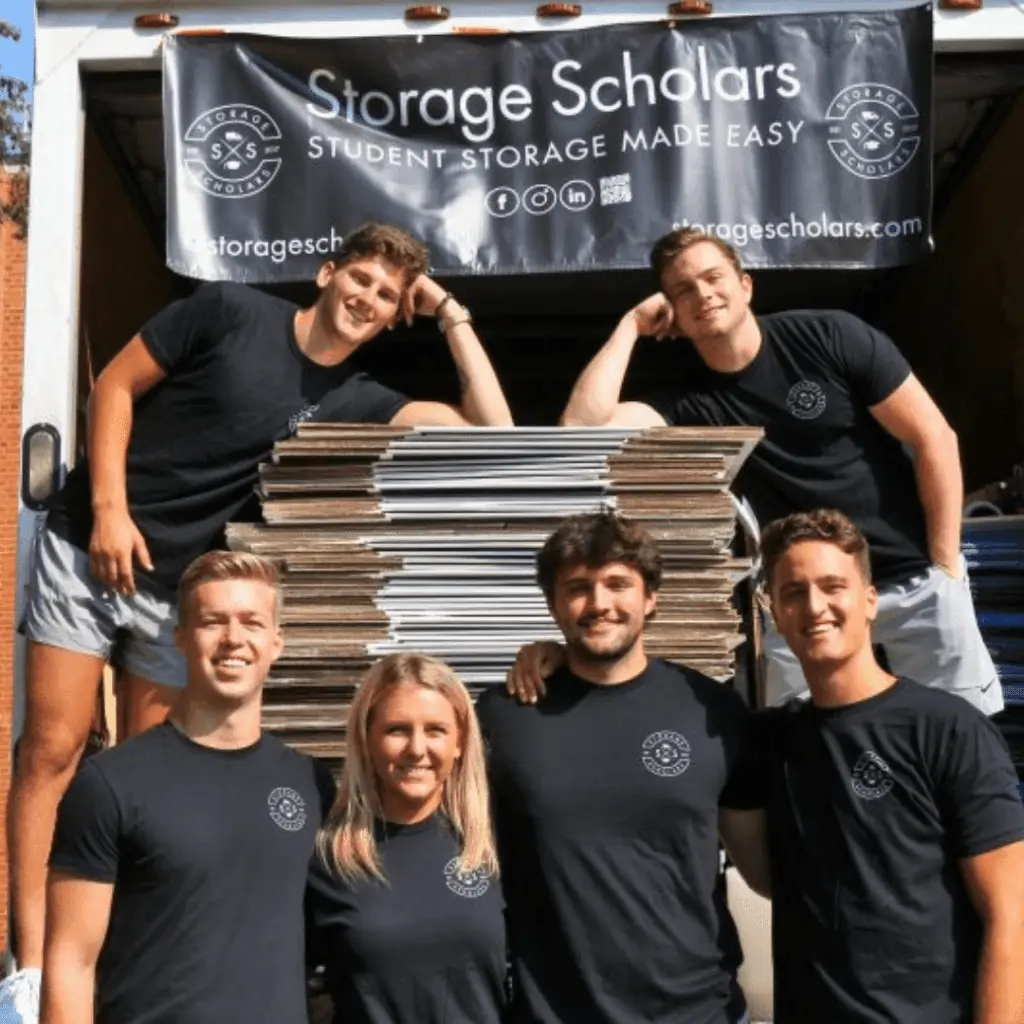 In 2021, after graduating from Wake Forest, Sam and Matt doubled their geographic footprint, now offering the service from Virginia to Texas.
This year, Storage Scholars brought in a Head of Business Development, and campus expansion is exploding in 2022 with 15 new schools coming online.
Storage Scholars: Encouraging student entrepreneurs
Part of the secret to success of the Storage Scholars' team is the fact that they recruit students from each of their target campuses, and they mentor these students, usually sophomores, with lessons in sales and marketing, as well as how to manage operations at their home colleges.
Having students from each university interacting with both their fellow classmate clients and the university administration builds relationships that would not be possible with outsiders running the operations on any given campus.
In the Wake Forest News article, Sam told the paper that "I love building the business. My goal is to employ student workers to enable them to pay college expenses and loans just as I have done."
To date, Storage Scholars have paid over $804k in student wages. They have served over 7400 students in operations on 23 campuses. And with rave reviews of 4.8/5 from 3500 reviews in 2022, Storage Scholars are getting top marks from the students they serve.
Into the Tank: Storage Scholars Take Sharks to School
Storage Scholars founders Sam Chasen and Matt Gronberg enter the Tank and ask the Sharks for a $250k investment in their specialty moving company in return for 5% equity in the business.
After explaining the nuts and bolts of their college moving business to the Sharks, Kevin O'Leary quickly jumps in with the first question: "How many colleges have you guys signed up?"
Sam tells the Sharks that they are now on 23 campuses stretching from New York to Texas.
Robert Herjavec follows up by asking the Storage Scholar team the total student cost of a move. And Matt tells him that "It averages out to $559.00 for the whole service: boxes, tape, pick up and delivery, storage and insurance."
Kevin O'leary comes back in with: "$559, that's my revenue, what are my costs."
Matt explains to the Sharks that: "Our costs are about $199, and this includes boxes, tape, packing supplies, the labor, warehousing, everything."
Matt then adds, "We're the only people I know of doing the full key access system," which allows a student to simply box up their belongings and lock their dorm room door, and then the Storage Scholars team gains access to the dorms a few days after school is out of session.
They pick up a student's belongings and move them into storage for the summer. A few days before school starts in the fall, the team then delivers the students' boxes back to their dorm rooms, so everything is in place when the student arrives back on campus. It is a full-service valet move.
Matt also mentions to the Sharks the fact that at Storage Scholars, "we have our own custom-built technology which allows us to have the 4.8 star ratings that we do."
Robert looks very interested in this aspect of the business when he asks, "What's the custom technology?"
Matt tells him that the technology "was built by Sam's brother who is a full stack developer . . . it just does so much of the automating of our processes to be able to do 3,300 moves, across 23 campuses in 9 states, at the exact same week of the year, and nail it every time."
There is a collective "Wow!" from the Sharks when they hear about the efficiency of the Storage Scholars' system.
Lori next asks Matt and Sam about their backgrounds and how they came up with the business, and Sam responds by telling her that his parents were school teachers who could not afford the $70,000 for him to attend Duke University, so he decided that he needed to figure out a way to make enough money while in school to graduate debt free.
The Sharks are clearly pleased to hear this aspect of their founding story, and Kevin O'Leary next asks them, "Did you ever take any money from anybody else?"
Sam and Matt jointly respond, "zero dollars."
Again, the Sharks rejoice.
Lori next wants to know the company's sales to date, and Matt tells her, "So this year, we've done $1.826 million."
The Sharks, once again, are loudly cheering and clapping, and it feels like they are starting to circle for a deal.
O'Leary is the first to attack; he says, "I'll make you an offer. I'll do the $250k for 20%."
There is some laughter from the other Shark's after Kevin's offer, and Lori Greiner speaks up next, "First of all, great idea. But I think you need to give your valuation an evaluation. It's just so out there for me. I absolutely love you, but I'm out."
Daymond John quickly chimes in with an offer, "I'll match Kevin, $250k for 20%."
Robert, who appears very interested, speaks up: "Super impressive, you have great maturity. Some businesses are OK to grow slow, but what I've learned from you is that you've gotta go faster. To go faster, this is where the money helps. You've got two offers. I like the 20%, but I'll give you more money. I'll give you 500k for 20%."
After thanking Robert for his offer, the Storage Scholar guys look to Mark Cuban to see if there is a fourth offer forthcoming.
Mark says, "I'll make you guys an offer. I'll give you the $250k, but I want 12%. The reason I'm asking for a little higher valuation than Robert is that I've got a platform. There are schools that I have connections to, and if I get out there to start to talk about it, maybe they won't become partner schools, but the phone's gonna ring for you to get to open up new schools."
After receiving four offers, Matt and Sam have a quick whisper, thank all of the Sharks for the offers, and then Matt directs a counter offer to Mark Cuban: "Would you be willing to do $350k for 8%."
Mark quickly responds, "No, but I'll do 10% for $250k . . . and don't worry about that $50k it's not going to change your life."
Robert then speaks up and says, "You need more money, why would you do that, why wouldn't you run faster?"
Mark simply says to Robert, "Because it's not just about the money."
After another whispering consultation, Matt and Sam look to Mark and tell him: "You've got a deal!"
Storage Scholars Shark Tank update
After their deal, the Storage Scholars team commented that "Mark gave us the deal that we were looking for, and we're just over the moon. He's super passionate about our mission of eliminating student debt."
Like the vast majority of companies that go on Shark Tank, Storage Scholars also benefited from the extra exposure, as interest in their business skyrocketed after the show aired.
Let's see if the deal with Mark Cuban closes, and whether the company can hit its ambitious goals.
FAQs
What is Storage Scholars on Shark Tank?
Storage Scholars provides a moving and storage service for college students. The founders went on Shark Tank asking for an investment of $250,000 for 5% equity, valuing the business at $5 million.
Who founded Storage Scholars?
Storage Scholars was co-founded by Sam Chason and Matt Gronberg. The company is based in Winston Salem, North Carolina.
When did Storage Scholars go on Shark Tank?
Storage Scholars featured on Season 14, Episode 4 of Shark Tank. The show originally aired on October 14th, 2022.
Did Storage Scholars get a deal on Shark Tank?
Yes, Storage Scholars got a Shark Tank deal from Mark Cuban, who invested $250,000 for 10% equity. 
Who invested in Storage Scholars on Shark Tank?
Mark Cuban invested $250,000 for 10% equity, halving the company's valuation from $5 million to $2.5 million.