Turbo Trusser founders Kirk Hyust and Brian Halasinski have come up with a kitchen gadget which allows home cooks to prepare perfect poultry every time.
This Turbo Trusser Shark Tank update shares how these two big birds met, developed their product, and ultimately plucked some cash out of a hungry Shark.
Turbo Trusser founders: An odd pair of birds
Prior to starting their business, at first glance, Turkey Trusser founders Kirk Hyust and Brian Halasinski from Canton, Ohio seemed to live in two completely different worlds.
Brian Halasinski has a Business degree from Kent State University and an MBA from Malone University in Ohio. He has had a successful career in the Pharmaceutical industry, in which he has worked for three of the largest Pharma companies in the world for the past 18 years.
Kirk Hyust, on the other hand, trained as a chef at the Culinary Institute of America, and he worked as a sous chef in several big banquet kitchens and country clubs.
However, despite his training and early career in professional kitchens, Kirk got burned out working in the food service industry, so 20 years ago, he left the food business to get into contracting.
Brian and Kirk met about five years ago when Kirk was renovating Brian's house. During the renovations, they got to talking, and Brian discovered that Kirk was not only a contractor, but he was also an inventor.
Kirk related to Brian that he had discovered a problem with straight shut off valves and invented a wrench which has over 800 positions. Kirk told Brian that he had two utility patents and five design patents for his wrench and that he had ended up licensing the product.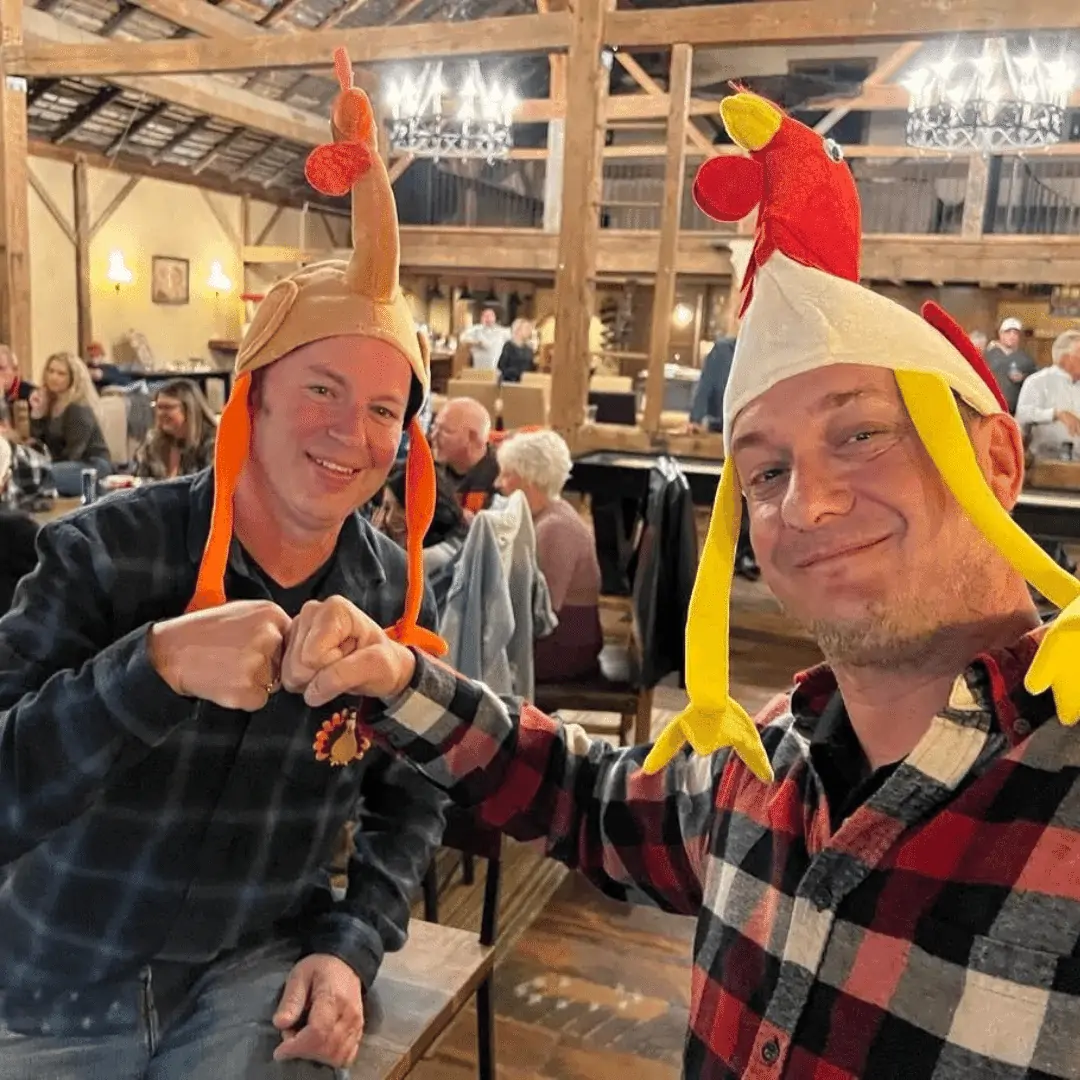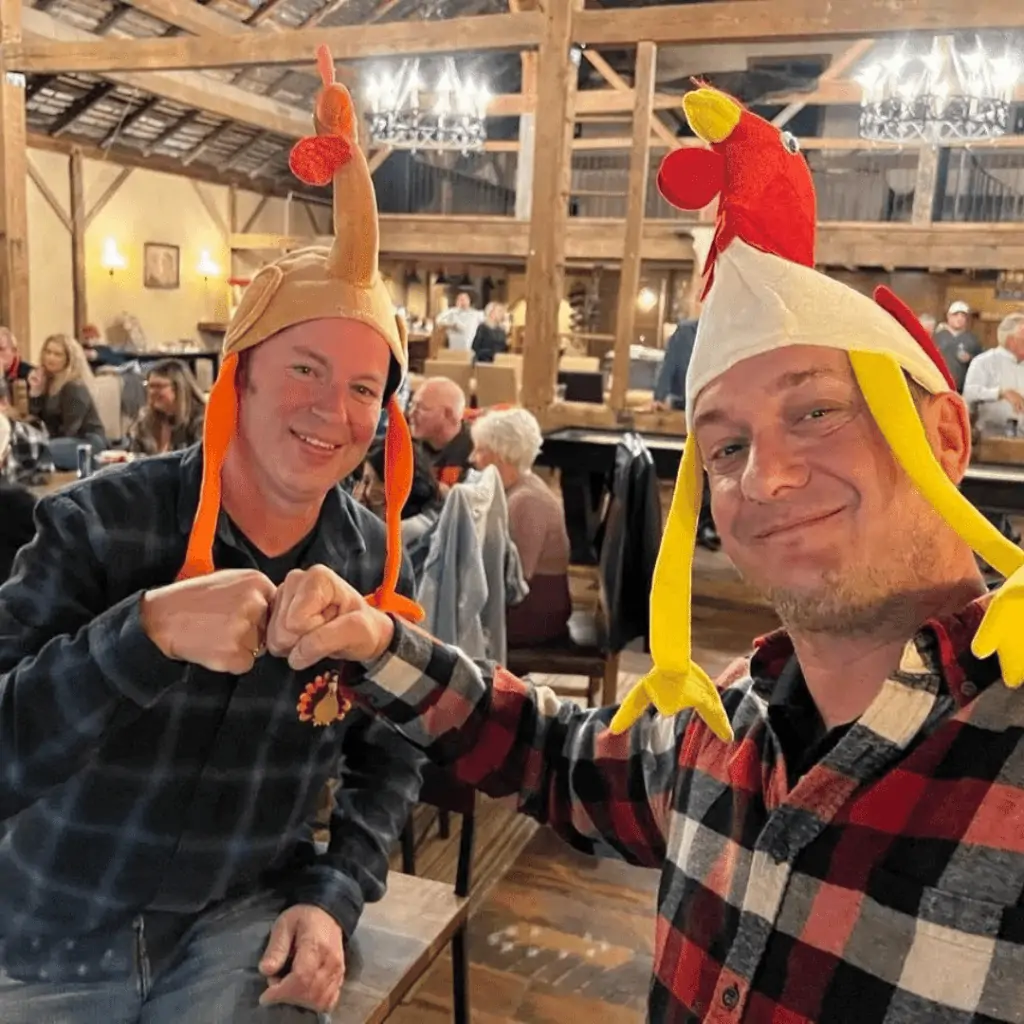 On the Shark Tank episode, Brian told the Sharks that when he had first heard this story, he thought, "I want to start inventing, too."
After the home renovation, Brian and Kirk stayed in contact and remained friends. Soon, they decided that they would like to start working together as inventors.
Turbo Trusser before Shark Tank
During their Shark Tank appearance, Turkey Trusser founder Brian Halasinski explained to the Sharks that prior to the Turkey Trusser, he and co-founder Kirk Hyust had "personally invented together six products, four in the barbeque industry, and two in the pet industry."
When asked by Robert Herjavec if the Turbo Trusser team had made any money prior to this product, Brian responded, "Not a dime." Of course, the Sharks broke out in raucous laughter after this refreshing bit of brutal honesty.
The Turbo Trusser was introduced in November of 2021, and prior to their Shark Tank appearance, the company had products in about 75 stores in the US and Canada. They were selling the products through three distributors and online through their own website.
What is a Turbo Trusser?
On their Shark Tank appearance, founder Brian Halasinski described the Turbo Trusser as "a rapid trussing device used when cooking whole chickens and turkeys." 
He went on to say, "Trussing is a technique that keeps the legs close to the body and cooks a bird more evenly." Trussing the whole bird produces a far more evenly cooked, juicy chicken or turkey, and the Trusser team claims that it works to produce perfect poultry every time.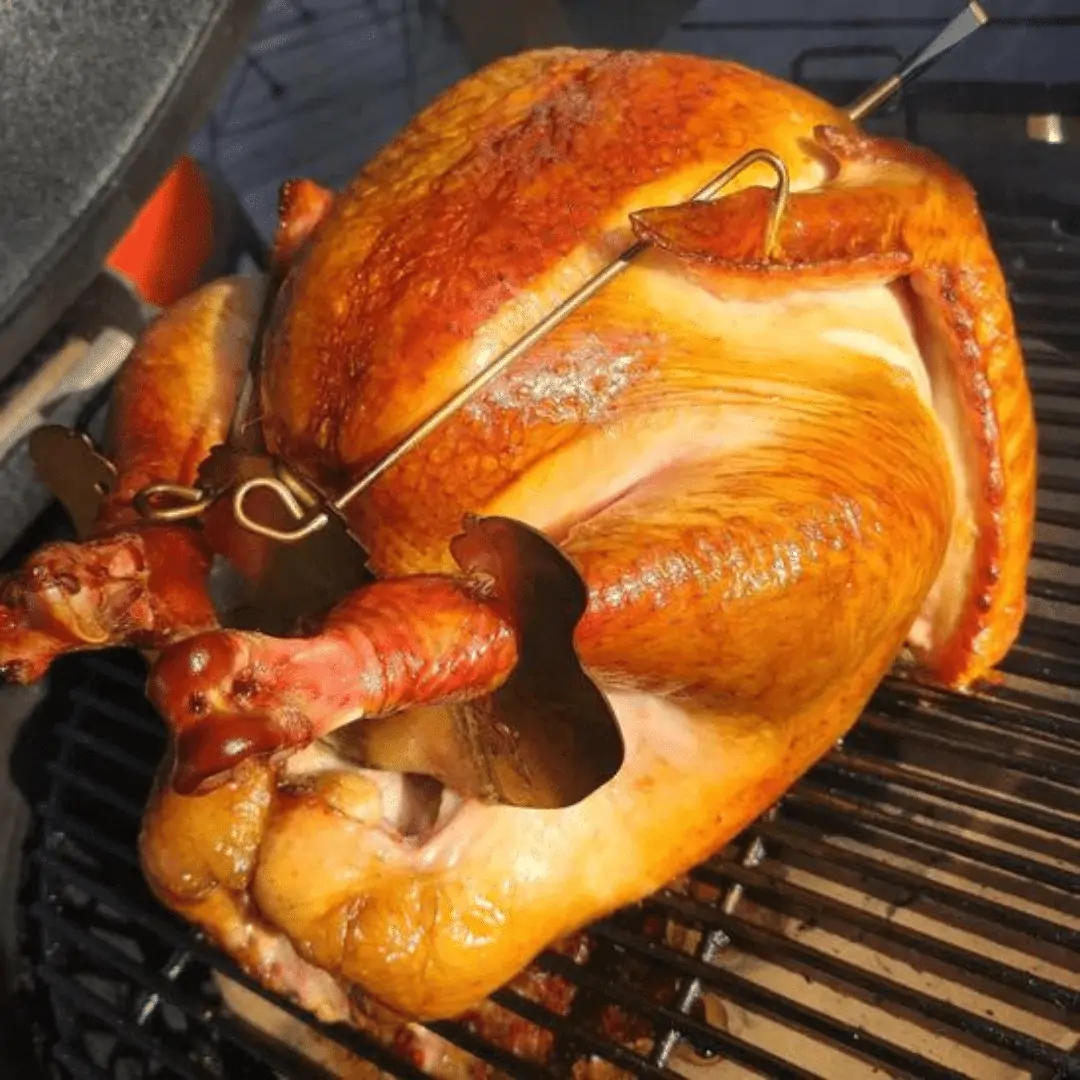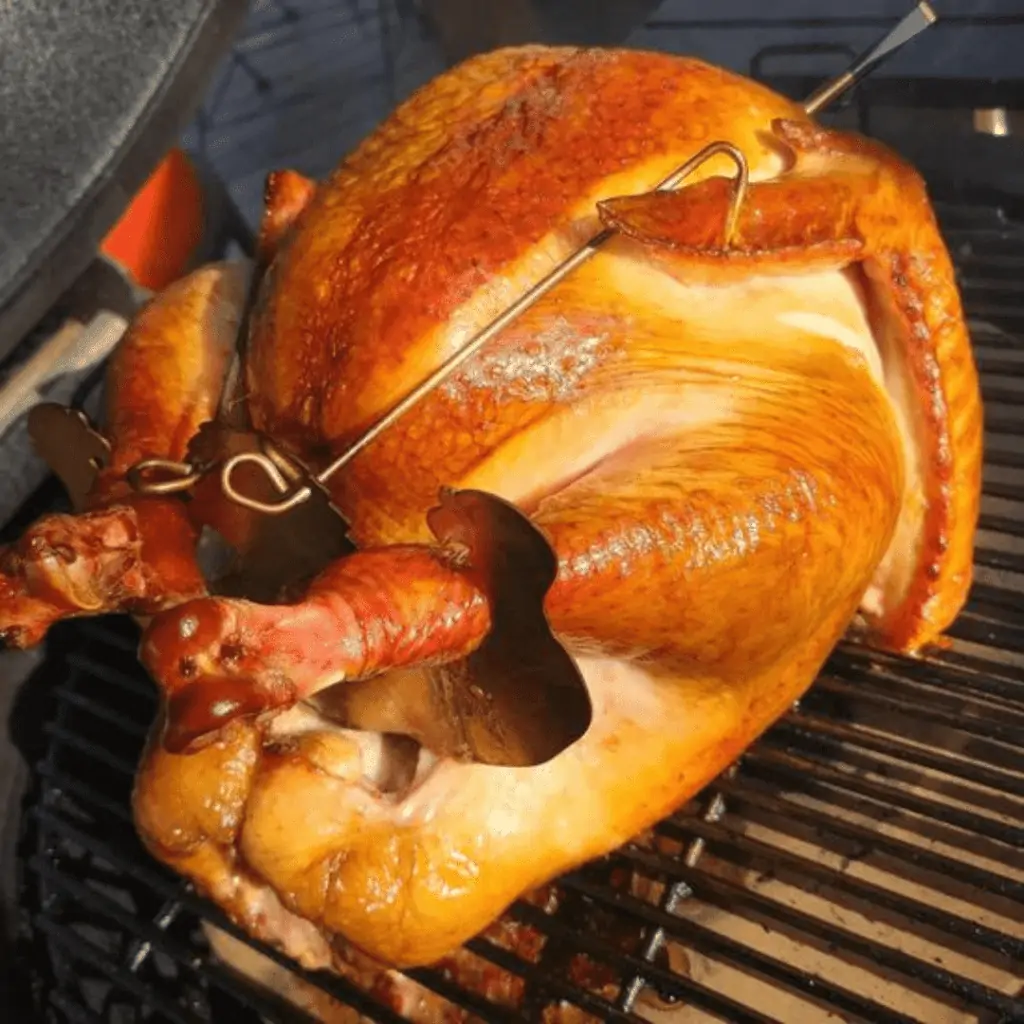 The Turbo Trusser is available in two sizes, one for chickens and the other for turkeys. Founder Brian states that "the device is so universal that you can use it in ovens, grills, roasters, smokers, rotisseries, deep fryers, and even air fryers."
The Turbo Trusser is made of food-grade stainless steel, and it is dishwasher safe.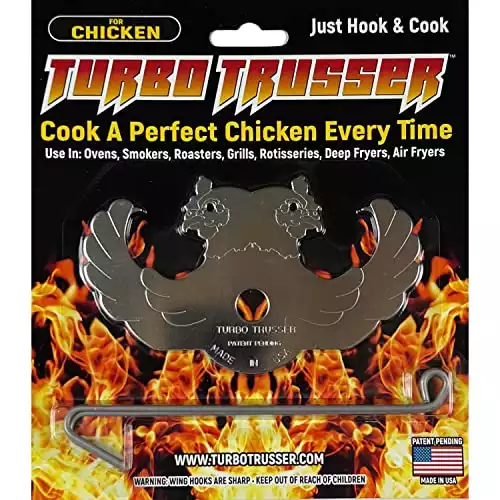 We earn a commission if you make a purchase, at no additional cost to you.
Into the Tank: The birds go for a swim
After hearing the story of how Turbo Trusser's founders Brian and Kirk got together, the Sharks seemed eager to hear the details of their new kitchen gadget business.
Kevin O'Leary jumped in first asking, "What does it cost, what do you make it for, and how many have you sold?"
Brian responded, "Right now, on our last order, it was $3.07 to make, MSRP is $14.99, and we have $90k in sales in the last eight months. 60% of sales come from our website alone, 27% of sales go through three distributors."
Barbara Corcoran followed up by asking, "How is it selling? Is it selling through?"
Brian quickly added, "Yeah, all three distributors have reordered."
Even though the Trusser team was prepared with answers to the Sharks' questions, it seemed that these birds just weren't big enough for many of the Sharks.
Robert Herjavec led the trot away from the Turbo Trusser when he said, "I love you guys. I love this thing. It's just not big enough for me."
Of course, the poultry partners had the perfect response to losing their first Shark: "Robert, don't chicken out! Our margin is 82%."
Barbara Corcoran was next in line to declare that this business was too small to attract a Shark: "How would I get my money back on this deal? This is a little business, a little bit of sales. It doesn't seem to me that there's room for a third person."
Mark Cuban then exited after commenting that Brian and Kirk would have a difficult time linking holiday turkeys and chickens with their product.
Finally, Lori commented simply, "It's not really big enough, and I hate touching chicken, so I'm out."
With four Sharks out, only one remained: Chef Wonderful.
Turbo Trusser secures a Shark Tank deal with Chef Wonderful
After waiting for the other Sharks to go out, Kevin O'Leary tells the Turbo Trusser team, "I see the potential of this, but it's too much work. I have to don my whites, and I have to sell a lot of these to make any money."
Turbo Trusser co-founder Brian quickly responded to Kevin, "We're flexible in our equity. We're here to make a deal."
O'Leary then tells Brian, "To get Chef Wonderful to back this; he's greedy. The only way I would do this is I'll give you the $100k, and I want 33%, but wait, there's more: I want $1.00 royalty in perpetuity for every one we sell."
Barbara said of this offer, "He's a greedy bastard."
Negotiations carry on for several minutes as the Turbo Trusser inventors tender counteroffers of 20% and then 25% equity, and they even try a final counteroffer for 33% equity, without the royalty, to which O'Leary simply responded, "Never gonna happen."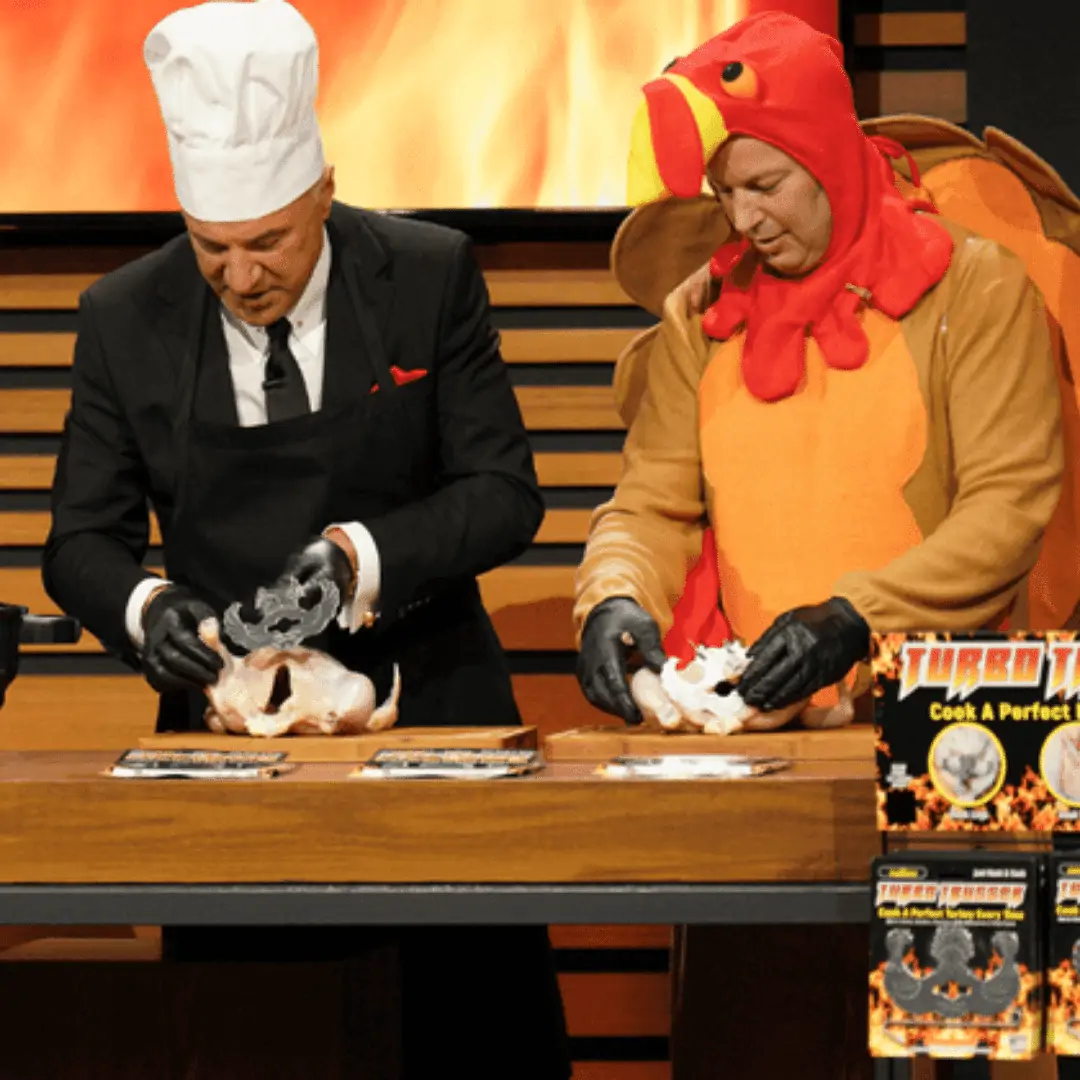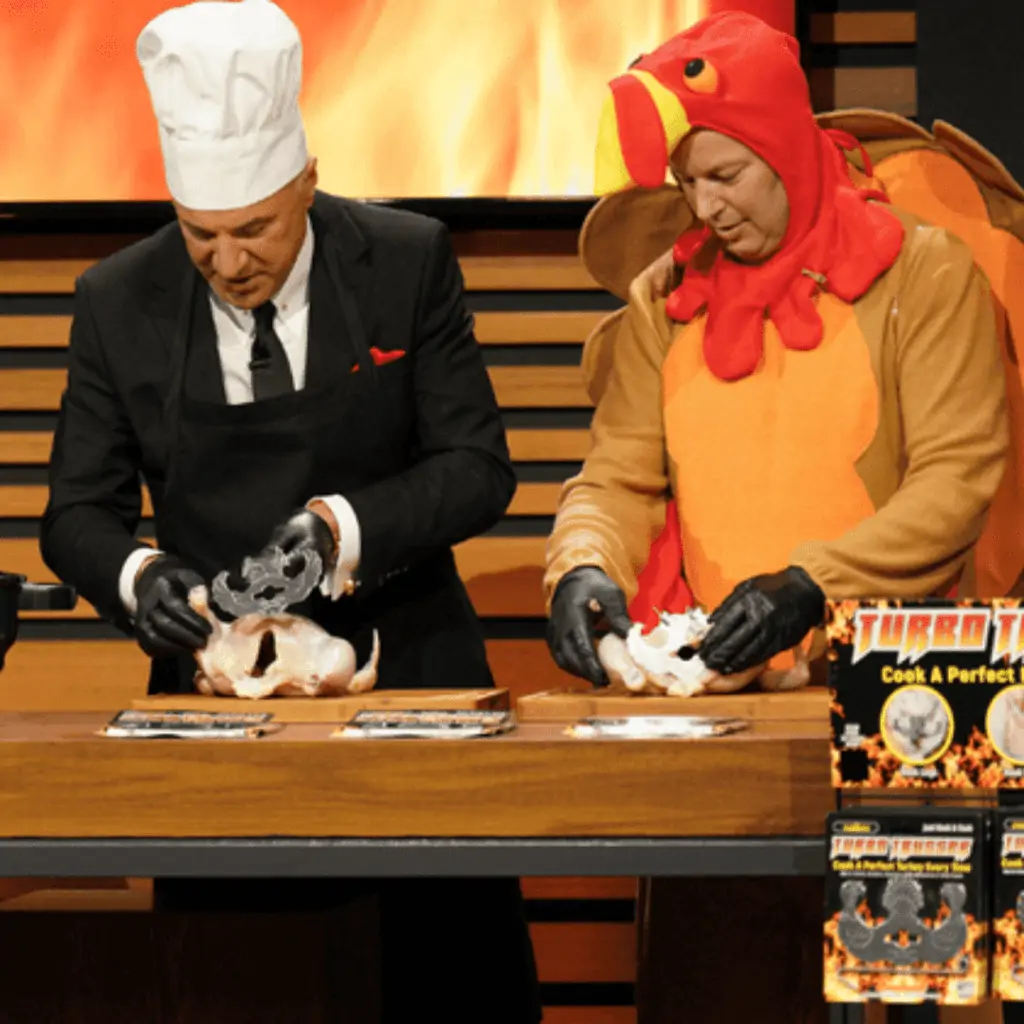 O'Leary finally tells the poultry people that "this is a lot of work, and I mean, there's a price. I need to be the third chicken."
While looking a little uncomfortable, Brian and Kirk look at each other, and then finally agree to Chef Wonderful's terms, and they make the deal with him for $100k for 33% equity and a $1.00 royalty in perpetuity.
This Shark Tank deal was the fourth to be completed in Season 14 following the successes of KENT underwear, Oogiebear, and the Pizza Pack on the first ever live show.
Turbo Trusser Shark Tank update: Chickens coming home to roost
According to their hometown newspaper, the Canton Repository, Turbo Trusser founders Kirk Hyust and Brian Halasinski held a watch party for their episode of Shark Tank. They gathered in their hometown with about 50 people, friends and family, in a friend's barn to watch the show.
According to the Repository, "It didn't take long for their Shark Tank appearance to yield results. A few minutes after their segment aired, Brian glanced down at this cell phone to discover that $4000 in online sales had already been logged."
Brian also told his hometown newspaper that the deal did close after the filming: "We finalized our deal on Friday, and I talked to O'Leary, and we're definitely going to start rocking and rolling." He added, "And we're going to be meeting with them and really pushing this thing out to the masses. Social media, direct to consumer, whatever it takes to get it out there."
Immediately after their segment aired, the Turbo Trusser guys were already leveraging their connection with Kevin O'Leary, as they had added a Chef Wonderful Bundle to the Turbo Trusser website, complete with photos of Chef Wonderful demonstrating the product while dressed in his kitchen whites.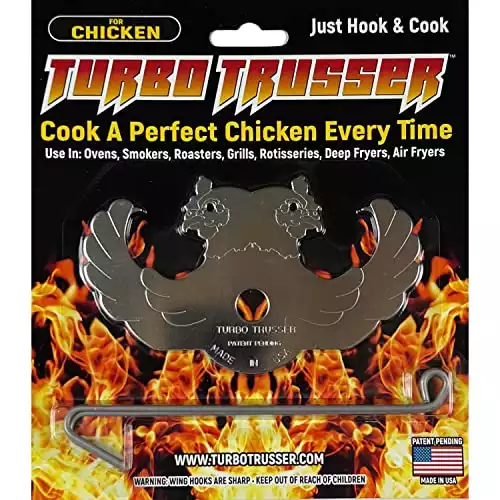 We earn a commission if you make a purchase, at no additional cost to you.
FAQs
What is Turbo Trusser on Shark Tank?
Turbo Trusser is a device easily trusses poultry for better results when roasting. The founders went on Shark Tank asking for an investment of $100,000 for 10% equity, valuing the business at $1 million.
Who founded Turbo Trusser?
Kirk Hyust and Brian Halasinski from Canton, Ohio, founded Turbo Trusser. 
When did Turbo Trusser go on Shark Tank?
Turbo Trusser appeared on Season 14, Episode 2 of Shark Tank. The show originally aired on September 30th, 2022.
Did Turbo Trusser get a deal on Shark Tank?
Yes, Turbo Trusser secured an investment from Kevin O'Leary of $100,000 for 33% equity, plus a royalty of $1 per unit sold in perpetuity.
Who invested in Turbo Trusser on Shark Tank?
Kevin "Mr. Wonderful" O'Leary invested in Turbo Trusser. His investment of $100,000 for 33% equity was 23% more than the founders asked for.
What is Turbo Trusser net worth today?
After securing a deal on Shark Tank, Turbo Trusser was valued at $303,000.