After being chopped up by the Sharks during his appearance on season 12 of Shark Tank, Cheese Chopper inventor Tate Koenig took another dive into the tank with his latest Shark Tank product, the Perfect Pizza Pack.
This time Tate managed to get a slice of the Sharks' dough. This Pizza Pack Shark Tank update has all the details on how the product was invented and what happened after the Tank.
Cheesy Pizza Pack founder makes a splash with the live audience
For Tate Koenig, founder of the Pizza Pack, an air-tight pizza storage container that collapses and expands to maximize fridge space, this is a return to Shark Tank in a new season, with a new product, and a new live-audience Shark Tank format for his pitch.
As he demonstrated even during his previous unsuccessful appearance in the Tank, Tate is a natural showman, and the new live-audience format played to his strengths.
From the beginning of his pitch, Tate had the audience laughing and cheering for his cheesy Pizza Pack presentation.
However, Tate did get a bit serious when it was time to talk business, and he pitched the Sharks for $100,000 for a 10% equity stake in his company.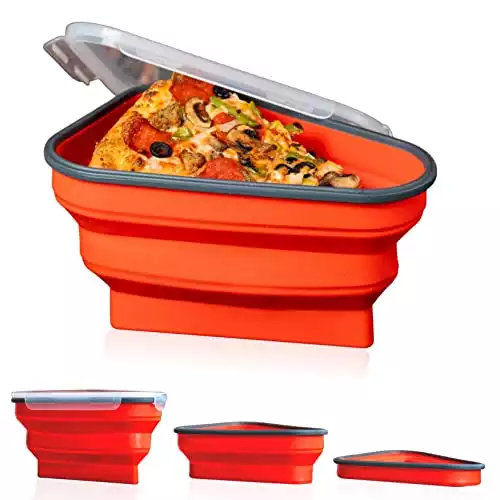 We earn a commission if you make a purchase, at no additional cost to you.
Sharks playing to the crowd, too
Pizza Pack founder Tate Koenig was not the only one playing to the audience in the premier week of the live-audience Shark Tank format. The Sharks were playing to the crowd as well.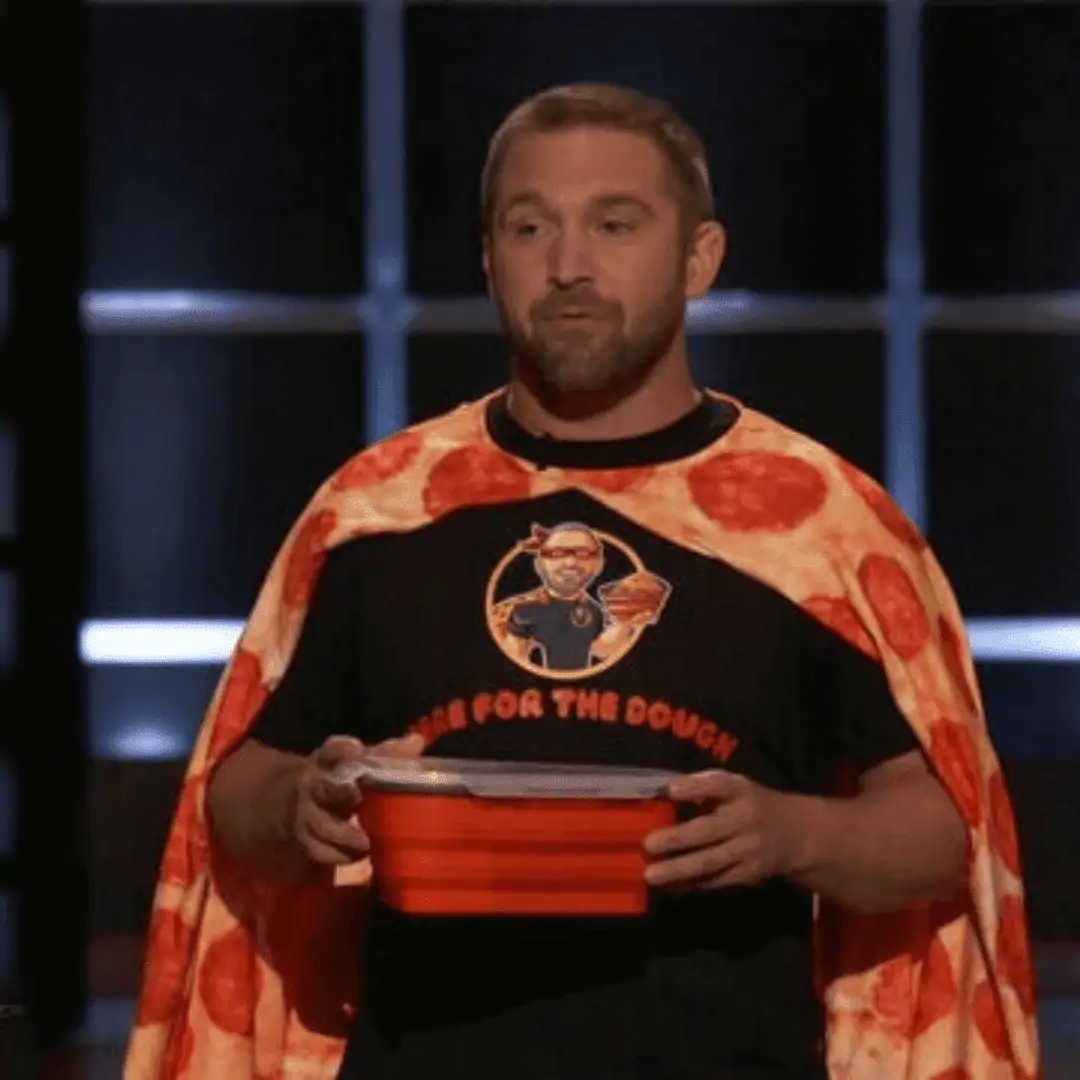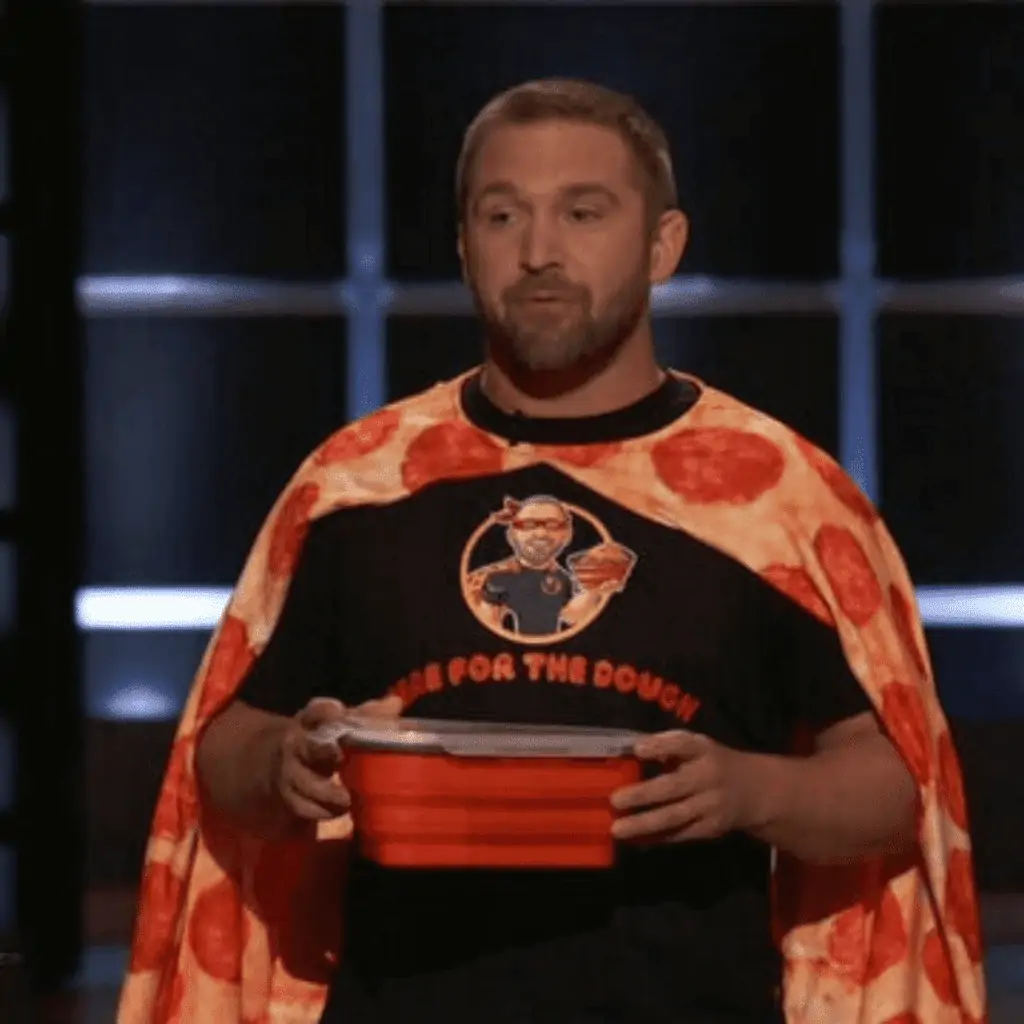 Mark Cuban asked Tate about his cost to produce the Pizza Pack as well as its retail price.
When Tate answered that his cost was "$4.00 per unit landed, and it sells for $24.95," Cuban immediately turned to the audience and asked them if they would pay $24.95, to which the audience responded with a resounding: "YES!"
The Sharks also worked the audience as they were negotiating with Tate for a slice of his leftover pizza storage container business.
After discovering that Pizza Pack had $250,000 in sales, even though the company had just started selling the product in April, the Sharks began to circle.
Kevin "Mr Wonderful" O'Leary started the showmanship by saying that, "I will give you 10% for $100,000 because I'm not greedy."
Then, O'Leary turned to the audience to lead a chant of, "royalty, royalty," after which he said, "and because the audience wants it, I'm willing to do a very small royalty of $2.00 per unit until I get my money back, and then it will drop to 50 cents per unit in perpetuity."
Of course, the other Sharks laughed and loudy commented that the royalty was ridiculous.
Lori Greiner then quickly jumped in and tendered an offer of $100k for 20%, and she reminded Tate that, "I can get you in everywhere."
Mark Cuban may have made the strongest nod to the new live format of the show when he told Tate that, "I hate investing in companies run by inventors, but I like buying companies from inventors. We are now going into a commercial break, and I want you to think about what you would want me to pay you to buy you out completely and tell me after the break."
Well, after the break, Tate told Mark Cuban that he would need $5 million for the business, which quickly brought about laughter from the other Sharks.
Cuban then recommended that Tate speak to the other Sharks, but then to come back to him with "a real number."
The Tank heats up as four Sharks want a slice of Pizza Pack
Finally, negotiations heated up, and Daymond John offered $100k for a 25% stake. He told Tate that Pizza Pack would be a huge licensing play.
Lori Greiner quickly followed Daymond's offer by saying, "I believe in you. This is a hero. I love it." She then revised her offer to $100k for 15%.
While Tate was asking Lori if she would be willing to make the deal for 12.5%, Cuban jumped back in and said, "I'll write you a check right now for $1.5 million."
During this tense moment in the Tank, the crowd started loudly chanting: "Lori, Lori." Lori then made a final counter at 13% and Tate accepted the deal.
At least during this first-ever live episode of Shark Tank, the live-audience format seemed to even the odds out a bit for the presenters, as the Sharks also felt a bit of pressure from the audience as they had to make decisions in real time, rather than in studio time. This format feels a bit more authentic than the studio version.
Pizza Pack: Thinking outside the box
Everyone knows that when you put leftover pizza, in its box, into the fridge, that when you take the pizza back out to warm it up, it's going to be dry and as hard as a rock.
The Perfect Pizza Pack solves this problem as it is an expandable, safe and durable reusable pizza storage container, which is made from non-toxic, BPA-free, food-grade silicone that is odorless, leakproof, and nonstick.
Pizza Pack containers are also microwave and dishwasher safe. They save space in the fridge as they collapse and expand to accommodate the number of pizza slices you have.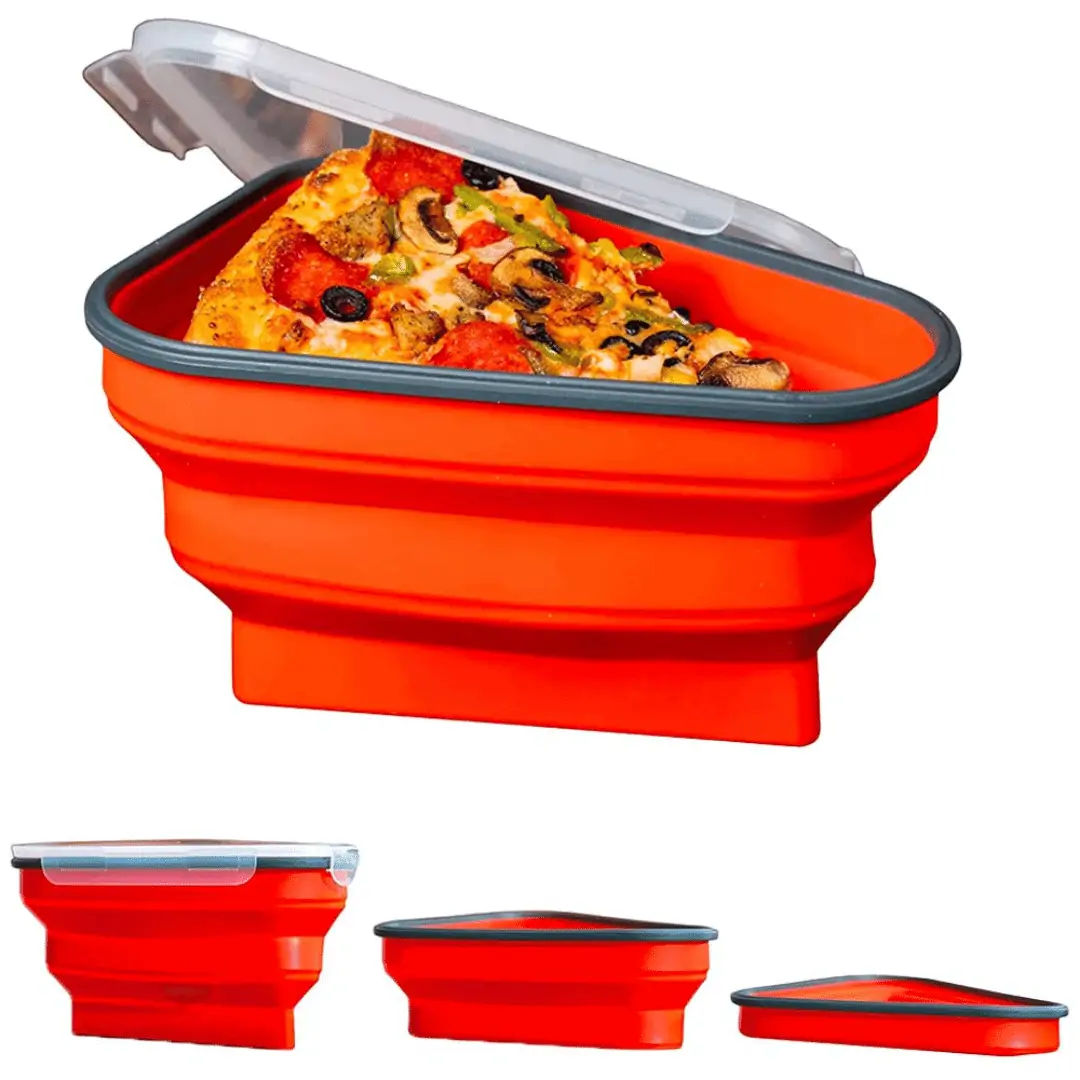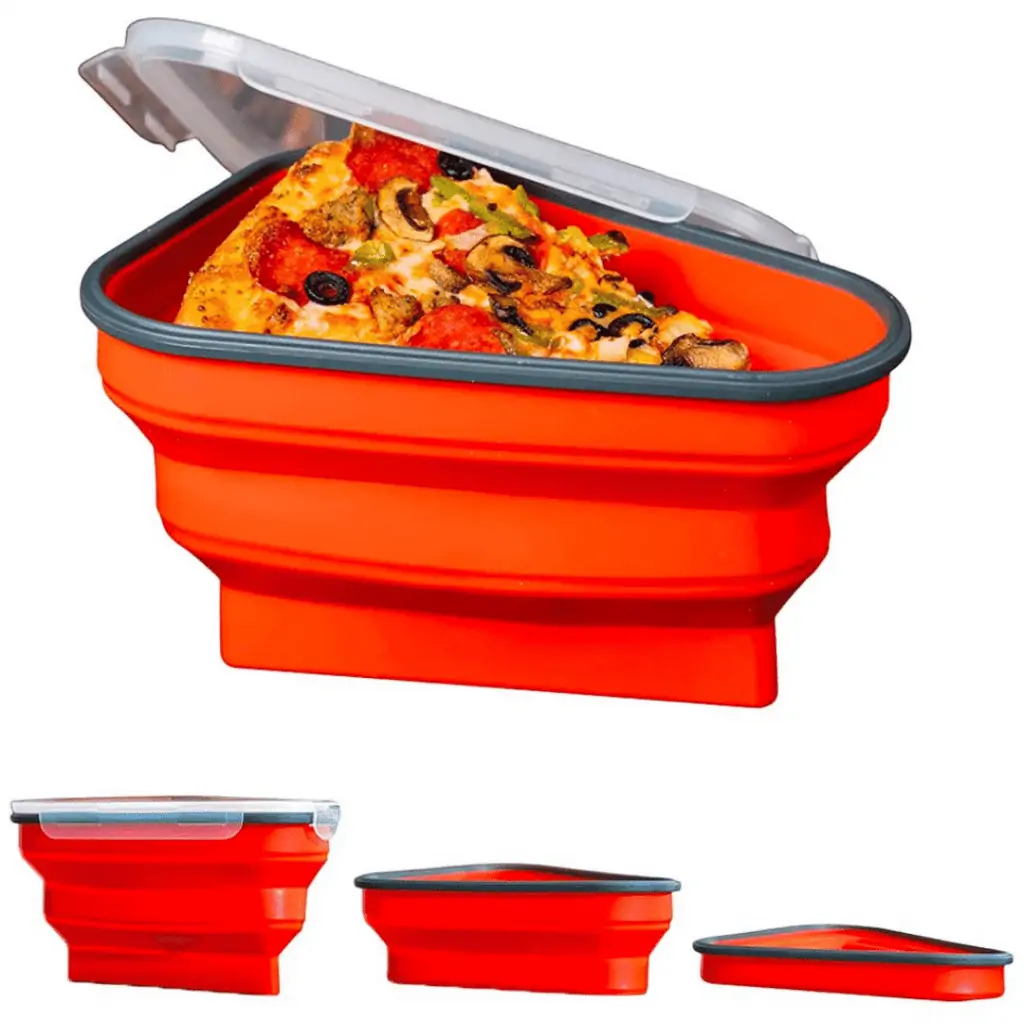 Pizza Pack containers also come with five microwavable divider trays, which can be used as pizza plates.
Finally, the entire Pizza Pack can go straight into the microwave, so you can heat up from one to six slices of leftover pizza at a time.
Laughed out of the Tank but never gave up
Perfect Pizza Pack founder Tate Koenig has never been one to give up easily. Even after being laughed at by the billionaire Sharks his first time in the Tank with his Cheese Chopper, Tate had no problem going right back into the infested waters.
Tate, who studied international business and entrepreneurship at Oregon State University, gave an interview to Business Matters, a publication of the OSU College of Business, just before his first appearance on Shark Tank.
When asked by Business Matters what he believes to be the most important thing in producing a successful product, Tate replied:
"It's a grind no matter how good your ideas or products are. So if you can't pick yourself back up on the countless times you get knocked down, you and your idea won't go anywhere."
Well, Tate followed his own advice, picked himself up, and made a deal on his second dive into the tank.
A friendly Shark encounter?
According to Chael Sorren, a friend and former wrestling coach of Pizza Pack founder Tate Koenig, "when Tate left the show the first time, he built a relationship with Lori."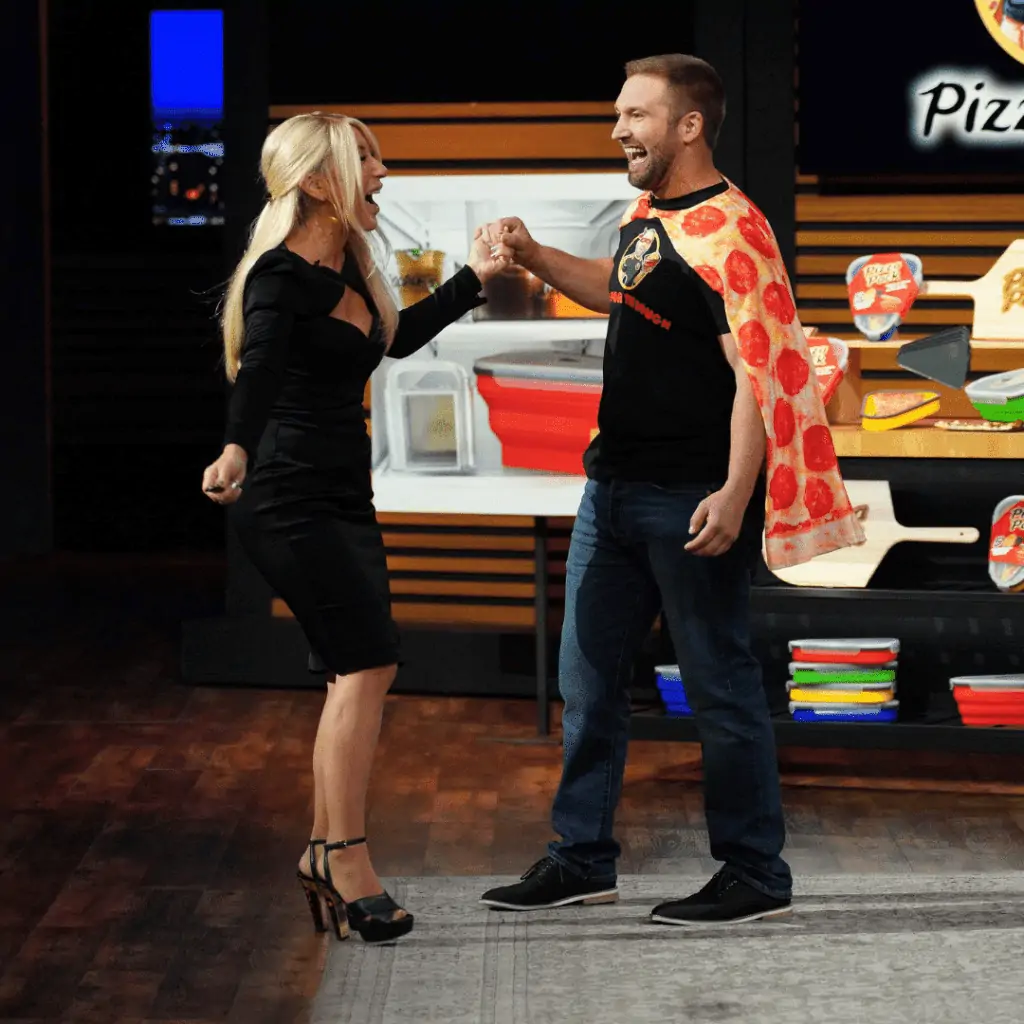 Sorren reports on his MMA Core YouTube program that: "Lori saw Tate in the hotel and came up to him and said, "Hey, I liked your presentation, I see that you're young, upbeat, and the idea is going to come – you learned how to do this; you learned how to manufacture; you learned about fulfillment. This just wasn't the idea, you're going to be back.'"
According to Sorren, Tate stayed in contact with Lori, and if this is true, it adds a bit of interesting backstory to the deal that Lori made with Tate in the new season.
Pizza Pack Shark Tank update
After the show aired, the Perfect Pizza Pack held the number one position on Amazon for Kitchen Gadgets over the weekend, and it appears that the product sold out and would take three weeks to ship new orders.
With Lori Greiner's investment and connections, the Perfect Pizza Pack's inventory shortfalls are likely to be quickly corrected, and I would bet that Pizza Pack becomes a staple in pizza-eating households everywhere.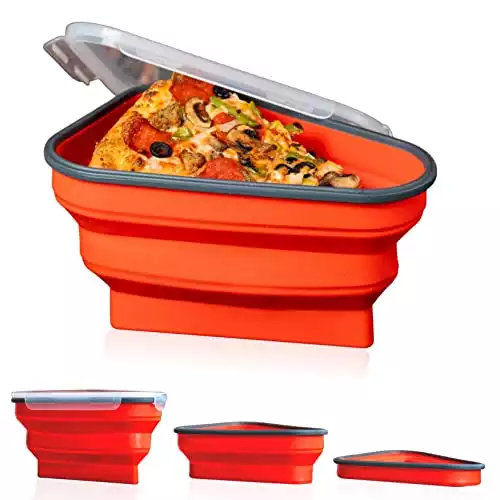 We earn a commission if you make a purchase, at no additional cost to you.
FAQs
What is Pizza Pack on Shark Tank?
Pizza Pack is an expandable, durable, and reusable pizza storage container that is fridge and microwave safe. The founder went on Shark Tank asking for an investment of $100,000 for 10% equity, valuing the business at $1 million.
Who founded Pizza Pack?
Tate Koenig from Aurora, Oregon, founded Pizza Pack. 
When did Pizza Pack go on Shark Tank?
Pizza Pack appeared on Season 14, Episode 1 of Shark Tank. It originally aired on September 23rd, 2022.
Did Pizza Pack get a deal on Shark Tank?
Yes, Pizza Pack secured an investment from Lori Greiner of $100,000 for 13% equity, valuing the company at $769,231.
Who invested in Pizza Pack on Shark Tank?
Lori Greiner invested in Pizza Pack. She managed to negotiate an extra 3% equity from the founder's original ask.
What is Pizza Pack's net worth today?
The founder of Pizza Pack originally valued the company at $1 million, but after securing a deal on Shark Tank it was valued at $769,231.