When The Woobles' team entered the Tank with their cute learn-to-crochet kits, no one could have anticipated that this husband and wife team would have all five Sharks eating out of their yarn-loving hands.
Read on to discover how this dynamic couple, with their seemingly simple product, snagged two Sharks to secure a dream deal in this Woobles Shark Tank update.
Team Woobles: From tech and finance to crochet cuteness
The Woobles founders, husband and wife team Justine Tiu and Adrian Zhang, met when they were undergraduates at Duke University.
While Justine was pursuing a BS degree in Electrical Engineering with double minors in Visual Arts and German, Adrian was working on a double major in Biomedical Engineering and Economics.
After graduating from Duke, Adrian joined a finance firm on Wall Street while Justine went to work for Google, where she eventually led User Experience for Google Classroom.
On their Shark Tank episode, Justine told the Sharks, "I spent the bulk of my career as a designer working on education products, and I loved my job. I was great at it—I was so great that they made me a manager, and it turns out that I sucked as a manager."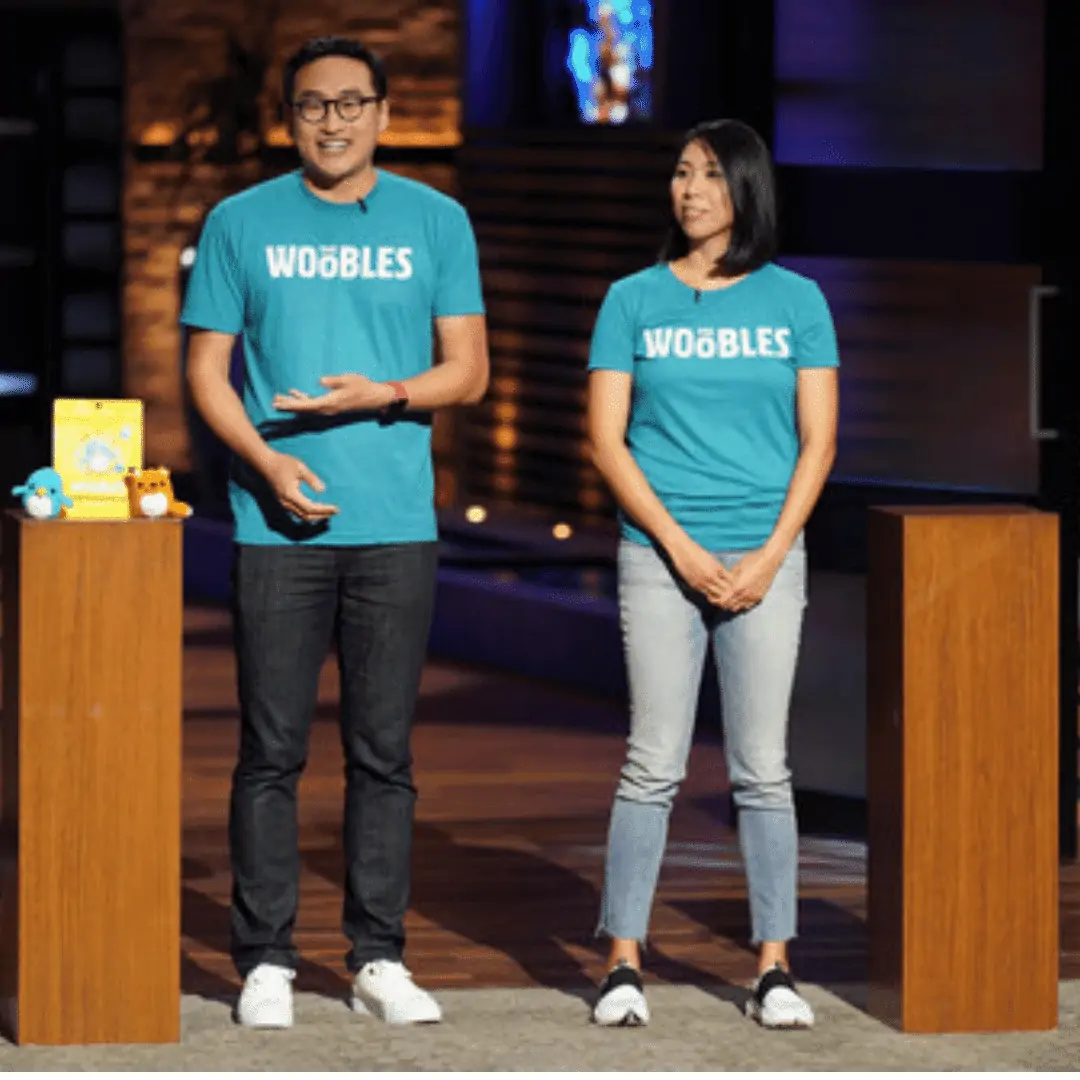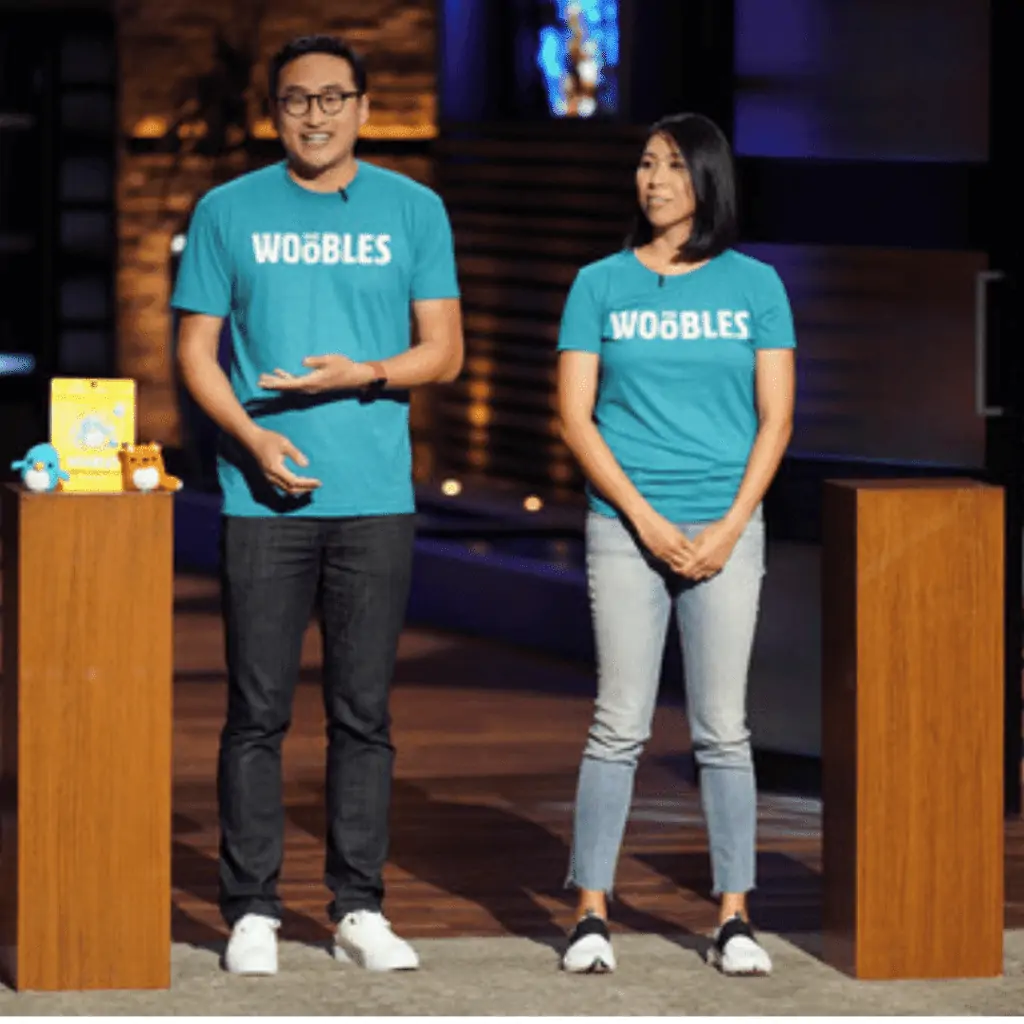 Justine described what she did to relieve stress as she was struggling in the management position at Google:
"To take my mind off of my work, I started dabbling in all these other hobbies, and crochet was one of these things. Learning to crochet reminded me that I still have it in me to learn something new, that I could try to learn to be a better manager, an experience of really building back my confidence."
Like his wife, Adrian was a corporate high flier, and he also related his fast-track success to the Sharks. Adrian told the Sharks that he had "become one of the youngest directors on Wall Street, trading in billions of dollars in equities."
But Adrian also admitted to the Sharks that despite his incredible success, he wasn't any happier at the end of it than when he started.
Adrian added that he had realized, "I had spent all of that time working on someone else's definition of success. And I left it all behind to go and try to figure out my own definition of success."
So what is The Woobles?
The Woobles makes learn-to-crochet kits for beginners, but instead of making a boring potholder, you'll learn to make a cute plush toy. The Woobles supplies everything you need to crochet your very first cute critter, including a link and a QC code for a video tutorial which goes with the kit.
Another of the most important features of a Woobles Kit is that it also includes The Wooble's own Easy Peasy Yarn, which Justine described as "like a shoelace or a drawstring, it's just one continuous strand that can't split" in an interview with the Triangle Business Journal.
But what made them come up with this innovation? Well, they noticed that customers were frustrated when trying to learn crocheting. "They'd get the crochet hook snagged and think they were doing something wrong. It wasn't the student, it was the yarn, which was traditionally woven in strands that were easily separated and frayed around the hook." This experience led them to develop their own special Easy Peasy Yarn.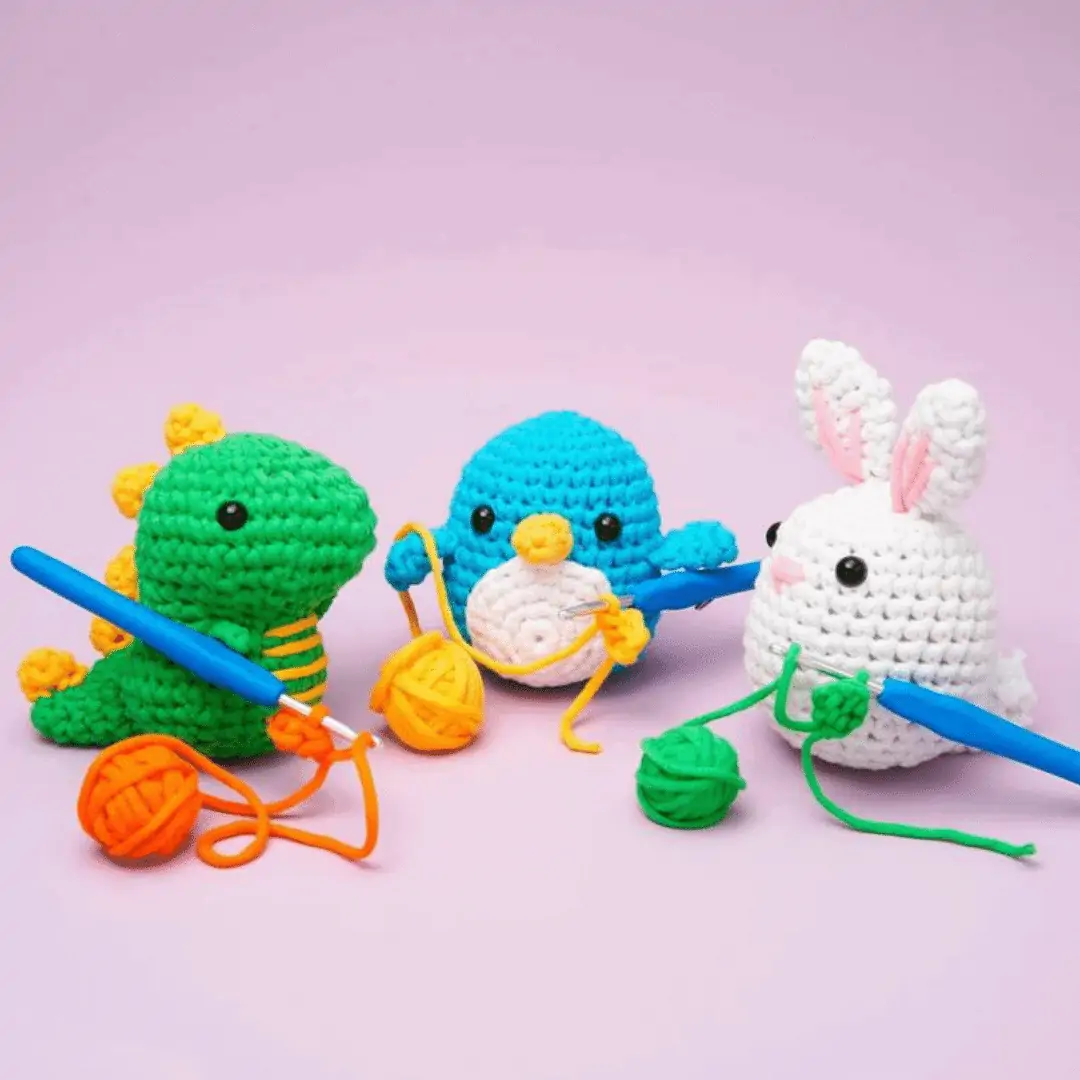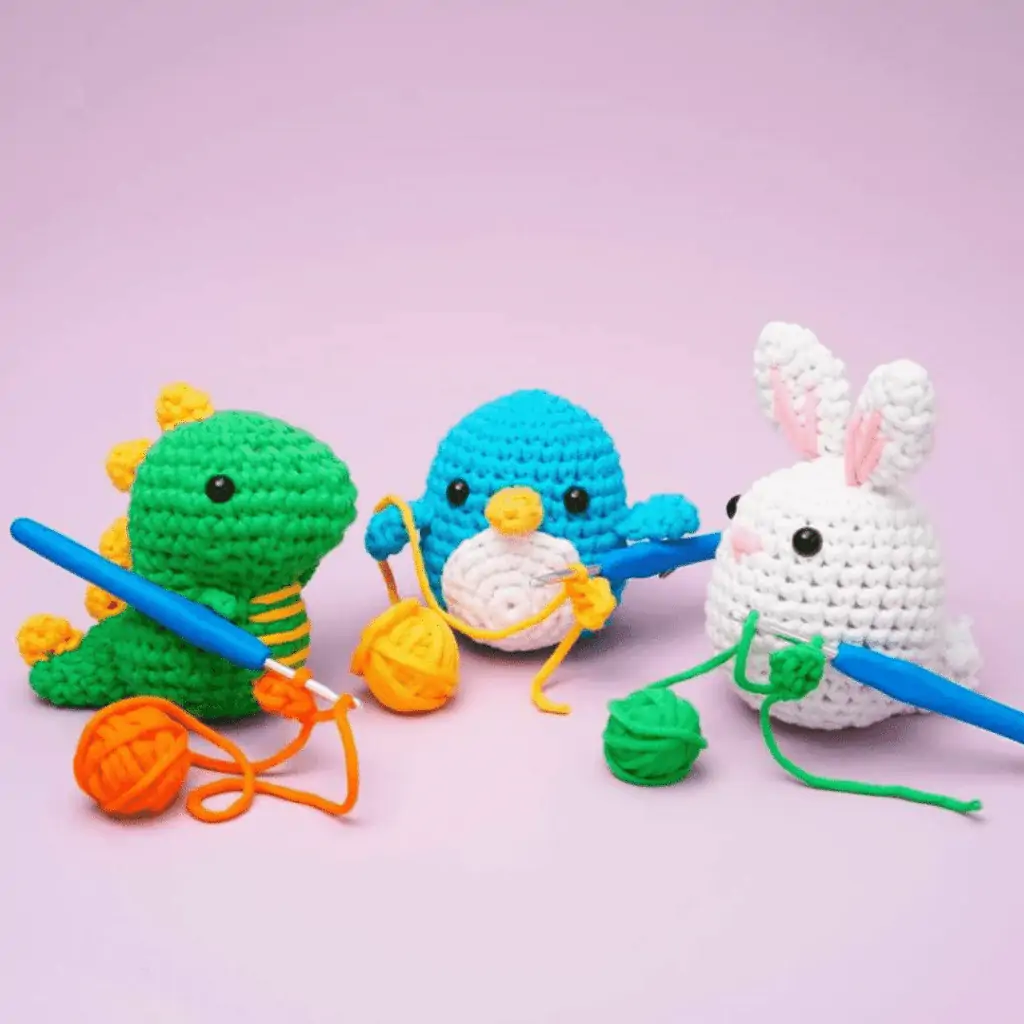 Finally, according to an interview with Justine in Modern Retail magazine, a large part of the early success of The Woobles also comes from the fact that: "We like to say on the outside, we look like a crochet company, but on the inside, we're actually a tech company. The reason why these kits actually work is because we spend a lot of time understanding the learning process and how people learn a new skill."
Currently, there are about 24 different Woobles kits available, and some of these are in limited editions.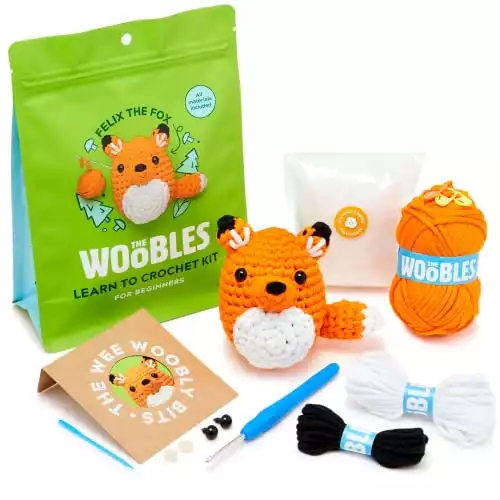 We earn a commission if you make a purchase, at no additional cost to you.
Before Shark Tank
The Woobles was started in July of 2020 when founders Justine and Adrian invested $200 to buy some yarn and a domain name.
They began by purchasing supplies at local craft stores and putting together each kit by hand. Soon, they were spending weekends working in their parents' homes making 1000 kits at a time. Putting the kits together by hand was a difficult, time-consuming process, taking up to 20 minutes per kit to assemble.
They started to source materials from China, but they continued to face challenges because while there was a two-month turn-around time to get the products from China, they were seeing demand for The Woobles kits doubling each month, so it was difficult to keep their kits in stock.
Despite these obstacles, Justine and Adrian, prior to their appearance on Shark Tank, managed to grow their $200 investment, which they made in 2020, into a business with total sales revenues of $5.3 million.
Shark love for The Woobles' founders
After learning of both their Duke University educational pedigrees and their heavy experience in finance and tech, the Sharks were clearly impressed with The Woobles' founders Justine Tiu and Adrian Zhang.
As soon as the power couple finished their pitch by asking for a $250k investment for 5% of their learn-to-crochet business, the Sharks also quickly discovered how they had grown the company from such humble beginnings to a multimillion dollar behemoth.
Upon hearing about this rocket-like ascent for The Woobles, several of the Sharks loudly exclaimed, "Wow," and they were all chomping to start asking questions about the business.
Mark Cuban jumped in first, asking about the landed cost and the retail and wholesale prices for The Woobles' products.
Adrian explained that the landed cost of a kit was $3.00 while their wholesale price is $15.00, and they sell the crochet kits at retail for $30.00.
Adrian also commented that: "90% of sales are direct to consumer, straight from our website."
With all of the direct-to-consumer sales, Cuban followed up by asking about their cost to acquire customers. Adrian told Mark that the company "spends about 20% of revenue on advertising and that their customer acquisition cost was about $16.00 on an average order of $57.00."
Adrian also added that the company's gross margin was 86% with a net margin of 32%.
These fantastic margins once again brought about loud exclamations of joy from the Sharks, and Robert Herjavec quickly jumped in to ask: "Why do you need $250k, you're killing it?"
Adrian had a strong response to this question when he said, "We're here for three reasons:
Licensing
Wholesale
Mentorship
When customers finish making a kit, they ask about specific characters like Baby Yoda and the Marvel characters."
After hearing this, Mark Cuban asked, "How did you arrive at your valuation?"
To Mark's question, Adrian quickly provided a smooth response: "We know that our valuation is very low because we are here to make a deal. We can learn so much from this group of people in this room."
Sharks swarm the cute crochet critters
Kevin O'Leary dives in first, telling the crochet couple that he can reduce their cost of acquiring customers to around 8-10%, and that he can definitely help with licensing. Mr Wonderful tenders the first offer of 250K for 10% equity.
Barbara Cocoran is next on the attack saying, "I'll give you $300K for the same 10%."
After Barbara, it's Lori Greiner exclaiming, "I love this! I'm gonna make you an offer. I'll go $300k for 10%. I understand all of this. I mean, I've been in this market so much."
Not wanting to lose the deal to Lori, Barbara Cocoran immediately responds with "350k for 10%."
There now seems to be a two-Shark fight between Lori and Barbara, as Lori sweetens her deal once again offering "300k for 8%."
In what appears to be a final offer, Barabara says, "Wait, I'll give you 350k for 5%."
Up to this point, The Woobles negotiation had already been one of the most exciting on recent Shark Tank episodes, but this deal was far from done.
"You guys are as Sharky as we are . . ."
Even with individual Sharks fighting over their company, Justine and Adrian were still not quite ready to close the deal.
Adrian asked Barbara if she'd consider adding another Shark. And Barbara Cocoran quickly pulled Mark Cuban into the deal.
Lori responded to this by saying that she could help them by herself, but then Adrian asked her if she would also be willing to team up with another Shark. So Lori quickly turns to Robert, who agrees to join her, and they offer $450k for 6% of the company, nearly doubling the original valuation which Adrian and Justine had requested.
After taking a few moments to discuss the offers, The Woobles' founders, in a very sharky move of their own, decide to come back to the Sharks and see if they can form their own dream team.
Adrian tells the Sharks, "Each Shark offers a lot of different value in different areas, and we think in the short term, where we can get the most help is with Mark and Lori."
Mark Cuban and Lori Greiner quickly dump their previous partners and form a new team, making a deal for $450k for 6%. The $7.5 million valuation made it the biggest deal of Season 14 so far.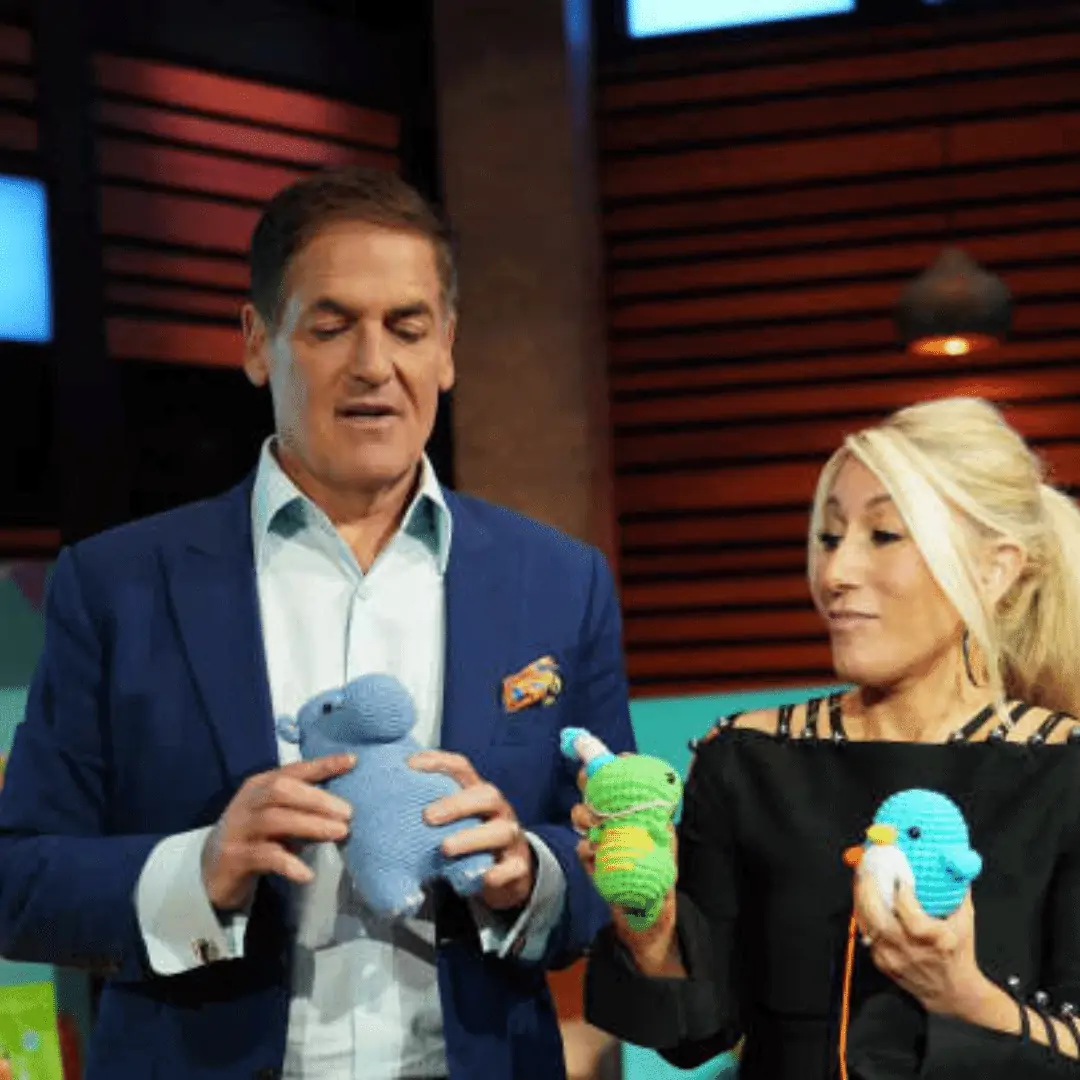 Barbara Corcoran was clearly not happy with Mark Cuban as she exclaimed, "My God, you threw me under the bus!"
Cuban responded to this by turning to Adrian and Justine to say, "You guys are as Sharky as we are!"
The Woobles Shark Tank update
It seems that The Woobles team was quite prepared for their Shark Tank episode, as just after the show aired, one could find that the company was just about to release a new book on Amazon: The Woobles Crochet Amigurumi for Every Occasion. The release date for the book was listed as October 11th, and presales showed that right after their Shark Tank episode aired, their new book had already achieved status as the #1 New Release in the Toy Making category.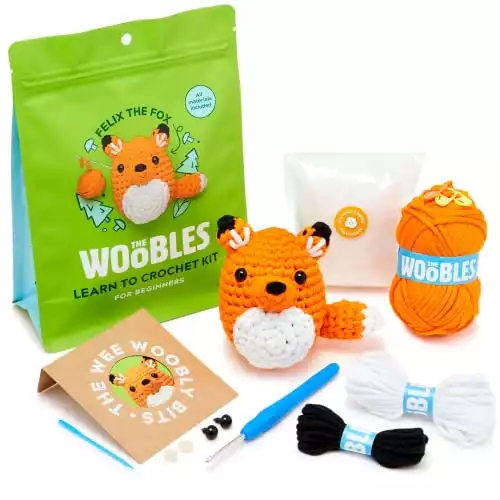 We earn a commission if you make a purchase, at no additional cost to you.
FAQs
What is The Woobles on Shark Tank?
The Woobles sell crochet kits to help you easily make your own plushies. The founders went on Shark Tank asking for an investment of $250,000 for 5% equity, valuing the business at $5 million.
Who founded The Woobles?
Adrian Zhang and Justine Tiu from Rockville, Maryland, founded The Woobles. 
When did The Woobles go on Shark Tank?
The Woobles appeared on Season 14, Episode 2 of Shark Tank. It originally aired on September 30th, 2022.
Did The Woobles get a deal on Shark Tank?
Yes, The Woobles secured an investment from Mark Cuban and Lori Greiner of $450,000 for 6% equity.
Who invested in The Woobles on Shark Tank?
Lori Greiner and Mark Cuban invested in The Woobles. Their investment of $450,000 for 6% equity was $200,000 more than the founders asked for, in return for just 1% extra equity.
What is The Woobles net worth today?
After securing a deal on Shark Tank, The Woobles was valued at $7.5 million.