Lori Greiner rarely gives out her Golden Ticket—in fact she only does it once per season. It's an effective tactic since it blows all the other Sharks' offers out of the water.
But in this case none of the other Sharks were interested, so why did she offer her prize so readily? What makes SwiftPaws so special, and how did the company get started? This SwiftPaws Shark Tank Update has all the answers.
What really convinced Lori Greiner to give Meghan her Golden Ticket?
Meghan Wolfgram, founder and CEO of SwiftPaws, Inc., ended up much like Charlie Bucket in "Willy Wonka and the Chocolate Factory." While there were no Oompa Loompas or candy in sight, Lor Greiner did present Wolfgram and SwiftPaws with a Golden Ticket of their own during Shark Tank Season 13, Episode 19.
Much like Charlie Bucket, Wolfgram was a peculiar choice to receive Greiner's Golden Ticket, which awards the lucky recipient a Shark Tank deal on the exact terms they asked for. Since Greiner only gives out one of these tickets per year, they are of course highly prized.
Normally, she only gives them out when the business is highly investible, or to beat out the other Sharks. But in this case, none of the other judges were interested in SwiftPaws, so what is it about Wolfgram's business that made Greiner want to give her a $240,000 investment for a 6% stake?
What is SwiftPaws Home and why did Lori buy a 6% stake in it?
SwiftPaws promises a fun time for both pet owners and their furry friends. The SwiftPaws Home product is a lure-coursing game for dogs that pet owners can set up in their backyards. Dogs constantly crave the attention that owners can't always give them, but with this interactive playtime toy, owners can easily give their dogs much-needed physical activity.
Meghan Wolfgram's wellness lifestyle brand promotes pet health by encouraging dogs to run after a flag through a course that helps them stay physically active, exercise, and also reduce destructive behaviors that result from a lack of energy or fun outlet.
Pet products such as these are often popular in the Tank, especially with Lori, as the success of Cat Amazing would prove in the very next episode.
The product features built-in safety features as well as a remote control for easy access. The main unit also comes with a tote bag for easy travel.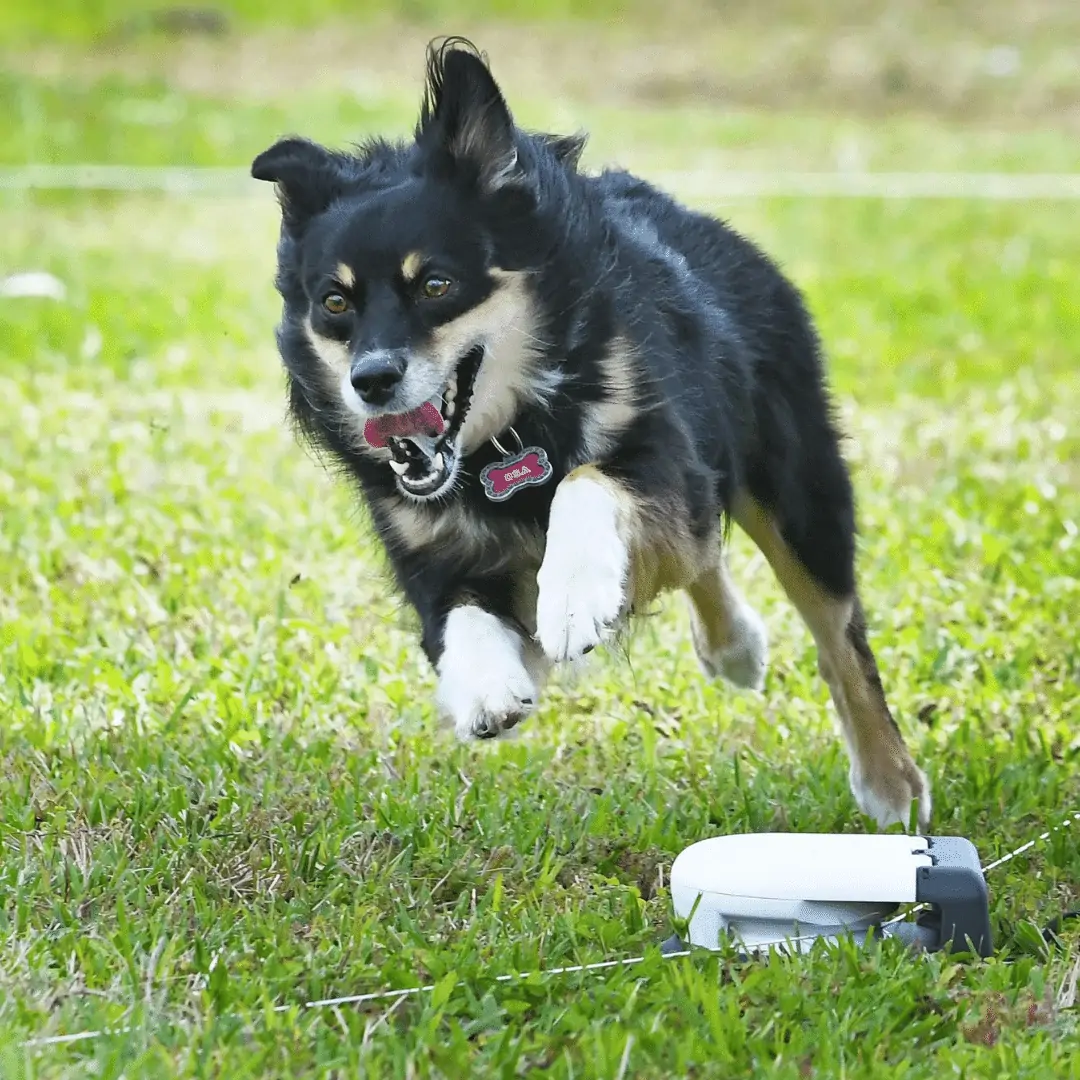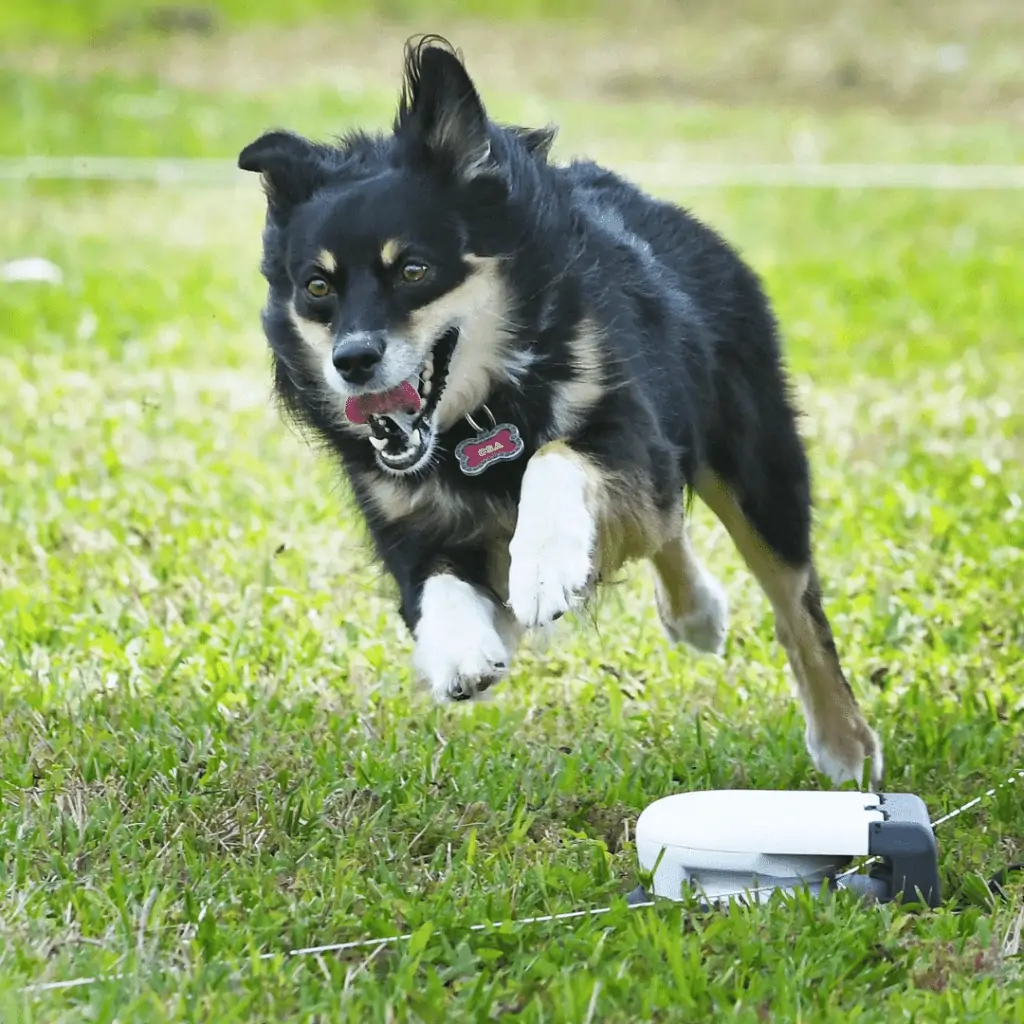 According to the SwiftPaws website, Wolfgram has imprinted the paws of her beloved dog Pretzel, who sadly passed away, on the bottom of every Home Unit and Field Pulleys products. It was this bond between owner and pet that later inspired Wolfgram's company.
Lori Greiner may have liked Wolfgram's product, but it was Wolfgram's journey as a self-made businesswoman that really won her over. Perhaps, that's what earned her Greiner's coveted Golden Ticket.
"Everything that you have done, you made it yourself," Greiner told Wolfgram on the show. "You did everything you could to make this work and you understand business… Really you are so impressive, and the product I think it's really phenomenal, and I think you can sell millions and millions of these."
She went on to explain the emotional reasoning behind her decision to give out the prize: "One time in a year I do something. I give away my Golden Ticket. I do it once a year to somebody I feel really deserves it. You really deserve it, so I am offering you my Golden Ticket, which means that I give you what you came in asking for."
The gesture earned chuckles from the other Sharks. For instance, Robert Herjavec remarked, "I was not gonna offer you that!" Kevin O'Leary suggested that Wolfgram's dog might eat the Golden Ticket before she could cash it in. But it was an emotional moment for Wolfgram, who fought back tears while thanking Greiner.
The genesis of Wolfgram's business is all thanks to Pretzel's memory and looks to help many dogs going forward. Wolfgram was excited to continue her mission with Greiner's assistance, but her quest actually started years prior.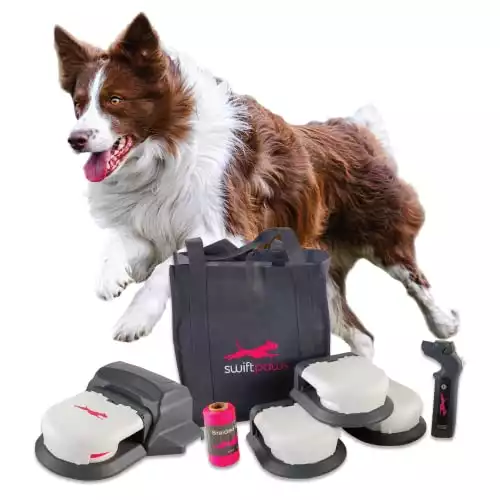 We earn a commission if you make a purchase, at no additional cost to you.
How did Meghan start SwiftPaws, Inc.?
The journey began when Meghan was a fresh college grad who was pursuing a degree in Economics from DePauw University. On one summer break she became immersed in dog sports. While she was participating in a dog agility competition, she discovered the sport of lure coursing with her own little dog named Pretzel. Unfortunately, she lost him when he was 14 and a half to kidney disease.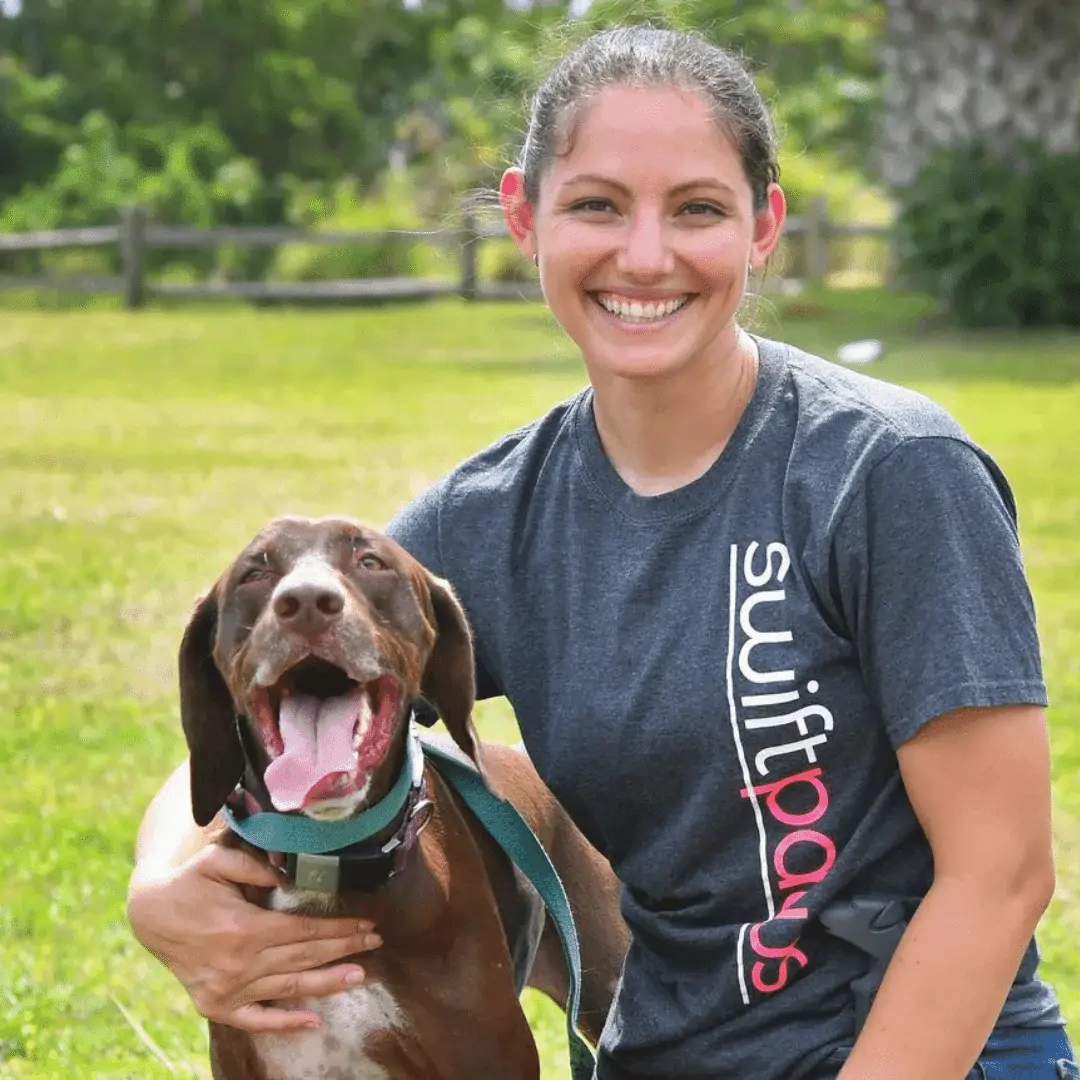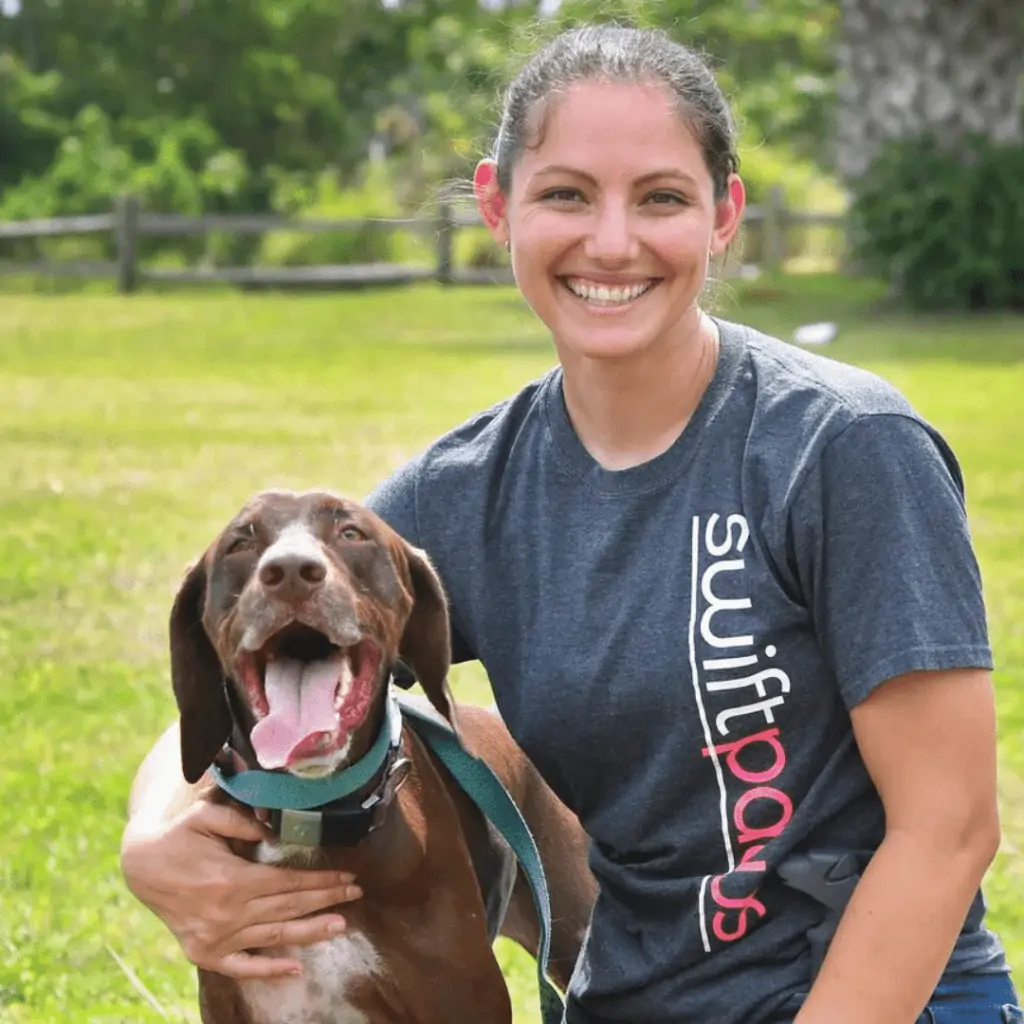 The event led her to get started with making pro-grade equipment in 2012 for lure chasing competitions. Meghan built the first one with her dad, and luckily, her new dog, Piper, loved it, and she also won praise from her friends from the dog agility competition. Soon after knowing it was a success, she filed for a patent.
She launched her product called The SwiftPaws Pro Alpha professional-grade equipment. The idea behind this was to facilitate a straight-line competitive sport where dogs chase flags. She designed the game in order to promote happiness and physical exercise for these small creatures.
In 2017, she went on a tour of the United States to pitch her product to her customers and win sales and their hearts by adding ease and convenience to their lives.
What was the breakthrough product for SwiftPaws?
While her product was popular among the competitive dog sports community, Meghan realized that all domestic dogs would enjoy playing it if given the chance.
The problem, however, was the price. Professional equipment typically costs over $2,500, but Wolfgram wanted to create a consumer-friendly version that would sell for around $500. In 2018, she therefore created and launched SwiftPaws Home, and started making sales for this product in 2019.
The price of the SwiftPaws Home unit kit that Meghan set was $449, and her cost of manufacturing came to around $135.
The Company's First Seed Round Prior to Swift Paws Shark Tank Pitch
As a blooming entrepreneur, Meghan Wolfgram conducted her first seed round in 2020. She did that on a convertible note with a $2.5 million cap,and raised $670,000. Not only this, but if her notes converted, she said she would be a 63% owner of the company.
Following that, SwiftPaws quickly made $750,000 of sales with SwiftPaws Home, and SwiftPaws' net worth stood at $1.5 million by the time she entered Shark Tank in search of a deal.
What do customers think about SwiftPaws Home?
Some customers find the price too expensive, and as a result some feel like they are not getting much value for their money despite liking the product.
Others need more convincing that it is worth the high investment. As one Redditor wrote, "This is one of those products that needs a demo at a dog park or something. I'd want to know my dogs will actually use it before I drop $449 or even $199 for it."
However, others absolutely love it and have no regrets about buying it.
On Amazon, one user wrote, "Overall we are really enjoying the product and our little Corgi loves chasing after the flags. That is until she gets tired and tries to cheat by sitting by the main motor unit."
Another user described their experience, "My dog LOVES SwiftPaws. We leave it set up on my lawn, and play with it two or three times a day." Yet another commented, "I was able to set this up in my long backyard and my dogs absolutely love this game."
While there seem to be mixed feelings and reviews about the product, we still see why Lori thought Meghan deserved a chance!
SwiftPaws Shark Tank Update
Once she was notified of her Shark Tank broadcast date, excitement began to build. Seeing SwiftPaws Inc. shining on the billboards with Piper, was a dream come true for Meghan.
To mark the moment when SwiftPaws would be introduced to the masses, Meghan participated in a live viewing party at the business incubator Groundswell Startups. The 200+ attendees were rewarded with investor Lori Greiner taking part in a live FaceTime call after the show to discuss the pitch.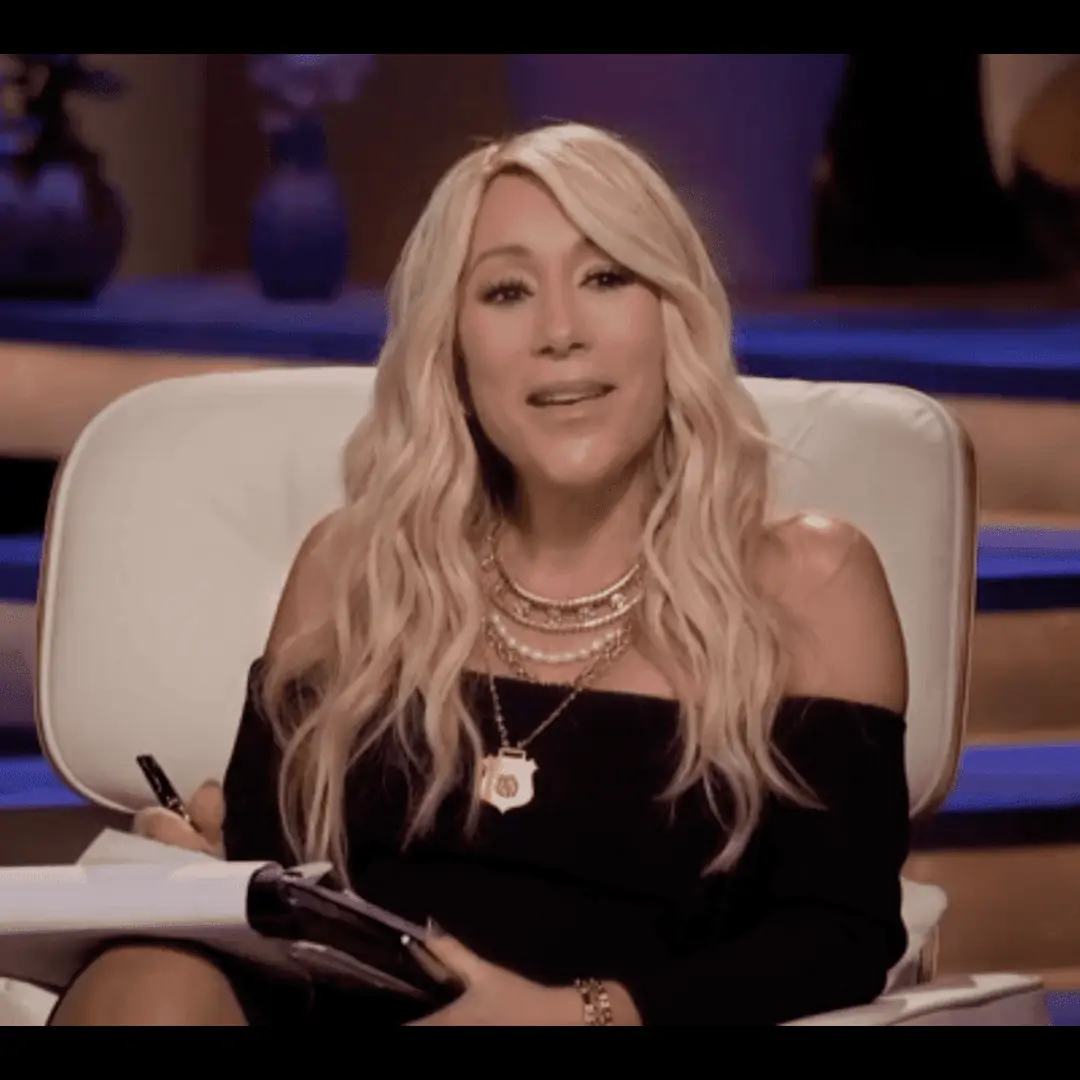 For Meghan, sales have definitely increased after the Swift Paws Shark Tank episode aired, as more and more people found out about the product.
Indeed, in early October 2022, the company revealed that it had already hit $1 million in revenue for this year, and that's before entering the holiday season!
We wish Meghan the best of luck with SwiftPaws. Seeing how Lori Greiner believed in her enough to award her the Golden Ticket, there is a strong chance that SwiftPaws will become the $100 million dollar company Meghan dreams of in the next two or three years. As the Sharks said, she just needs to optimize her manufacturing process and set her pricing right in order to make her mark in the lucrative pet industry.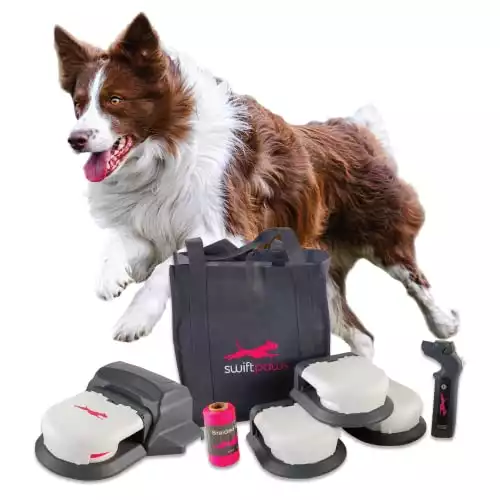 We earn a commission if you make a purchase, at no additional cost to you.
FAQs
What is SwiftPaws on Shark Tank?
SwiftPaws produces "capture the flag"-style dog toys. The founder went on Shark Tank asking for an investment of $240,000 for 6% equity, valuing the business at $4 million.
Who founded SwiftPaws?
SwiftPaws was founded by Meghan Wolfgram. The company is based in Melbourne, Florida.
When did SwiftPaws go on Shark Tank?
SwiftPaws featured on Season 13, Episode 19 of Shark Tank. The show originally aired on April 8th, 2022.
Did SwiftPaws get a deal on Shark Tank?
Yes, SwiftPaws made a deal with Lori Greiner for $240,000 for 6% equity, exactly the terms that the founder originally asked for. 
Who invested in SwiftPaws on Shark Tank?
Lori Greiner invested $240,000 for 6% equity. In fact, she gave Meghan Wolfgram her Golden Ticket, which is when she gives the founder the exact investment they come into the Tank asking for.
What is SwiftPaws' net worth today?
Sales boomed following SwiftPaws' Shark Tank appearance, so it's fair to say that the company is living up to Lori Greiner's valuation of $4 million. If the company keeps its current path, it is likely to be worth more very soon.