In 2020 Hug Sleep went into the Tank with Sleep Pod, an adult swaddling blanket that promises to help you sleep like a baby…literally.
But does it really help you get a good night's sleep? Did the entrepreneurs successfully attract a Shark? And what happened after Shark Tank? Here's everything you need to know.
What is Hug Sleep?
Hug Sleep is the company that produces Sleep Pod, a range of special blankets that swaddle adults and children so that they can—literally—sleep like a baby. In 2020, the founders took the Sleep Pod Classic into the Tank, hoping to attract a Shark or two to invest in their business.
How does Sleep Pod work?
Sleep Pod uses compression to apply a gentle, soothing pressure to your entire body to mimic the effect of being hugged. This in turn helps reduce anxiety, slows down your heart rate, and promotes deeper, slower breathing.
This is the principle behind deep touch pressure therapy, and is the reason why swaddling babies helps them fall asleep. Being tucked up nice and tight has a calming effect and makes you feel safe and secure.
Sleep Pod is made of a special four-way stretch material consisting of 89% polyester and 11% Lycra. This soft and smooth mix makes the blanket extremely lightweight and flexible.
This means no matter what creative dance moves you bust out in the middle of the night, the blanket will move with you and re-apply its gentle pressure once you've settled down (hopefully still on the mattress).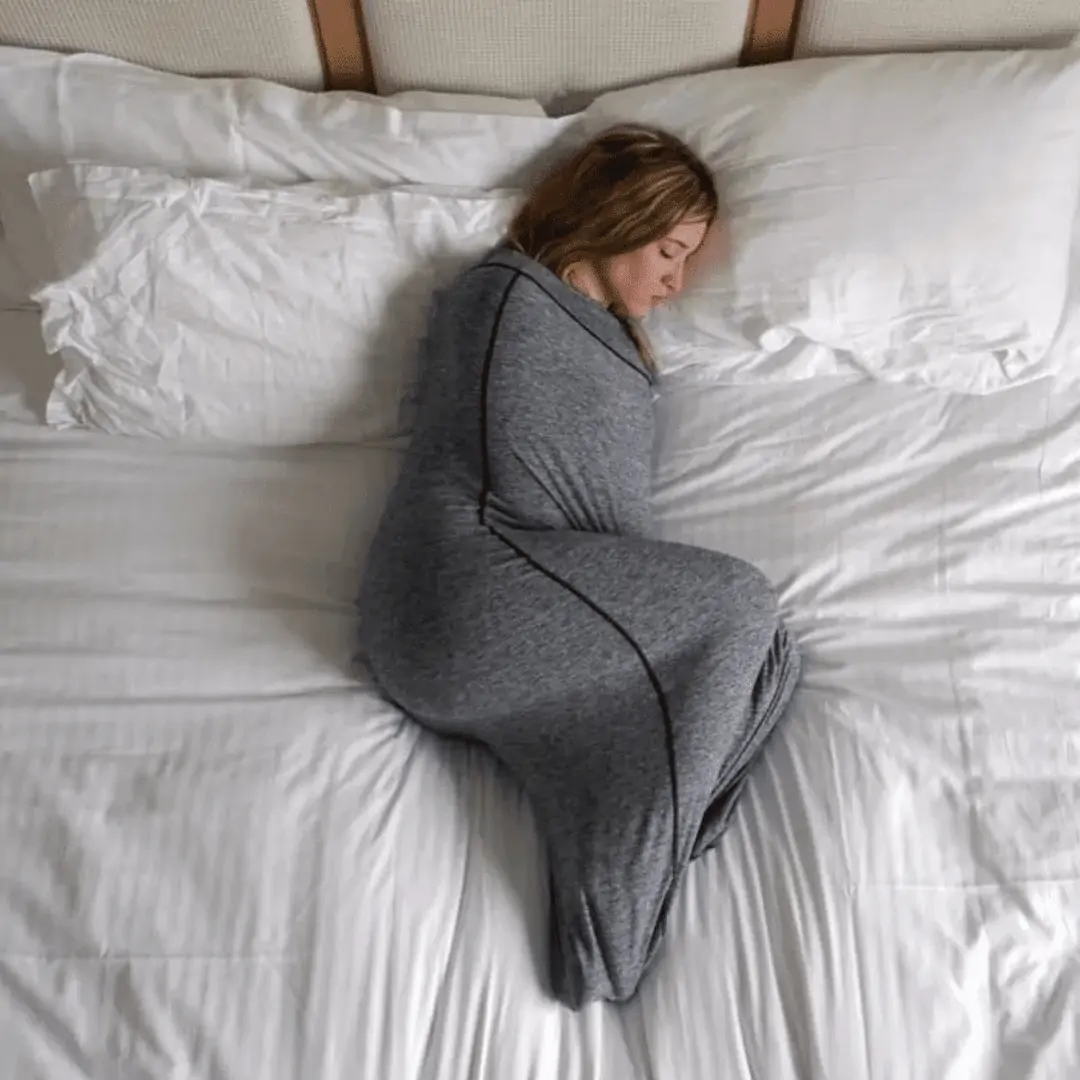 And because the blanket is shaped like a cocoon, it stays close to your entire body at all times. The cozy feeling that being swaddled gives you brings a whole new meaning to the phrase "snug as a bug in a rug."
It's also designed to help you stay cool, which is another advantage over weighted blankets. The material doesn't trap heat close to the body, thus reducing night-time sweats, and if you do feel too warm, you can always stick your foot out of the small pocket at the bottom to cool down.
Finally, it's practical too. The lightweight construction makes it handy for traveling, and it's machine washable.
Sleep Pod Move by Hug Sleep
Pros:
Swaddles you like a baby to help you fall asleep faster

Utilizes deep touch pressure therapy to mimic hugging effect

Cool, breathable, flexible, and machine washable
Cons:
Not the cheapest solution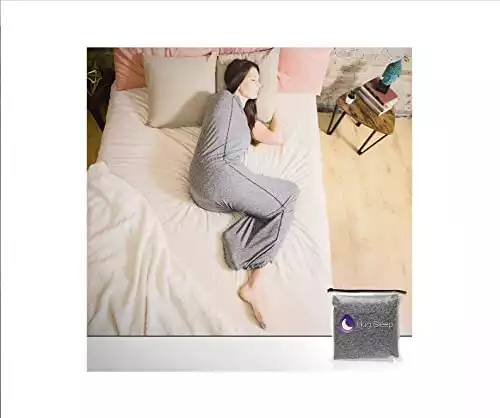 We earn a commission if you make a purchase, at no additional cost to you.
Sleep Pod Classic vs Move vs weighted blankets
Today, the product comes in two forms: Sleep Pod Classic, as seen on Shark Tank; and Sleep Pod Move, which has a strategically placed hole for your feet, enabling you to walk around. Each comes in multiple sizes.
The table below compares them side by side, alongside a weighted blanket.
Sleep Pod Classic: The original product. Uses compression to achieve deep touch pressure therapy for better sleep. Pocket for foot for temperature regulation. Comes in 3 adult sizes: Small, Medium, and Large.
Sleep Pod Move: Uses the same technology as the Classic to swaddle you like a baby. Design lets you take both feet out so you can walk around. Comes in 4 adult sizes (Small, Medium, Large, XL) and 2 children's sizes (Kids and Tween).
Weighted blanket: Achieves DTP through its heavy weight. Prices and sizes vary. Typically only the cover can be washed in a machine.
Does Sleep Pod work?
But how effective is Sleep Pod in reality? Does it really help you get a good night's sleep as the founders claim?
According to hundreds of sources, the answer to this is a resounding "Yes"!
I trawled through dozens of reviews from different websites, critically evaluating them all. Users consistently said the calming pressure of Sleep Pod helps them fall asleep faster and—just as important—stay asleep longer.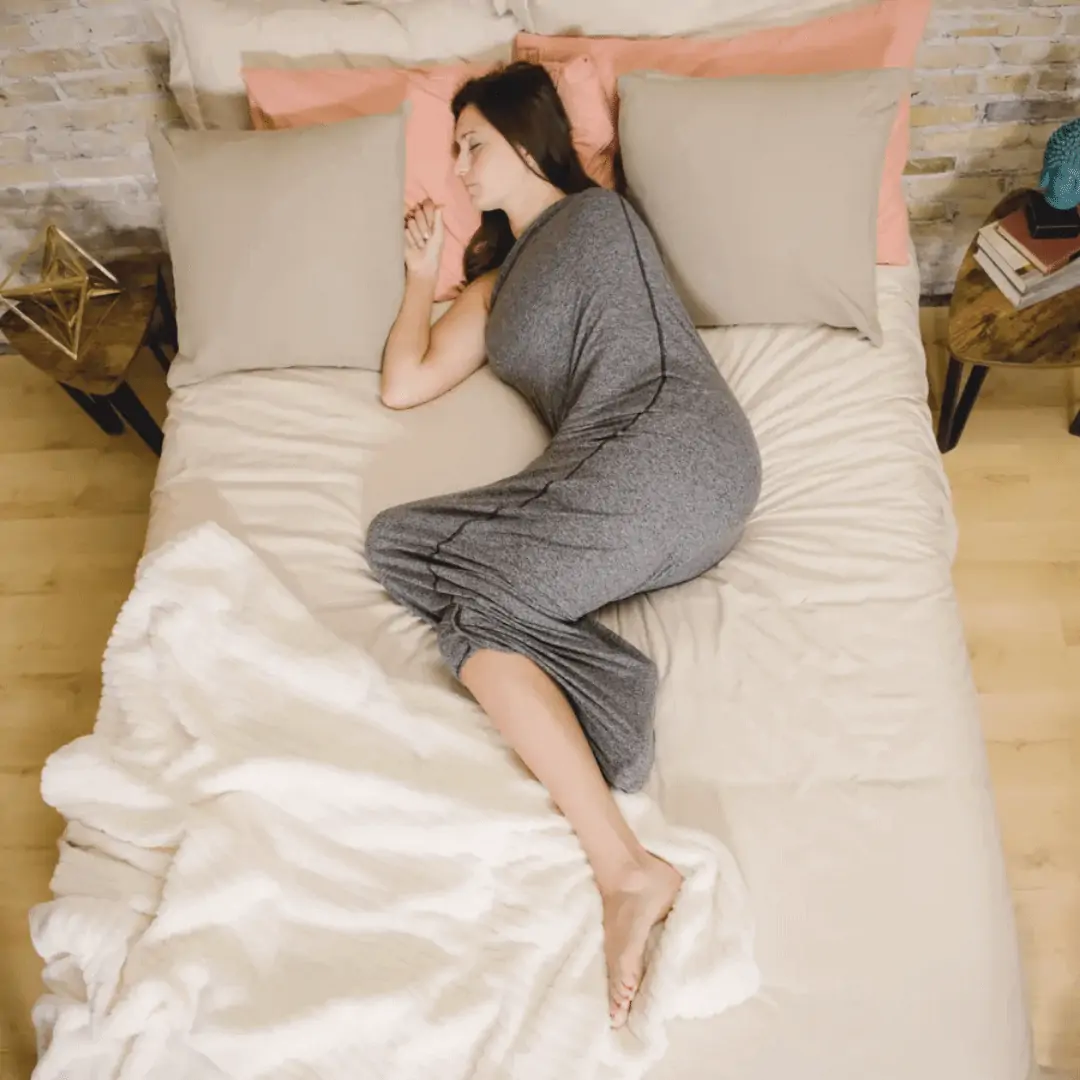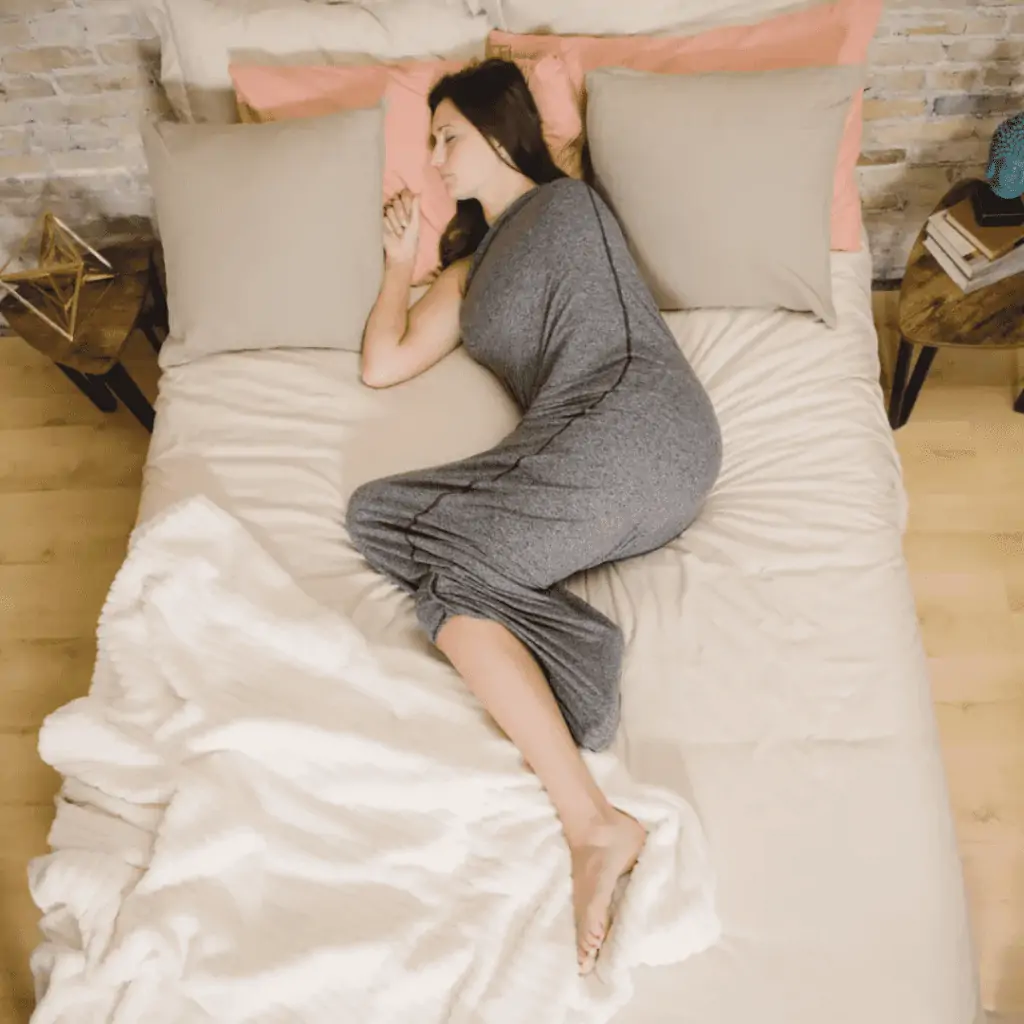 Not only that, many reported that the feeling of being hugged all night provides a sense of calm and lowers anxiety.
However, not everyone loves Sleep Pod. While the cocoon shape has its advantages, it can also feel restrictive to some. Others feel the blanket is too short, with the XL size barely reaching your chest if you're over 6' tall, or too thin, meaning you may still need something thicker on top in the colder months.
The negative comments underline the importance of buying from a store with an excellent returns policy like amazon, just in case it's not for you.
Having said that, the good reviews across the web overwhelmingly outweigh the bad. At the time of writing, the product averages 4 stars on amazon (over 1600 reviews).
Who owns Hug Sleep?
The company was founded by husband-and-wife team Matt Mundt and Angie Kupper. Both hail from Milwaukee, WI.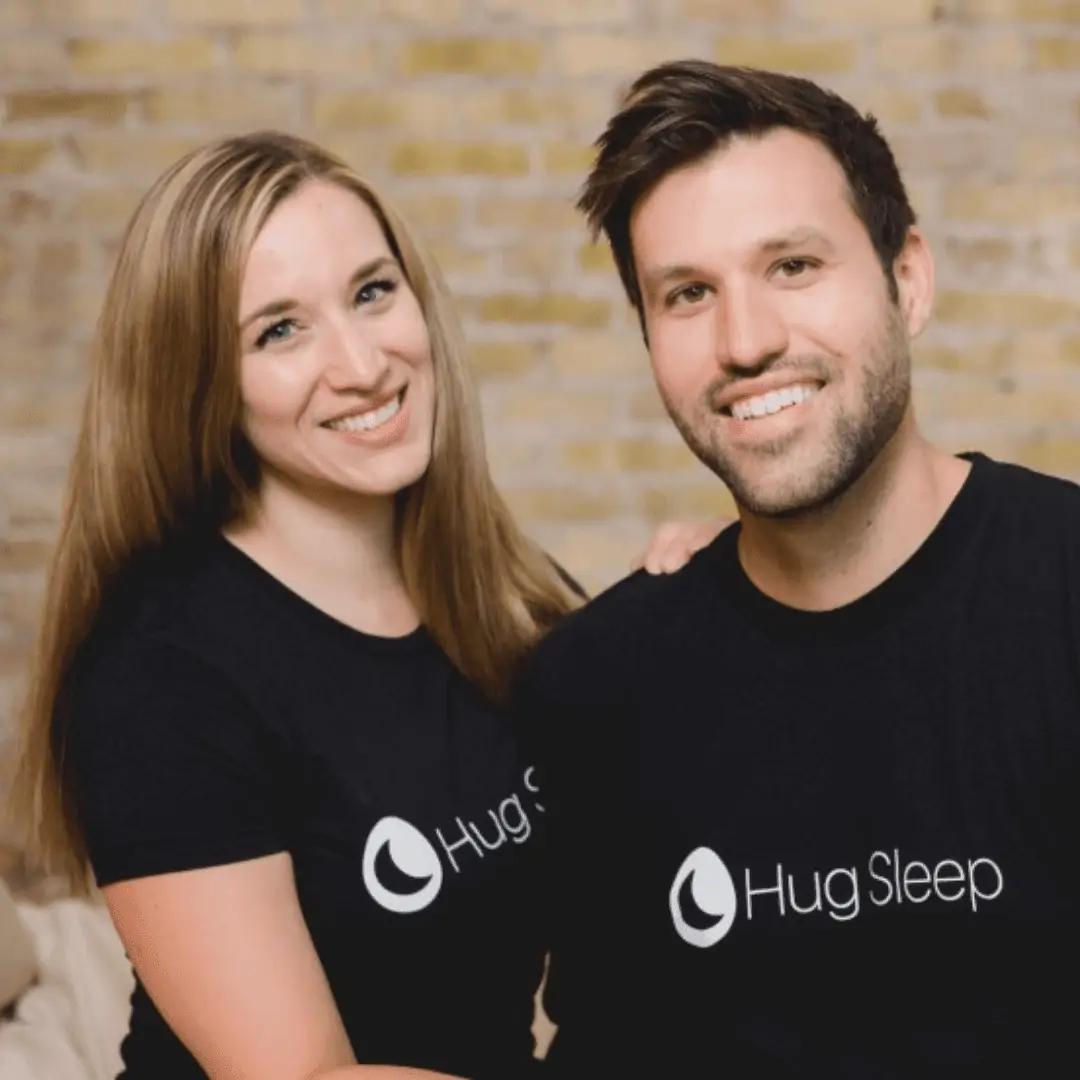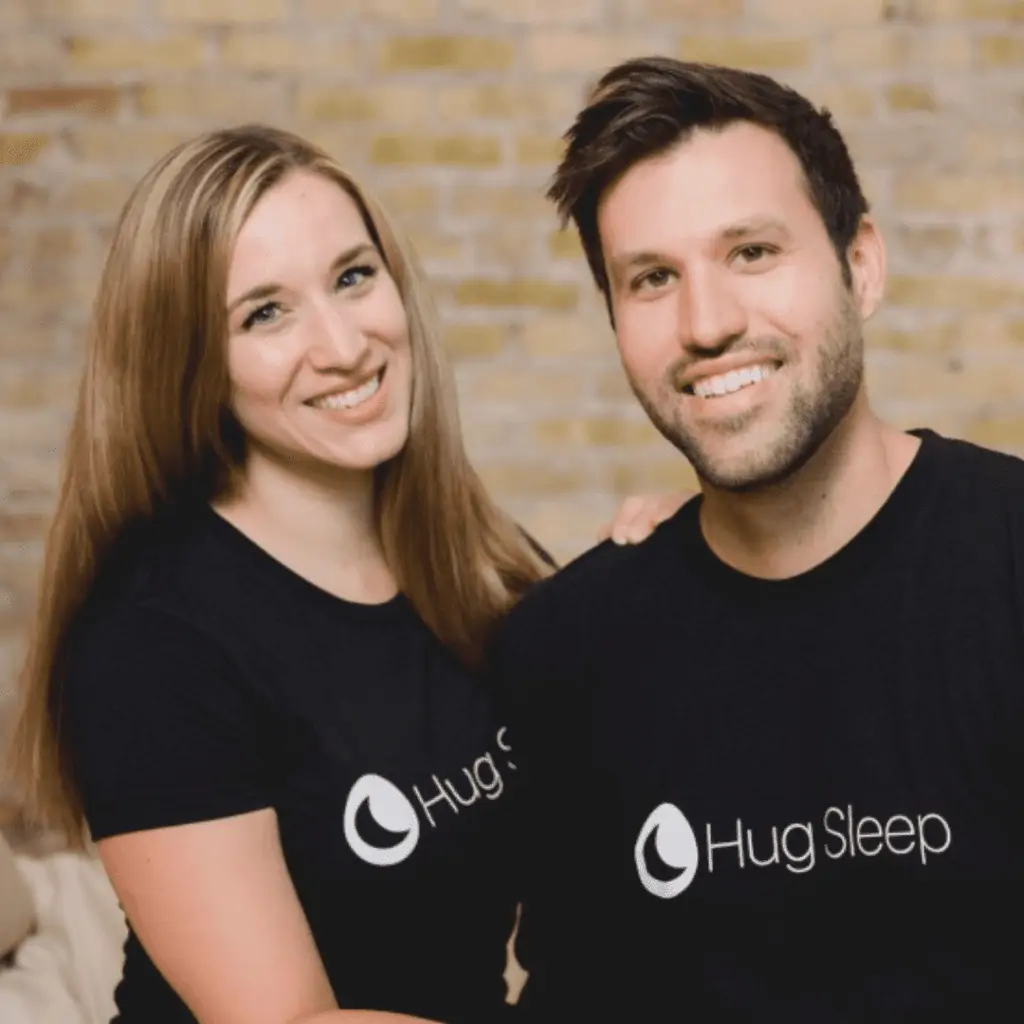 Matt has a Mechanical Engineering degree from the Milwaukee School of Engineering. After graduating, he embarked on a career in product design, which included spells at Apple and Harley-Davidson.
Angie studied Community Psychology at Alverno College, WI. After graduating she became a therapist and behavior specialist and works at a behavioral health hospital.
As such, she has first-hand knowledge of the beneficial effects of deep touch pressure therapy, which is a crucial factor in Hug Sleep's success.
Matt, like millions of Americans, had long suffered from insomnia and decided to do something about it. Putting his Mechanical Engineering degree and years of product development experience to good use, he set out to find a solution. The result of his efforts was the Sleep Pod.
Where is Hug Sleep manufactured?
All Sleep Pod blankets are made in the USA—in Brookfield, WI to be precise.
When did Hug Sleep go on Shark Tank?
Hug Sleep took the Sleep Pod onto Shark Tank in Season 12, Episode 3. The show first aired on October 30th, 2020.
Did Hug Sleep get a deal on Shark Tank?
Yes! The founders made a deal with Mark Cuban and Lori Greiner, who offered them $300,000 for 20% of the company, valuing it at $1.5M.
Matt and Angie's initial ask was for $150,000 in return for 10% of the company. The Sharks were impressed with their product and $490,000 in lifetime sales (16 months at the time). Not bad considering the whole company was bootstrapped for a measly $2,500!
As a result, all of the Sharks made them offers—a particularly impressive feat given that Robert Herjavec fell and cut his nose while trying out the product!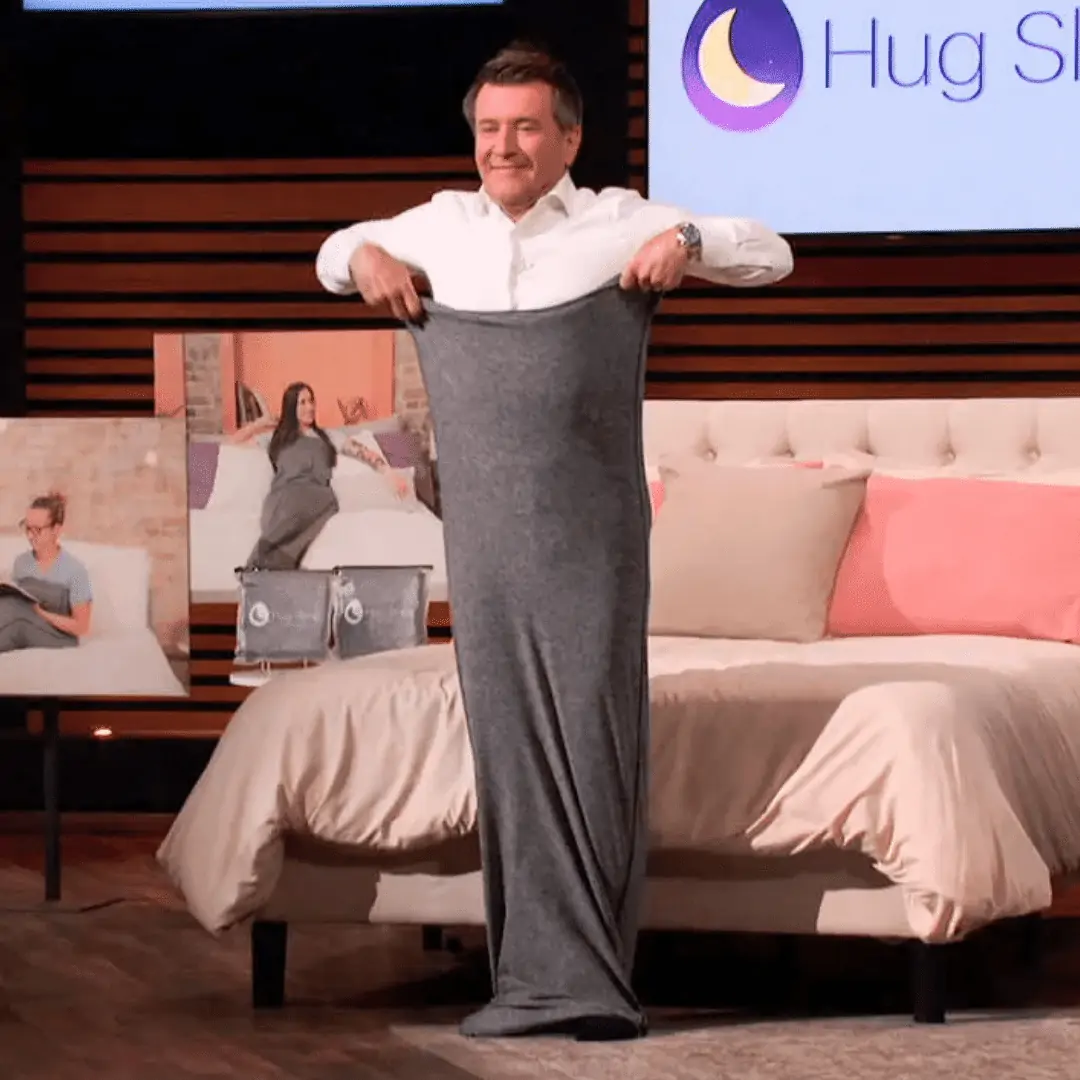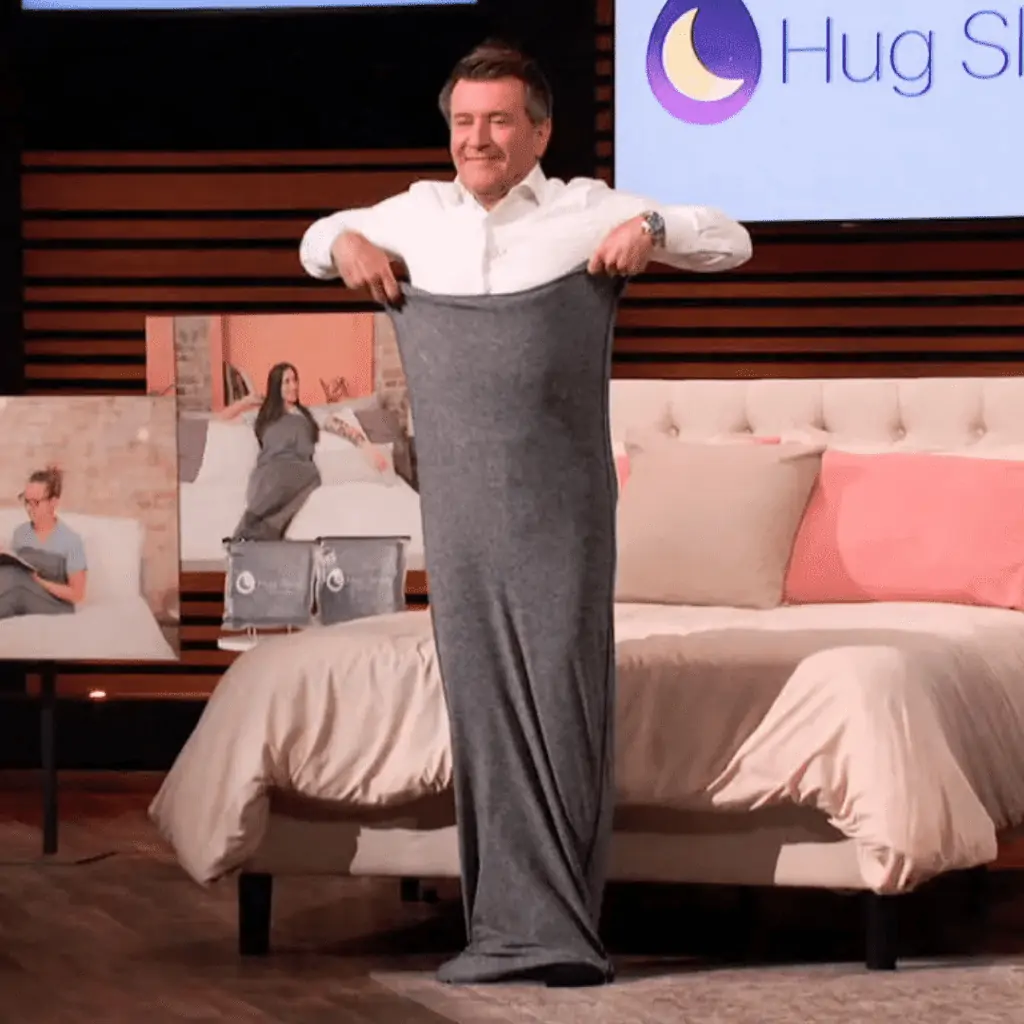 (To be fair, Matt did point out that Robert was doing everything they advised not to do, but still it was an ominous start to the negotiations.)
After some back and forth, the Sharks split into two teams: Mark Cuban and Lori Greiner on one, and Daymond John, Robert, and Kevin O'Leary on the other. Both teams offered the same deal: $300,000 for 20%, effectively agreeing with the founders' evaluation.
In the end, the couple accepted Mark and Lori's offer, and a new chapter in Hug Sleep's history began.
Check out Hug Sleep's pitch on Shark Tank:
What Happened to Hug Sleep after Shark Tank?
After the appearance on the show, sales of Sleep Pod skyrocketed. Matt and Angie were hoping to sell 3,000–4,000 units after it aired. In fact, they sold 25,000 within 24 hours.
As Matt said, "Something just magical happened, and the sales just kept coming and coming and coming."
In March 2021 they introduced the Sleep Pod Move and renamed the original blanket the Sleep Pod Classic. The new version makes it easy to move around and will reduce the risk of cuts and bruises, something that Robert will certainly appreciate!
Is Hug Sleep successful?
Yes, Hug Sleep is still going strong today. Sales continue to grow and it would be fair to say that the company is thriving.
To date, they have made over $6 million in sales from the U.S. and abroad, and it won't be too long until they hit the $10 million mark.
Sleep Pod Move by Hug Sleep
Pros:
Swaddles you like a baby to help you fall asleep faster

Utilizes deep touch pressure therapy to mimic hugging effect

Cool, breathable, flexible, and machine washable
Cons:
Not the cheapest solution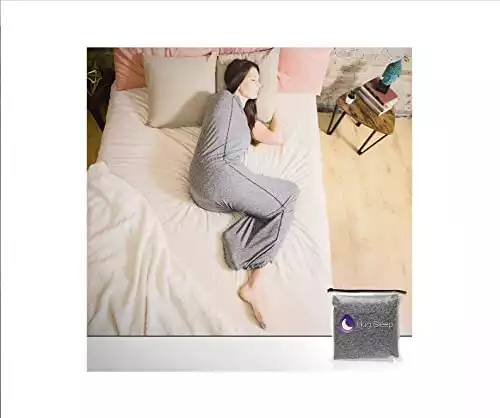 We earn a commission if you make a purchase, at no additional cost to you.