Amy and Marlo Leinbach, a mother-daughter inventor team, seek to create a buzz with their products which are designed to make life with kids easier both at home and on the go.
They pitched their company and products to the Sharks in Season 14, Episode 5 of Shark Tank alongside Plufl, Bridal Babes, and Pretty Rugged.
This Big Bee, Little Bee Shark Tank update takes a look at what happened to the company after its failure to get a Shark Tank deal and the stinging words given out to Big Bee.  
Big Bee, Little Bee: Who are the bees?
On the Big Bee, Little Bee website, company founder Amy Leinbach writes:
"We're a mommy-daughter, woman-owned, self-funded business. Together we invent, develop, and distribute all of our products ourselves—and we absolutely love it! We believe in the value of creativity. We love brainstorming and collaborating and tinkering."
Amy also says that the Bees love our beautiful planet, and that they do their best to minimize their environmental footprint. Amy believes that prioritizing the protection of the environment should start young, so they design products with both kids and adults in mind.
Founder Amy Leinbach: From teacher to Big Bee
Amy Leinbach grew up in the world of professional voiceovers and the jingles, first in New York City, and then in California. When she was very young, Amy was saying phrases like, "Silly Rabbit, Trix are for Kids!" on adverts.
Amy continued doing voiceovers as an adult while working on her teaching degree, and she attended Pepperdine University where she received an advanced degree in Education.
After graduation, Amy began teaching Special Education at the middle school level, and of her experience in the classroom, she says that: "I loved teaching, but the thing that I loved the most was helping a child break through a specific challenge."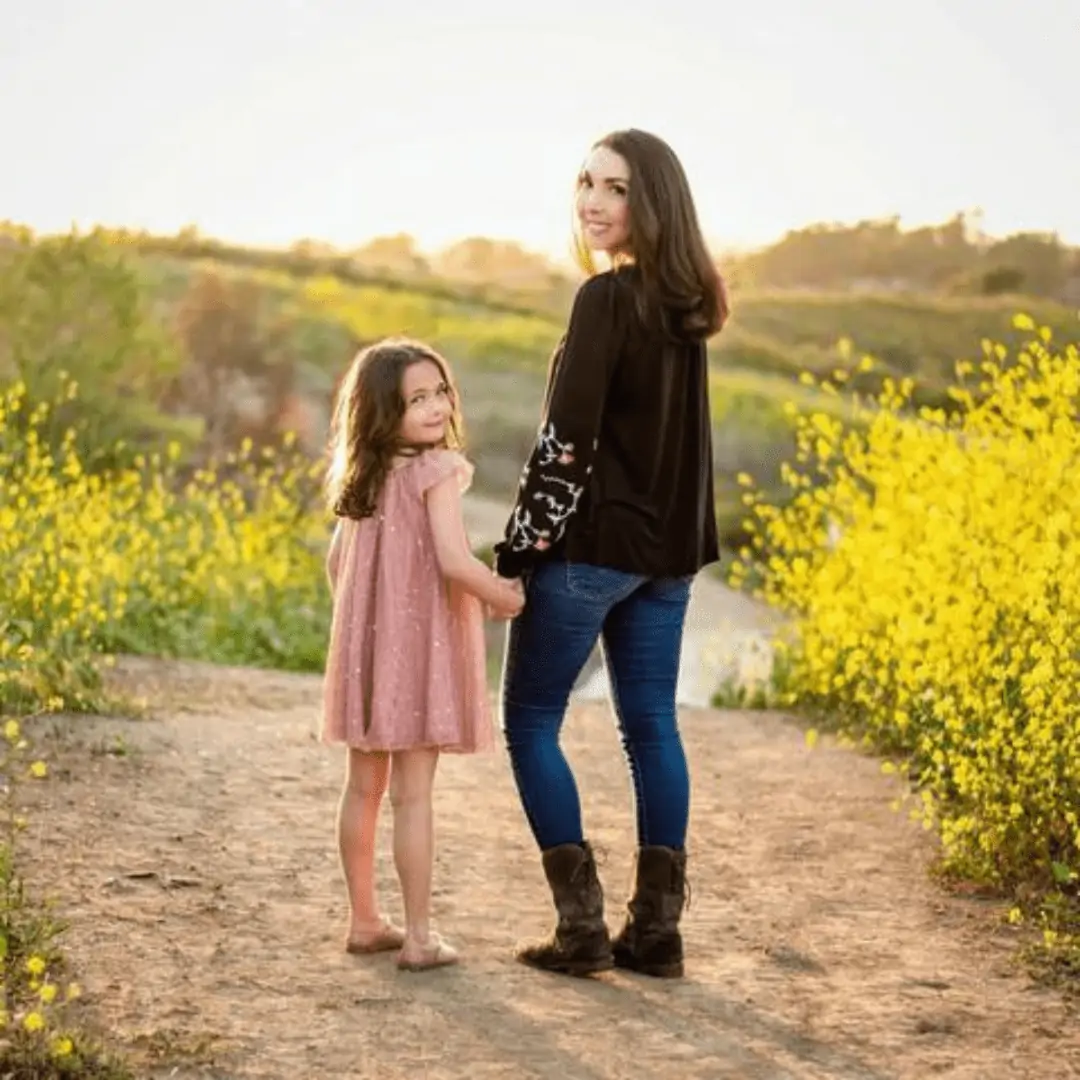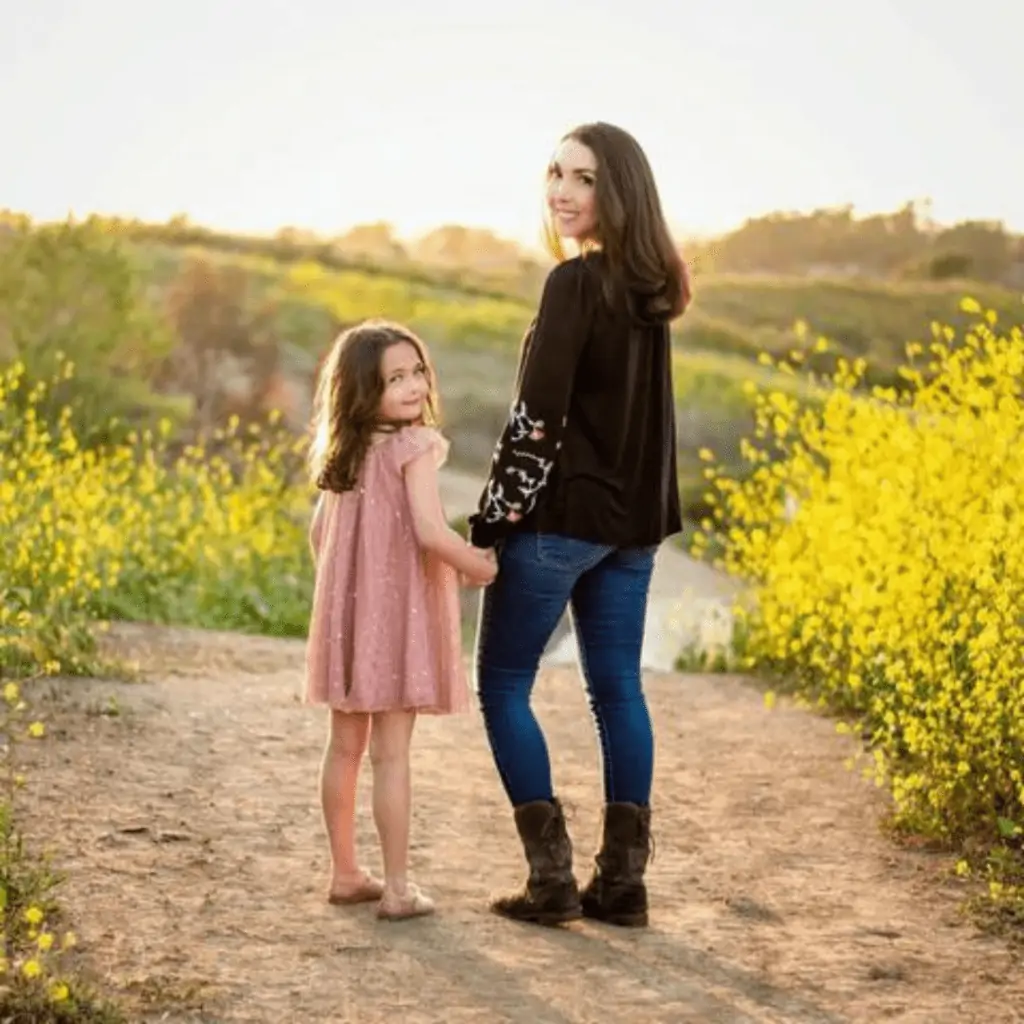 Amy went from teaching to educational consulting before she began her journey as inventor and product-based entrepreneur.
The Little Bee, Marlo Leinbach, kid inventor
On the Big Bee, Little Bee website, mom Amy tells us about her daughter Marla, the Little Bee:
"Marlo is an inventor, a student, and an all around beautiful human with the kindest heart. She has been honored with her school's citizenship award more than once. She loves digging for rocks, cooking, going to the farmer's market, and doing science experiments."
Like her mom, Marlo also does voiceovers from time to time. She has voiced a talking doll for Mattel, a young Bachelorette on Jimmy Kimmel Live, and a little girl in an upcoming feature film.
Of the Little Bee, her mom says, "She is my inspiration, my business partner, and my reason for everything!"
Marlo is also the inventor of Big Bee, Little Bee's newest product, The Marker Parker Coloring Organizer.
What's in the hive: Big Bee, Little Bee products
The newest product in their hive is The Marker Parker.
The Marker Parker was invented by the Little Bee. Tired of seeing her dried-out markers get thrown away and not replaced, six-year-old Marlo set out to find a way to keep track of her caps so she'd never lose one again. Her invention has since changed the game for herself and countless other creative kids.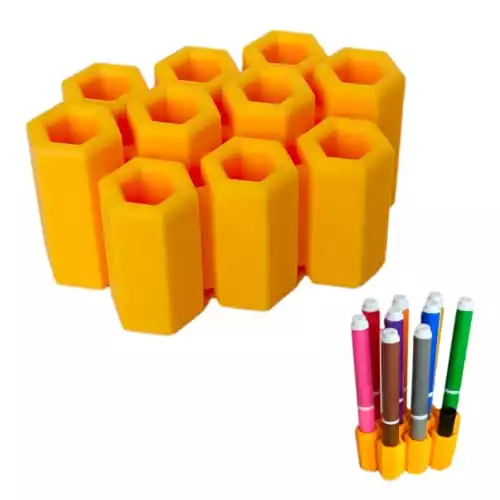 We earn a commission if you make a purchase, at no additional cost to you.
The Marker Parker Color Organizer helps kids who forget to put their marker caps back on or who let their markers roll out of sight.
The Marker Parker also helps kids to keep track of their markers while drawing, so mom and dad aren't left chasing down marker caps and throwing away dried-out markers.
Finally, The Marker Parker grips the marker caps, so kids can remove a marker without removing its cap. This clever invention makes sure that there are no more markers rolling onto the floor, and there are no more lost marker caps, and no more wasted, dried-out markers.
Next, what seems to be Big Bee, Little Bee's most successful product to date is the ScrubBEE silicone scrubber.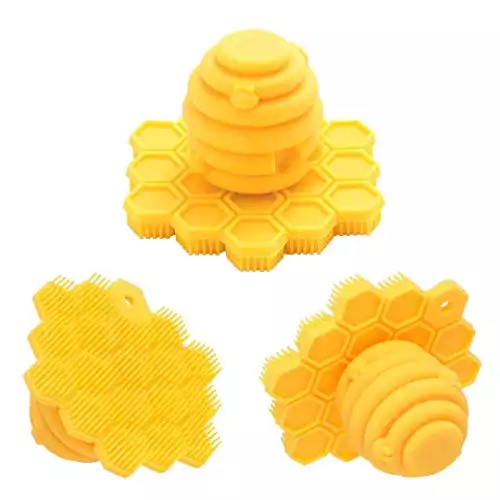 We earn a commission if you make a purchase, at no additional cost to you.
The original size ScrubBEE is designed perfectly for little hands and bodies, and grows with your little one.
It can be used to gently clean your baby's delicate skin and scalp, help your toddler or preschooler learn good hygiene in the tub and at the sink, and encourage your big kid to effectively scrub their dirty hands, body, and face.
Its solid handle doesn't trap water and its bristles rinse easily, keeping it clean from its surface to its core.
The Big Bee, Amy, found that for kids, flimsy washcloths were hard to grasp and flat silicone scrubbers can easily slip from their hands, so she created the patented beehive design of the grip which covers the entire handle, so your little ones can get a firm, secure hold.
Big Bee, Little Bee's third current product is the Build-A-Straw Easy-Clean Silicone Straw.
No more throw-away plastic straws when you're out with the kids, the Build-A-Straw will work whether your child chooses a tiny cup or a grownup cup, it helps them sip comfortably and safely.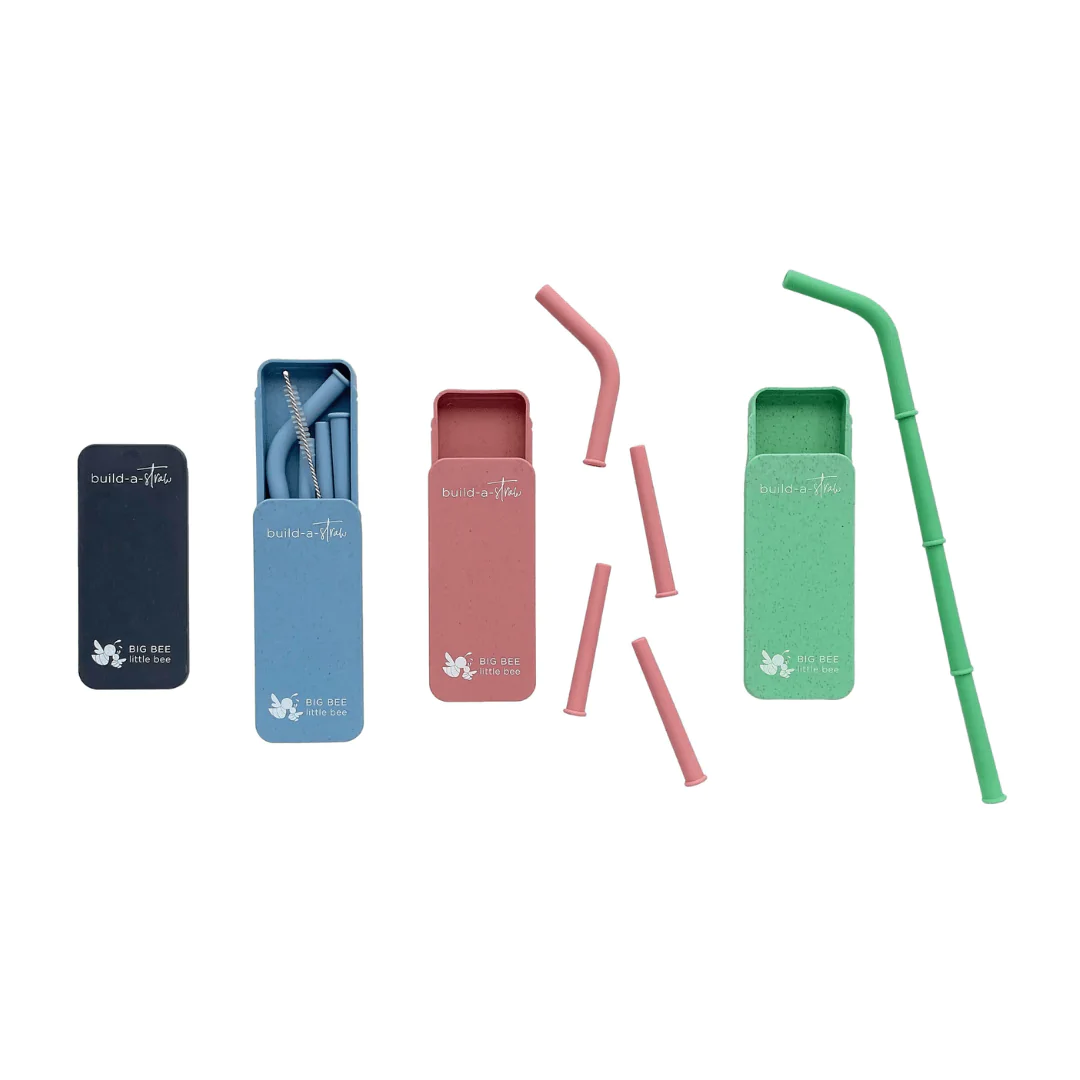 We earn a commission if you make a purchase, at no additional cost to you.
The completely unique straw allows the kids (and parents) to choose the best straw height to accommodate any size cup or bottle.
With some reusable straws, you have to worry about gunk building up inside a reusable straw, but this doesn't happen with Build-A-Straw. The detachable segments mean you can reach all parts of the straw, getting the inside just as clean as the outside.
Building the hive: Big Bee, Little Bee before Shark Tank
Big Bee, Little Bee Founder Amy Leinbach, in an interview with Starter Story, said that:
"The idea for the ScrubBEE came about when my daughter was about 2.5 years old and started to assert her independence."
Amy told Starter Story that Marlo was completely dressing herself, and she wanted to wash too. And Amy says that while she certainly wanted to empower her daughter, she also wanted her to get fully clean. At two-and-a-half, her daughter couldn't do much with a washcloth, she couldn't get a good grip on a floppy sponge, and the plastic loofahs were just too big to get in all her little parts.
When Amy couldn't find the right tool to help her daughter, she decided to make one.
Amy noted that the money for the prototypes, the mold, the samples, the patent application, the inventory, and everything else, was coming directly out of her pocket. If the product had tanked, it would have been painful for her. But ScrubBEE took off almost immediately, and customers were recommending it to friends.
When designing her most successful product to date, Amy told Starter Story that:
"Considering that our brand is Big Bee, Little Bee, I thought it could be fun to go with a bee theme. It turned out that a beehive made a beautifully shaped handle, and a hexagon pattern lent itself to an excellent bristle base. The lines in the beehive provide texture for a firm grip, and the spacing between the hexagons allows the bristles to move freely."
Amy says that things were not always smooth sailing for the launch of the ScrubBee, as the arrangements she had made with the first factory she engaged didn't work out.
At the end of 2020, Big Bee, Little Bee appeared on both Good Morning America and The View. And their products were picked up in all of the buybuyBaby locations across North America. Big Bee, Little Bee also quadrupled the number of independent retail partners who now carry their products.  
Big Bee, Little Bee on Shark Tank: Some stinging comments
Mother-daughter inventor team Amy and Marlo Leinbach enter the Tank asking for $100k in return for 20% of their company, Big Bee, Little Bee.  
Little Bee, Marlo, begins their presentation by explaining how she came up with the idea for their newest product, her solution to lost caps and dried out markers, The Marker Parker.
Guest Shark Emma Grede, CEO of Good American, asks the first question in the Tank: "Can you use any markers?"
Amy, the Big Bee, explains that currently The Marker Parker only works with broad-tip markers, but they were working on a model which would hold fine-tip markers as well.
Mr. Wonderful, Kevin O'Leary, tells the Bees, "Amy, it's an elegant solution. I get it, but what stops the marker manufacturer, having seen this, from doing it themselves?"
Amy tells O'Leary that they filed for a provisional patent back in November.
Next, Robert Herjavec and Lori Greiner want to know both the retail price and landed cost for The Marker Parker.
Amy tells the Sharks that The Marker Parker sells for $15.00 and that their landed cost is $2.71.
The Sharks all seem to be quite pleased with the margins available here.
Guest Shark Emma Grede follows up, "So Amy, how are you selling these at the moment? How are you marketing them?"
This question from Emma Grede seems to call for a fairly simple answer, but it is at this point in the presentation that the Big Bee complicates matters by introducing a range of other products.
Amy tells Emma, "Big Bee Little Bee is a business that we started about six years ago, and it just started as a towel that I invented for Marlo as a baby."
Amy now asks her daughter, Marlo, to share some of their other products. Marlo then describes their silicone scrubber, the ScrubBEE, to the Sharks.
After hearing this, Robert points to other items on the Big Bee Little Bee display and then asks, "So do you make the straw, too?"
Amy tells Robert that "yes, that's the Build A Straw. It's completely unique in that when you take it apart, it's super easy to clean."
The Sharks now look a bit confused as Amy and Marlo keep coming up with additional products that the company produces and sells.
Guest Shark, Emma Grede, steps in again to try to sort out this collection of Big Bee, Little Bee offerings.  
She says, "So Amy, obviously, you have a lot of products in the company. What's the hero product? What are you selling, and how much of it are you selling?"
Amy tells Emma, "Our hero product has been that little silicone scrubber. So last year, we did $230k worth of sales, but the scrubber is our main product."
Robert wants to know what percentage of sales the scrubber represents, and Amy tells him, "like 80%, but that's with losing all inventory in the second half; it has been unbelievably difficult with quality issues and the manufacturing supply chain."
Robert presses to find out, "On your sales last year, did you make a profit, or did you lose money?"
Amy tells Robert that they had a gross margin of $97k, but their net profits were only $2200.
Amy also let the Sharks know that this year to date, Big Bee, Little Bee has had $110k in sales, and that they did not have the ScrubBEEs in the first half.  
Amy goes on to say, "I have lost a fortune this year, so right now, I'm down $77k."
Amy explained to the Sharks that the company was losing money primarily because she really wanted to invest in The Marker Parker, her daughter's new invention. Amy explained that her parents had helped her to achieve her dreams, and she wanted to do the same for her daughter.  
The Sharks begin to drop out
At this point, Kevin O'Leary had heard enough, and after he complimented the seven-year-old Little Bee for coming in and holding the floor, he also explained to Amy that: "I look to take my capital and pour it on a working business model . . . this has a lot of problems in it right now."
Amy spoke up and asked O'Leary, "May I challenge you for a second please."
Mr. Wonderful replied by simply saying, "I want to get to a place here. I'm out."
Amy, surprisingly, then tells O'Leary, "I think you're gonna wanna take that back; this is what's next."
Marlo then proceeds to show the Sharks yet another new product, a silicone food container.
Mark Cuban can't stay silent any longer:
"Guys, let me jump in real quick here. One of the great traits of any good entrepreneur is resilience, and you certainly have shown that, but you also have venturitis, which is one of the worst traits an entrepreneur can have because you lost $77k; you've got to solve the problems that are in front of you first."
Lori Greiner now has her say, "I completely love you teaching your daughter to think big and how to be creative. At the same time, when you come up with an idea, you perfect it. You make that one product a huge success, then you go on to the next. I think you have just overextended yourself in every way."
Guest Shark Emma Grede is next:
"I really admire what you've done. It warms my heart. I do think you've probably overextended yourself a bit. There are so many products in this brand that I don't quite understand what you stand for."
Robert is last to speak, and it is obvious that he likes the Big Bee, Little Bee team.  
He tells them, "Marlo, I have 4 year old twins, and they love to draw. They would love something like this." He goes on to say, "Amy I was going to make you an offer until you started showing us more products. I think, you know, when you're really small, you have to be laser focused."
With Robert out, the Big Bee and Little Bee had to leave the Tank without a deal, perhaps having learned the lesson that in business, less is sometimes more.
Big Bee, Little Bee Shark Tank update
Just a few days after the Big Bee, Little Bee episode aired, Amy Leinbach appeared on Super Entrepreneur Joe Pardo's YouTube program.  
Amy told Pardo that she was doing well, and that since the episode aired, she has been filling orders all day for the past few days.
Amy also told Pardo that she really wanted a deal with Kevin O'Leary, and she knew that he might see her as a liability, but she had hoped that he would see the value in the product.
On the program, Amy tells Pardo, "I wanted O'Leary because I didn't know anything about the world of licensing, but I know a bit more now, hint, hint, hint. I just can't say anything right now."
Amy also mentioned that Marlo really wanted Robert, so when Robert went out, she misted up.
Finally, Amy related that when she left the Tank without a deal, "I spent about three days on my couch crying. I wanted the guidance and coaching. I wanted a deal."
Since Amy alludes to a licensing deal that she is working on now, even without a deal in the Tank, the Bees may get a little bigger yet.   
FAQs
What is Big Bee, Little Bee on Shark Tank?
Big Bee, Little Bee produces numerous products promoting kids' play and health. The company went on Shark Tank asking for an investment of $100,000 for 20% equity, valuing the business at $500,000.
Who founded Big Bee, Little Bee?
Big Bee, Little Bee was founded by mother-and-daughter team Amy and Marlo Leinbach from Ashley and Huntington Beach, CA.
When did Big Bee, Little Bee go on Shark Tank?
Big Bee, Little Bee appeared on Season 14, Episode 5 of Shark Tank. It originally aired on October 21st, 2022.
Did Big Bee, Little Bee get a deal on Shark Tank?
Unfortunately, Big Bee, Little Bee was unable to get a Shark Tank deal.
Who invested in Big Bee, Little Bee on Shark Tank?
None of the Sharks present saw enough value in the company to make an offer.
What is Big Bee, Little Bee's net worth today?
The founders valued Big Bee, Little Bee at $500,000 but none of the Sharks bit. Following its appearance on the show, however, there is evidence that the company enjoyed an uptick in sales so perhaps the business is close to that evaluation today.