Copper Cow Coffee is a line of pour-over Vietnamese coffee bags.
But what do the Sharks think of the at-home Vietnamese coffee idea? Do any Sharks agree with the company's valuation? And does Copper Cow Coffee leave the Tank with a deal? Read all about it in our Copper Cow Coffee Shark Tank Update.
What is Copper Cow Coffee?
Copper Cow Coffee is a line of pour-over Vietnamese coffee bags that come in five different flavors. Each flavor is made with sustainably sourced dark-roasted coffee beans to give you a perfectly brewed cup of Vietnamese coffee in just 90 seconds.
To brew a cup of Copper Cow Coffee, you simply take the pour-over bag out of the package, slot it over your favorite coffee mug, and pour hot water directly onto the grounds. After 90 seconds, the water will have seeped through all the grounds, leaving you with a tasty cup of coffee.
Additionally, Copper Cow Coffee has bags of ground coffee, single-serve sweetened condensed milk creamers, and tea drops to make chai, matcha, or Thai tea.
The original single-serve pour-overs, which retail for $16 per 8 bags, come in churro, lavender, classic black, salted caramel, and vanilla flavors, as well as there being a decaf option for those who drink coffee simply for the taste. There is even a subscription service, so Copper Cow Coffee can deliver your coffee every month for your convenience.
Who created Copper Cow Coffee?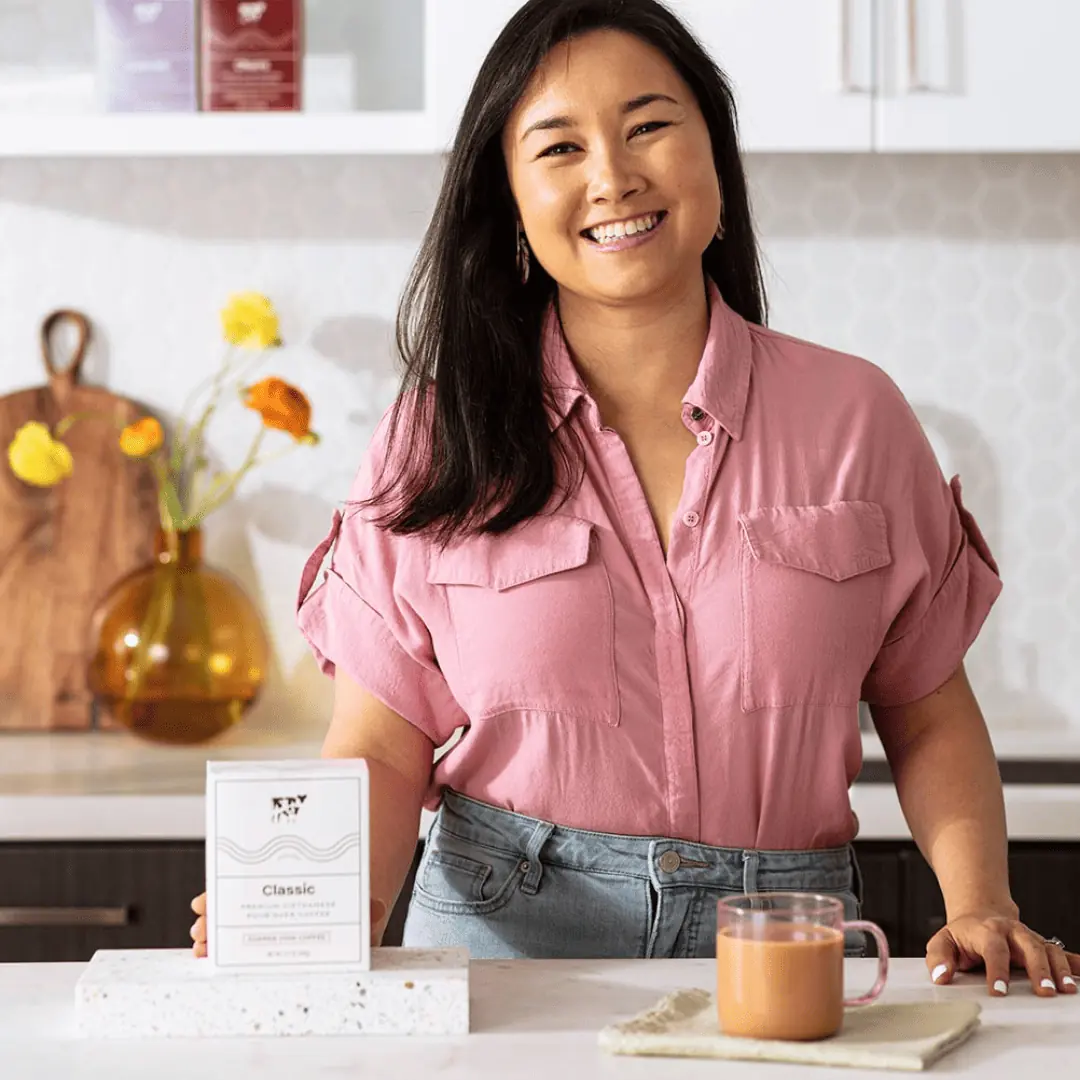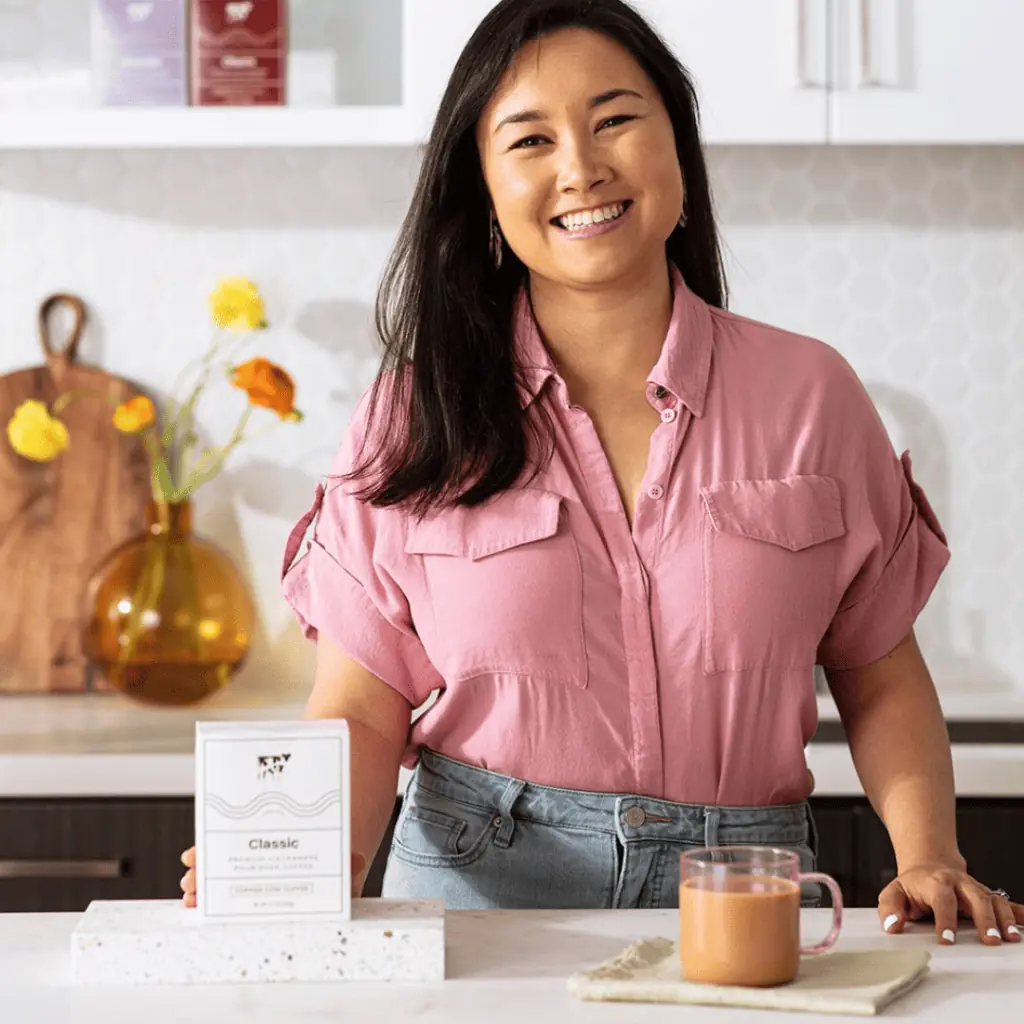 Debbie Wei Mullin from California created Copper Cow Coffee in 2017. After previously attending MIT and Berkeley, Debbie went on to secure a job in finance supply chain management at the World Bank. Despite her love for her job, Debbie wanted to do something more creative, so tuned into her Vietnamese heritage and created Vietnamese coffee pour-over kits as a side gig.
Packing a bag full of samples, Debbie went door to door, handing out her coffee to stores in order to grab their attention. Within no time, Copper Cow Coffee was being sold in 30 stores, and the demand for the sustainable robusta and arabica coffee bags grew and grew.
What happened to Copper Cow Coffee before Shark Tank?
Before Shark Tank, Copper Cow Coffee had made $4 million in total sales with 70% profit margins, however, Copper Cow Coffee was yet to break even.
In 2017, when Debbie was just getting started, she took her single-serve pour-over coffee bags to the Fancy Food Show, where she was chosen as the innovation of the show. This recognition led to the coffee kits being stocked in over 1000 stores and the sales from her first year amounting to $170,000.
In the years following, Copper Cow Coffees sales raised significantly, to $500,000 in 2018, $1.6 million in 2019, and $2 million in 2020.
Despite 80% of Copper Cow Coffee sales being made online, Debbie had lost a fair amount of money over the years, as well as a 60% stake in her business due to previous fundraisers.
What do customers think of Copper Cow Coffee?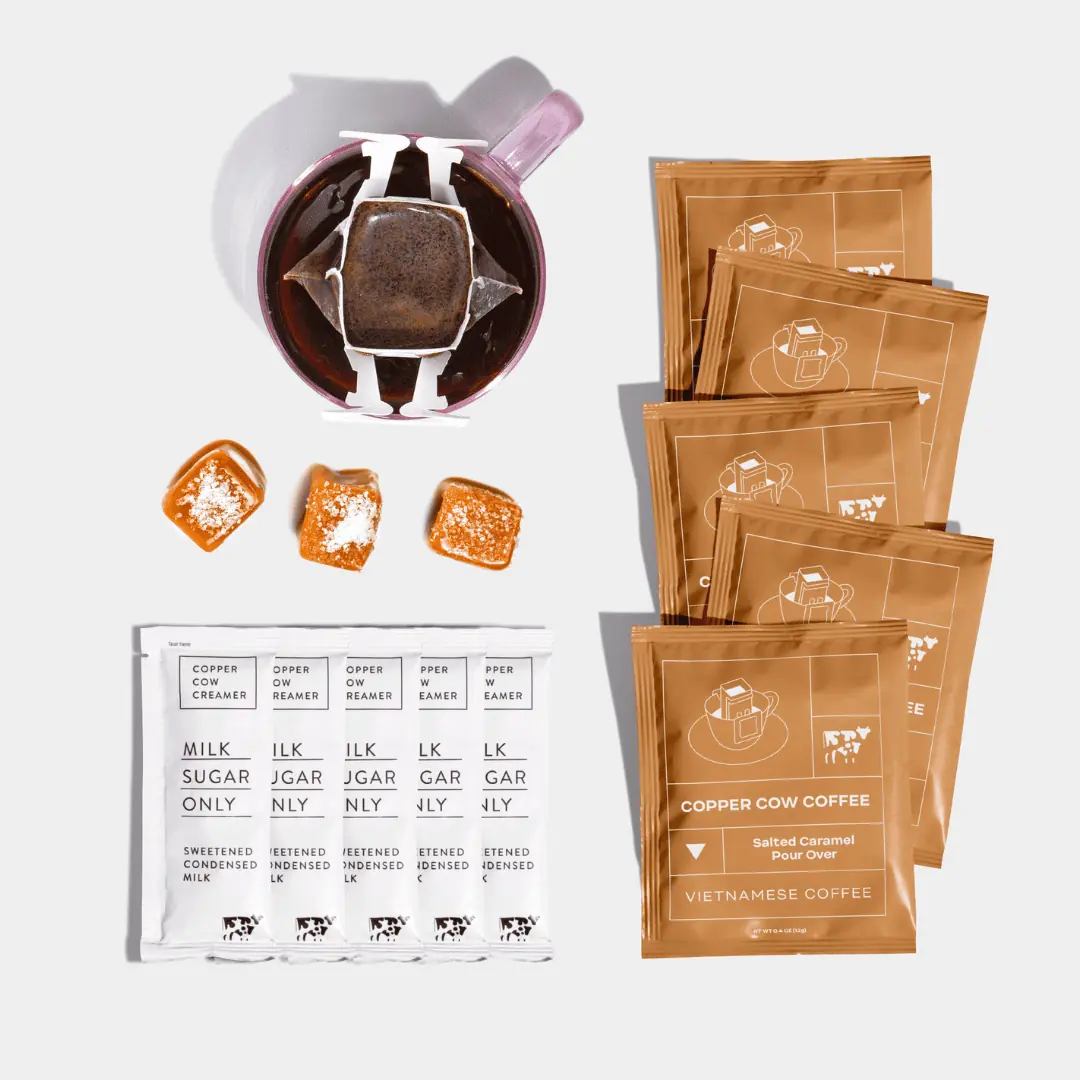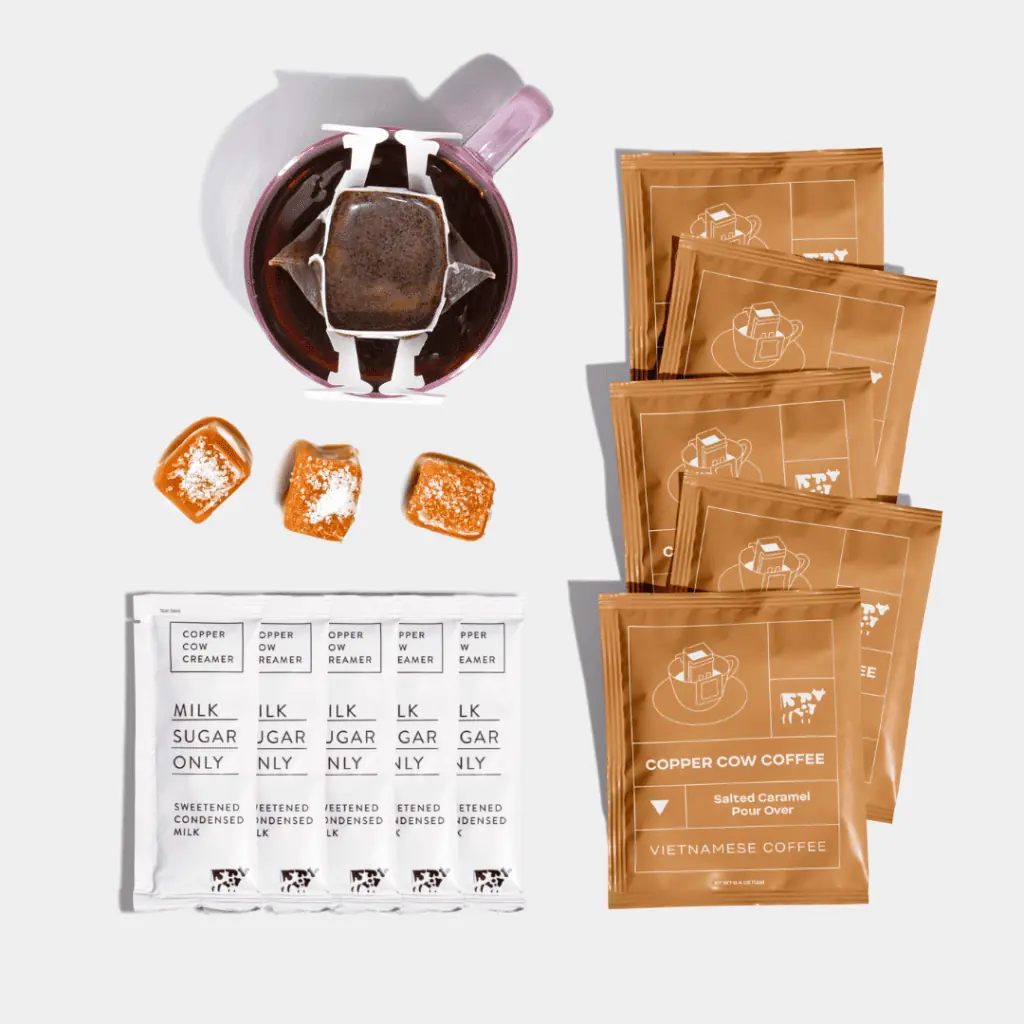 Customers seem to really enjoy the Vietnamese coffee pour-overs, with many leaving reviews on the Copper Cow Coffee website and Amazon.
Hannah, on the Copper Cow Coffee website, left the review, "I'm not a morning person, but this flavor makes me look forward to getting out of bed. It's like dessert for breakfast!"
Karyn commented on the salted caramel coffees saying, "These are super yummy! A subtle hint of caramel that smells and tastes delicious!!!
And Shelby even finds the making process therapeutic as she said, "The coffee from Copper Cow is top quality, and the pour-over ritual is something that really helps me start my morning right! Five minutes of Zen before I have to work!"
As well as there being many positive comments, however, there were also some negative reviews, with customers mentioning the weakness of the coffee and the different flavors. With that being said, coffee is one of those things that everyone likes differently, so the preferred taste of coffee for one person will be extremely different from the next.
When did Copper Cow Coffee go on Shark Tank?
Copper Cow Coffee appeared on the 25th episode of Shark Tank's 12th season, which aired on May 21st, 2021.
Along with Copper Cow Coffee, successful companies Ice Beanie and OpulenceMD Beauty also appeared in Season 12.
Did Copper Cow Coffee get a deal on Shark Tank?
Yes, Copper Cow Coffee did get a deal on Shark Tank as Robert Herjavec agreed to invest $600,000 for 8% of the business—4% more than Debbie originally proposed.
After Debbie's pitch, three Sharks, Lori Greiner, Kevin O'Leary, and Daymond John, announced that they were out. Lori simply couldn't get behind the product and felt the packaging was misleading, while Kevin and Daymond didn't want to take the risk of investing $600,000 in a company that hadn't yet broken even.
Kevin O'Leary – "Debbie, this is a very expensive bet that I'm not willing to take. I'm out."
Later on, Mark Cuban also joined his fellow Sharks and declared himself out as he didn't know the demand drivers, therefore, felt the investment wouldn't be safe or worth his while.
Despite four Sharks not making Debbie an offer, one Shark who did see the potential was Robert Herjavec. Due to his background in tech, Robert sympathized with Debbie as he knows that many tech companies have to start with a lot of investment, taking a while to eventually break even. With that in mind, Robert made the Vietnamese Coffee business an offer of $600,000 for an 8% stake.
As many entrepreneurs do, Debbie countered Robert for $600,000 for 4%, along with 1.5 advisory shares. However, Robert ultimately rejected the counter. In the end, Debbie did agree to Robert's original offer of $600,000 for 8%, meaning she left the Tank with a deal and the help of Robert Herjavec.
Copper Cow Coffee Shark Tank Update, what happened after Shark Tank?
After Shark Tank, Copper Cow Coffee has continued to grow with the single-serve pour-overs, as well as the creamers, bundles, and teas making their way into Whole Foods Market, Sprouts, Walmart, and H-E-B.
Despite the deal with Robert never going through, Copper Cow Coffee has worked to improve agriculture in Vietnam, limiting the chemicals used while growing the company's coffee beans.
With over 3000 stockists and an online presence both on Copper Cow Coffee's own website and Amazon, the company is changing the way people enjoy their morning brew.
Is Copper Cow Coffee successful?
All in all, Copper Cow Coffee is a successful business as the products are being stocked in various stores, as well as online, bringing in $3 million in annual revenue.