Garage Celebrations is a company that makes reusable garage door covers which turn your garage door into a holiday celebration or help to mark a special occasion.
But will the Shark's feel like celebrating this new holiday decorating idea? And what will they think of the company's valuation? The Sharks often worry about inventory problems for seasonal businesses, will the founders be able to overcome their concerns? Read on to find out here in our Garage Celebrations Shark Tank Update.
What is Garage Celebrations?
Garage Celebrations is a company which manufactures reusable, washable, holiday garage door covers. The company is located in Rolling Hills Estates, California.
Garage Celebrations provides a series of decorative garage door covers that cheer holidays, sports teams and special events. Using a patent-pending collar and zipper system, the Garage Celebrations covers attach firmly and securely to a garage door within minutes, and they can be put in place without tools, tape, or clips.
Who created Garage Celebrations?
Garage Celebrations was co-founded by a father and son team, "the two Bills," Bill Webster Jr., and his son Bill III. The California-based Bill Jr. describes himself as a serial entrepreneur, and he says that he decided to work on the holiday-themed garage door covers because, shortly after retirement, he discovered that he hated retirement and needed a new challenge.
Bill Webster III decided to join his father in the decorative garage cover business, and he brought a number of specialized skills into the new business. Bill earned a BA in Architecture from the University of Arizona and a Master's degree in Architecture in Urban Design from Harvard. Prior to joining his father in the garage decorating business, Bill III also co-founded Zenvoy, a company which hosts a suite of A.I. powered employee engagement and empowerment tools.
How did Garage Celebrations get Started?
Bill Webster Jr. had retired a couple of years prior to founding Garage Celebrations, and after building an addition to his house, playing the occasional round of golf, and clearing up everything on his wife's "Honey Do" list, he found himself to be depressed.
During the taping of their Shark Tank episode, Bill Jr. told the Sharks, "I hated being retired. I wanted my phone to ring with someone offering something other than asking me to renew the warranty on my car." He decided that he needed to find something else to do, and he remembered that he had often played around with an idea for garage door covers.
He turned to his son for help turning his idea into a product, and his son, Bill III, took to the task and decided that they would design an attachment mechanism which they could patent. Bill III worked through the process to get a utility patent on the collar, which attaches the company's holiday door covers to the garage door.
What happened to Garage Celebrations before Shark Tank?
Before entering the Tank, Garage Celebrations had completed the prototyping process, and they had sourced materials and arranged manufacturing of their holiday-themed garage door covers; however, they had just received their first shipment of product one week before they pitched in the Tank.
The company had received a sight unseen, pre-inventory order for $175k from the largest Halloween retailer in the US, and they had just delivered this first order. While the company was not pre-revenue since they had this one large order from a retailer, they were still in the very early stages of startup when they appeared in the Tank.
What do customers think of Garage Celebrations?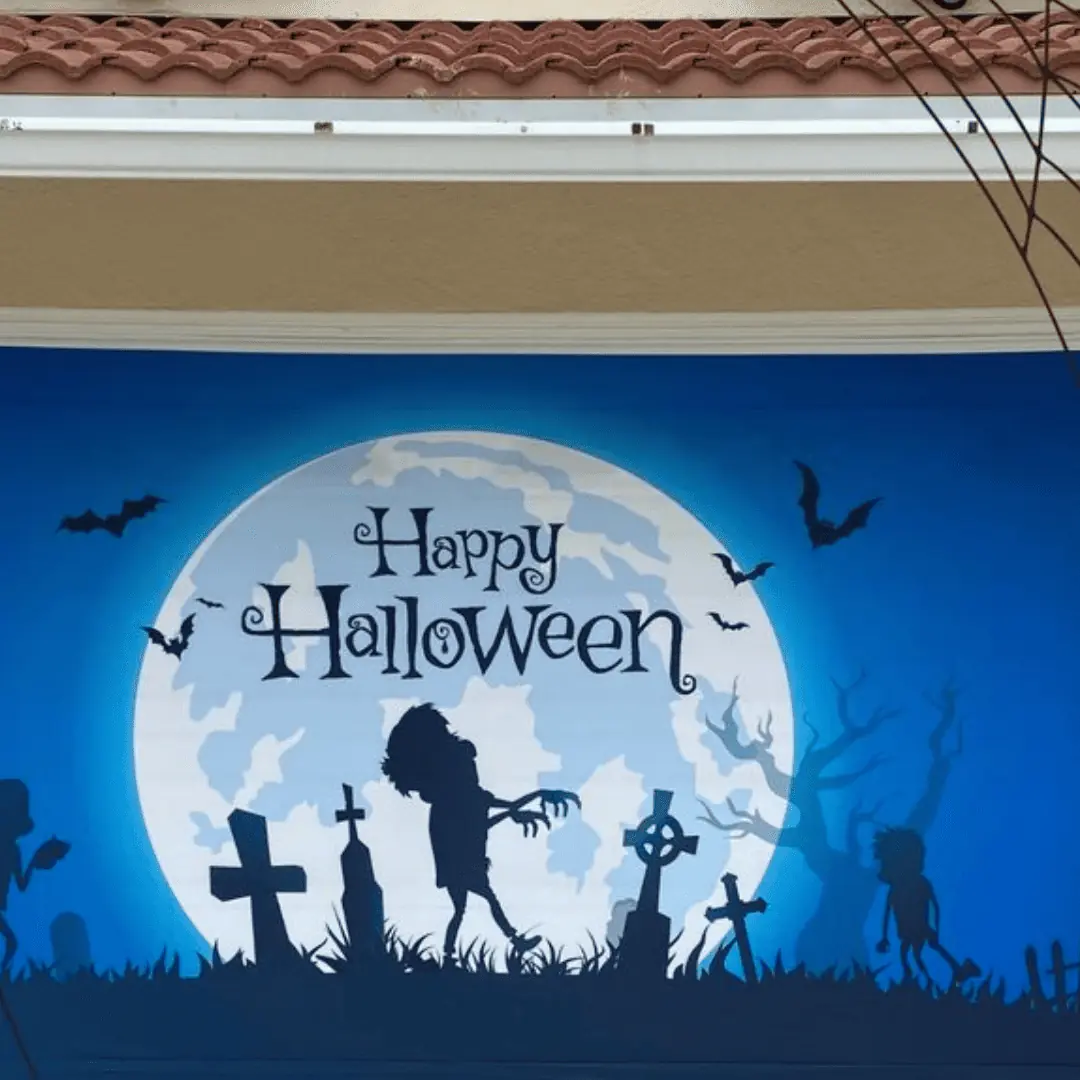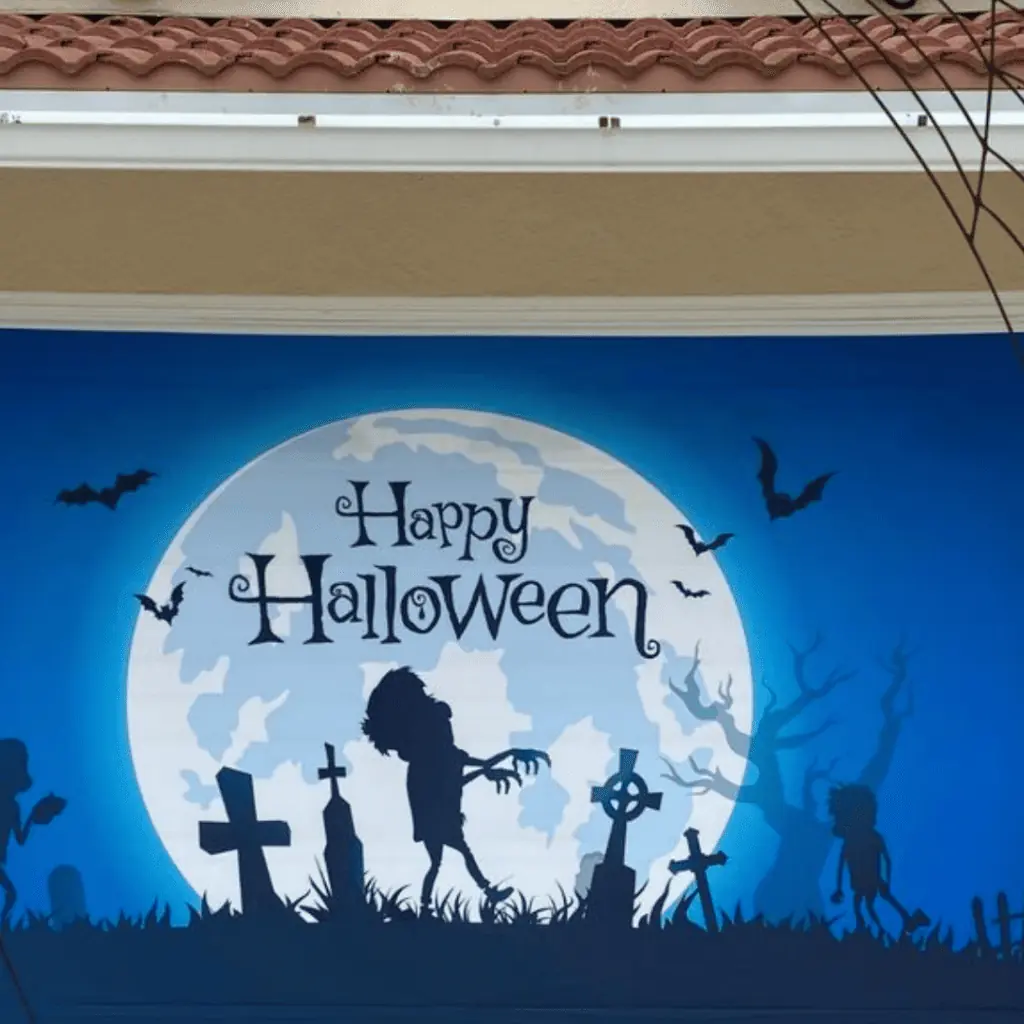 Since the company is so new, it is not surprising that there are not yet many reviews online. Their Halloween, Christmas, and other items are now listed on Amazon; however, we found only three ratings for one product, a two-car garage door Christmas covering, and this product received a rating of 3.6 out of 5 stars by Amazon customers.
On Google Reviews, Garage Celebrations has 15 reviews, and reviewers give the products 4.8 out of 5 stars.
What are customers saying about Garage Celebrations?
One Google reviewer said, "My company reached out to ask if they would do custom covers with our logo. They were super helpful. After a few days we ordered 2 covers for our shop doors. They turned out amazing. Look forward to doing more with them in the future."
Another very happy Google user writes: "We have purchased four garage banners so far. The banners are colorful and vibrant. The pictures online are a perfect representation. We love them. The installation is so easy. Zero tools required. The banner covers the entire garage door and even with super windy conditions and weather, the banner stayed perfectly installed. The banners are washable and store so easily. We are super excited to put up both our Christmas banners. One on each of our garage doors."
On Google reviews, we found only one negative comment: "These garage covers are beautiful quality but virtually impossible to put on. They say be prepared to tug and stretch. We did…three of us and the fourth corner would not come together. Not even a chance. We taped the last corner, and it looks ok but anyone who says these are easy to install is lying."
When did Garage Celebrations appear on Shark Tank?
Garage Celebrations appeared on Shark Tank in Season 14, Episode 9, which aired on December 9, 2022. The Sharks in this episode were Mark Cuban, Kevin O'Leary, Lori Greiner, Barbara Corcoran, and Robert Herjavec.
Garage Celebrations appeared in season 14 of Shark Tank, which saw many successful pitches, including one of our favorites, Wondry Wine.
What happened to Garage Celebrations on Shark Tank?
Father and son co-founders Bill Webster Jr., and Bill Webster III, entered the Tank and asked the Sharks for a $200k investment in return for 8% of their company.
The father-son pair started their pitch with young Bill looking through a large cardboard box of holiday decorations while his father said, "You know, decorating for holidays can be a real pain. You have to crawl up in your attic, find that dusty box of decorations, pull out the ratty wreath and the plastic candy canes, and, for sure, you're going to find a big wad of tangled Christmas lights. There's got to be an easier way!"
The Websters next tell the Sharks that they have come up with an easier way to decorate the outside of a home: Garage Celebrations, holiday themed garage door covers. They tell the Sharks that they are easy to install, requiring no tools, clips, cords or tape, and they fit almost all sizes of garage doors. The garage door covers are machine washable and fold away neatly for easy storage.
The Sharks are each given a garage door cover, and as they examine the products, the questioning begins. Robert starts by saying that these look great but wants to know if there are others on the market. And Bill Jr. tells him that there are other products that have clips and screws and that they are made from vinyl, so they tear and crease easily.
Barbara next asks how the covers attach to a garage door, and Bill Jr. tells her that the magic sauce is that the covers are 6% Spandex, so they stretch like a big pair of LuluLemon activewear. The two Bills have a mock of the corner of a garage door on stage, so they are able to demonstrate how easy it is to attach the proprietary collars onto the garage door. You simply wrap the collar around the corner of the garage door and zip it up on all four sides.
Kevin O'Leary wants to know how the Webster duo plans to handle inventory for the seasonality of the product. He notes that this is often a problem for businesses with seasonal products. Bill Jr. admitted that they were unsure how they were going to deal with this because they had just started.
The Sharks, hearing this, instantly thought that the company was pre-revenue. However, Bill Jr., while admitting that they had just landed their first order in the past week, told the Sharks that they already had an order for $175k from the nation's largest Halloween retailer. Bill Jr. also revealed that the covers retail for $120 and their cost was $35. However, when Robert asked how much they were selling the product at wholesale for their first order, Bill Jr. told him $43, and several Sharks said, "That's not enough!"
After discussing the utility patent, the Sharks all wanted to know how they planned to generate more sales, and Bill III quickly answered, "Social, social, social." At this point, it appeared that the Sharks were ready to either strike or swim away.
Did Garage Celebrations get a deal on Shark Tank?
Garage Celebrations successfully landed a deal on Shark Tank. Mark Cuban agreed to invest $200k for a 30% equity stake in the company.
Barabara Corcoran announced her intentions first, bowing out quickly, as she stated that she thought the designs looked dated. Lori disagreed with Barbara, she loved the Halloween designs, and she thought changing designs, if needed, would be easy, but she thought that the business was a good business for the father and son team, but she did not see it as an investment for herself.
Mark Cuban said that he thinks that the real growth of the business will come in the ability to personalize their products, and the current 5 month lead time to get product from Vietnam would not allow for them to do this.
Kevin O'Leary and Robert Herjavec both believe that the "two Bill" team needed a third Bill, someone with the skills and expertise needed to drive a strong social media campaign. Because this element was missing from the company, both Kevin and Robert went out.
Mark Cuban asked them how much it would cost to acquire the special printer required to print the designs onsite, and Bill Jr. told him it would be around $60k. After hearing this, Mark said, "That's it. Take this money, do it all in your garage, and you can build custom to order. I just like it cause I can make it for the Mavs. I'll give you $200k, but I want 30% of the company."
Bill III, who hadn't spoken in some time, quickly said, "Mark, you got a deal!"
Garage Celebrations Shark Tank update, what happened after Shark Tank?
It is apparent that Garage Celebrations have taken a number of large strides since their episode aired. Currently, the company has its own Amazon Store with a wide variety of products available. Also, a look at some of the reviews for the company indicates that they now have the ability to do custom orders and that they can ship these custom orders in a short period of time.
It is unknown whether or not the deal with Mark Cuban closed, but with the company moving into the custom-design business, it would seem that they have garnered some additional assistance. Hopefully, Mark is onboard, and they will be soon licensing custom covers for NBA fans.