On November 11, 2022, Wondry Wine stuck a deal on Shark Tank for their inventive range of wines.
Read all about how the company got started, the ambitions of founders Whitney and Chaz Gates, and what happened after securing a Shark Tank deal in this Wondry Wine Shark Tank update.
What is Wondry Wine?
Wondry Wine is a company which makes semi-sweet, fruit-infused cocktail wines with a higher alcohol content. It is based in Dallas, Texas.
All of Wondry's cocktail wines are 100% natural and infused with organic berry, citrus, and exotic fruit extracts – there are no artificial ingredients.
And Wondry's semi-sweet wines are crafted with a kick, as they have a 13.9% alcohol content.
Who created Wondry Wine?
A married couple, Whitney and Chaz Gates, co-founded Wondry Wine. Chaz is a practicing attorney, and he practiced law in New York prior to moving back to his hometown of Dallas, Texas. Whitney Gates has an MBA from Washington University in St Louis. She has worked at several major consumer products companies, including 7UP and Coca Cola.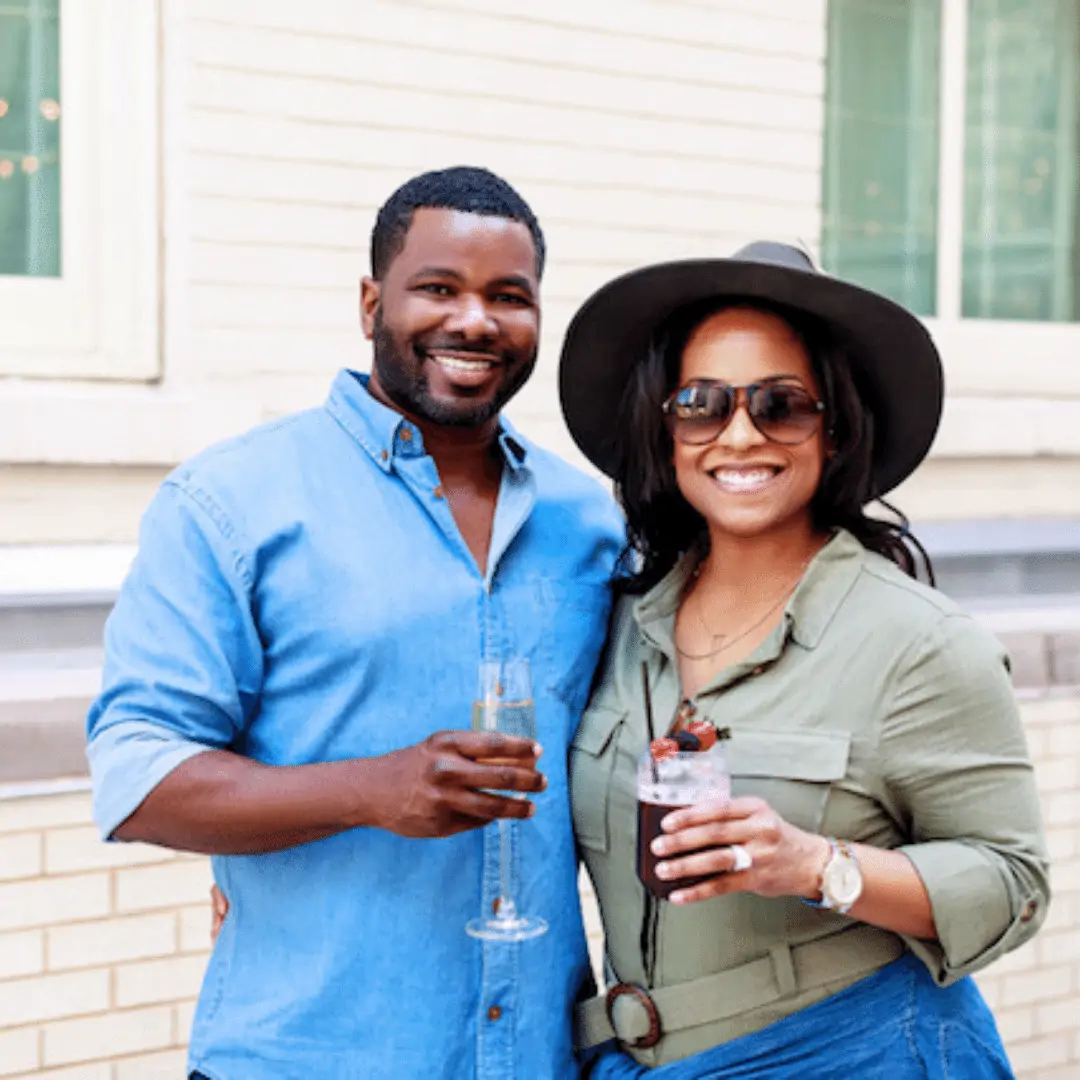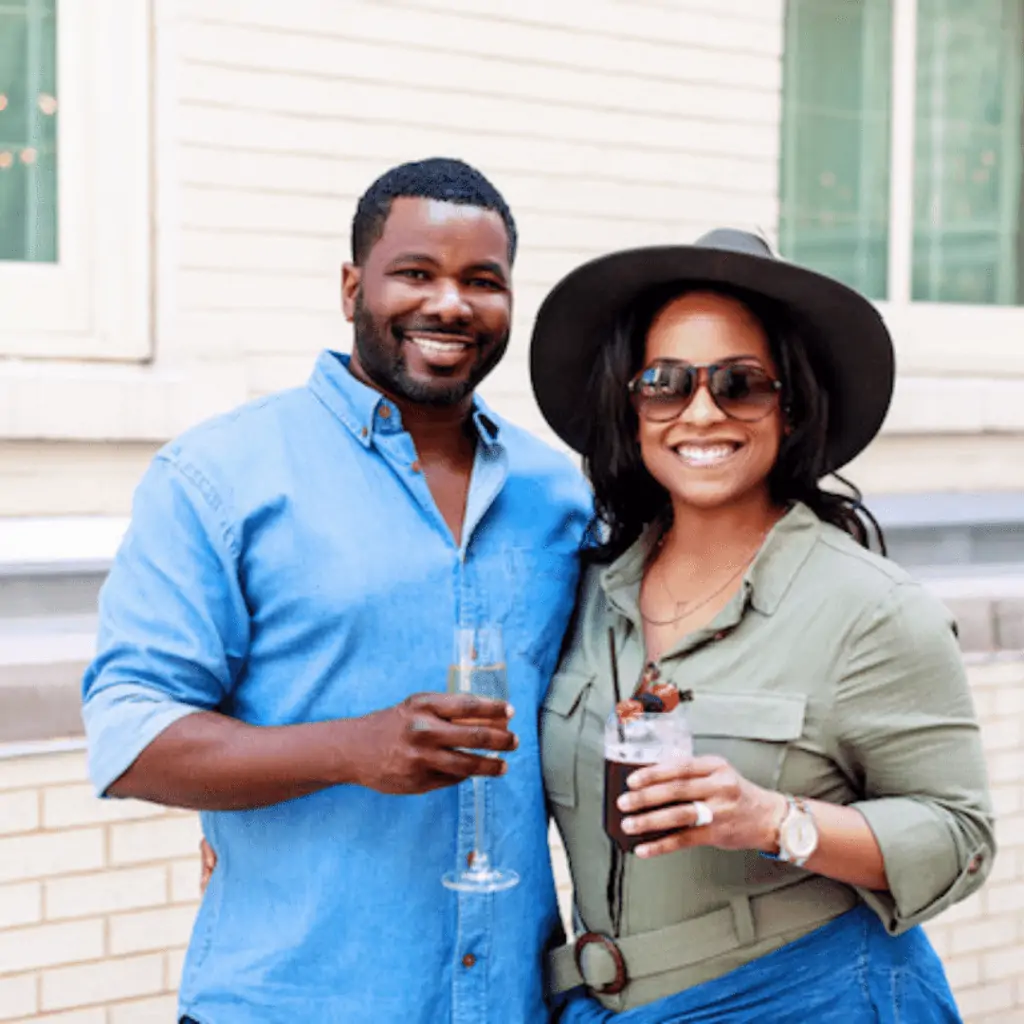 How did Wondry Wine Get Started?
The idea for Wondry Wine came from Whitney's childhood memories of visiting her uncle in Nashville. Though paralyzed from the waist down, Whitney's uncle was famous for the strong fruit wines he produced at home.
Rather than using grapes for his wines, Whitney's uncle used different fruits and vegetables, including peaches, pears, and even corn on the cob. Even as a child, Whitney knew her uncle was onto something special because his wines always brought together friends and family for fun and fellowship.
While Whitney had a strong career with major consumer product companies, she decided that what she really wanted to do was to practice her uncle's winemaking.
First, Whitney taught herself something about the winemaking process, remembering her uncle's methods, but eventually, she studied viticulture at Grayson College in Texas, one of the top-ranked institutions in which to learn the science and art of winemaking.
What happened to Wondry Wine before Shark Tank?
Wondry Wine's cocktail wines were launched in August, 2020. At first, their products were offered only online. However, after the successful launch, Wondry Wines can now be found in both Total Wine and Target stores throughout the Dallas/Fort Worth area and north Texas.
Wondry Wine co-founder Chaz Gates told Travel Noire that retail sales at Target have doubled since Wondry first hit the shelves and that consumers are coming back for more after their initial purchase.
How did Wondry Wine develop before Shark Tank?
Wondry Wine faced a number of challenges as founders Whitney and Chaz sought to launch their new venture. According to Chaz, there was a high barrier to entry into the wine business, but because of the Covid pandemic, they were able to locate a facility and purchase the equipment needed to produce and bottle their wines.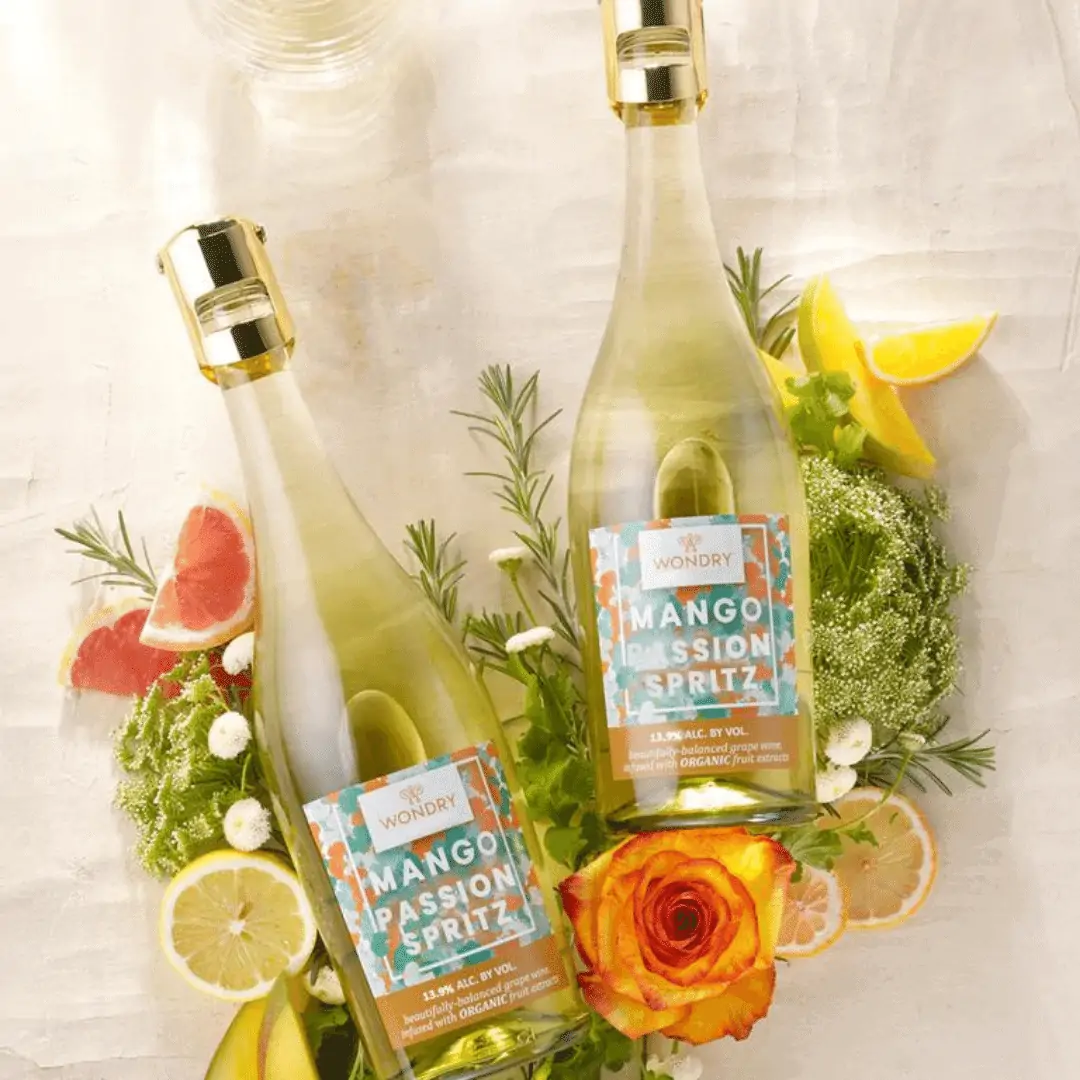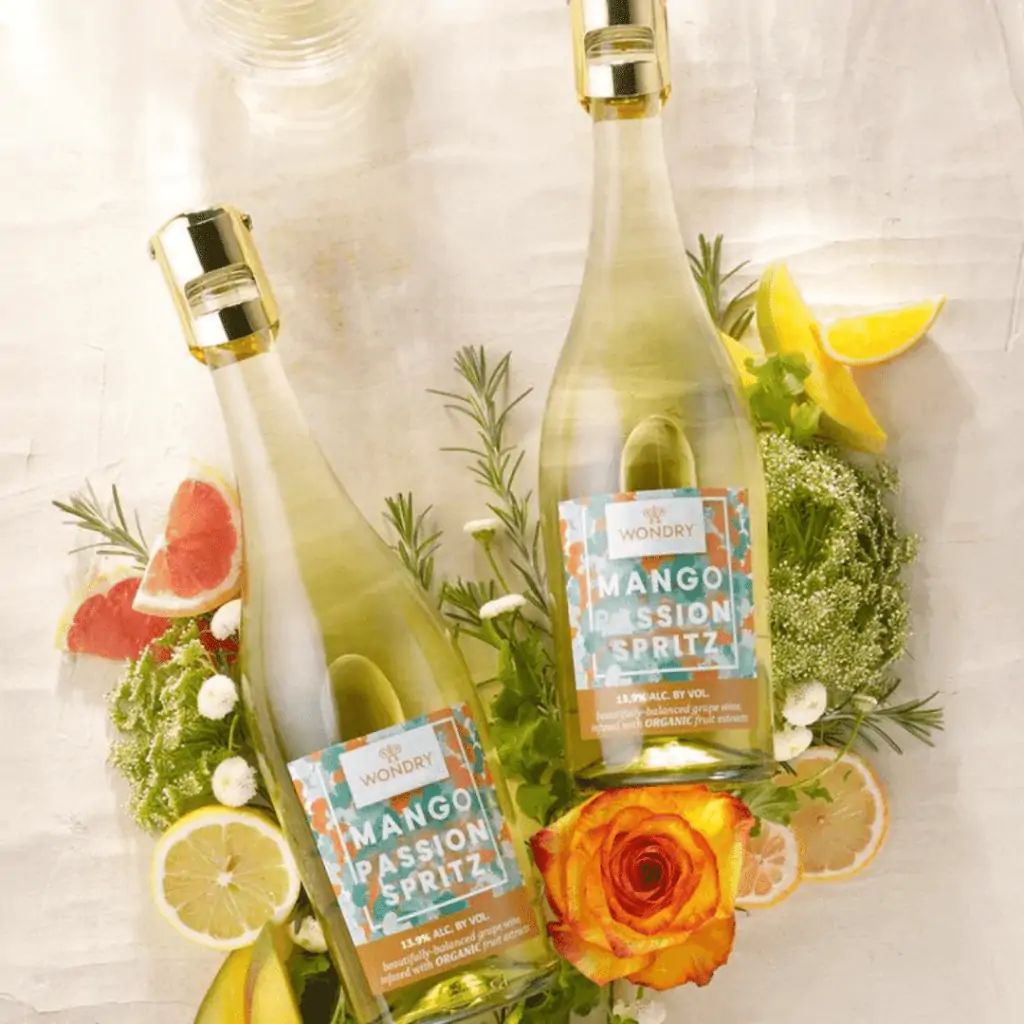 Also, as a black-owned business, Chaz and Whitney were faced with the fact that less than 1% of American winemakers are black.
They told Afro.com:
"When we are out and about stocking shelves and things, it's funny because people will walk past us and simply think that we are sales associates," said Whitney. "When we tell them that we own, we bottle, we produce and we label every single bottle of Wondry Wine, they literally stop in their tracks because there is not a lot of representation within the wine industry."
What do customers think of Wondry Wine?
On the review site Loox, there are a total of 54 reviews for Wondry Wines and 53 of them give their wines a 5-star rating, with just one reviewer rating Wondry Wine at 4 stars.
From the reviews we found online, it seems that customers agree with the judges of the 2022 Lone Star International Wine Competition, as they awarded Wondry's Peace in Peach wine a Silver medal.
What are customers saying about Wondry Wines?
One verified purchaser says, "Like watermelon? You will love this wine. Color, body and taste resembles watermelon. Great taste with lasting smooth finish. Pair it with chocolate-covered almond for a more pronounced and distinctive taste."
Another customer comments on Wondry's Sangria: "These sangrias will have your girls' brunch filled with non stop laughter, dancing and memories that will last a lifetime! Your girlfriends will not be disappointed. Flavorful but yet straight to the point."
A third reviewer reports, "I have never been a big Rosé fan until I tried the Watermelon Rosé. It has changed my whole life. The taste is so delightful and refreshing. Watermelon Rosé All Day!"
When did Wondry Wine appear on Shark Tank?
Wondry Wine appeared on Shark Tank in Season 14, Episode 8, which aired on November 11, 2022. This episode featured guest Shark, Peter Jones, global investor and Dragon on the BBC's Dragon's Den. 
Nana Hats, SquareKeg, and Collars & Co. also featured on the episode.
What happened to Wondry Wine on Shark Tank?
Wondry Wine co-founders Whitney and Charles Gates entered the Tank and asked the Sharks for $185k investment in return for 8% of their company.
Whitney Gates began by asking the Sharks if they were "tired of boring wines that leave you without a buzz?"
Whitney went on to explain to the Sharks that Wondry Wines blur the lines between a premium wine and a craft cocktail. And she explained to the Sharks that their wines were "aged in small batches through a proprietary fermentation and infusion process."
Then, Whitney and Chaz presented the Sharks with four samples of different Wondry Wines, and all of the Sharks appeared to enjoy these high-alcohol content semi-sweet wines.
Kevin O'Leary, known to be the resident wine expert in the Tank, asked about the retail price of Wondry Wines. He noted that 97% of wines in the US sell for under $14.99 a bottle.
Whitney noted that Wondry Wines were slightly above that price point at $18.99, but that they use only natural, organic ingredients, so their wines were worth the slightly higher price.
The Sharks then inquired if they were selling direct to consumer or if they had distribution, and Chaz told them that despite the fact that they had only been trading for 11 months, Wondry Wines were available in both Target and Total Wine stores in their hometown Dallas/Forth Worth market.
Guest Shark Peter Jones inquired about the cost of manufacturing Wondry Wines, and Whitney informed him that they produced a bottle of wine for $3.61, and sold it wholesale for $13.70 per bottle.
Peter followed up by asking the winemakers for their sales revenues for their first 11 months, and Whitney told him that they had sold $250k in 11 months and that their operating margins were 32%.
All of the Sharks, and especially Mark Cuban, seemed impressed by their margins.
Mark Cuban also asked how much of their own money had been invested into the business, and Chaz indicated that they had put $100k into the business.
Next, Daymond John asked Whitney and Chaz about their backgrounds, and all of the Sharks were quite impressed by their educational and work pedigrees.
Finally, Kevin O'Leary wanted to know if the winemaking couple had approached Costco, the biggest seller of wine in the world, and Whitney told him that after trading for just five months, they managed to get into Target and Total Wine, but they had not spoken to Costco yet.
Whitney added, "We are the number two black-owned adult beverage brand nationwide."
After answering the Shark's questions, it was obvious that the Sharks were impressed by both the founders' personal histories and the way that the Wondry Wine co-founders handled their questions in the Tank; however, now it was time to see if any of the Sharks were willing to put some cash into these semi-sweet wines which are crafted with a kick.
Did Wondry Wine get a deal on Shark Tank?
Wondry Wine successfully got a deal on Shark Tank. Mark Cuban agreed to invest $225k, which was more than the original $185k that Wondry Wine was seeking in the Tank. Cuban received 15% equity in the business in return for his investment.
While all of the Sharks indicated their respect for Whitney and Chaz, for several reasons, Sharks started to drop out quickly. Daymond John went out first, as he said that he didn't have the knowledge of the wine industry that others might have.
Lori Greiner bowed out quickly, stating that she likes to stay away from sugar, and that she likes to invest in things that she's going to use. Peter Jones then told the Wondry team that while he was really impressed by them, he used to own a wines direct business in England and that it was tough going for him, even as an investor.  
Finally, Mark Cuban asked, "What do you guys need?" And Chaz told him that they would invest in equipment, specifically an automatic bottling line to help them to become more efficient. Cuban then commented, "So you own all of your own equipment, you do all of your own bottling:" Chaz responded, "We own all of it, yes."
Mark Cuban then turned to Kevin O'Leary to ask, "What are you going to do?" And O'Leary quickly replied, "If I'm going to invest a lot more time and resources into a wine business, it's going to be my own."
Cuban then turned to the winemakers and said, "You wanted $185k for 8%, I'll give you $200k for 15%."
Whitney thanked Cuban and quickly countered asking for $250k for 15%, and Mark simply said, "$225k for 15%." And Chaz and Whitney said in unison, "you've got a deal."
After the end of negotiations, all of the other Sharks congratulated Mark on the deal, and several said, "You're going to kill it with this."
Wondry Wine Shark Tank update
It appears that things have been going well for Wondry Wine after their appearance on Shark Tank, as billionaire investor and Wondry Wine partner Mark Cuban tweeted just after the episode was aired: "What an amazing company. Glad to be partners !!"
The Shark Tank effect can also certainly be seen on the Wondry Wine website as well. Prior to the episode's air date, the company had been offering a Shark Tank Collection of three bottles of their semi-sweet wines for $60.00, but shortly after the episode aired, the Wondry Wine site was updated to tell customers that:
"Due to significant Shark Tank demand, some orders may be delayed by 2 – 4 weeks while we craft more wine… (as a small business, we really appreciate your patience!)"
Apparently, Wondry Wine's appearance in the Tank helped the winemakers to sell out of inventory of their three best sellers.
How much is Wondry Wine worth?
The deal that Wondry Wine struck with Mark Cuban valued the business at just under $1.5 million.
With Mark Cuban on board with the Dallas-based Wondry Wine team, there is little doubt that the company's valuation will rise. The company planned to use Cuban's investment to invest in an automated bottling line which should help them to meet the increase in demand that they are already experiencing since the episode aired.