Kevin and Laurie Lane, a married couple and founders of Create A Castle, seek to revolutionize family time at the beach with their split mold sandcastle kits, which allow you to build elaborate sand structures in no time at all.
They took their product onto the Shark Tank alongside Halloween Moments, Mama O's Premium Kimchi, and Stakt, and managed to secure a Shark Tank deal.
This Create A Castle Shark Tank update brings you the latest developments after Kendra Scott invested in their sandcastle empire.
Create A Castle: A better way to build at the beach
On the Create A Castle website, founders Kevin and Laurie Lane describe how Kevin came up with the idea for their revolutionary new way to build elaborate sandcastles.
The concept came to founder Kevin Lane during a 2016 vacation at Laguna Beach, California. After watching a dad and his young son struggle unsuccessfully to finish their castle, Kevin started mulling over ideas to develop a more efficient and less time-consuming way to construct imaginative sand creations.
The Create A Castle website goes on to state:
"Kevin realized that building an ornate castle with a shovel, a 5 gallon bucket and a couple of basic tools took far too long to keep the attention of any child. What if a bucket was pre-molded with a detailed brick pattern? What if you filled it with sand from the top instead of the bottom? What if you simply split the mold apart instead of lifting it? What if it was all packaged up and easy to transport due to its split mold, patent pending stackable system? After combining all of these ideas, Create A Castle became a reality!"
Create A Castle: What is it?
The most popular Create A Castle product is their Pro Tower Kit – Sand and Snow Molds.
09/25/2023 11:09 pm GMT
When you're building a sandcastle with a traditional fill and flip bucket, sand often sticks to the bucket, creating a mess while you are trying to create your castle. Unlike a traditional sand bucket, the Create A Castle Kit is made up of split molds that allow you to build beautiful sand or snow structures in a short amount of time.
With the Create A Castle kit, in order to build your castle, you just buckle the mold, fill it with sand from the top, and when you are ready, unbuckle the mold to reveal your new section of castle.
The premium Pro Tower Kit includes a 10 inch split cylinder, a stackable 6 inch split system cylinder for additional height, a corbel to add both stabilization and a beautiful effect in between the towers, a battlement brick form, a window cutter, and a mesh backpack for simple transportation and cleanup!
Since the launch of the successful Pro Tower kits for building sand and snow structures outdoors, Create A Castle has introduced an indoor line: The Create A Castle Buildmaster Indoor Activity Kit. 
The new Indoor Activity Kits include molds and a proprietary sand or snow that allows kids to bring all of the fun of building sand or snow castles into the house. The indoor kits promise to "allow kids to become a skilled sculptor in no time with mind blowing details that our molds will reveal."
Create A Castle: What customers are saying
The Create A Castle Pro Tower Kits have over 580 reviews on Amazon, and they have a strong rating of 4.3 out of 5 stars. 
With such a high rating, the majority of the reviews are positive.
On August 27, 2022, one customer wrote: "I really liked how easy it was to use the mold, and also how sturdy they are hours after creating. Definitely stands out from all the other sandcastles and looks amazing. Highly recommend!"
Another reviewer added, "This kit makes awesome looking castles. My kids were so proud of their castles. Super easy to use. Just make sure sand is damp."
Among the positive reviews, one critical customer noted, "I love building sandcastles. Once you get the product, you see the disclaimer, 'May not work with certain sands,' I guess that this includes beach sand because this product did not work."
Founders Kevin and Laurie: The king and queen of sandcastles
Husband-and-wife team Kevin and Laurie Lane are the founders of Create A Castle, and they are both from Connecticut where they attended college.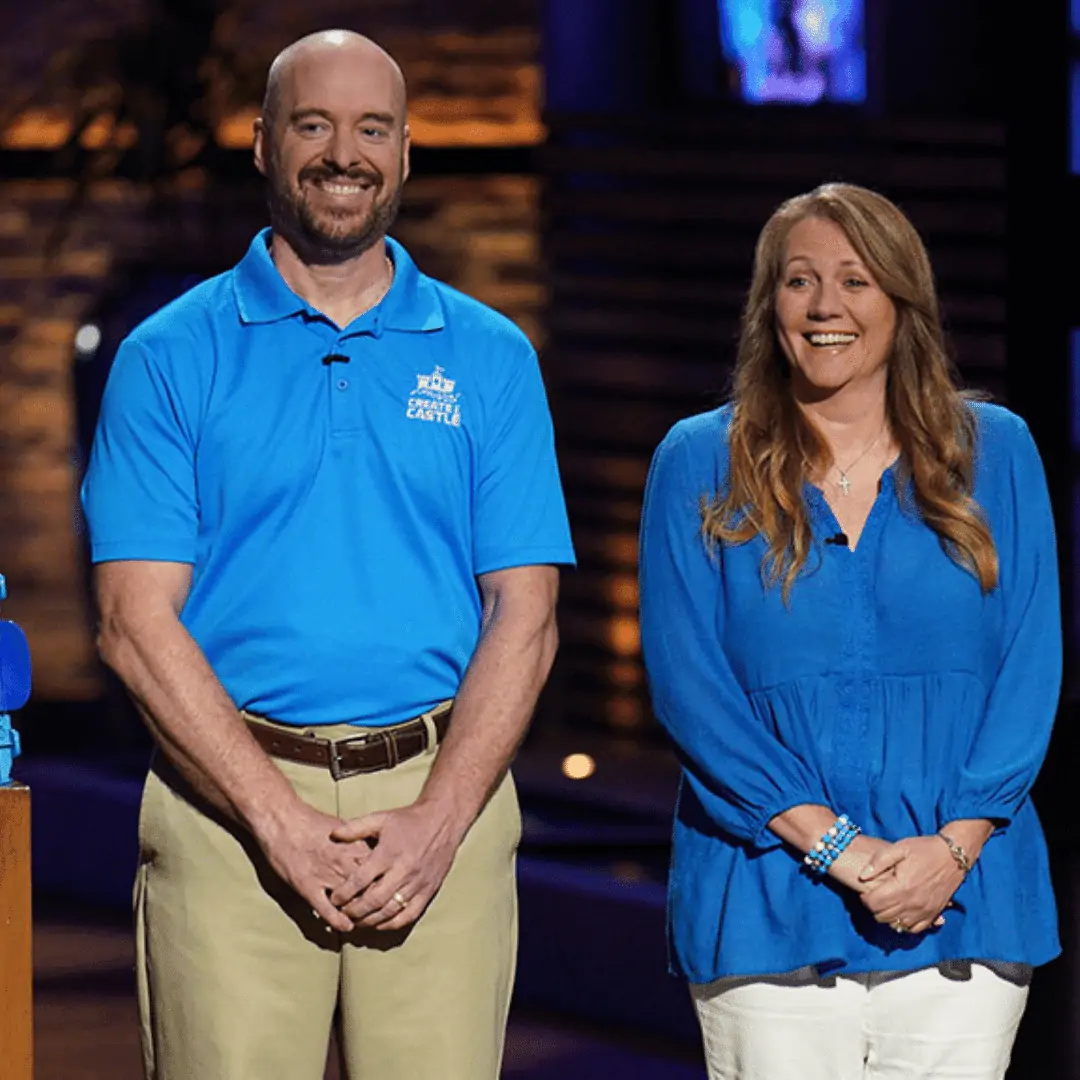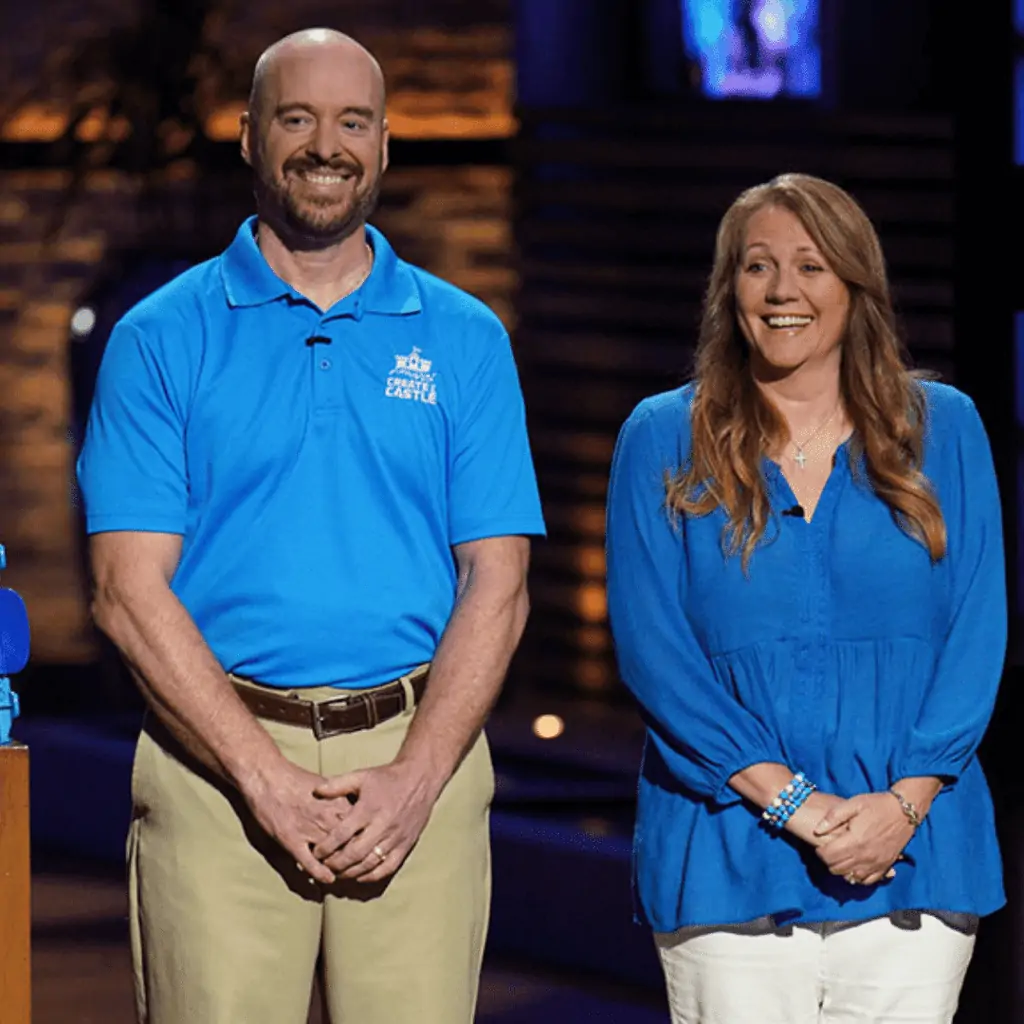 Kevin Lane graduated from Western Connecticut State University in 1995 with a BFA in Graphic Design, and he has worked since 1999 as a web designer. In 2010, Kevin founded Code Hounds, a web production and design studio.
Laurie Lane went to the University of Connecticut where she graduated with a BA in Retail Management in 1991.
After college, Laurie worked in a number of retail management positions, including for both The Gap and The Walt Disney Company, where she was a District Manager.
In 2010, Laurie left the world of retail management to join her husband at Code Hounds where she acts as Account Manager.
The Create A Castle website is one of the best sites I have seen while researching Shark Tank presentations; it is obvious that it was created by a very professional design team, and now we can see that the web development team is in-house, as the founders have deep experience in the web design industry.
Create A Castle: Before Shark Tank
Kevin and Laurie Lane founded Create A Castle in June 2017. And in a video interview with The Patent Professor, Kevin describes how they got started. 
He tells the Patent Professor that when he got home from the beach vacation to California during which he came up with the idea for Create A Castle, he began to search for products and patents.
Kevin soon discovered that there weren't any split mold products like he was imagining.
Kevin also told The Patent Professor that there was a lot of trial and error as he tried to get the molds just right. He stated:
"Fortunately, I had inside access to someone who was working at MakerBot at the time, so I was ripping out prototypes off of three 3D printers, which saved me thousands of dollars, hours of time, and really, I could almost get them overnight."
Kevin said, "all in all, we probably went through 50 prototypes."
Of course, as Create A Castle was getting off the ground, Kevin's tech skills greatly helped the business, as he was able to deal with all aspects of the website, ecommerce, and social media.
Create A Castle filed a patent in 2018, and the company quickly began to grow.
In 2019, surprisingly, Create A Castle was nominated by the Toy Association for Outdoor Toy of the Year. Kevin told the Patent Professor that they were going against big players, so they were blown away when they won the Toy of the Year Award in 2020.
Of the award, Kevin says, "It changed the game for us. We started getting calls from Walmart, and now we're in Sam's Club and Costco Canada, everything just accelerated. We had to adapt and make this stuff happen."
Watch the interview right here:
Create A Castle enters the Tank
After a brief description of the Create A Castle premium sandcastle-building kits, founders Kevin and Laurie Lane ask the Sharks for $350k for a 10% share of their business: "Who wants to create an empire with us bringing families together one castle at a time?"
Guest Shark Kendra Scott is the first to speak up after their pitch: "I have six kids. I am a mom and a bonus mom, so we spend a lot of time on the beach. And I love this!"
Kevin O'Leary, pointing to a patent display on stage, asks, "I see a patent, what can you tell us about that?"
Kevin Lane responds, "Yeah, we have 12 patents, worldwide."
The Sharks are all obviously impressed with this piece of information.
Mr. Wonderful then states, "Alright guys, look this is a very, very seasonal product."
All of the Sharks were impressed by what happens next: Laurie Lane turns the Create A Castle box around to show the Sharks, "It works in the snow."
Mark Cuban next wants to know about the retail price of the product and the landed cost.
Laurie Lane tells him that their primary product, the Pro Kit, costs $9.45, and it retails for $50.00.
As you can imagine, the Sharks are happy with these margins.
O'Leary now jumps back in with, "So what did you sell last year? You're placing a value of $3.5 million on this business."
Laurie Lane explains, "Last year, we did 600k, and this year, we're doing $3 million."
A collective, "Woah!" is heard from the Sharks.
Lori Greiner wants to know, "How did that just happen?"
And Kevin Lane tells her, "We landed Costco Canada as well as Sam's Club."
Mr. Wonderful is still examining the numbers. "On the 600k in sales last year, what did you make on that?"
Laurie Lane tells O'Leary that: "We were actually negative $100k because our shipping costs were five times what we had budgeted."
Lori Greiner then adds, "Because of Covid?"
And Laurie Lane tells her, "Yes, we used to get a container in for $4,000-6,000, and a couple of containers were $25k."
A business model built on sand?
Mark Cuban next wants to know about the margins on the Costco order, and the castle creators tell him that they are between 27-32%, and Cuban does not look pleased to hear this. 
Daymond John jumps in to ask, "What are you here for help with? It looks like you are scaling really well; I understand you need to reduce costs, but what else do you need?"
The Lane's tell Daymond that they seek the investment to purchase inventory, but they also need a Shark for things like licensing as well.
Mark Cuban and Kevin O'Leary both tell the Create A Castle team that they do not like the wholesale portion of their business, as they believe that the margins are just too low.
Mr. Wonderful comments, "My sense is to dump the wholesale completely, raise your prices by 30% and sell only direct on your website; otherwise, you won't make any money."
O'Leary and Mark Cuban then quickly go out.
Lori Greiner then tells the team that she does not agree with Cuban and O'Leary; she likes their price point and the product, but unfortunately, she also says, "I don't invest in everything I like. You're doing everything right, and I will wish you good luck, but I'm out."
Finally, the first Shark to have spoken, Kendra Scott, speaks up again, "I absolutely love this product. It brings me joy. And I actually disagree with Kevin, I think you want a balance of wholesale and retail."
Kendra makes an offer, "I'm going to give you $350k for 20%."
Daymond now steps in to say that he agrees with Mark Cuban and Kevin O'Leary with the difficulties of wholesaling the Create A Castle kits, but he believes that there is a real opportunity for licensing, so he offers the $350k for 25%.
Kendra Scott strongly disagrees with Daymond, and she tells Kevin and Laurie that: "I don't think this is just a licensing play. And I don't see why you guys can't be the next big toy manufacturer. I want you to dream big, and I think I can help you get there."
With two offers in the Tank, Kevin Lane looks to his wife and asks her to make the decision. Laurie Lane says, "I think we're gonna go with Kendra."
The Create A Castle team hopes to greatly expand their castle-building empire now that they have landed guest Shark Kendra Scott as their partner. 
Create a Castle Shark Tank update
In their hometown of New Milford, Connecticut, Kevin and Laurie Lane held a Shark Tank watch party on the town green, and several hundred friends and neighbors came out to watch with them.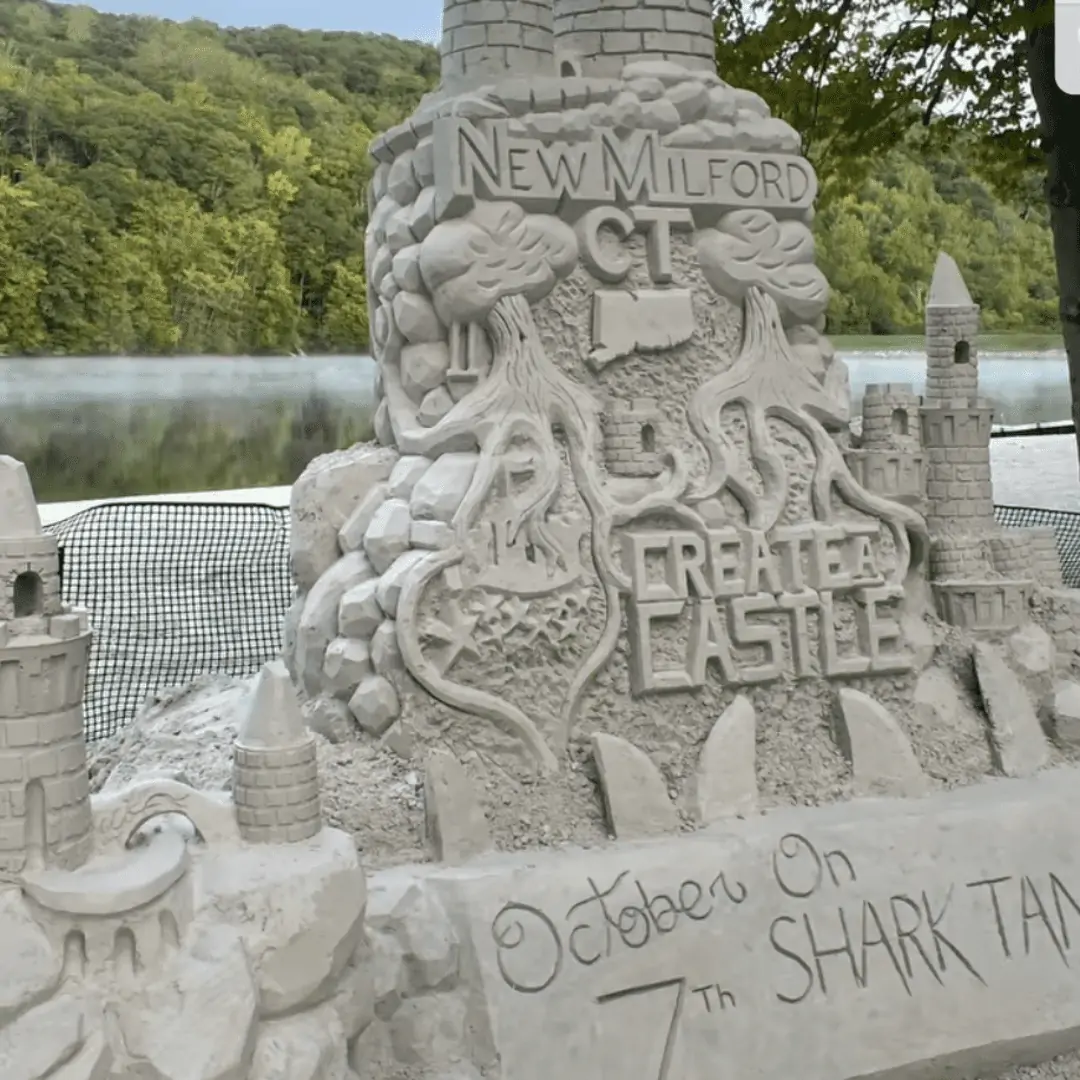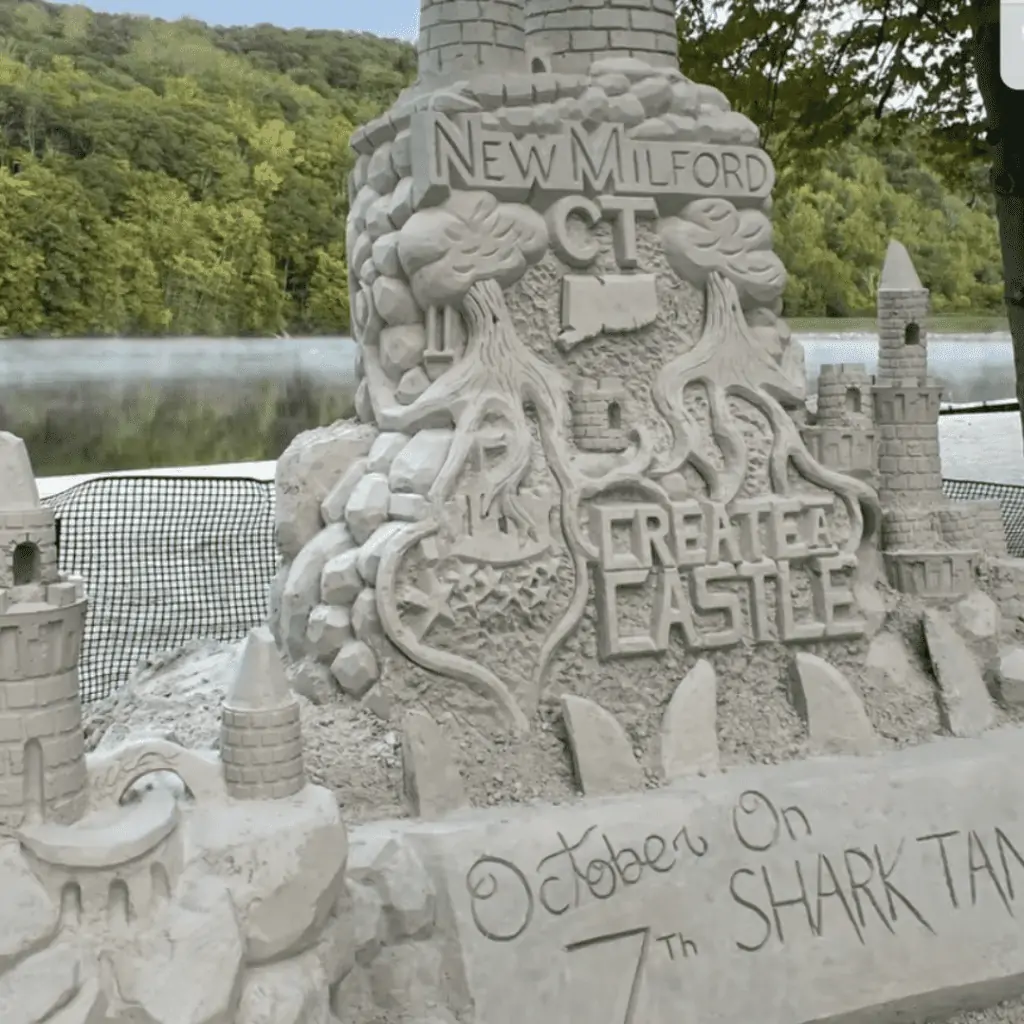 The castle-building couple admitted that they were a bit nervous to watch the episode because they had no idea what had been edited out and what would actually be shown of their time in the Tank. 
After the episode aired, in an interview with the Connecticut Post, the Create A Castle founders told the paper, "It's just been tremendous; we can barely keep up with the amount of orders coming in." 
With retail giant Kendra Scott on board, the post-episode jump in sales is most likely just the first step in new growth for Create A Castle. 
09/25/2023 11:09 pm GMT
FAQs
What is Create a Castle on Shark Tank?
Create a Castle sells sandcastle construction kits, allowing kids to easily build elaborate castles. The company went on Shark Tank asking for an investment of $350,000 for 10% equity, valuing the business at $3.5 million.
Who founded Create a Castle?
Create a Castle was founded by Kevin and Laurie Lane. The company is based in Bridgewater, Connecticut.
When did Create a Castle go on Shark Tank?
Create a Castle appeared on Season 14, Episode 3 of Shark Tank. It originally aired on October 7th, 2022.
Did Create a Castle get a deal on Shark Tank?
Yes, Create a Castle made a deal with guest Shark Kendra Scott $350,000 for 20% equity, giving the company a valuation of $1.75 million.
Who invested in Create a Castle on Shark Tank?
Guest Shark Kendra invested $350,000 in Create a Castle. The 20% equity that founders Kevin and Laurie Lane gave up was double the 10% they had originally proposed.
What is Create a Castle's net worth today?
The Create a Castle Shark Tank deal with Kendra Scott valued the company at $1.75 million.