Best friends and Stakt founders, Taylor Borenstein and Millie Blumka, found that many parts of their lives changed dramatically during the Covid pandemic, including their workouts.
In response they created Stakt, a new, unique, total workout mat. Then in Season 14, Episode 3 they took it into the Tank alongside Halloween Moments, Mama O's Premium Kimchi, and Create a Castle.
This Stakt Shark Tank update provides the latest news and opinions on the fitness mat company after securing a Shark Tank deal.
Stakt: Created out of necessity due to the Covid pandemic
On the Stakt website, company founders Taylor Borenstein and Millie Blumka describe that living in New York City throughout the Covid pandemic, their lives changed in countless ways over the past few years, with many of their daily routines being transformed forever.
They say that "Movement is no longer relegated to our local gym or running path, and quite often takes place on our lunch break… in our living rooms."
Millie and Taylor go on to describe that they had to adapt to working out from home, and they quickly identified that their yoga mats were not supportive or adaptable enough to suit their new fitness regimens.
They found themselves constantly rolling up their traditional yoga mats for more support and flexibility, as they sweated through sculpt, pilates, and strength training, activities which the mats were not originally intended for.
The best friends decided that they needed to find an upgrade to the mats used for their home workouts, but they were unable to find what they were looking for, so they set out to invent a solution for themselves.
After doing some research and learning something about the design process, Taylor and Millie created Stakt, a stackable fitness mat that features a unique, foldable design for greater support, flexibility and mobility as you move.
Stakt founders: Who are these workout women?
Taylor Borenstein and Millie Blumka met 10 years ago when they were both attending Tulane University in New Orleans, and they have been best friends ever since.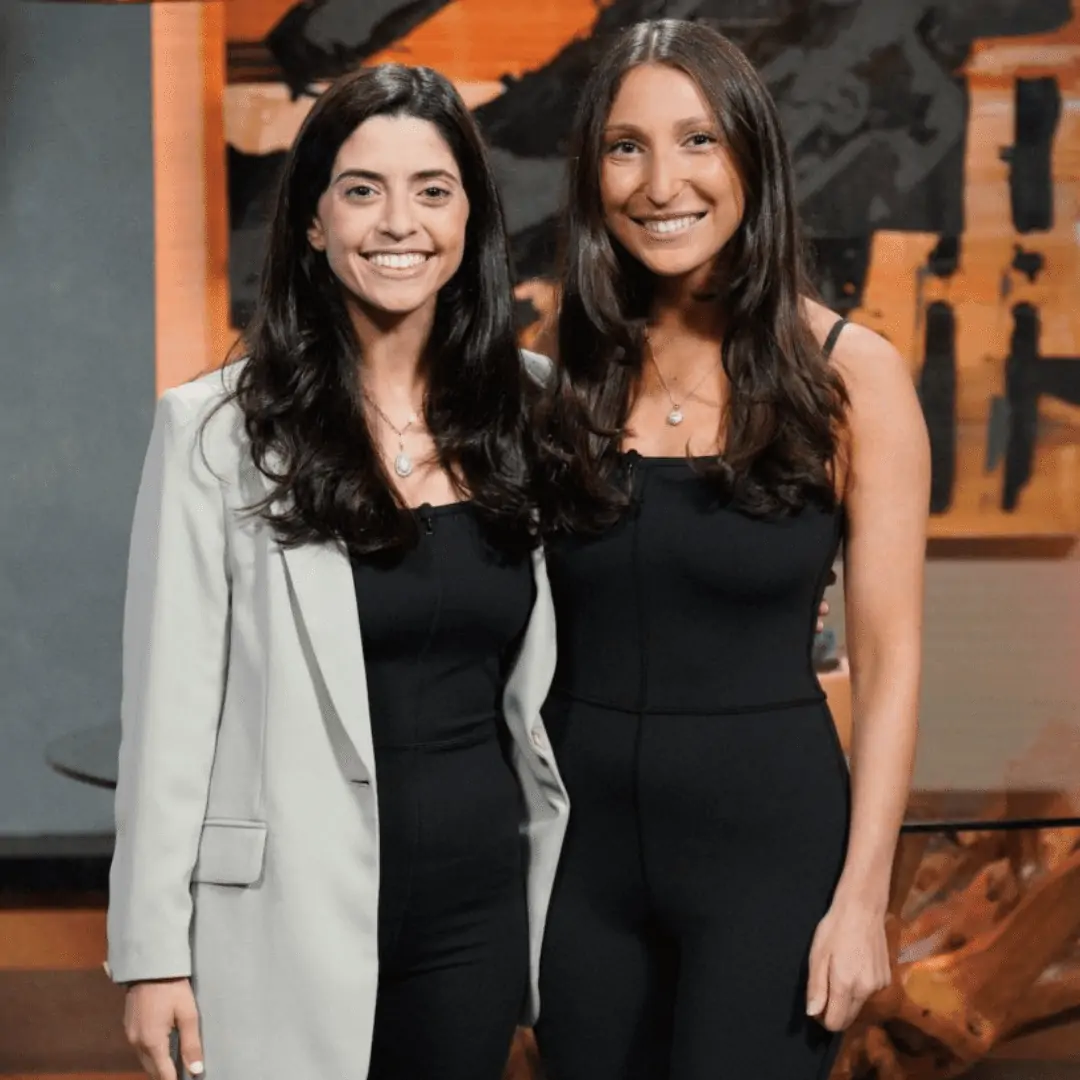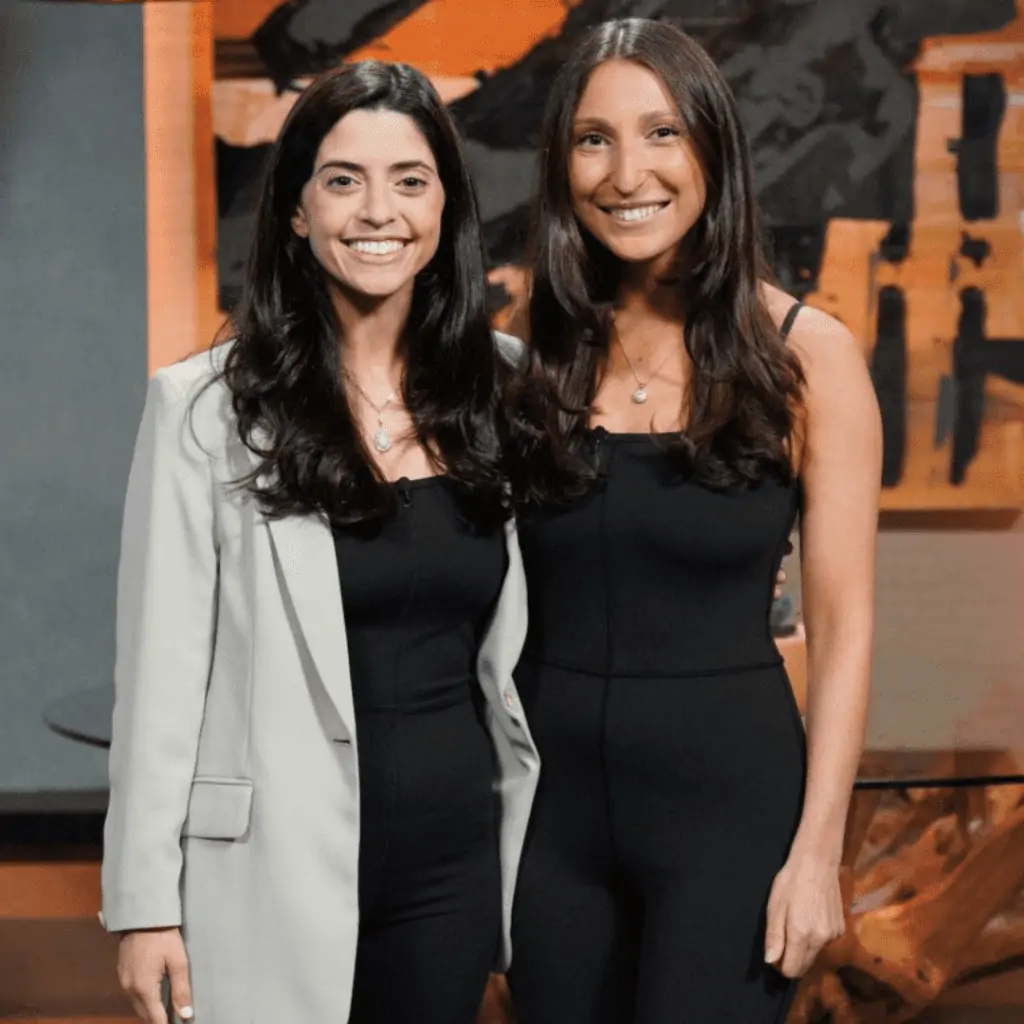 Taylor Borenstein grew up on Long Island, and describes herself as a New York girl. Taylor graduated with a BS in Marketing from the A.B. Freeman School of Business at Tulane, and after graduation she moved back to New York.
For over six years, Taylor has been working in the FinTech industry, and she is currently a Product Implementation Team Leader at Bloomberg, LP.
After graduating from Tulane with a BS in Psychology, Millie Blumka, like her friend Taylor, headed off to the Big Apple to start a career in business.
On the Elevation Nation podcast, Millie said "I was a Psychology major, and there is a lot of psychology in business." She added, "I never thought that I would be good at sales, but I'm really, really good at it."
Since graduation, Millie has worked for a variety of startups.
She worked for around two-and-a-half years at Single Platform, a company which helps food businesses to stand out online by getting their menus and business info across top search sites and apps.
Next, Millie was a Senior Partnerships Account Executive for Simplifeye, a company which specializes in assisting medical practitioners to engage with patients.
And currently, Millie is Director of Partnerships for Showfields, an innovative immersive retail experience.
Both Taylor and Millie are still holding down full-time jobs as they work to get their new company, Stakt, off the ground.
Stakt before Shark Tank
During the Covid lockdowns, Taylor and Millie were both spending a lot of time working out at home as a means to reduce stress and to stay healthy.
It was in July 2020, when e-chatting, that the idea came up. Taylor and Millie were both doing a lot of sculpt and pilates at home, and after talking to each other about how they were not really happy with their yoga mats, they decided to send out a survey to their friends to see if they were the only ones with this problem.
The workout women realized that traditional yoga mats are made to form a connection with the floor, but sculpt or pilates require something a little thicker with more support.
Taylor and Millie told Elevation Nation that: "We wanted to create something, not just more supportive, but that would fold up into a piece of equipment."
After their e-chat in July 2020, things moved along quickly as the Stakt team did research through October of 2020, and they had their first prototype in January 2021.
Stakt was launched in October of last year, and they quickly sold out of their first production run.
Having been on the market for only six months, there are not a lot of reviews for the Stakt premium workout mats, but the reviews that can be found online are uniformly positive.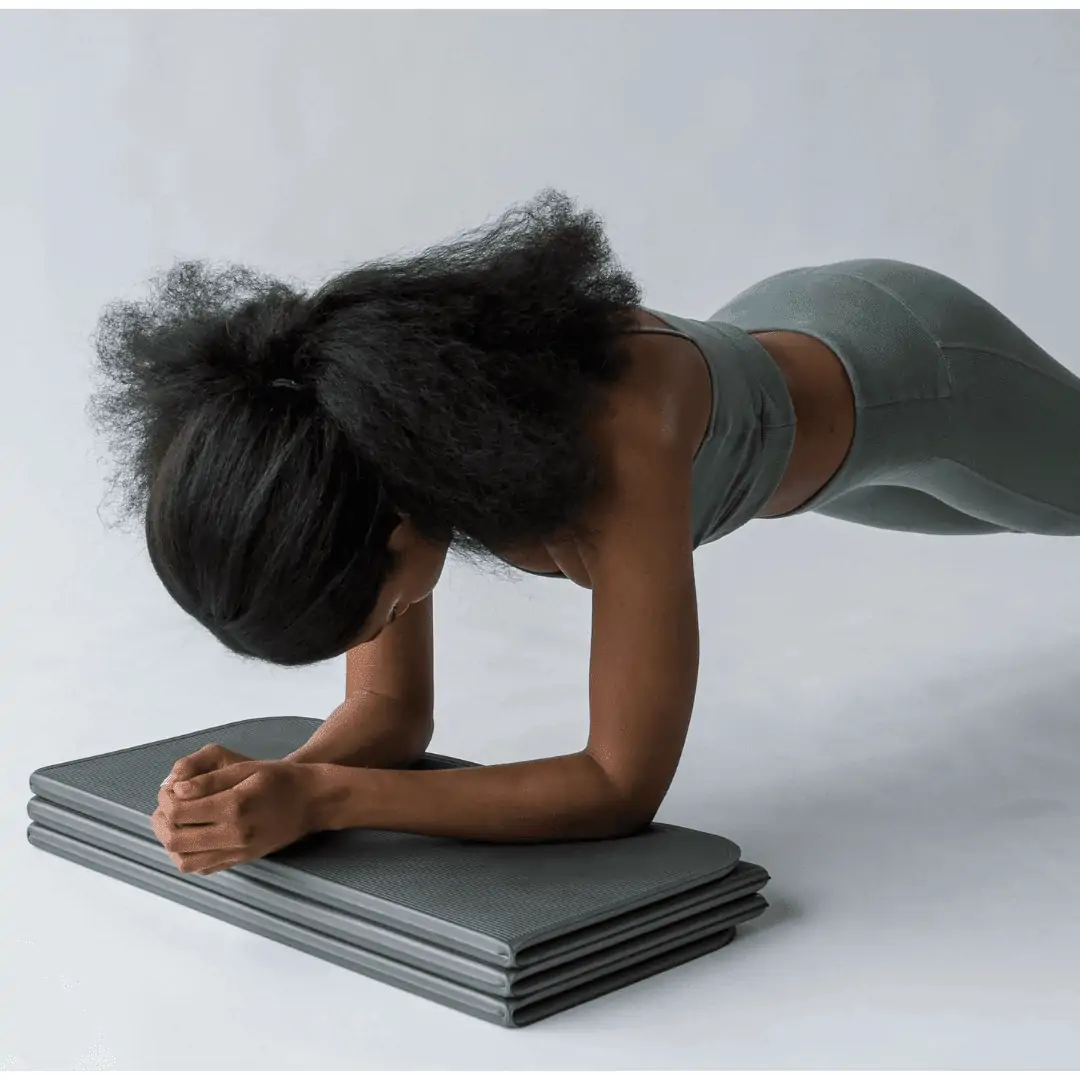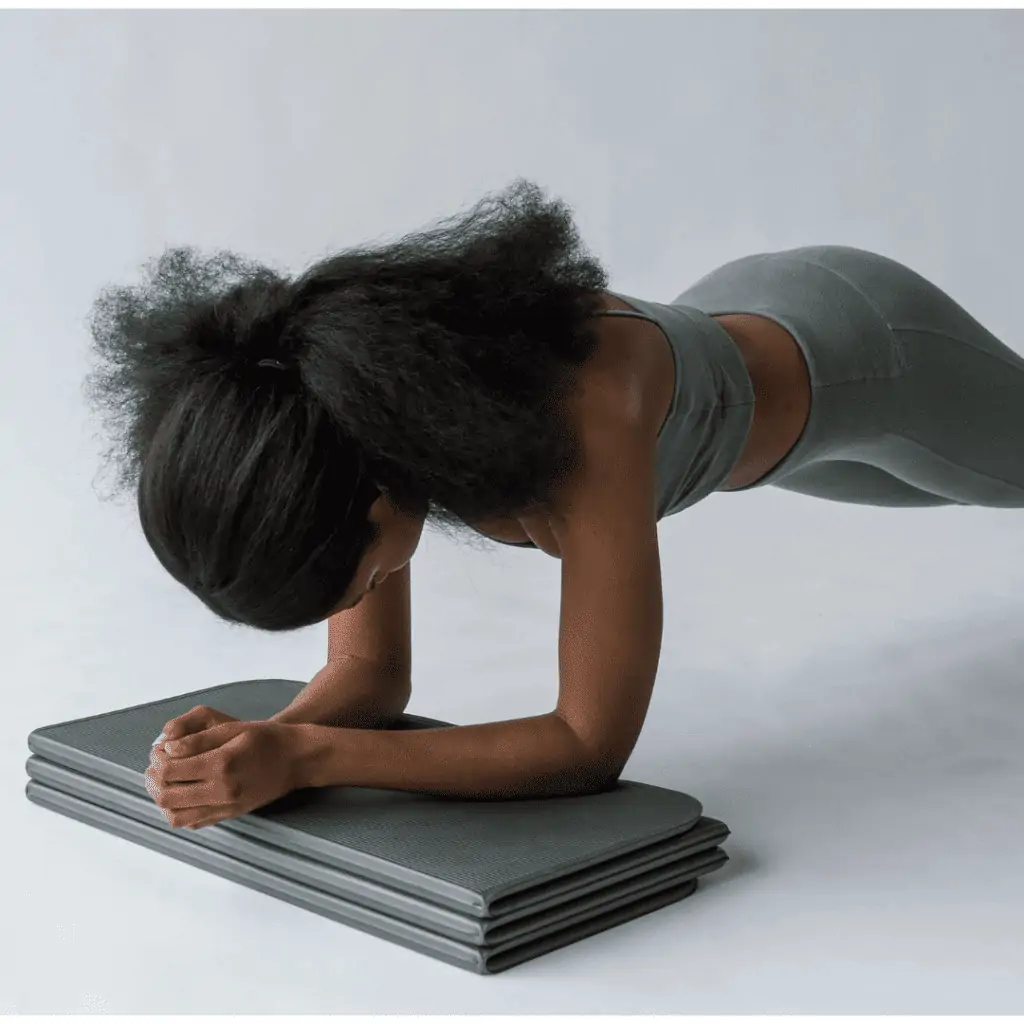 On Amazon, one reviewer writes, "This mat is so much better than any yoga mat I've ever used—it's sturdy, durable, and much more comfortable for exercising. Love that you can fold it up. Will never use a yoga mat again."
On the ThingTesting site, Stakt has been reviewed 12 times, and every reviewer gives it a five star rating.
One reviewer from Southern California says of her Stakt Mat:
"I have been waiting for something like this for so long! I was always trying to find a thicker but stable yoga mat, and Stakt meets all the criteria—plus, the foldability of it was something I hadn't anticipated being so useful. It offers new exercises and more support. BIG fan and I love not having to grab a towel for extra knee support during exercises."
Another reviewer on ThingTesting, states that:
"The absolute best workout mat on the market! The ability to fold the mat for incline push-ups, lunges, etc allows me to really amplify my at-home workouts and is the biggest game changer. I also love that it's so much thicker than a standard mat for added support during workouts, yet is still so light and easy to transport if I'm going to an in person workout. I'm obsessed and recommend it to everyone I know!"
After their Shark Tank appearance, there will certainly be a lot more Stakt mats being used in home workouts, so we can look forward to seeing many more reviews on this premium product.
Stakt in the Tank: "Roll over yoga mats, it's time for an upgrade"
Stakt founders Taylor Borenstein and Millie Blumka entered the Tank asking the Sharks for $100k for 10% of their high-end, foldable workout mat.
Taylor quickly told the Sharks that: "Our exercising has evolved, but our yoga mats haven't."
She explained, "We have a mat with a unique, foldable design. When a Stakt mat is fully unfolded, it acts like a standard yoga mat, except it's better. The Stakt mat always lies flat, and it's twice as thick. If you need extra support, fold the Stakt mat once or twice, you get extra cushion for your joints."
During the brief introduction to the product, Kevin O'Leary jumped in to say, "I'm in the gym all time, and I've seen lots of foldable mats, what's unique about this?"
Taylor responded to Mr. Wonderful, "Essentially, there are two kinds of mats out there. The big gymnastic kind which are pieces of cushion that are held together by vinyl, and those mats are heavy, expensive, and they're also not the right material for yoga or sculpt."
Kevin O'Leary followed up with: "What about the classical rolled mat which you see so many people carrying?"
Millie now explained to O'Leary that she and Taylor had always been into fitness, but it wasn't until the pandemic when they were working out at home that they realized that they were using yoga mats, but neither of them were really doing yoga.
Mille went on to say, "Half the time we were rolling up our mats for extra support, or we were using a block or something to really enhance the workouts we were doing."
Finally she told Mr. Wonderful that "we thought that there was room in the market for not only a more supportive mat, but to add versatility."
Lori Greiner jumped in next, "I'm curious to know the price—what it costs you, and what you sell it for?"
Taylor responded, "The mat itself, in a box, with the strap costs $21.50 landed, and we sell it at $86.00."
All of the Sharks responded positively when they heard about the margins for the product.
Kevin O'Leary now jumped back in with, "Let's say it has merit. Show us sales."
Taylor told the Sharks that they had been selling the Stakt mats for six-and-a-half months, and they had a little over $110k in sales. She also added that they hadn't yet put any money into marketing.
Kevin O'Leary continued his line of questioning, "So I'm signing up for pilates now, and I don't have a mat. And I go online, what are the price points I'm going to be presented?"
Taylor told O'Leary that the yoga mat industry is segmented by material. The Stakt mat is an eva foam; it's non-toxic and non-porous. The Stakt mat competes in the premium segment of the market with mats that range from $70-$130.
Daymond John then asked, "And how much of your own money is into this business?"
Taylor answered that they each put in a bit over $25k.
A chorus of Sharks next ask: "Is this your full-time job?"
Mille responded that they are both still working full time jobs to fund the business.
After asking a few more questions about the professional backgrounds of the Stakt founders, it appears that the Sharks are ready to render judgment.
Daymond spoke first telling the workout women that while he liked the product, he did not think that he would be of help to them, so he declared himself out.
Mark Cuban spoke up next and said, "I invested in a company called Bala, and they create an entire community around high-end fitness equipment, so my concern is competing with Bala, so for this reason, I'm out."
Guest Shark Kendra Scott now spoke for the first time, "I love yoga, and I think it's a great idea for your knees. Unfortunately, for me, I have used the same mat for two years. I don't see that this is a product that I'm going to rebuy, so you're always going to have to be acquiring new customers, so for that reason, I'm out."
Kevin O'Leary jumped back in to say, "The best part of this deal are you two, but I'm sorry, this is not a business for me."
This left Lori Greiner as the only Shark still swimming.
She told Taylor and Millie, "Listen, I like this mat a lot. I think this is the best mat I've ever seen, and I've gone through a lot of them. This one's fantastic. I'm going to make you an offer. Now, because you guys are so, so newbie, I'm gonna give you $100k, but I'd like 15%, and I'd like $1.00 back per unit sold until I recoup my $100k. We will blow this up. I'm worth it."
After a whispered consultation, the Stakt team explained to Lori that they were concerned that the royalty would really dampen the growth they need right now. They asked Lori, "Would you be willing to go $100k for 20%?"
Lori responded, "The reason I did that is because you guys have a lot of margin, so really $1.00 when you're making like $50.00 a piece, or more . . ."
She went on to say, "If you really want me in it to win it, how about 25% equity, which I'm not gonna see unless we sell this company or unless we make a lot of sales."
The negotiation continued, as Taylor followed up with, "Would you do $150k for 22.5%?"
Lori then quickly said, "No, my plan is to blow out so many of these, we won't need it."
Taylor came back with yet another new offer: "We have another offer here. $100k, 15% and $0.35 royalty."
Lori responded, "$0.75, and you got a deal."
The Stakt team responded in unison: "You have a deal."
Finally, after the long negotiation with Lori, the Stakt team hopes that the three women together will make a stack of money selling their premium workout mats.
Stakt Shark Tank update
After the Stakt pitch aired on Shark Tank, the company released a TikTok video which displayed their massive increase in web traffic immediately after their episode.
In the video, they say, "we are so grateful for all of the support and all of the love. Most importantly, we cannot wait to get these mats shipped out. And we are so excited for what's to come."
The Stakt team obviously knew that they would get an increase in sales after their episode aired, and they are using some of this exposure to help fight breast cancer. On the Stakt website, they indicate that:
"October is Breast Cancer Awareness Month. We're donating a portion of sales to Northwell Health's Feinstein Institutes for Medical Research. The Funds raised will directly support a female Breast Cancer researcher through the organization's Advancing Women in Science and Medicine (AWSM) awards."
With the increased activity on their website, it looks as if both the Stakt team and the breast cancer institute are going to see increased revenues in October!
FAQs
What is Stakt on Shark Tank?
Stakt produces a flexible, foldable exercise mat. The company went on Shark Tank asking for an investment of $100,000 for 10% equity, valuing the business at $1 million.
Who founded Stakt?
Stakt was founded by Millie Blumka and Taylor Borenstein. The company is based in New York city, New York.
When did Stakt go on Shark Tank?
Stakt appeared on Season 14, Episode 3 of Shark Tank. It originally aired on October 7th, 2022.
Did Stakt get a deal on Shark Tank?
Yes, Stakt struck a deal on Shark Tank with Lori Greiner, who invested $100,000 for 10% of the company plus a royalty of $0.75 for every unit sold until she recoups the $100,000 investment.
Who invested in Stakt on Shark Tank?
Lori Greiner invested $100,000 in return for 10% equity and royalty payments of $0.75 per sale until the investment is paid off.
What is Stakt's net worth today?
Following its Shark Tank deal, Stakt was valued at $1 million.