The founders of Moment Drink made their way into the Tank in 2020 to pitch their botanical water, which they claim reduces stress.
But what did the Sharks think? Does the drink actually help with stress? And what happened to Moment after Shark Tank? Here's everything you need to know.
What is Moment botanical water?
Moment is a natural sugar-free beverage that its owners claim to be a form of "on-the-go meditation" that gives the drinker the same effects and feelings of a meditation session.
At the time of the Shark Tank episode, the drink came in three flavors: tulsi lemon, rooibos blood orange, and hibiscus dragon fruit. But since then, however, the company has expanded its flavors to include blueberry ginger, cherry Chaga, spiced mango, kiwi chlorophyll, lychee mint, orange thyme, and cherry hibiscus.
All flavors throughout the Moment drink range are free from added sugar, artificial flavors, and caffeine.
Although the founders aimed the drink itself to help with meditation, mindfulness, and stress relief, they also donate 1% of proceeds towards mental health non-profits. Their current non-profit partner is Calm Classroom, which helps to teach children throughout the United States about mindfulness and give them the skills they need for their own emotional and mental wellbeing.
"We're trying to create a habit in a person's daily life. Every time somebody actually subscribes for Moment, a portion of our proceeds actually go towards helping kids in school learn about mindfulness."

Faheem Kajee, cofounder of Moment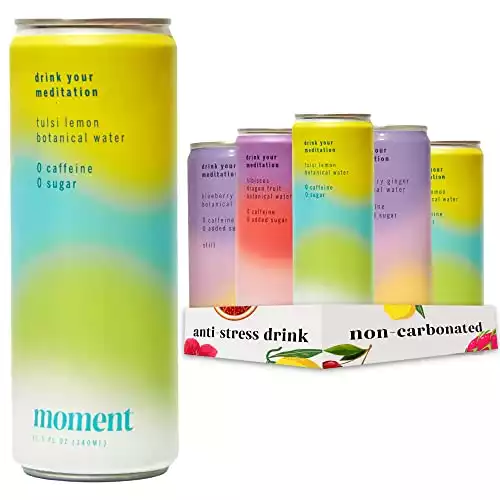 We earn a commission if you make a purchase, at no additional cost to you.
On Moment's website, you can choose to purchase their drinks in 12 packs, or you can sign up for a monthly subscription. The monthly subscription, which the Sharks suggested wouldn't be a good idea, delivers the 12 drinks to your house every month. You can pause or cancel the subscription at any time, and over the course of a year, you'll save around $180.
Who owns Moment?
Faheem Kajee and Aisha Chottani founded the Moment drink in 2020 as an answer to stress relief. Both Aisha and Faheem had been working in high-powered positions as management consultants and had undergone their fair share of stress in the workplace.
Before their positions as management consultants, however, Aisha graduated from Harvard Business School, and Faheem founded start-ups and worked for venture capitalist firms.
The pair have been long-time practitioners and advocates of meditation, but they found that they didn't have the time or place to meditate during their hectic work days. This lack of daily meditation is where the idea of Moment came from.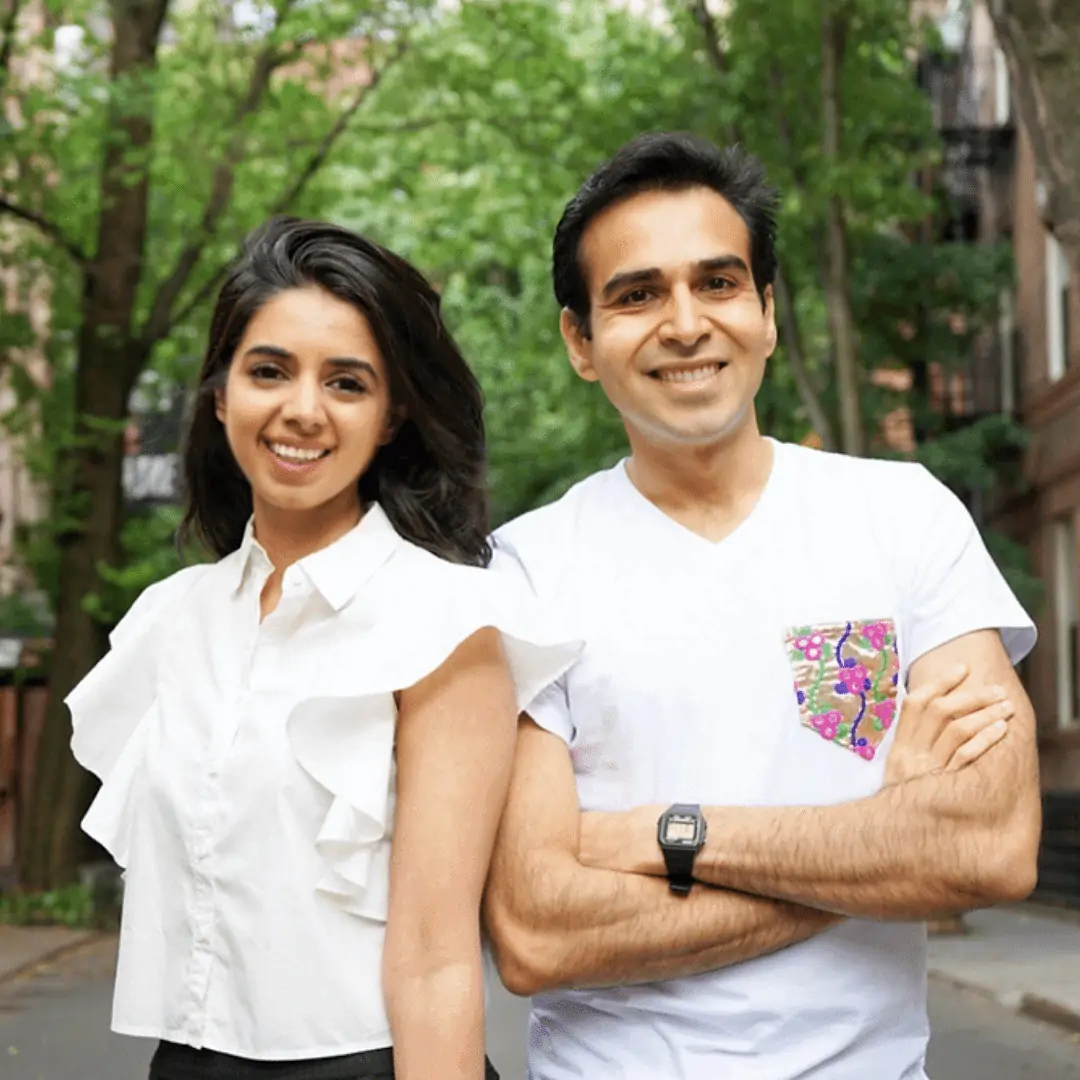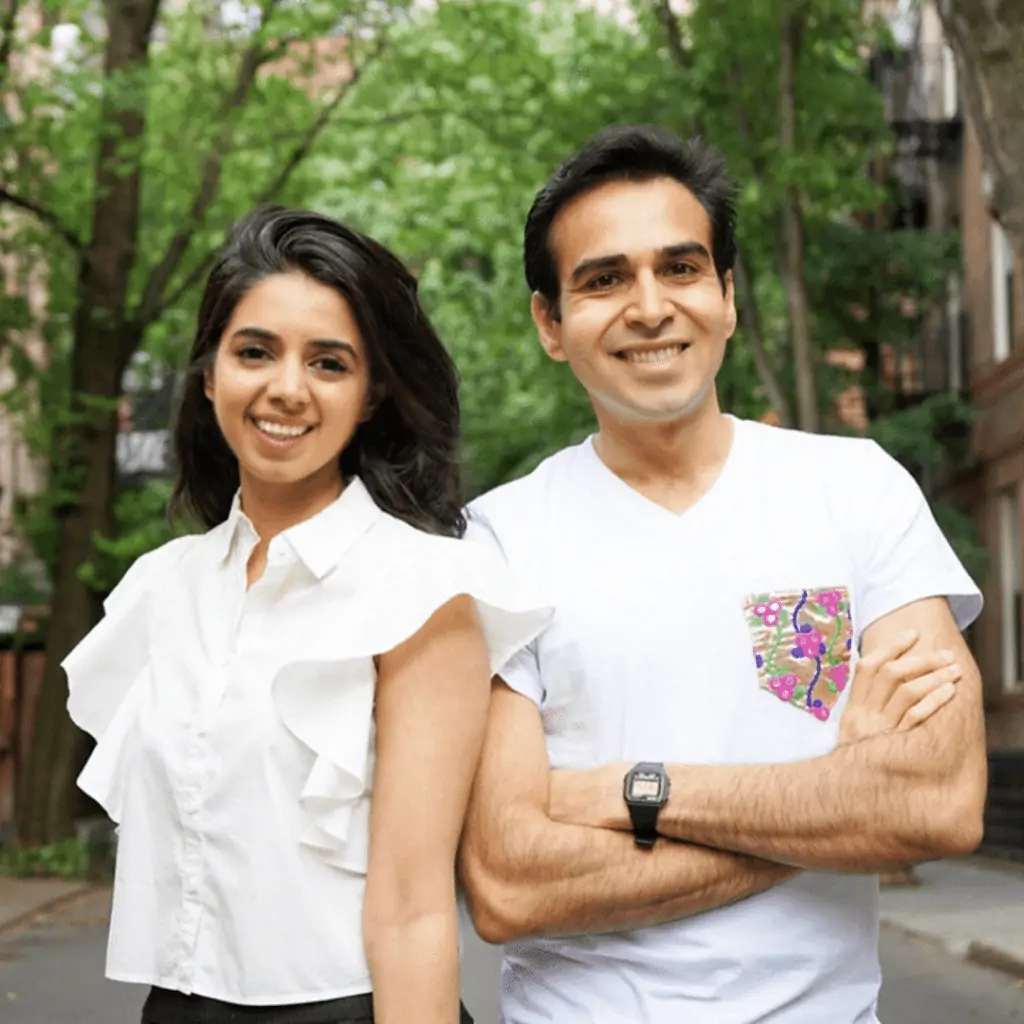 Faheem and Aisha wanted to regain calmness, focus, and clarity, so put their minds together to think of a solution. Both parties were aware of the stress-relieving benefits of adaptogens and botanicals, so they set out to formulate the ingredients into a liquid.
"Moment uses a proprietary formulation that stimulates the same alpha brainwaves as does meditation."

Aisha Chottani
Aisha and Faheem use three primary ingredients in their Moment drink: a natural extract of green tea, an ancient root, and a holy basil and adaptogenic herb. These three ingredients aim to improve focus, calm the body, and ultimately reduce stress.
After extensive research and many experiments with natural substances and ingredient combinations like hibiscus petals, rooibos tea, Meyer lemon, black cherry, and Ceylon cinnamon, the pair created Moment to be a drink that felt like meditation.
When did Moment go on Shark Tank?
Moment drink went on Season 12, Episode 6 of Shark Tank. It originally aired on November 20th, 2020.
Did Moment drink get a deal on Shark Tank?
Although Moment began their Shark Tank pitch with quite possibly the most enthusiastic pitch the Sharks had ever seen, they were sadly not able to land a deal of $200,000 for 10% of their business.
Their downfall? Well, that began to unfold when they mentioned their subscription model (which, as we explained before, they went ahead with anyway).
Many of the Sharks believed that people don't want to sign up for a drink subscription service, and if they did, it would be the first expense to go if times got tough.
"The beverage industry is probably the most difficult industry on Earth to gain share in. Never in the history of beverage, from the time of Ghengis Khan, has anybody got a subscription model to work."

Kevin O'Leary
What happened to Moment after Shark Tank?
Aisha Chottani and Faheem Kajee may not have won a deal from the Sharks, but they did win the BevNET New Beverage Showdown 2020, the Beverage Industry's Premier Award, and they even got accepted into the Amazon Launchpad Program.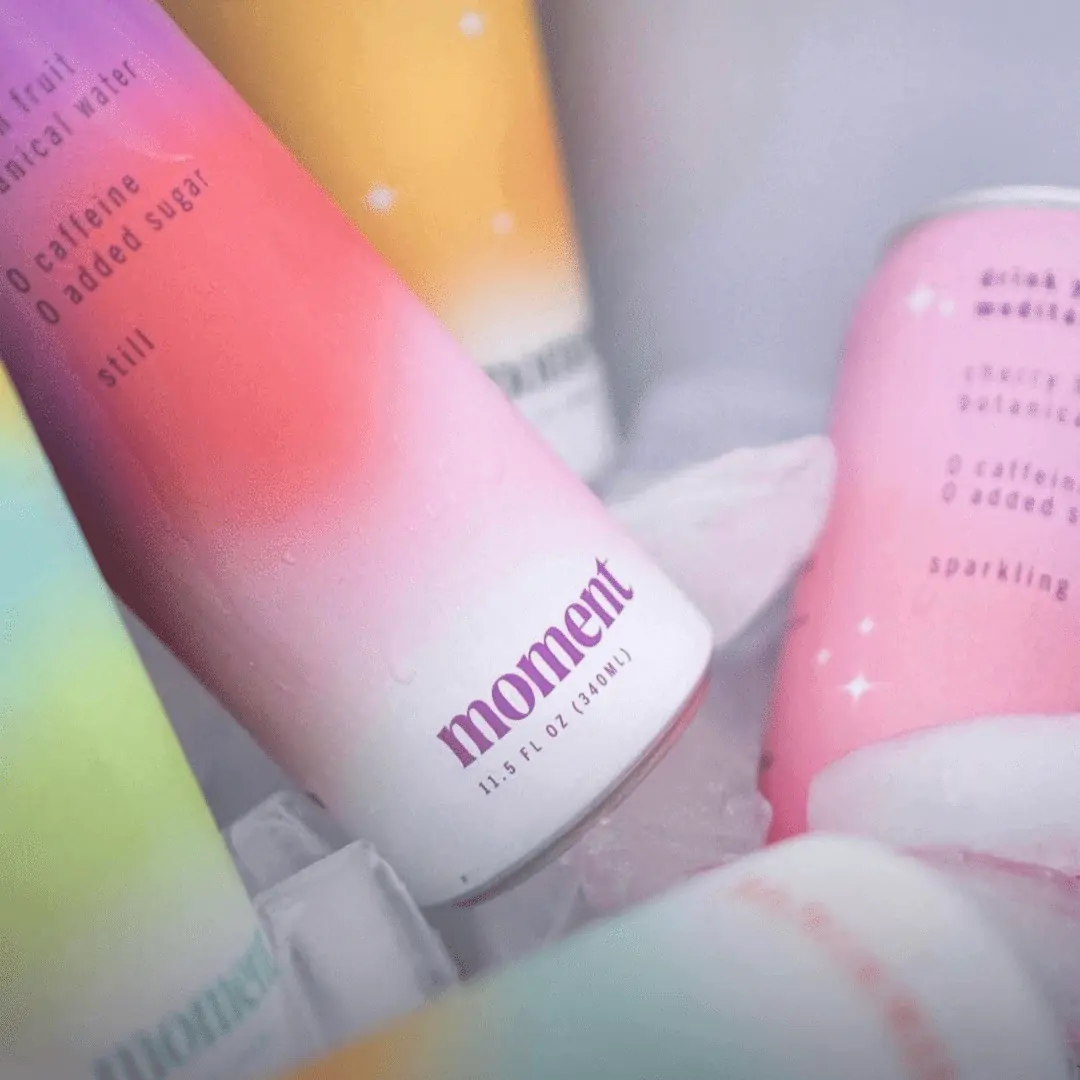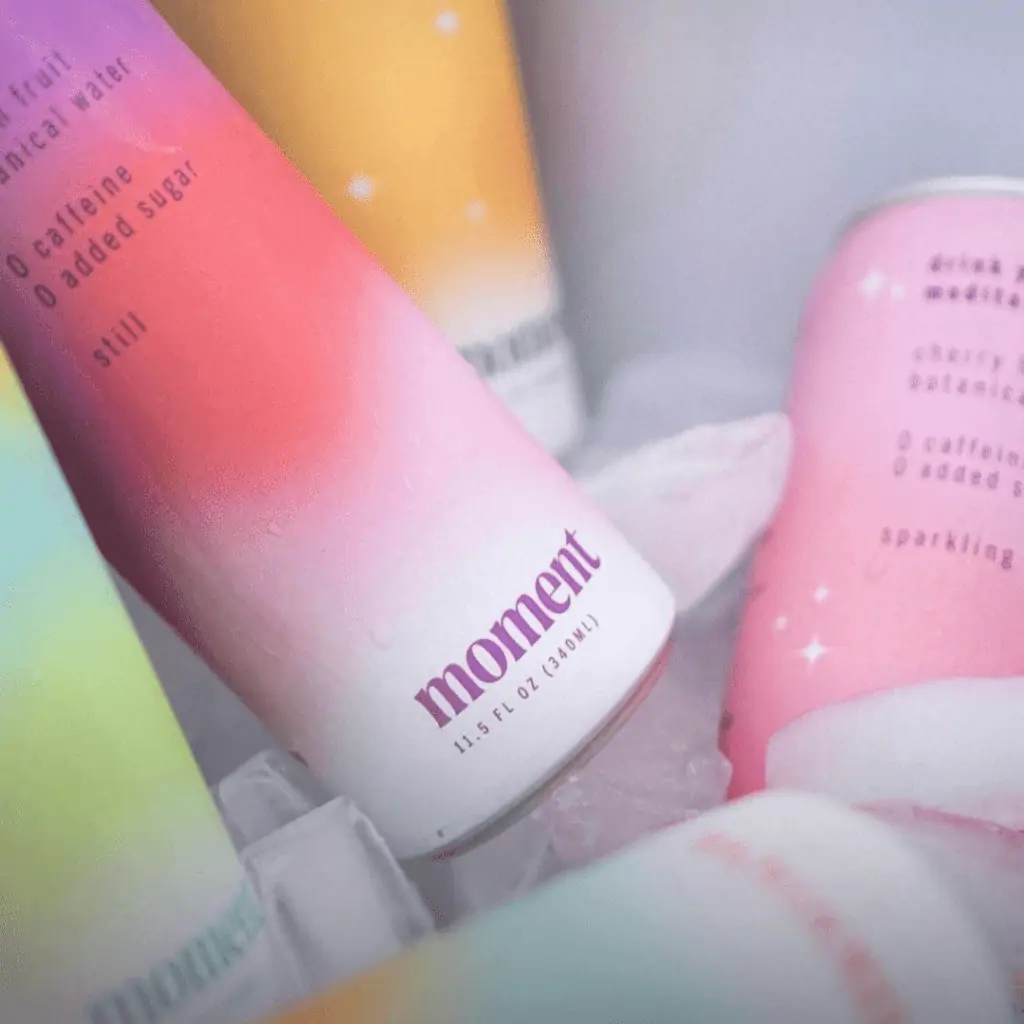 We're currently unsure if Faheem is still a part of Moment, as even though the pair started the company together, the Moment website only states Aisha as the founder with no mention of Faheem.
How is Moment doing today? Is it still in business?
To this day, Moment is still in business, and you can purchase both carbonated and non-carbonated drinks from their website or their Amazon page.
Does Moment actually work?
If you're anything like Blake Mycoskie or me, then you may be skeptical about whether or not Moment actually works. I mean, can a canned drink really have the same effects as meditation?
On their website especially, people seem to be loving the Moment drinks, their flavors, and their effects. Some comments include, "I've been having it for a month and have seen a huge change to my overall health and stress levels," and "It's like the feeling you have after a gentle yoga class – blissful."
On the other hand, Amazon has a mixed bunch of reviews, with one commenter even saying, "I got the variety pack. I've only tried two flavors. This product is watered down, and one flavor is very tart (dragon fruit). As for it relaxing or calming you, I didn't feel like these drinks did anything. I don't recommend."
How much is Moment worth?
During their appearance on Shark Tank, the founders estimated the company's value to be around $2 million…but the Sharks disagreed. Even though they didn't score a deal on Shark Tank, Moment is still up and running today, so it's fair to say that the company's value could now be approaching that $2 million mark.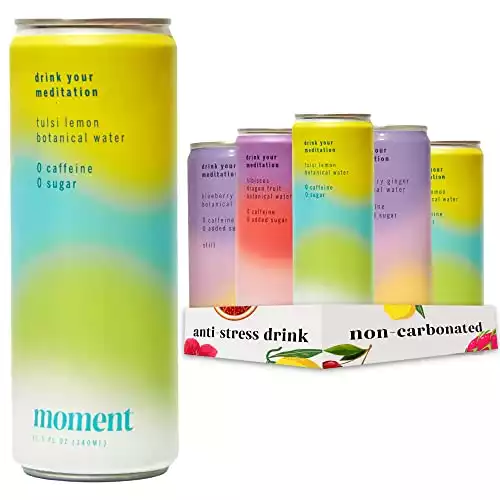 We earn a commission if you make a purchase, at no additional cost to you.