This ActionGlow Shark Tank update reveals how the founders impressed the Tank with their LED lighting systems for action sports equipment.
What is ActionGlow on Shark Tank?
ActionGlow is a company which manufactures aftermarket LED lighting systems for action sports equipment. The company is located in Traverse City, Michigan.
ActionGlow makes lighting systems for a wide variety of action sports equipment. They have systems for winter sports gear such as snowboards and skis, and they also make lighting systems for water sports equipment: surfboards, stand-up paddle boards, wake boards and kayaks. Finally, ActionGlow also produces their LED lighting systems for longboards and bikes. 
The company appeared on Episode 7 of Season 14 alongside Boarderie, Ride FRSH, and Legacy Shave.
Who created Action Glow?
ActionGlow was founded by two brothers, Dakota and Garret Porter, from Traverse City, Michigan. The Porter brothers started ActionGlow when they were teenagers, just 13 and 16 years old. For many years, Dakota and Garret were running the company while going to school, and they recently started to work on their business full time after they both graduated from college with Associate Degrees in Business.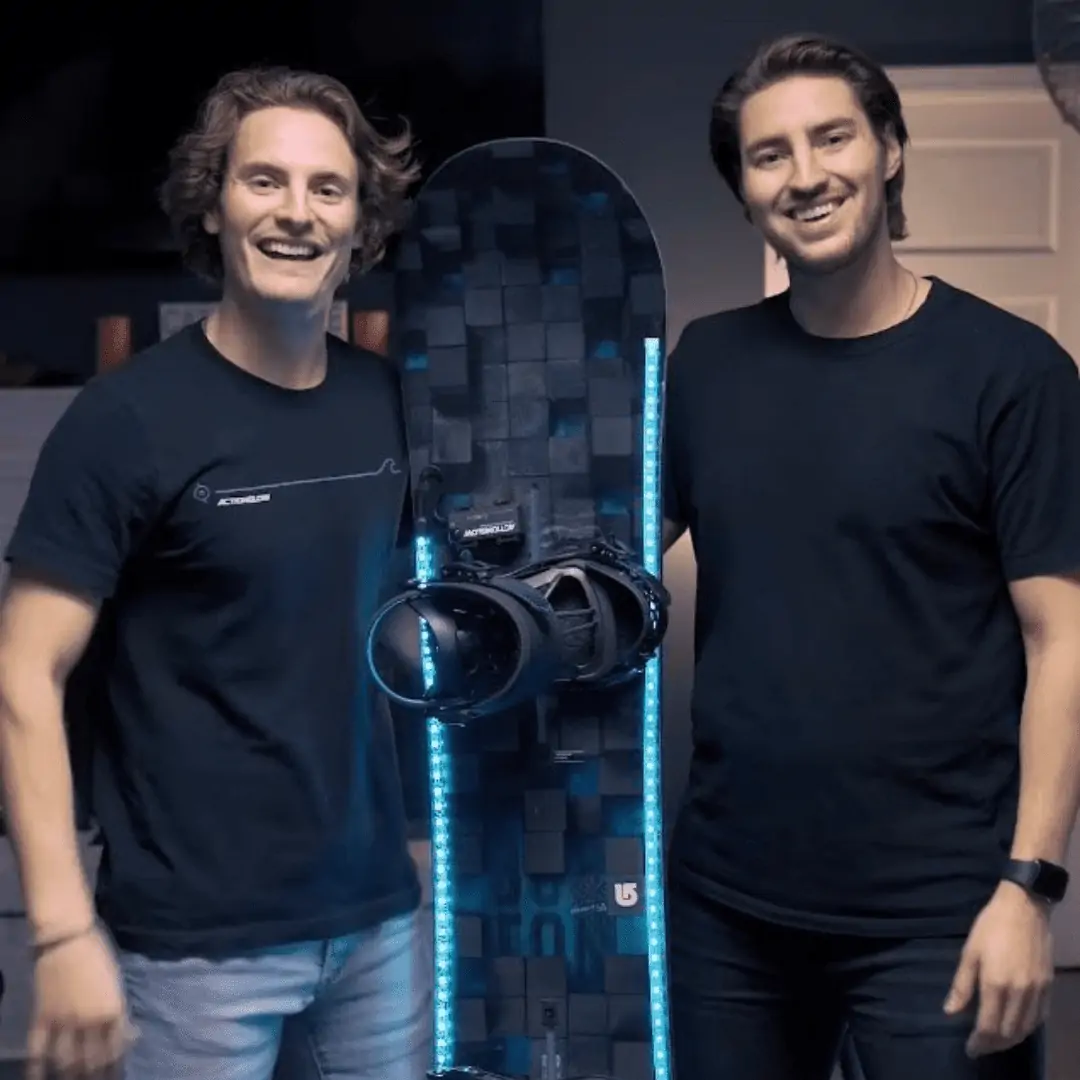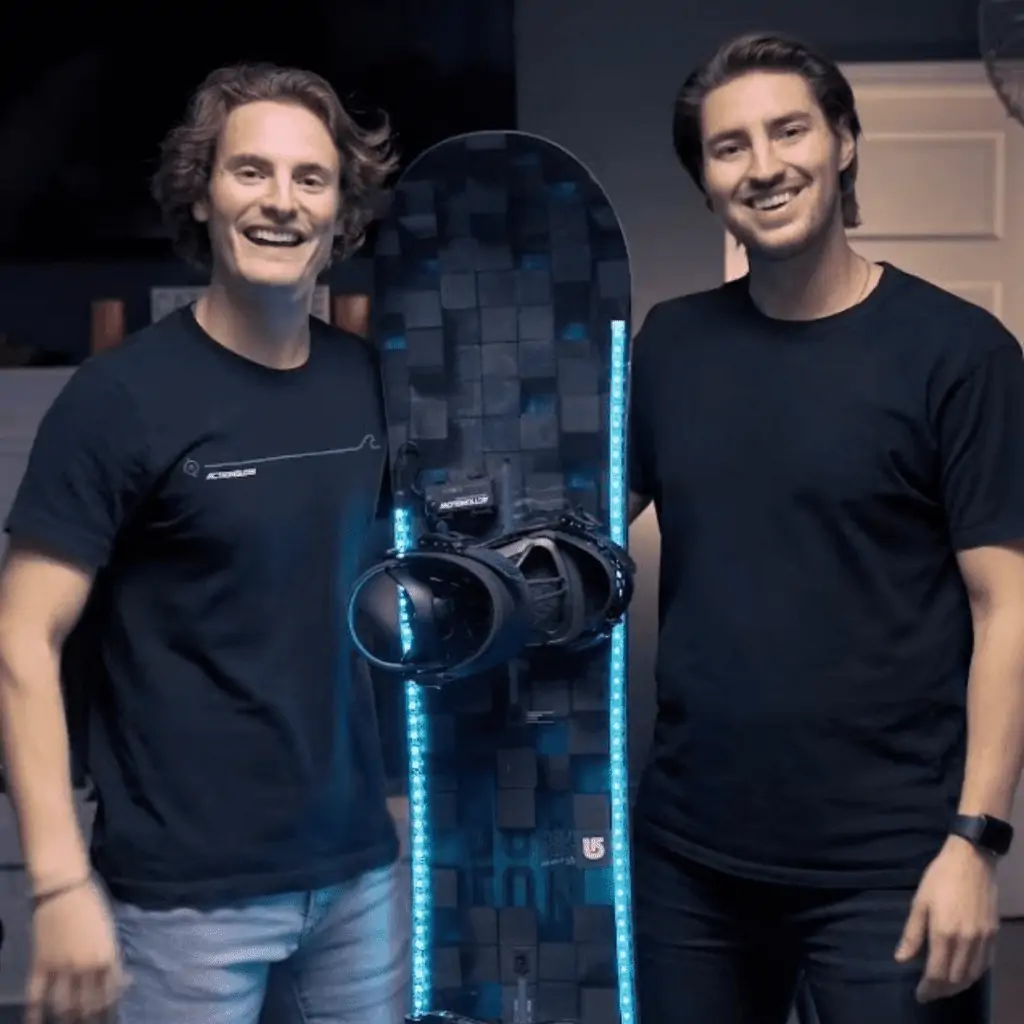 How did Action Glow Get Started?
When they were still teenagers, Dakota and Garret Porter came up with their idea to put LED lighting systems on their snowboards, and ActionGlow was born.
As teenagers, the boys spent a great deal of time together in the snow, and on the ActionGlow website, the Porter brothers say that one night while they were just about to drop in on a dark ski slope with their snowboards, they wondered what it would feel like to shred through fresh power or launch a 360 with LED snowboards. And from that time, they decided that they would work to make their idea come true for just about every action sport enthusiast.
What happened to ActionGlow before Shark Tank?
In 2011, just after they had worked out how to build their first LED lighting system for a snowboard, ActionGlow co-founders Dakota and Garret Porter attended a local business expo. They had just launched their website, and they had very little inventory to sell; however, despite the misspellings and cumbersome checkout process on their website, they sold out of all of their limited inventory within 48 hours of the trade show.
The young brothers were really excited by their sales from the business expo, but they were even more stoked when, only a few weeks later, they received two emails from two different Shark Tank casting members inviting them to apply to be on the show.
The Porters say that they didn't really know what they were in for, or how long their journey to the Tank would be. When ActionGlow was finally chosen to air on Shark Tank in 2022, it was the fourth time that the brothers had applied to be on the show.
In the Blog Section of the ActionGlow website, the brothers have posted their application videos for Shark Tank in 2012, 2014, 2016, and finally 2022. For their first two Shark Tank applications in 2012 and 2014 while Dakota and Garret were still very young, they were cut from the show fairly early in the process. However, in 2016, they heard back from one of the Shark Tank producers, and they were told, "you are in a very good position, and the majority of applicants never get this phone call." After this call, they had expected good news, but once again, the boys received the bad news that they had been cut from the show for a third time.
Of their fourth, and final attempt to get in front of the Sharks, Garret says, "2022 rolls around, and we received a basic email reading 'Season 14 Shark Tank Applications Now Open.' As a joke, I asked Dakota if we should try one last time, for good. Because we were approaching a very busy year, he said no, and honestly, I don't blame him. But that doesn't mean I listened to him."
Finally, the ActionGlow team received notice that they had been chosen out of 40,000 applicants to fly out to LA and pitch to the Sharks.
What do customers think of ActionGlow?
On Amazon, one product, the ActionGlow LED Snowboard Lighting Kit has 32 ratings, with an overall 4-star rating. 75% of reviewers rate the product at 4 or 5 stars, and 25% of those who reviewed the lighting system gave it less than 4 stars, so there does seem to be some differing opinions about the product.
One happy customer, a verified buyer writes on Amazon:
"My boyfriend and I have recently invested in ActionGlow for our snowboards. We find this product very neat and cool. We got lots of compliments. The battery's do pretty well so far his lights (green) have lasted 2 days on the slopes. My lights (white) have done well also although I had an issue with a strip not staying on. I recommend investing in these lights. 1 for safety and 2 for fun. Will be buying from ActionGlow again! Thank you. Update: The company was quick to support me and sent me a new set, and I got (magenta) a new beautiful color to try!"
Another satisfied ActionGlow user writes, "Amazing product, lives up to expectation. Absolute hit. Easy to install, very bright."
On the other hand, several reviewers found the ActionGlow lighting systems did not perform as they had expected.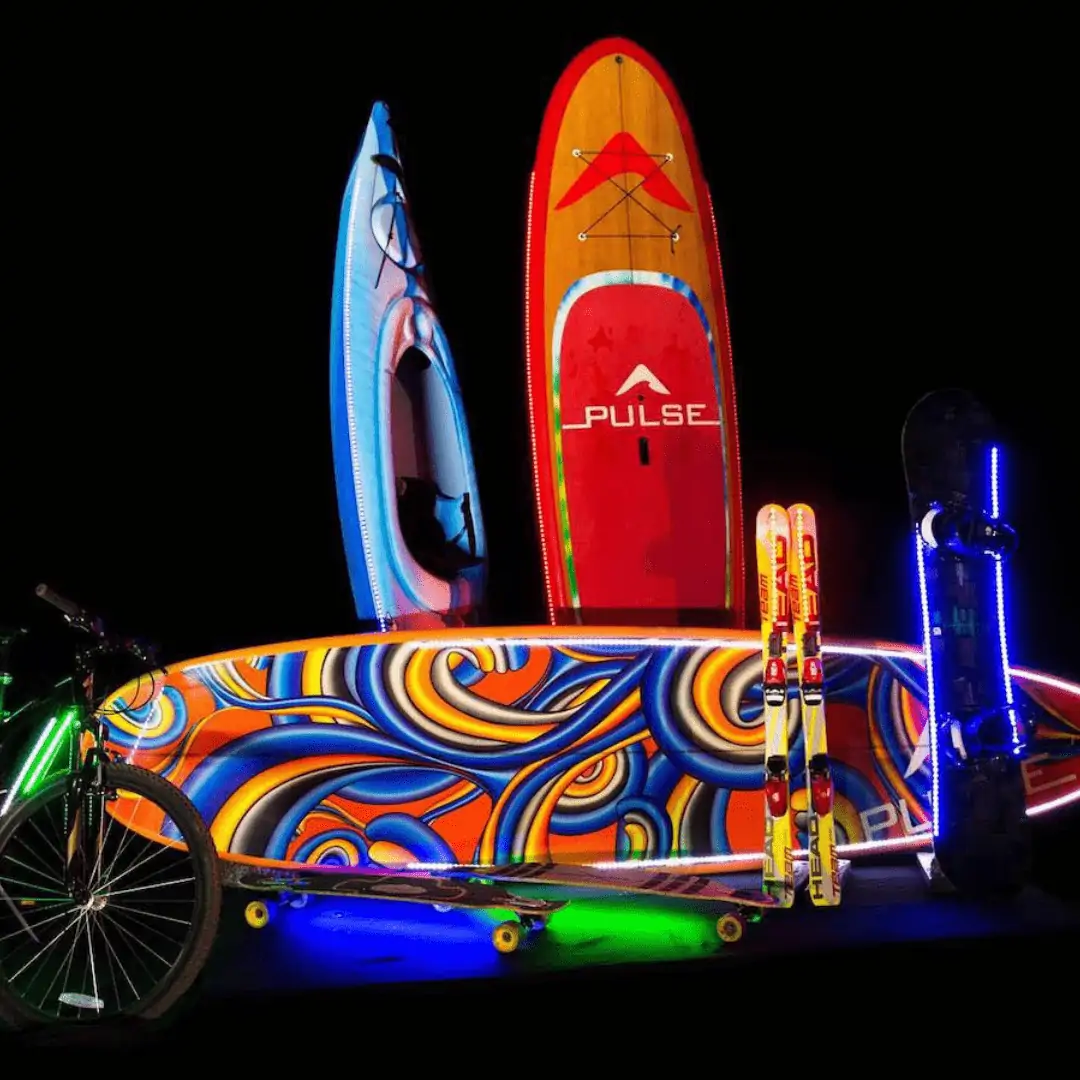 In March 2021, a verified purchaser wrote, "If I could rate this a zero I would. Purchased 2 sets for both of my boys. Placed them on boards per instructions. Board #1 strips lasted a few hours, after that 1 strip completely quit working. later that same night the battery packs came completely off. Board #2 one strip quit working after 10 minutes, the other strip lasted the rest of the night, however, the next night, neither strip worked and both battery packs came off. Complete waste of money!! Will contact customer service in hopes to get a refund."
A second disgruntled ActionGlow user said, "We thought these were great but after 3 weeks they no longer stick to the snowboard. The section where the battery is does not stay attached to the snow board. This was a big waste of money. It was too expensive to last only a few weeks."
While the majority of the reviews are positive, there are a number of them in which customers were unhappy that the product failed so soon after purchase. Hopefully, with any investment the company receives, they will work on quality control to assure that the systems perform to customer's expectations on a consistent basis.
When did ActionGlow go on Shark Tank?
ActionGlow appeared on Shark Tank in Season 14, Episode 1407, on November 18th. Members of the ActionGlow team pitched to five of the regular Sharks: Mark Cuban, Lori Greiner, Barbara Corcoran, Kevin O'Leary, and Robert Herjavec.
What happened to ActionGlow on Shark Tank?
ActionGlow co-founders Dakota and Garret Porter, two brothers from Traverse City Michigan, entered the Tank and asked for $200k in return for a 15% stake in their aftermarket action sports gear LED lighting business.
The Porter brothers explained to the Sharks that their aftermarket LED lighting systems allow riders to express their personal style while also adding an element of safety to their snowboards, surfboards, longboards and other gear. Dakota and Garret also told the Sharks that ActionGlow offers specialty LED lighting systems for 8 different applications for different adventure sports.
After their product introduction, the AfterGlow team did something unusual in the Tank; they showed video clips of audition tapes for the three previous times that they had applied to appear on Shark Tank. The first video was made when they were just 13 and 16 years old.
The Sharks seemed to really enjoy the video segments, and they commended the Porter brothers for their perseverance. Dakota and Garret also told the Sharks that they had just celebrated 10 years in business, and since they both recently graduated from college, they were now working on the business full time.
Did ActionGlow get a deal on Shark Tank?
ActionGlow successfully got a deal on Shark Tank. Robert Herjavec agreed to invest $200k for a 30% stake in the business.
After the ActionGlow brothers completed their pitch, Kevin O'Leary asked them if the lighting systems were a single color, or if the user could change colors. Dakota and Garret explained to O'Leary that currently the colors are static, but one of the main reasons that they were looking for investment was to fund a second generation of their ActionGlow system which would allow users to change colors, and importantly, would also cut down the company's SKUs from 40 to 8. The team told the Sharks that this would result in a modest price increase for their systems, but cutting inventory problems would be a huge benefit.
Mark Cuban then asked the Porters to talk about their sales, and they told him that lifetime sales were $130k, but almost half of the sales had come in the past two years. Robert then wanted to know how they are selling their products, and Dakota said, "Right now it's all word of mouth. We've done no marketing."
The Sharks were surprised that ActionGlow hadn't attempted to produce viral videos on social media, especially considering the type of product they were producing, but Garret told the Sharks that they were still hand assembling every unit, and they were afraid that they would not be able to keep up with demand if a viral video produced massive demand.
Barbara told the brothers that she really didn't like their reason for not attempting to go viral on the internet.
Finally, it looked like some of the Sharks were ready to make a decision. Kevin O'Leary spoke first and explained that he had invested in something similar and that he was afraid that ActionGlow would need to spend a lot of money on lawyers to defend from knockoffs, so he quickly opted out.
Lori Greiner told the guys that she thinks that they are fabulous, but the company is still too small for her. Mark Cuban then told the brothers that they are on an amazing journey, and despite the fact that having a Shark would allow for some shortcuts, he thought that they were doing things perfectly right now, so he declared himself out as well.
Barbara was not impressed with the small amount of sales over 10 years, and the fact that the guys had not pushed hard to create a buzz on social media.
Lastly, Robert Herjavec said, "I'm impressed with it." He told Dakota and Garret that they need a little more discipline, but he said, "It's an investment in you guys, there's a lot of stuff to figure out-I'll give you $200k for 30%."
Dakota then asked Robert if he would take the deal for 20%, and Robert quickly responded, "No, no."
Garret chimed in asking Robert if he would consider 25%, and Robert was still resistant. Finally, Lori Greiner said, "Look, you've been trying to get in here for 10 years, and now you have an offer, don't blow it!"
Dakota grabbed a longboard and rolled it toward Robert saying, "Hop on board!"
Robert jokingly asked if he could keep the board, and the guys said, "It's yours!"
ActionGlow Shark Tank update: What happened after?
According to the Traverse City Record Eagle, Dakota and Garret Porter held a Shark Tank Watch Party for family and friends at the Traverse City Opera House. Garret told the paper that he thinks an appearance on Shark Tank is worth between $5-10 million in advertising in one night.
The Porter brothers also told the paper that now that their episode has aired, they plan to hit the road in 2023 in a renovated school bus. One side of the bus has a mural depicting summer time uses of ActionGlow products, while the opposite side of the bus is filled with images of winter sports using ActionGlow gear.
The ActionGlow website also seeks to leverage the Shark Tank effect with both Shark Tank Specials and a sign-up sheet for a Shark Tank Give-Away in which one person will win an AfterGlow system for every 250 that they sell.
ActionGlow looks to have had lots of new orders after their episode aired, as many of the products on their site indicate: "Thank you so much for all of the support, wow! Due to Shark Tank orders we are expected to ship 12/18 – Just in time for the holidays!"
Also, as the brothers had mentioned on their Shark Tank appearance, it appears that they have now converted from static colors for their lighting systems, to a next generation system in which the user can choose a new color every day!
How much is ActionGlow worth?
The deal that ActionGlow made with Robert Herjavec valued the business at a little over $600k, but now that they have migrated to the next generation of their lighting systems, combined with the planned upcoming bus tour of action sports venues, there is little doubt that the company's valuation will soon increase.