This Boarderie Shark Tank update tells the full story of how a couple set out to transform luxury catering and ended up landing a Shark.
What is Boarderie on Shark Tank?
Boarderie is a company which produces catering-quality, gourmet cheese boards that can be delivered anywhere. The company is based in West Palm Beach, Florida. 
The company appeared on Episode 7 of Season 14 alongside Legacy Shave, Ride FRSH, and ActionGlow.
Who created Boarderie?
Boarderie was created by husband-and-wife team Aaron and Julie Menitoff, and the company currently has four partners. Aaron Menitoff, Co-CEO and managing partner, has both a BA in Communications and Psychology from the University of Michigan and an AA degree in Food and Beverage Management from the Florida Culinary Institute. Prior to starting Boarderie, Aaron, along with his wife Julie, founded and operated the Wellington Hospitality Group, a high-end catering company located in south Florida. Julie Menitoff is the Co-COO of Boarderie. 
Rachel Solomon, Co-CEO and partner in Boarderie, has a BA in Economics and Psychology from Barnard College in New York City, and prior to her involvement with Boarderie, she worked as an analyst for City Bank.
The fourth Boarderie partner is Angel Jerez. He is the Co-COO and the resident Sommelier and Cheese Monger. Angel was a sommelier in Italy, and he worked for ten years in a three-Michelin star restaurant in Florence where he learned a lot about cheeses and wines. Angel also has experience as an engineer.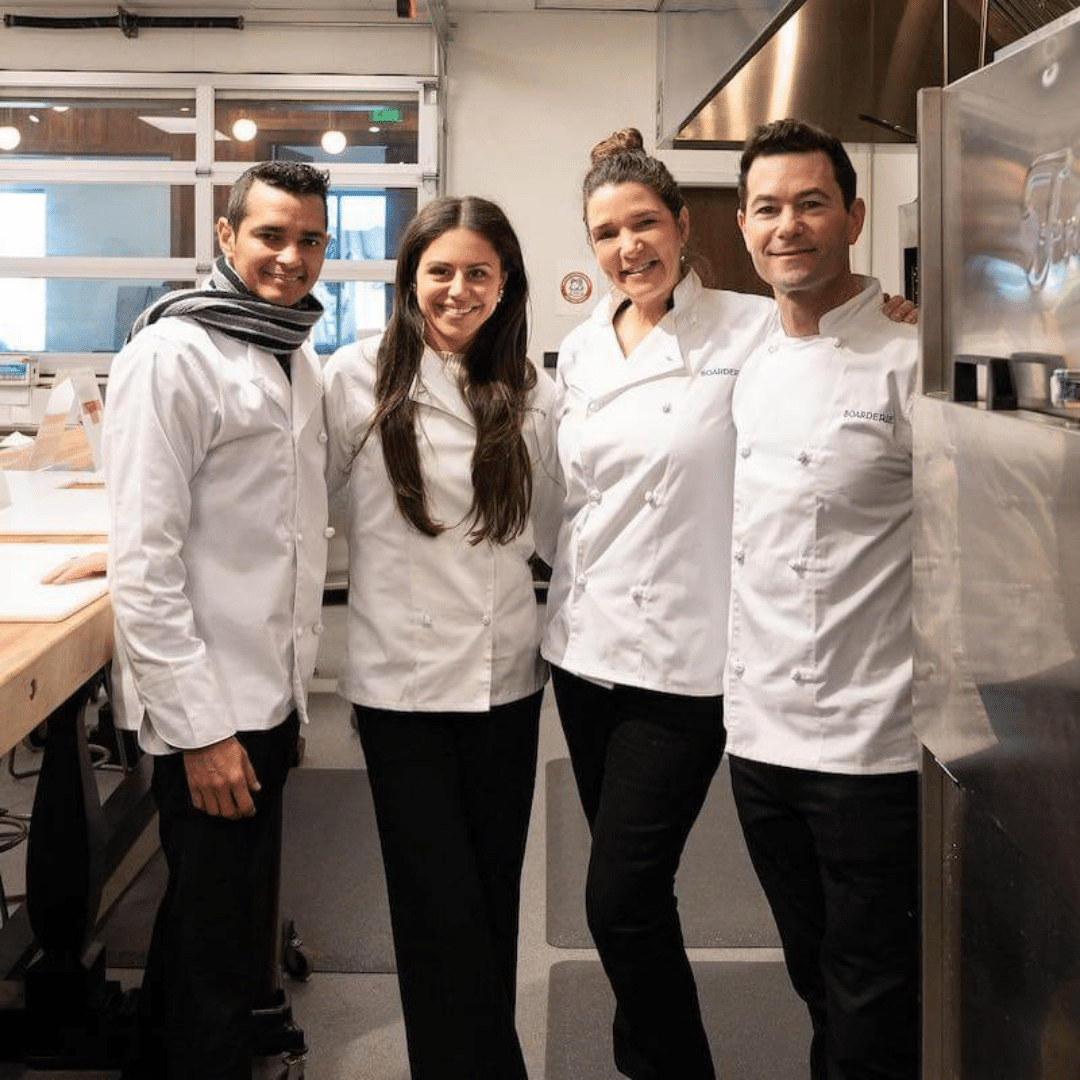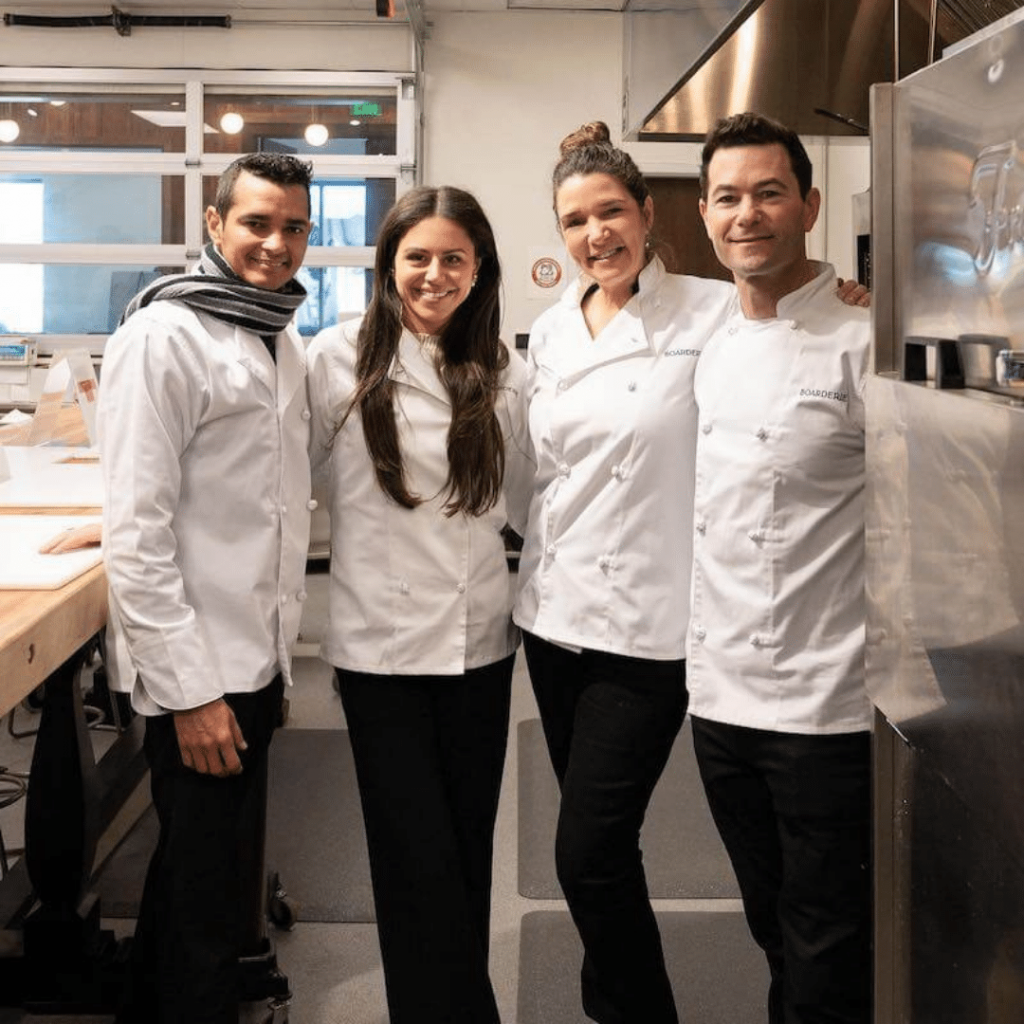 How did Boarderie get started?
Prior to founding Boarderie, husband-and-wife team Aaron and Julie Menitoff were operating a very successful high-end catering business, Wellington Hospitality Group. Aaron and Julie had been running the Palm Beach Florida-based catering business for 20 years, and they had expanded the company with projects across the country. Wellington Hospitality was serving celebrities such as Bruce Springsteen, Bill Gates, Venus and Serena Williams, and Prince Harry. 
In an interview with WPTV in Palm Beach, Aaron told the station that he and his wife started Boarderie because, in 2020, the Covid pandemic had completely shut down their catering business. He told the station, ""It literally stopped our entire business in its tracks. We panicked. We had to figure something out to be able to keep the staff employed and generate income, so we came up with this concept."
Aaron and Julie went from catering to shipping charcuterie realizing the meat and cheese plates were quickly growing in popularity.
Aaron said, "In the culinary space, cheese and charcuterie were one of the fastest growing trends. We noticed everyone was doing these gift baskets, so we designed a process where we could create a board that could be shipped nationwide overnight."
What happened to Boarderie before Shark Tank?
Boarderie was founded in 2020 as a response to the COVID pandemic, and because of the rapid growth of the company, founders Aaron and Julie Menitoff quickly brought on board two partners, Rachel Solomon and Angel Jerez. Rachel's experience as a financial analyst, and Angel's expertise in both wine and cheese, as well as his background in engineering, really helped to boost the company's capabilities. For example, Angel helped design the efficient production process at Boarderie's production kitchen, which now allows the company to ship more than three thousand boards in an eight-hour day.
Boarderie started out selling their cheese boards primarily through e-tailers such as Williams Sonoma and Door Dash, and with most of their sales going through these channels, they sold $1.8 million worth of their high-end cheese boards in 2021, and this year, they added Costco to their list of retail sales partners.
Boarderie also got a huge boost from being listed as one of Oprah's Favorite Things for 2022. Co-COO Rachel Solomon told local news station WPTV that: "We had seen lots of other brands that had been on Oprah's list, it was something we were really intrigued by and really hoping to be included in. And then, one day they just reached out to us."
Prior to the airing of the Boarderie Shark Tank episode, since its inception, the company had shipped out around 60,000 boards to both individual customers and even businesses, some of which include big tech companies.
What do customers think of Boarderie?
On DoorDash, Boarderies' cheese boards have 231 ratings, with an overall score of 4.2 out of 5 stars. The majority of the reviews are positive, and these reviews most often mention the quality of the items included on the cheese boards. For the negative responses, these reviews seem to be critical of the value of the cheese boards in relation to their cost, or to the fact that there are a number of lesser-known items included with many of the boards.
One recent, satisfied DoorDash customer wrote, "I can't believe nobody thought of this sooner! This product is absolutely amazing, arrived exactly as it looks in the photos. Cheeses are extremely high quality, interesting and delicious. The entire presentation was well thought out and curated. Will definitely order again."
Another happy reviewer says, "Awesome selection! Very high quality cheeses and meats that you can not find at your local store. Lots of variety and plenty of food!"
One reviewer, critical of the price point, indicates that: "The quality was good, but the quantity is extremely low. It said 3-4 people, but I would say 1-2. For what they are charging, it is not worth it at all. I would say $50 would be a more appropriate price."
Another critical customer wrote, "I'm a HUGE charcuterie board fan & LOVE to make my own. I ordered this for a holiday party and ended up being terribly disappointed. The selection is small and peculiar (not common/well known/labeled items) and nothing offered is anything I care to have again."
While the majority of the Boarderie reviews are positive, and many folks seem to really like the more exotic selections on the boards, the two areas which were common in the critical reviews were the lack of food volume for the price, and the fact that some of the items were not known to the consumers. Perhaps, the company could better describe some of the items up front as well as manage expectations on the volume of food provided in order to make sure that customers understand exactly what they are ordering.
When did Boarderie go on Shark Tank?
Boarderie appeared on Shark Tank in Season 14, Episode 1407, on November 18th. Boarderie partners Aaron Mentinoff and Rachel Solomon pitched to five of the regular Sharks: Mark Cuban, Lori Greiner, Barbara Corcoran, Kevin O'Leary, and Robert Herjavec. 
What happened to Boarderie on Shark Tank?
Boarderie partners Aaron Menitoff and Rachel Solomon entered the Tank and asked the Sharks for a $300k investment in their company in exchange for 5% of the business.
Rachel began their pitch by throwing away a number of fruit baskets and other traditional gift baskets as she told the Sharks, "what we've got is way cooler than these outdated gift baskets that my grannie sends me from a mail order catalog."
Rachel and Aaron then tell the Sharks that "it's time to say goodbye to boring gifts and revolutionize the edible online gifting space with Boarderie."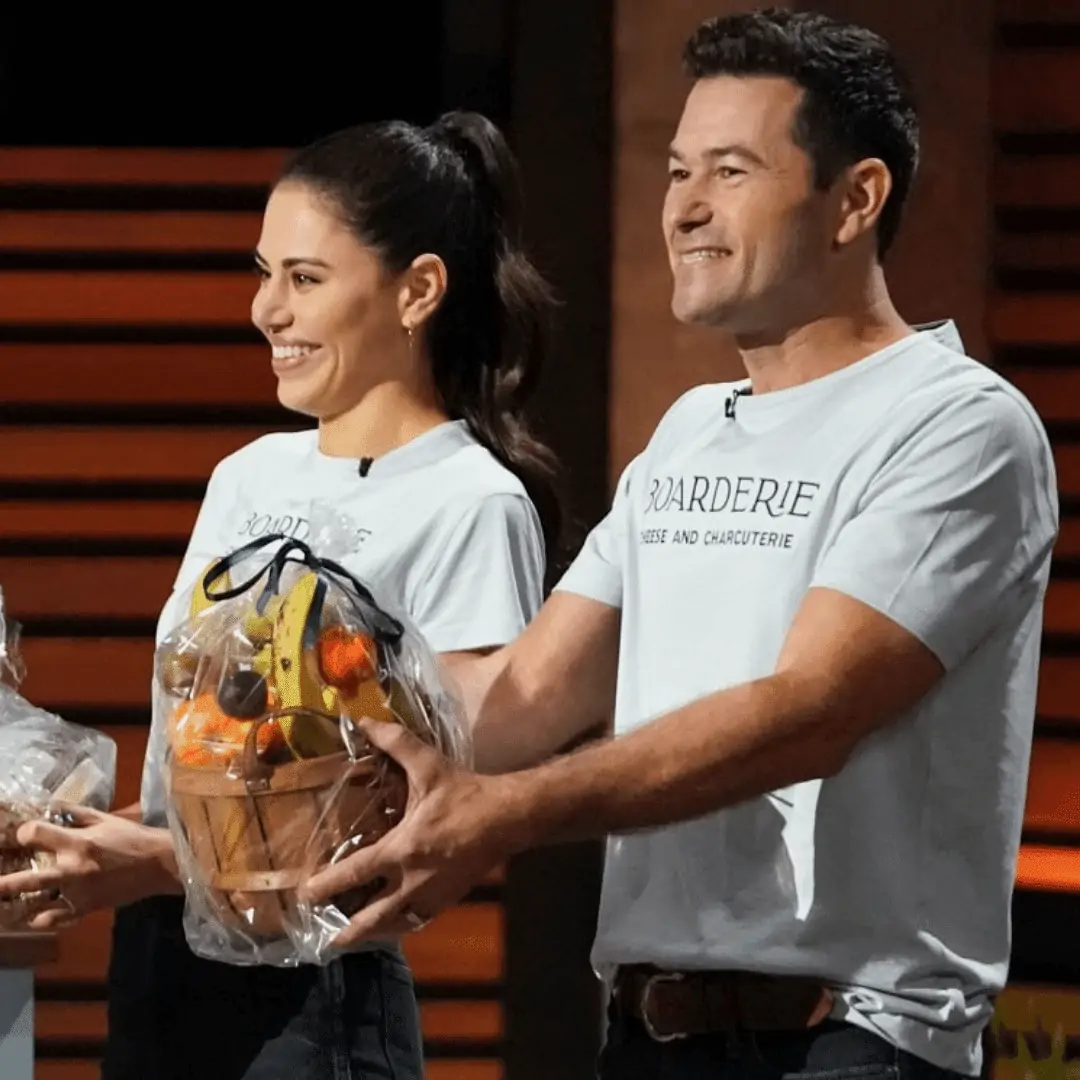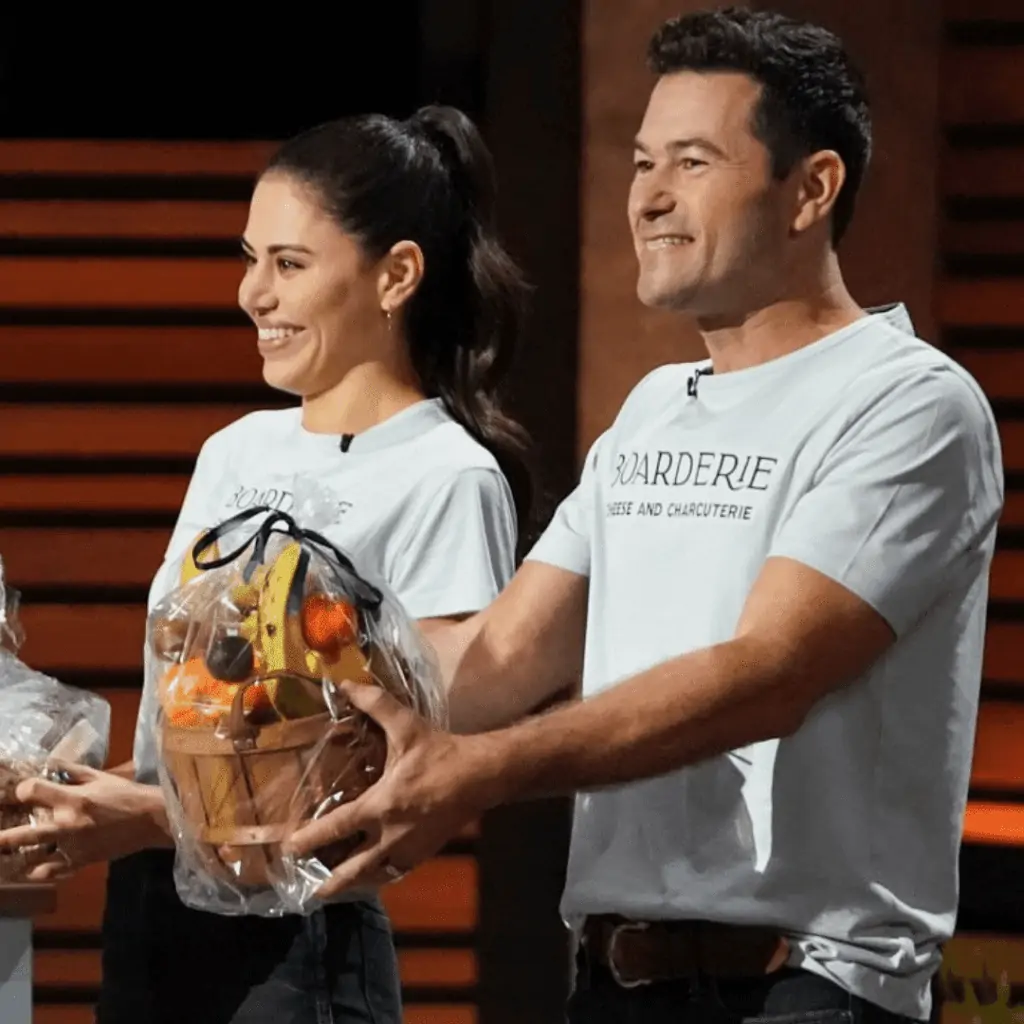 The Boarderie team explained to the Sharks that their Cheese & Charcuterie boards are the world's first catering-quality, gourmet boards which are shipped almost completely assembled, so one can have a beautiful chef-quality display in minutes.
Next, the Sharks sampled the company's cheese boards, and they were all really impressed with the quality and freshness of the items. As the Sharks were happily grazing, Aaron told them that they have small, medium and large boards, and that these are not custom products; they are made on an assembly line, and they can make 3,000 boards a day in their specially-built production kitchen.
Robert commented that the food on the board was amazing, and he wanted to know when they were made. Aaron told him that all of the boards are made the day after the order comes in, and shipped out on the same day that it is made.
Lori Greiner then inquired about the retail price and the cost to make the product. And Rachel told her that the large board costs $91 to make, they wholesale it at $154, and it retails for $229, including shipping.
After answering questions about how the company got started in response to the COVID pandemic effectively shutting down Aaron's catering business, the Boarderie team answered several questions about the company's sales and financials.
They told the Sharks that last year, their sales, mostly through e-tailers Williams Sonoma and DoorDash were $1.8 million, and this year, they were on track to have $4 million in revenues.
The Sharks were very impressed with the sales figures, but Mark Cuban wanted to know if the company would make money this year, and Rachel told him, "Yes, we'll be profitable, we'll do $400k."
The Boarderie team also told the Sharks that they had just started selling direct to consumer, and this was the reason that they were in the Tank; they were looking for help to boost their direct-to-consumer sales.
Then, in an exchange between Kevin O'Leary and Rachel, the Sharks learned that the Boarderie partners have invested around $2 million in the business.
Did Boarderie get a deal on Shark Tank?
Boarderie successfully landed a deal on Shark Tank. They made a deal with Lori Greiner for $300k for a 9% equity stake in the company.
After hearing how the company got started and discussing the financials, the Sharks appeared ready to render judgment on the gourmet cheese board business.
Robert spoke first and indicated that he was very impressed by Aaron and Rachel, but, as they were only offering 5% equity, he was not interested in having such a small stake in the company. Mark Cuban also congratulated the Boarderie team, but he was worried that their business model was replicable by some of the big players in the gift basket industry, so he also went out.
Kevin O'Leary told Aaron and Rachel, "I know this space inside and out." He told them that he was worried about competition, but he thought that he could really help them with his Chef Wonderful brand. However, he indicated that his offer was taking into account the risk, so he offered them $300k for 17.5%, asking for over three times the equity they had offered.
Lori chimed in next asking Rachel what they needed the money for, and Rachel answered that they projected doing $2 million in sales just in December, so they needed some money for inventory, and the rest would be used to implement their direct-to-consumer strategy.
Barbara interrupted the discussion between Lori and Rachel with an offer. She said that she thought the business needed more cash, and perhaps a credit line more than a partner, so she offered them $300k and another $300k in the form of a credit line in exchange for 15% of the business.
Lori then spoke up and said, "I'll make it simple, $300k for 13%."
Rachel countered Lori's offer and asked her if she would do it for 8%, but Lori was determined to stay at 13%. Rachel countered again, asking Lori to make a deal for 10%, and finally, Lori came down to 12%.
Just when it looked like the deal would be made with Lori, Mark Cuban jumped back in the mix and said, "You know what guys, I would do it at 10%. Because the best deals we've all ever done are the least needy entrepreneurs, where they just call with questions, and they just want support or an introduction."
Lori, hearing this, says, "I'll do it for 9%." And Rachel and Aaron turn to her immediately and say, "you've got a deal!"
Boarderie Shark Tank update: What happened next?
Boarderie looks to have followed through on their stated desire to focus on their direct-to-consumer business, as after the Shark Tank episode aired, their website-direct offerings look to have expanded.
Aside from their signature Cheese & Charcuterie boards, they now have several all-cheese boards, as well as an extra large Deluxe Arte Board & Baked Brie at $299.00, and a stand alone Ultimate Baked Brie Board.
On their Instagram account, Boarderie announced that 100,000 people visited their website on the day after they aired, so as usual, the company is seeing a huge Shark Tank effect. There is no doubt that Boarderie saw a major increase in sales from their website, and they were ready with a wider range of offerings for the new audience.
On Instagram, the Boarderie Team also indicated that they would sell out for Thanksgiving, just after their episode appeared, so it looks like their dream of expanded direct-to-consumer sales is becoming a new reality for the company.
How much is Boarderie worth?
The deal that Boarderie made with Lori Greiner valued the business at a little over $3 million. We have still not been able to confirm whether or not the deal with Lori Greiner closed after the segment was taped, but if it did, there is likely going to be a lot of growth for this company as they focus on their direct-to-consumer sales, which is Lori's forte.
The company announced on Instagram that their website had over 100,000 new visitors in a single day after they appeared on Shark Tank, so if the company can build on the demand seen right after their episode aired, and if the deal with Lori closed, there is little doubt that this company will have a much higher valuation in the near future.