Until Browndages came on the scene, generic band-aids as we know them have blended well on lighter skin tones whilst sticking out like a sore thumb on darker skin tones.
Read on to find out how the company got started and their success before and after appearing on TV in this comprehensive Browndages Shark Tank update.
The problem that Browndages solves
Here's a question: How do bandages play a part in the issue of representation?
For starters, bandages have always been designed to blend with your skin tone—if you have white skin, of course.
In many ways it's amazing that after many decades, there still weren't any that matched darker skin tones. Whatever the reason for this oversight, Browndages presented a solution.
In 2018, the Mahdi family took it upon themselves to create band-aids that would blend with darker skin tones and also make their children grow up feeling seen in the world regardless of their color.
Although sales were slow at first, the Black Lives Matter movement that commenced about two years later blew their sales through the roof. However, chaos began as demand made it almost impossible for them to manage their inventory .
Happily, the deal they later agreed in April 2022, which involved Sharks Lori Greiner, Mark Cuban, and Daymond John, provided just the expertise and exposure they needed to learn how to manage the black-owned business smoothly and reach new audiences.
Let's go deeper into the Browndages journey.
Browndages before Shark Tank
Browndages was founded by the husband and wife duo, Intisar Bashir and Rashid Mahdi, in 2018 in Columbus, Ohio.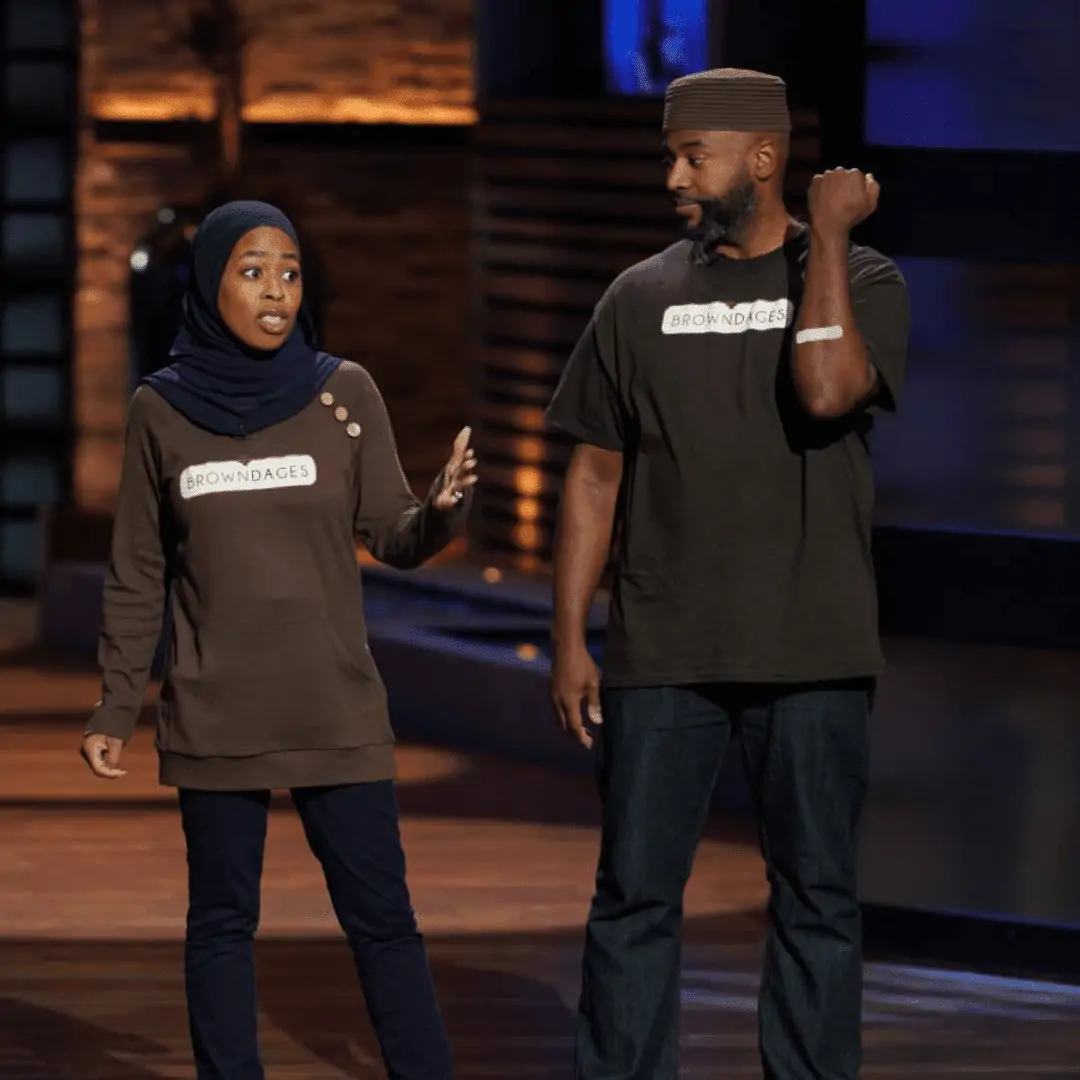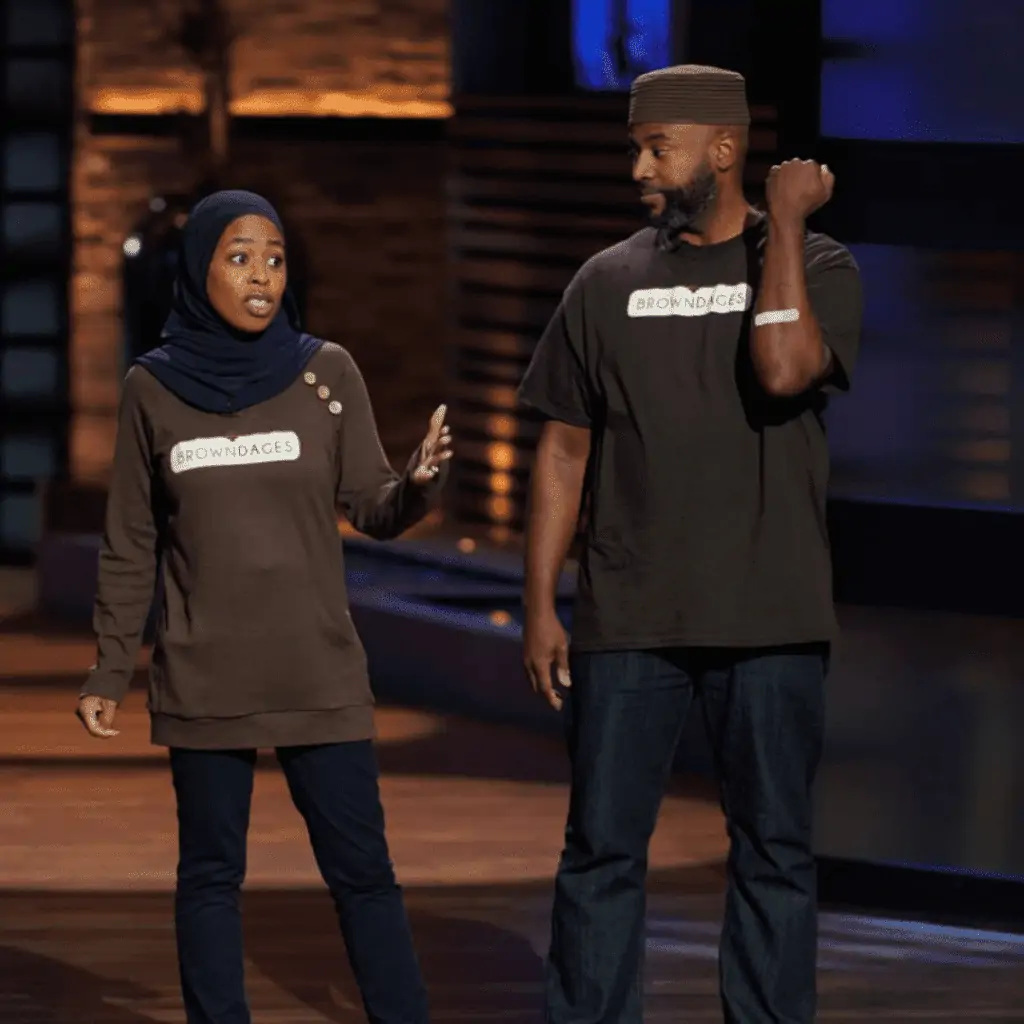 Intisar and Rashid observed that while band-aids were designed to be the color of the user's skin, they only catered for people with lighter tones. They realized that this lack of inclusivity was both an injustice of sorts, as well as a business opportunity. After all, even large companies that had been manufacturing first-aid kits for decades had not been making any for customers with darker tones.
Designed for adults and kids
Armed with this knowledge, the duo decided to create a solution to this lack of representation. They started by creating adult bandages in five shades. These shades matched the skin tones of the five family members: Intisar and Rashid, and their three children.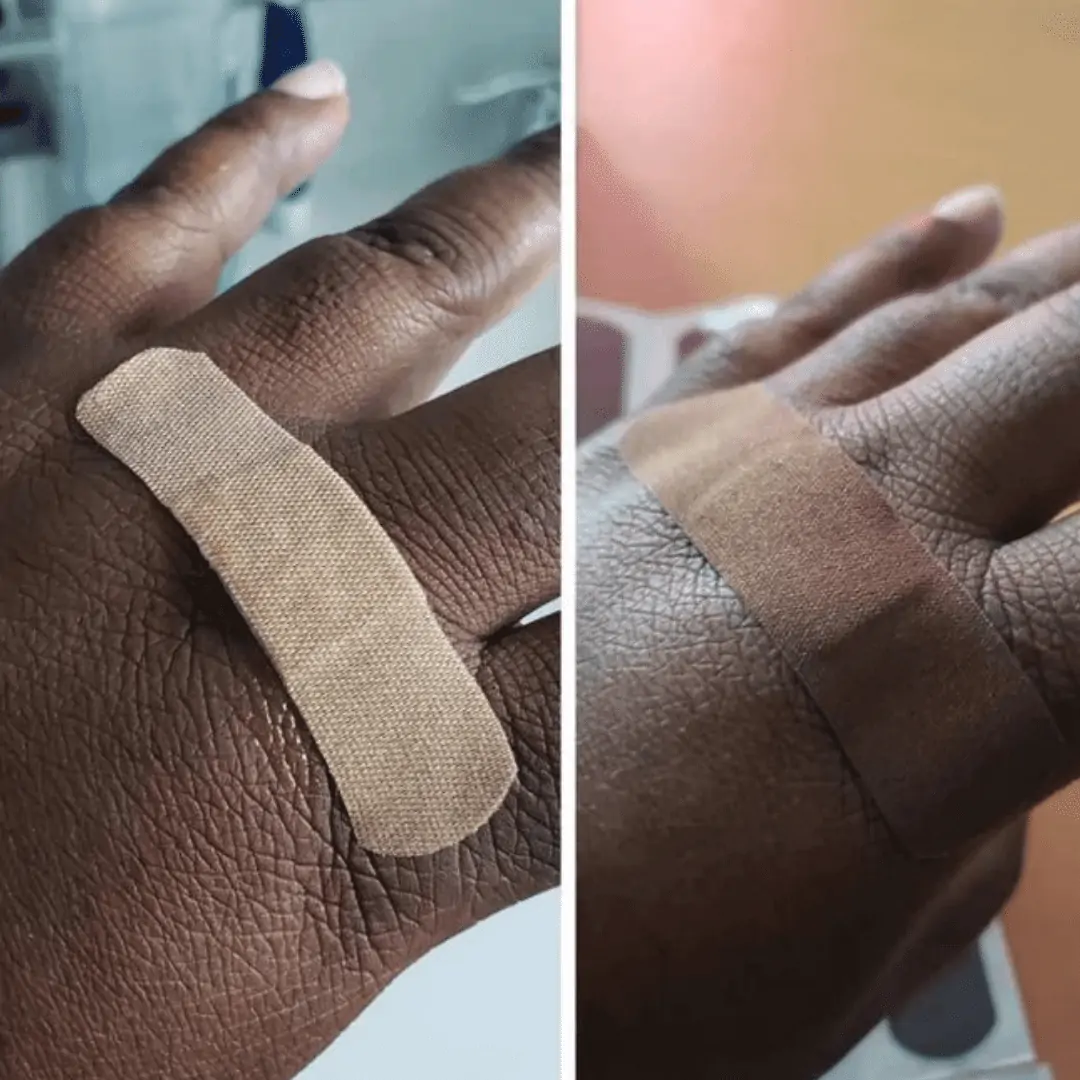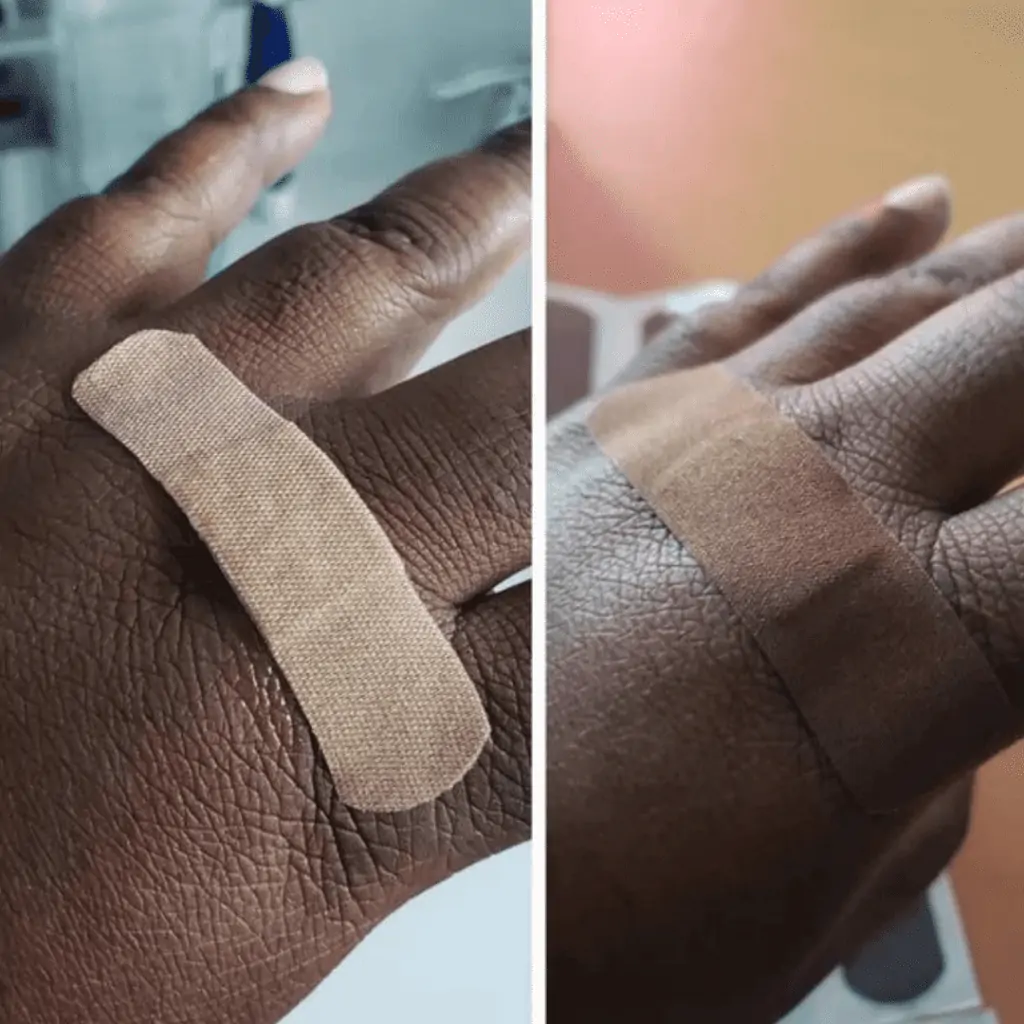 Then, being parents themselves, the husband and wife team decided to incorporate something that would make kids of color feel seen in the world. So, in addition to their adult bandages line, Intisar and Rashid created the kids' character bandages.
An artist drew images of kids of color working in careers that their kids expressed interest in. The aim of this was to help children grow up believing they can achieve anything.
And the idea to leverage art and design in the company didn't stop there. Check out the song the company produced to draw attention to its products and mission:
Sales take off…and the competition increases
In the period before their appearance on Shark Tank in April 2022, the business was already making noteworthy strides as it seemed the darker-skinned communities had long awaited this form of representation.
Then the Black Lives Matter movement, which exploded in 2020, skyrocketed the company's growth as more people sought out black-owned businesses. In the month the BLM movement really took off, Browndages raked in $130,000 in sales in just 6 days.
However, this growth also brought in serious fulfillment and inventory management issues, which led to them seeking expert help. And the place they chose to go for that was the Shark Tank.
As we mentioned above,no large companies had been producing bandages for darker skin tones when Browndages came into business. However, the fast growth and support that they were experiencing seemed to propel larger companies like Johnson and Johnson to do the same in 2020.
This move might also have been an attempt to ride the Black Lives Matter wave that started the same year. During an interview with 'The Cackle' podcast, Initisar expressed how shaken they were at first when they found this out, and hoped that their sales wouldn't collapse because of more established brands jumping into the business.
Fortunately, their supporters were quick to come to their aid in the comment section of the Johnson and Johnson announcement, pointing out that a black-owned company had already been doing that. This mini campaign drew more people looking to support black-owned businesses to their company.
Browndages during Shark Tank
In April 2022, Rashid Mahdi delivered the pitch for Browndages on Shark Tank. The husband and wife founders went on the show seeking a $75,000 investment in exchange for 7.5% equity in their company.
The Sharks, no stranger to companies entering the Tank with a wider mission than just sales (Sheets Laundry Club and Bombas are just two examples of many whose goal is to do good in the world), were impressed by Browndages' ethos and sales.
Their pitch attracted the interest of three Sharks, namely Lori Greiner, Mark Cuban, and Daymond John. A deal was struck whereby the Sharks invested $100,000 for 25% equity in addition to a $75,000 line of credit. Mark Cuban, who owns the NBA Dallas Mavericks, even promised to have the Mavericks distribute and wear the bandages.
Sharks Robert Herjavec and Kevin O'Leary were not part of the deal. Kevin O'Leary had initially offered $75,000 for 15% equity which was rejected, while Robert Herjavec expressed that the scale of Browndages competition would be insurmountable.
Here's how the negotiations played out:
What customers are saying about Browndages
One of the business' noteworthy customers was the Hollywood star Lupita Nyong'o, who shared a picture with a Browndage on her knee saying, "Finally, a bandage that blends! Thank you Browndages for helping me conceal my clumsiness." But of course, Lupita is not their only customer.
Here are some other common sentiments:
"My wife just received 2 boxes last week. These are the only bandages we use."
"My kids love having band-aids that match their skin tones."
Finding negative feedback was a little more difficult than anticipated as it seems the black community was more than pleased to be represented. This comes at such a time when so much attention is finally being given to the issue of representation.
Below is the closest to negative feedback that could be found:
"A great bandage, the only problem is getting it out of the wrapper"
All in all, it is evident that the product has been well embraced by both adults and children of darker skin tones.
Browndages Shark Tank update
The Shark Tank effect is no secret to anyone who follows the show. As a result of being exposed to the estimated 4 million+ viewers who watch Shark Tank, companies tend to see a positive impact on sales. Browndages was no exception. But after the Shark Tank episode had already aired in April 2022, did they continue to succeed?
Since the show, the family-owned company has successfully launched other variations of its product. Browndages have widened their skin tone bandages range to accommodate even deeper skin tones. In addition to this, first aid kits, character bandages, elastic bandages, healing balms, and a variety pack have been included in the list of what Browndages has to offer.
Staying true to their goal of shaping black and brown children to feel represented in the world, the company's website presents additional products for children such as pajamas with characters of black children "working" in various careers. Children's books have been another addition to the mix, which encourage children of color to believe in their capabilities. This is one added selling point that has helped them stand out from their competitors.
With the help of the Sharks, no doubt the company will continue to thrive… and better handle their inventory to the point where sales and fulfillment are consistent. Their products can now be found in over 39 locations in the USA.
We wish Browndadges all the luck in the world as they continue to enjoy success while also helping the cause of greater representation.
FAQs
What is Browndages on Shark Tank?
Browndages manufactures bandages that match a diverse range of darker skin tones. The founders went on Shark Tank asking for an investment of $75,000 for 7.5% equity, valuing the business at $1 million.
Who founded Browndages?
Married couple Intisar Bashir and Rashid Mahdi founded Browndages in 2018. The company is based in Columbus, Ohio.
Is Browndages black-owned?
Yes, Browndages was founded by two black entrepreneurs, Intisar Bashir and Rashid Mahdi.
When did Browndages go on Shark Tank?
Browndages appeared on Season 13, Episode 20 of Shark Tank. The show originally aired on April 15th, 2022.
Did Browndages get a deal on Shark Tank?
Yes, Browndages made a deal with Lori Greiner, Daymond John, and Mark Cuban for $100,000 for 25% equity, plus a $75,000 line of credit. The valuation of $400,000 was $600,000 lower than the founder's original valuation of $1 million.
Who invested in Browndages on Shark Tank?
Lori Greiner, Daymond John, and Mark Cuban invested $100,000 for 25% equity. They also agreed to provide a $75,000 line of credit. The Sharks therefore successfully negotiated an increase in equity of 12.5% from the founders' original ask.
What is Browndages' net worth today?
Since the company enjoyed a rush in sales after the Shark Tank episode aired, it is fair to say that Browndages is living up to the Sharks's valuation of $400,000. If the company continues to progress in the same manner, it is likely to exceed this very soon.