Tired of the mess he created from snacking when working or gaming, Kevin Choi invented a snacking tool that kept his hands and devices clean when multitasking. Teaming up with co-founder Edwin Cho, the Snactiv entrepreneurs made a fun-filled pitch, hoping to secure an investment with the Sharks.
But did they secure a deal? What happened after Shark Tank? And is Snactiv a device that people need?
What is Snactiv on Shark Tank?
Snactiv is a multitasking snacking tool that keeps both your devices and hands clean when snacking and working or gaming. The company is based in Los Angeles, California.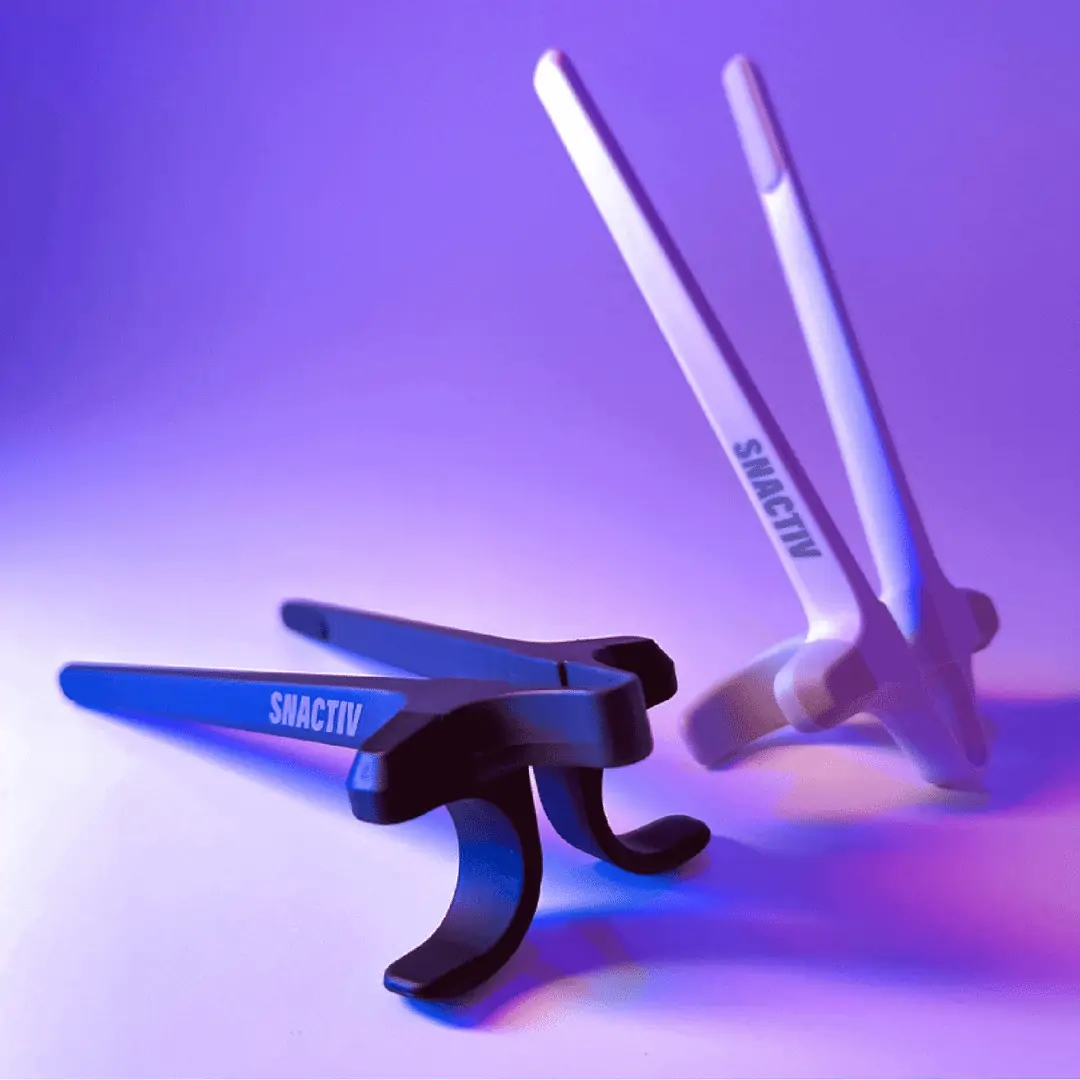 How does Snactiv work?
Snactiv's design feels like a hybrid of chopsticks and tweezers, helping you pick out your snacks with ease. The snacking tool is literally attached to your index and middle finger, and the prongs serve as an extra set of mess-free fingers.
The tool's primary function is putting more snacks in your mouth without transferring the crumbs, oil, grease, sauce, or stickiness to your gaming pads or keyboard. The cool snacking tool is made of BPA-free, food-safe material and is also dishwasher safe.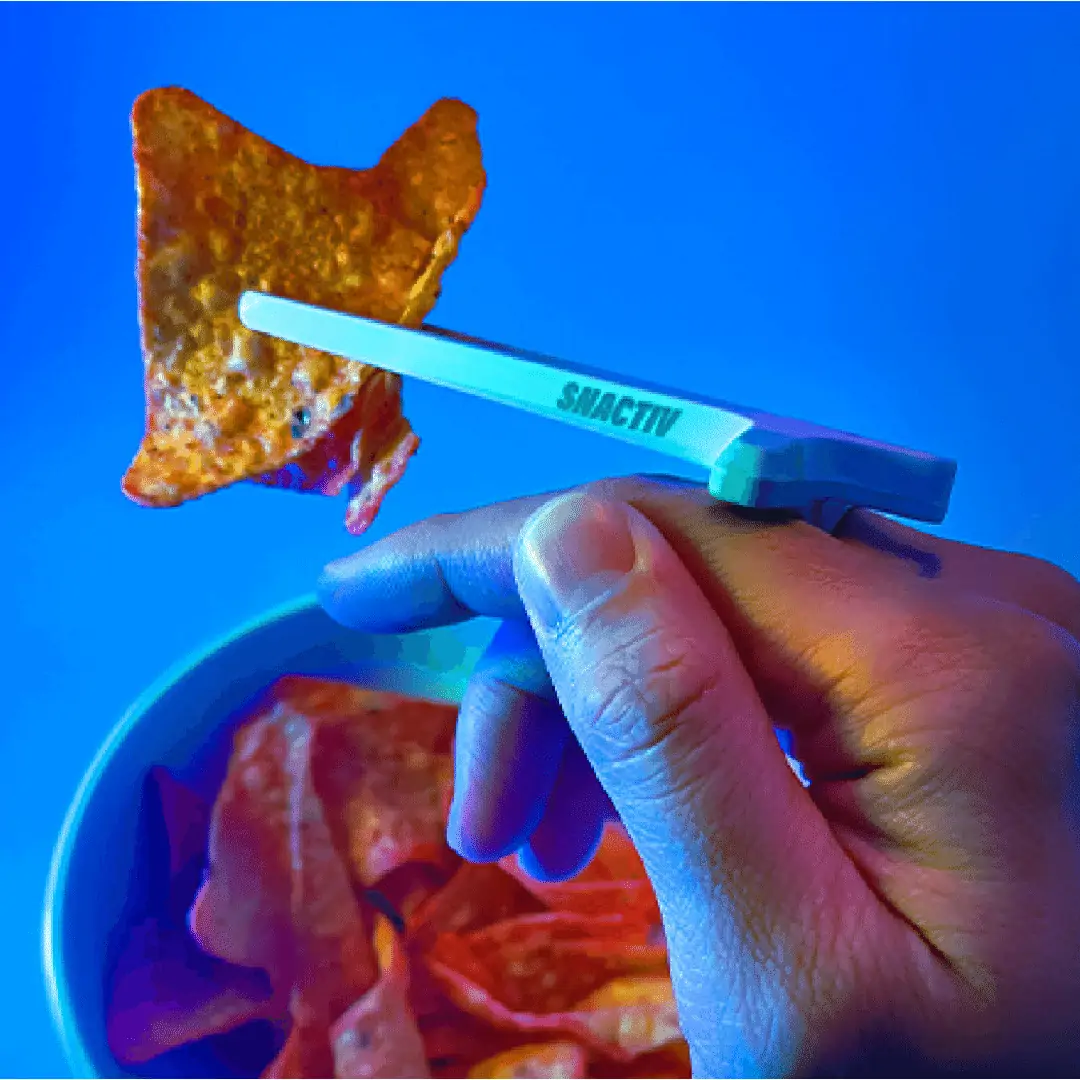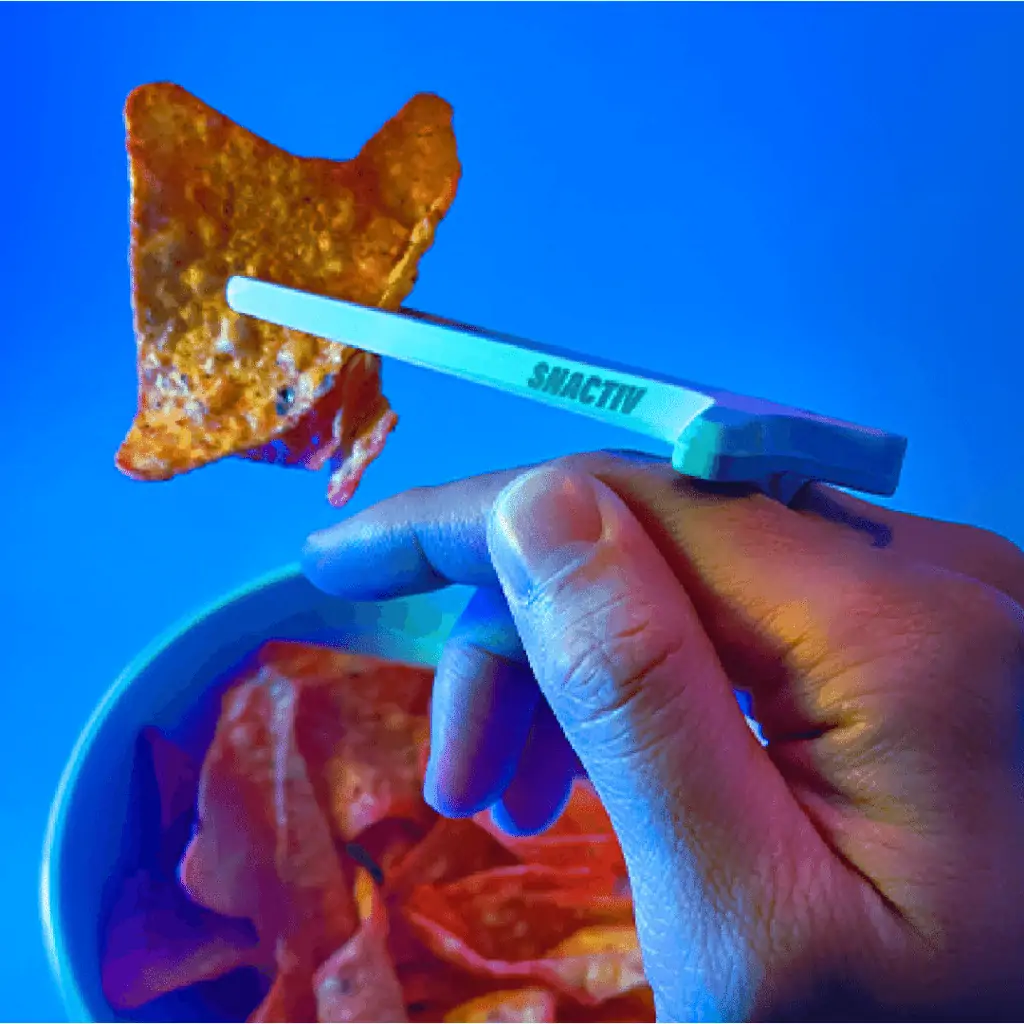 Who is Snactiv for?
Snactiv is for people who love snacking while using their devices. It's ideal for people who game, watch TV, or work on their computers as they snack. It stops you from being a slob and reduces the inevitable mess associated with eating salty and greasy snacks.
Snactiv also replaces the hassle of cleaning your hands and wiping down your devices after snacking. And cleaning the tool itself is dead simple: just toss it into the sink or dishwasher.
Snactiv promises that once you get your set, it will be "literally attached like the Tinder date who confesses their love minutes into your first date at the Olive Garden."
Does Snactiv work?
Judging by the rave reviews Snactiv has on multiple platforms, the product is a sure winner.
The majority of customer reviews on Amazon, Snactiv's website, and social media platforms give positive feedback on Snactiv. It seems to perform as advertised. Snactiv has also managed to outperform copycat products.
However, some customers have complained that it's difficult to use the snacking tool on fragile snacks like potato chips. Some feedback suggests that the tool's single function may not be ideal for every snack.
There have also been complaints about the price, but the majority opinion is that Snactiv is worth every penny. As one customer put it:
"I saw this on Shark Tank and I ordered them. I have to say they work perfectly. You can still type with them, and you keep your hands and keyboard clean. I also have to say they slow down my snacking because I eat one nut or chip at a time instead of popping a bunch in my mouth at the same time. This is a big advantage for me. I have not tried them as a replacement for chopsticks but my guess is they would work much better and much easier. Great, smart idea, and I was happy to support a small business with a great product."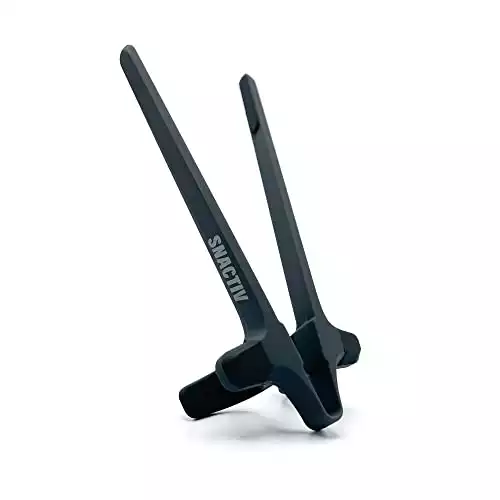 We earn a commission if you make a purchase, at no additional cost to you.
How much does Snactiv cost?
Snactiv sells for $16 on their website. Customers can also pay an extra $3 for a case to store the snacking tool. Snactiv comes in either light or dark mode. The price of the multitasking snacking tool could be higher by about a dollar on other sites that stock it.
Who owns Snactiv?
Two talented friends, Kevin Choi and Edwin Cho, co-founded Inoobi Incorporated, the company that owns Snactiv. Kevin has a BFA from Otis College of Art and Design and has worked at Disney, Mattel, and Magic Jump Inc. Edwin has a BSc from NYU Stern School of Business and also worked at Mattel, ZipRecruiter, and Fuhu.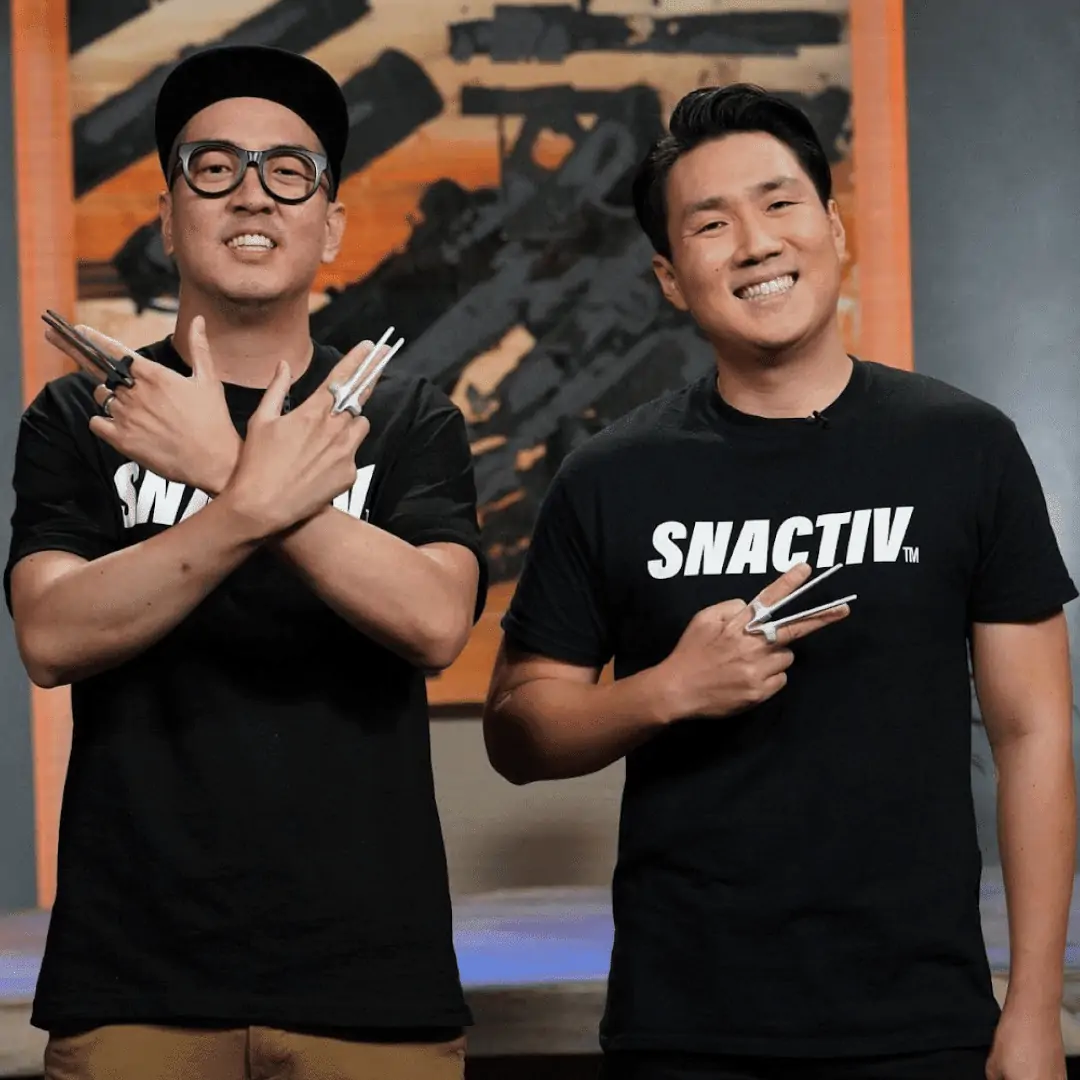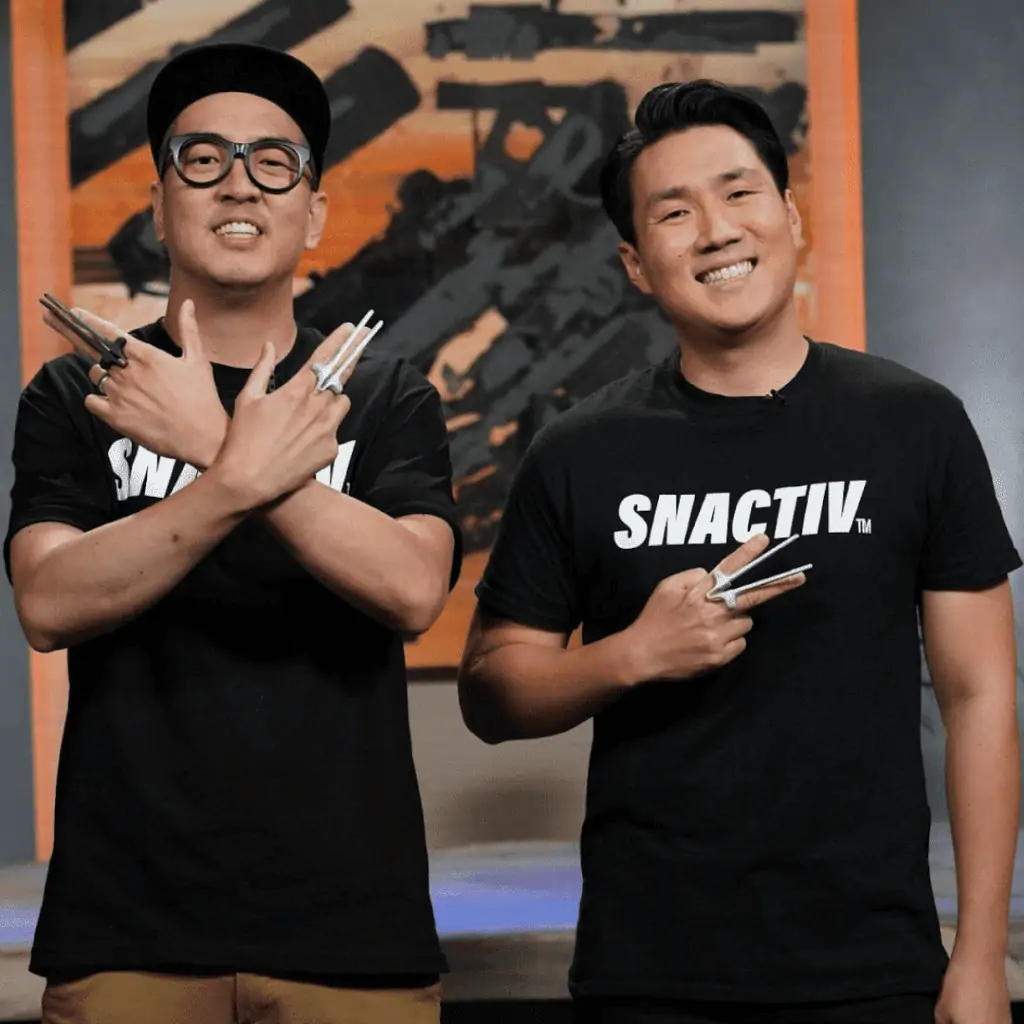 Their experience in design and business has been essential for the growth of Snactiv.
Before appearing on Shark Tank, Kevin Choi and Edwin Cho had first pitched the idea on Kickstarter. They managed to raise $41,700 and tweaked the design, which really helped them get ready for Shark Tank.
When did Snactiv go on Shark Tank?
Snactiv appeared on Shark Tank Season 13, Episode 10, which aired on January 7th, 2022.
Did Snactiv get a deal on Shark Tank?
Yes, Snactiv successfully got a deal on Shark Tank. They got three offers from Kevin O'Leary, but in the end they agreed a deal by Lori Greiner and guest Shark Kevin Hart for $200,000 for a 20% stake in the company.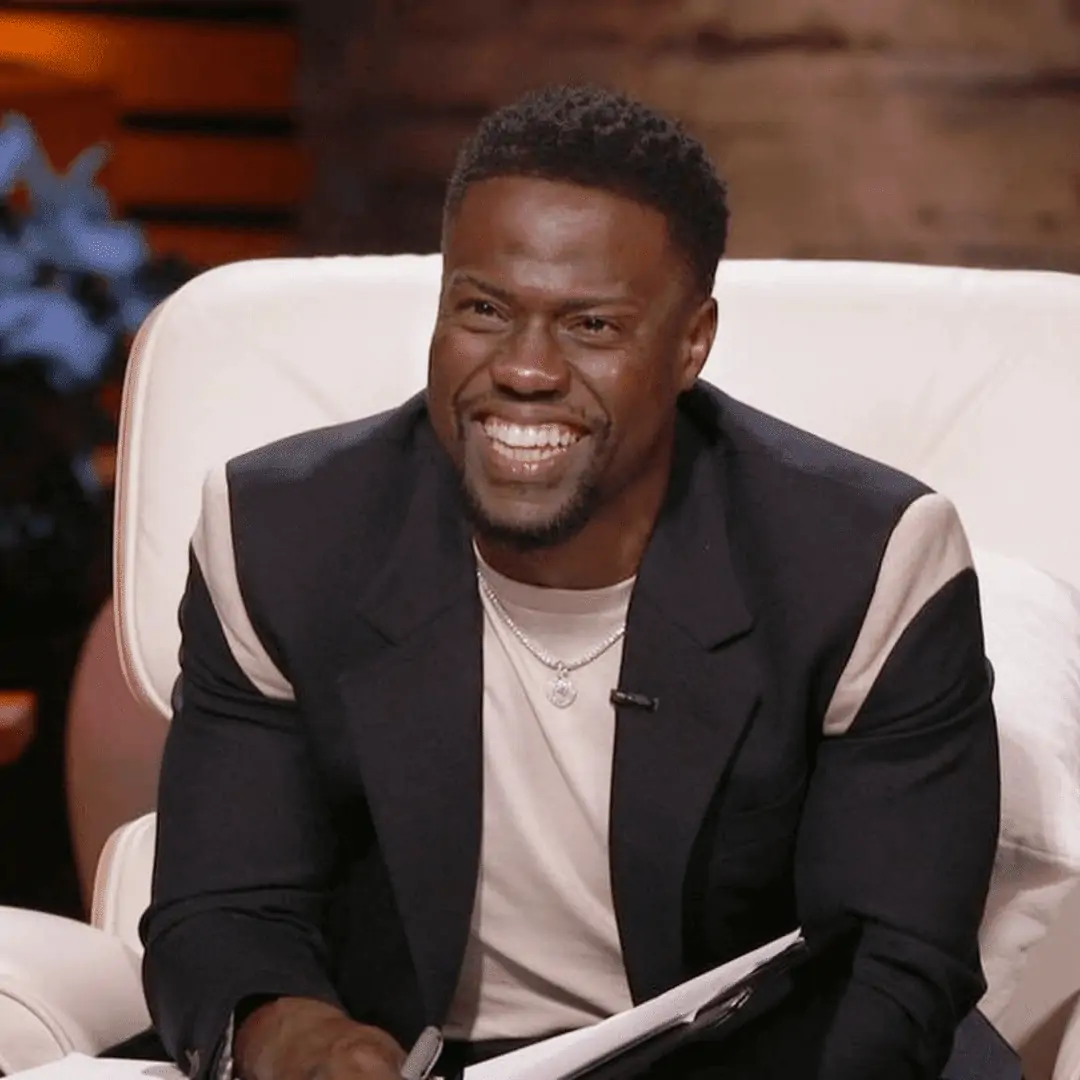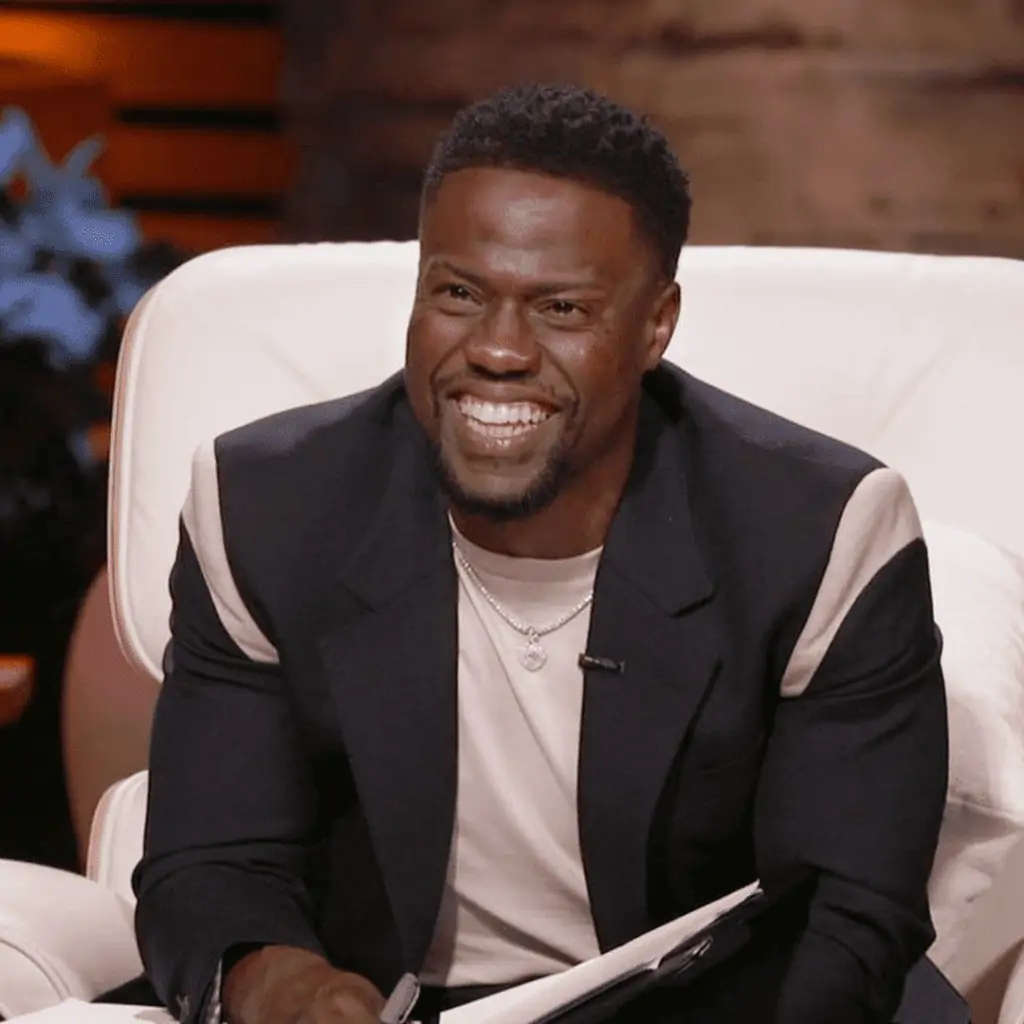 The Sharks were impressed by the cool tool that prevents your gadgets from getting snack debris all over them. The fact the company had a pending utility patent and sales of $187,000 also helped stir up interest from the Sharks. The founders also brought humor to the stage, which sold the Sharks on their fun personalities.
Kevin O'Leary offered Snactiv $200,000 for a 10% stake and a $1 royalty per unit sold until $1 million was made. He then gave an improved offer of $200,000 for a 10% stake and 50 cents royalty until $1 million was made. He lowered his stake claim further to 5% after Kevin Hart and Lori gave their combined offer.
Eventually, Edwin Cho and Kevin Choi decided to go with the two Sharks.
What happened to Snactiv after Shark Tank?
After securing a deal with Kevin Hart and Lori Greiner, Snactiv continues to enjoy success. In addition to selling the snacking tool in the US, Snactiv now works with third parties in Hong Kong, Taiwan, and South Korea.
In South Korea, Snactiv works with OhUsBox, in Taiwan with NNNN studio, and with HOMELESS.hk in Hong Kong. The company is also looking to venture into Japan.
What is Snactiv worth today?
Snactiv's estimated value on Shark Tank was $1 million. After securing the deal with Kevin Hart and Lori, the company gained more visibility and saw a huge increase in sales. Therefore it's safe to assume that its current value is higher today, perhaps up to $2 million.
While most of the sales previously came from dealing directly with consumers, Scantiv now enjoys partnerships with retailers in some Asian countries.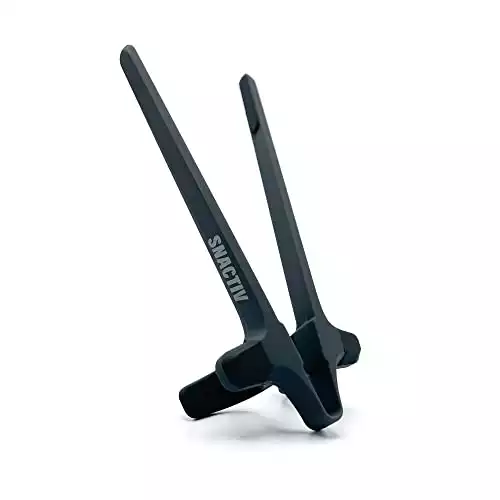 We earn a commission if you make a purchase, at no additional cost to you.
Is Snactiv still in business?
Yes, Snactiv still sells the multitasking snacking tool today. Additionally, the company also sells T-shirts. The partnership with Lori Greiner and Kevin Hart continues to thrive.
Snactiv: latest news
July 2022
In late June 2022, Snactiv announced that its snacking tool is now available in Singapore and Canada, as the company continues to grow worldwide.
Snactiv also began working with different influencers from the gaming world. It now has partnerships with SNACCDaddyTeej, Darkraizard, and Jessimama, among others.
Tweets by snactiv